MLB.com Columnist
Mike Petriello
Rangers are MLB's most dangerous on basepaths
Texas leads baseball with 13.3 Baserunning Runs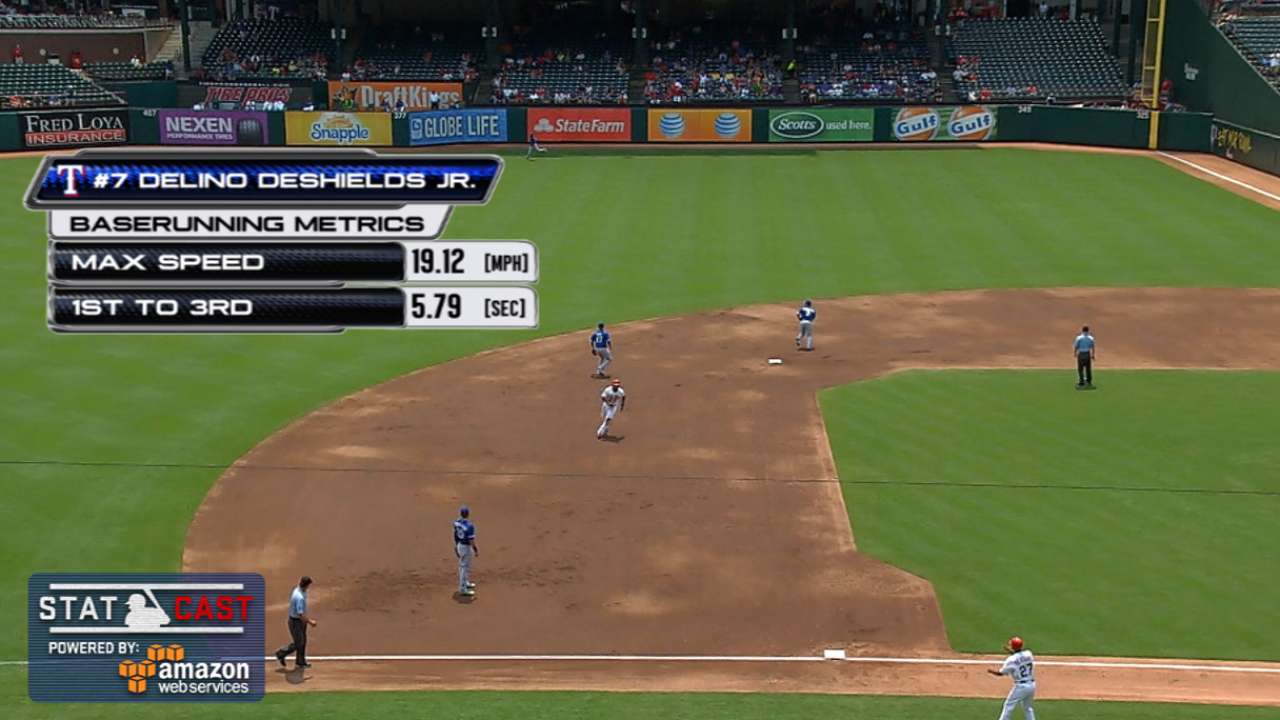 The resurgent Texas Rangers, who begin what looks to be a division-deciding series in Houston on Friday night, have managed to pull off an interesting trick on offense this year. Despite ranking just 16th in OPS, the Rangers' 4.5 runs-per-game mark is tied for the fourth-best in baseball. Normally, that would point to oversized success in the biggest spots, but that's not the case here, not when they rank 18th in OPS with men on base and 26th with runners in scoring position. None of that lends itself to run-scoring success.
So it would seem that the Rangers must be doing something extraordinary on offense to help push runs across, and indeed they are: They're the best baserunning team in the game.
While they're only tied for seventh in stolen bases with 92, there's a lot more to running the bases than just steals, and so to back up that claim, we'll turn to a stat popularized by FanGraphs called "Base Running Runs." BsR is defined as an "all-encompassing baserunning statistic that turns stolen bases, caught stealings, and other baserunning plays (taking extra bases, being thrown out on the bases, etc.) into runs above and below average."
Base Running Runs, 2015
1) Rangers, 13.3
2) Reds, 12.8
3) Diamondbacks, 12.8
4) Cubs, 12.7
5) Blue Jays, 9.8
Using the traditional rough shorthand of "10 runs equals one win," the Rangers have arguably earned themselves three additional wins over the 30th-ranked Mariners (negative 23.8 BsR) by their performance on the bases alone. Perhaps more impressive, they've improved from last year's disappointing total (20th overall at negative 1.4 runs) despite the presence of Prince Fielder, one of baseball's slowest runners, who was limited by injury to only 178 plate appearances in 2014.
First-year manager Jeff Banister made improved baserunning efficiency an immediate priority, saying as much in March:
"It starts with aggressiveness and there is an education process of what you can and can't do," Banister said. "Great baserunning starts before you get on the field."
After all, in looking back upon the team's 95-loss 2014, general manager Jon Daniels noted that "we went from one of the best baserunning teams in the game to one of the poorest," and the difference has been obvious. No team in the American League has made a larger improvement over last season.
You'd think that a jump like that would require the buy-in of the entire roster, and you'd be right. Twelve different Rangers have been worth at least one positive Base Running Run; only Fielder, fellow 1B/DH Mitch Moreland, catcher Robinson Chirinos, and departed backup Adam Rosales have been worth one negative run.
No matter how you slice it, really, there's improvement. Last year's Rangers had a stolen-base success rate of just 64 percent, the second-worst in baseball; this year's team is up to 73 percent, above the MLB average of 70 percent. Last year's Rangers went from first to third (or home) on a single 82 times, the 20th-best in the game; this year's team has already done so 106 times, easily the best in baseball. Elvis Andrus, Adrian Beltre, and Shin-Soo Choo all rank in the top 15 in first-to-third situations.
There's also, of course, one significant difference in personnel other than Banister. Rookie Rule 5 pick Delino DeShields, who once stole 101 bases in a Minor League season and supplanted Leonys Martin as the starting center fielder in July, ranks 11th in baseball in BsR while lighting up Statcast™. DeShields has reached a top speed of 21 mph or more on the bases 84 times this year, topping noted speedsters Dee Gordon of the Marlins and Billy Hamilton of the Reds.
In one August game against Toronto, DeShields made it from first to third on a Beltre single in just 5.78 seconds, one of the 10 best recorded times of any player this year.
It hasn't always been an easy season for the Rangers, who lost starters Yu Darvish and Derek Holland early, got off to a 7-15 start, and have struggled at times to find offense. They've needed every little advantage they've been able to find as they've attempted to overtake and then hold off the Astros, and this certainly counts. More than any other team in baseball, they're finding that advantage on the bases.
Mike Petriello (@mike_petriello) is an analyst for MLB.com. This story was not subject to the approval of Major League Baseball or its clubs.