Alvarez's heroics emblematic of Pirates' grit
Tight-knit group never doubts ability to mount comeback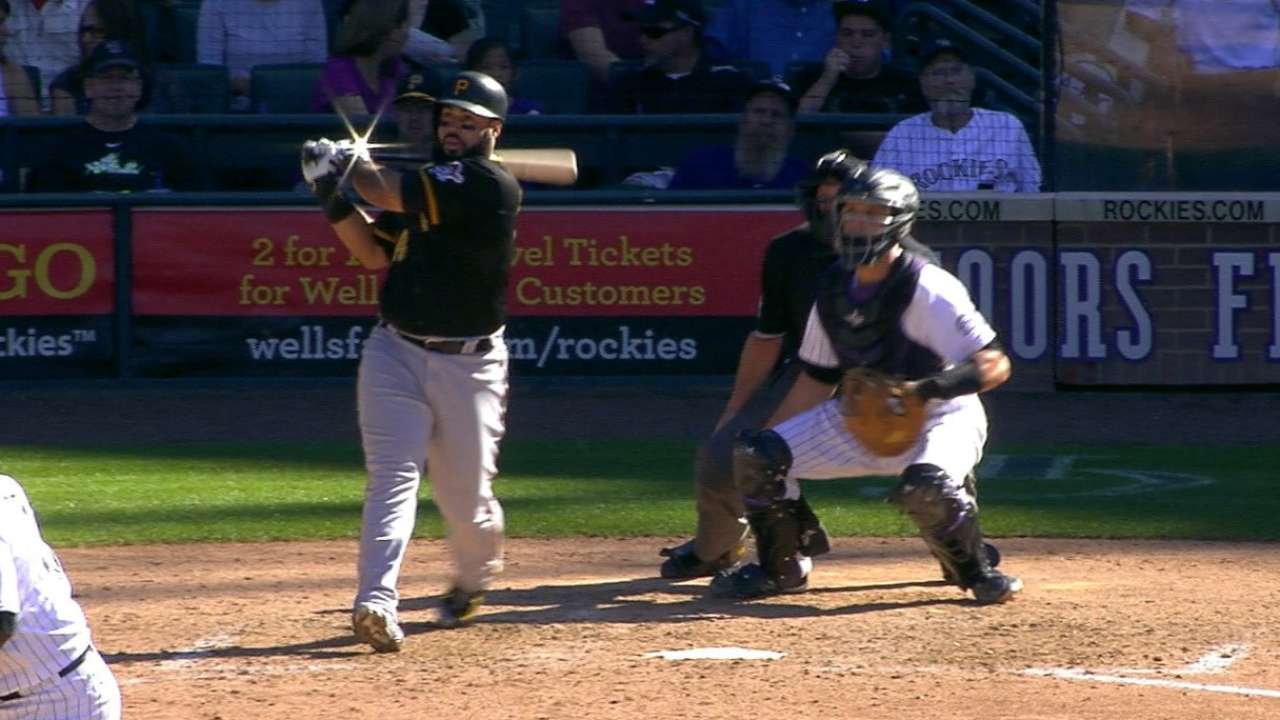 DENVER -- Jeff Locke was sitting in the Pirates' training room with Bobby LaFromboise. Locke's start during Thursday afternoon's 5-4 win over the Rockies had ended in the sixth when LaFromboise relieved him, retiring the one batter he faced and stranding Locke's two baserunners.
Now it was the eighth, and Locke and LaFromboise were watching the game on television. The Pirates, winners of the first three games of the series, were trailing, 4-2. They had runners on first and second with two outs. Pedro Alvarez was getting ready for a 2-1 pitch from Jairo Diaz, and LaFomboise tossed out a quick prediction that suddenly made him look like a seer.
"Bobby said, 'I think he's going to hit a home run right here,'" Locke said, "and then, 'Whap,' next pitch, it was gone." Alvarez's homer, his 26th of the season, set up Pittsburgh's sixth victory in a row and its first four-game sweep on the road since the Bucs took four games from the Cardinals in St. Louis from July 3-6, 1997.
The Rockies promoted Diaz from Triple-A Albuquerque on Aug. 23 and are giving him a long look as their setup man in the eighth. He has hit 100 mph with his fastball and pairs that pitch with an 89- to 90-mph slider.
• Weiss stands by test for Diaz in pivotal spot
That scouting report ran through Alvarez's mind as he waited for what was bound to be power offering.
"He's a guy that has a very good fastball and a good slider," Alvarez said. "If you're not ready with him, he can eat you up pretty easily."
Alvarez was certainly ready. He drove a 97-mph fastball into the Rockies' bullpen in right-center. Statcast™ projected the homer -- hit 115 mph off Alvarez's bat -- to land 421 feet from the plate. It brought joy and disbelief to Locke and LaFromboise in the training room.
"The TV camera couldn't get to it," Locke said. "It was probably one of the quickest balls I've seen leave any ballpark. You can tell lots of times by the outfielder's reactions. There wasn't a whole lot of movement out there [by right fielder Carlos Gonzalez].
"I know it wasn't in the third deck, but he didn't have a whole lot of time to get out there."
Diaz said he was trying to go away with that fastball but missed over the middle of the plate. Alvarez's homer gave the Pirates their 42nd comeback win of the season and improved their record in one-run games to 35-17, including 14-10 on the road. This latest victory put the Pirates 33 games above .500 (93-60) and came one day after the club clinched a trip to the postseason for a third straight season.
"Even if the division was won already, hypothetically speaking, this is a team that would go out there and give it all, every pitch, every at-bat, every inning," Alvarez said. "It's kind of something that's embedded in our DNA and ingrained in the way we go about [our] business. To us, it doesn't matter the situation; we're going to go out there and compete."
The Pirates scored 33 runs in the series, and center fielder Andrew McCutchen didn't drive in any of them. Yet the Pirates swept the four-game series, something Alvarez said the close-knit Pirates discussed.
"Chemistry's one of those intangibles you can't put a stat on, you can't put a sabermetric on," Alvarez said. "We feel for each other. When someone's not going well, it's like I'm not doing well. When you're that invested in one another, things end up working out."
Jack Etkin is a contributor to MLB.com. This story was not subject to the approval of Major League Baseball or its clubs.