Paxton forced to exit with torn fingernail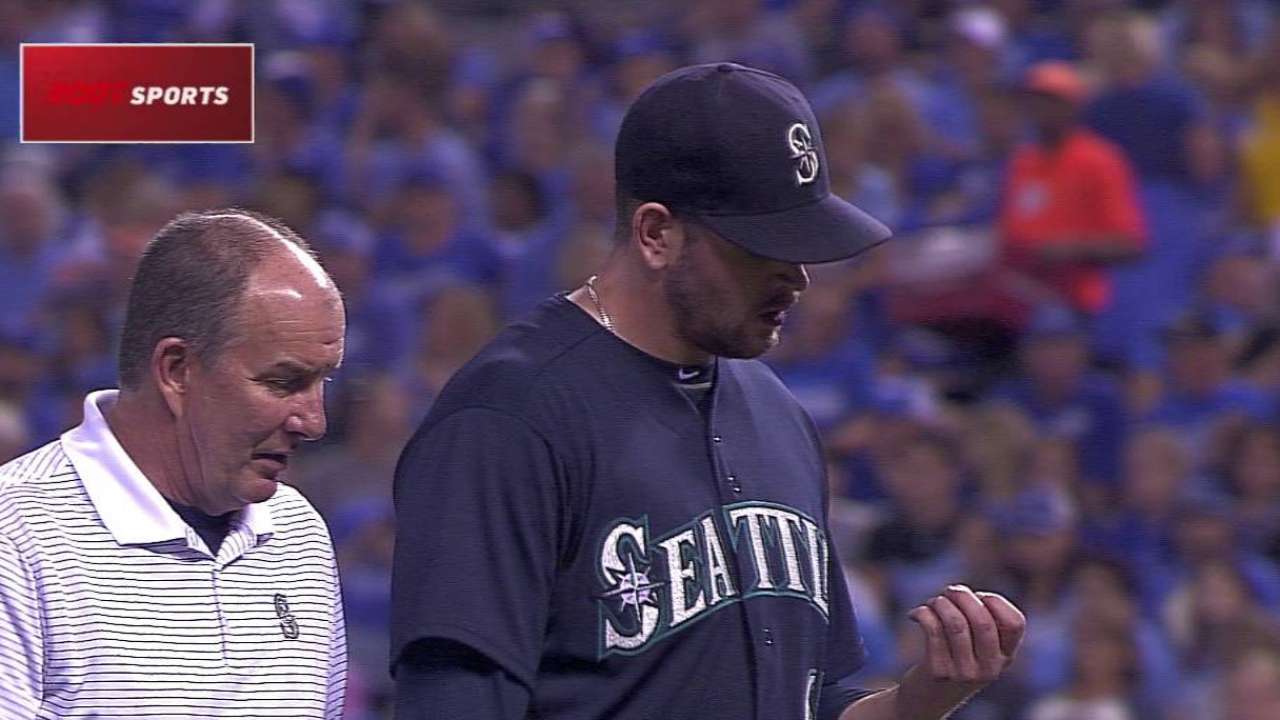 KANSAS CITY -- The on-again, off-again season of James Paxton hit another snag on Thursday as the Mariners southpaw was removed from his start against the Royals after just 1 1/3 innings because of a torn fingernail in the 10-4 loss.
Paxton spent nearly four months on the disabled list with a strained tendon in the middle finger of his pitching hand, then ran into issues with the nail on the same finger during his rehab process. He was making his third start since coming off the DL.
"I'm frustrated," Paxton said. "It's hard. I want to be out there pitching and stuff like this keeps happening. But I just have to keep on going, come out the other side and just deal with it."
The 26-year-old gave up five hits and two runs in his abbreviated outing, including three hits in the second before Mariners trainer Rick Griffin and manager Lloyd McClendon went to the mound and removed Paxton after taking a quick look at his finger.
"I don't know if it's the same issue or not," McClendon said. "All I know is it was bleeding, and he couldn't throw any more. It's hard to throw baseballs with blood flying all over the place. He pulled the nail off."
Paxton had to take several days off after having the same issue during his final rehab start with Triple-A Tacoma.
"My fingernail just ripped up again and started bleeding," he said. "I think in Tacoma, I probably stayed in a little longer, and it got a little worse than it is right now. If I'd kept pitching, it probably would have lifted up more and started bleeding more. But Lloyd just took a look at it and told me to give him the ball."
Paxton gave up a run in the first, when Ben Zobrist doubled and scored on a throwing error on a pickoff attempt by catcher Jesus Sucre, though the run was earned when Eric Hosmer followed with another double.
He then surrendered a leadoff homer to Mike Moustakas in the second, and Paxton was pulled after allowing singles to Salvador Perez and Alcides Escobar.
"It didn't feel quite right coming out of my hand, then I looked down and saw my finger was bleeding again, so that obviously wasn't good," Paxton said.
The Mariners planned to give the left-hander two more starts in the remaining nine games of the season, though it now remains to be seen if he'll be ready for those outings.
"I don't know," McClendon said. "We'll see what happens in the next couple days. Obviously, I don't have those answers tonight."
McClendon did rule out using Taijuan Walker to fill in for Paxton, with Walker having been shut down for the season after throwing a career-high 169 2/3 innings.
Paxton said he didn't know how long it would take to heal enough to pitch again.
"I'm not sure," he said. "We'll see how it looks tomorrow and go from there."
Paxton opened the season as Seattle's No. 2 starter, and he's 3-4 with a 3.90 ERA in 13 starts. He also made 13 starts in 2014, going 6-4 with a 3.04 ERA, after missing much of the year with a strained lat muscle behind his left shoulder.
Greg Johns is a reporter for MLB.com. Follow him on Twitter @GregJohnsMLB, read his Mariners Musings blog, and listen to his podcast. This story was not subject to the approval of Major League Baseball or its clubs.