Cosart day to day after liner hits left forearm
Right-hander, diagnosed with contusion, expects to make next start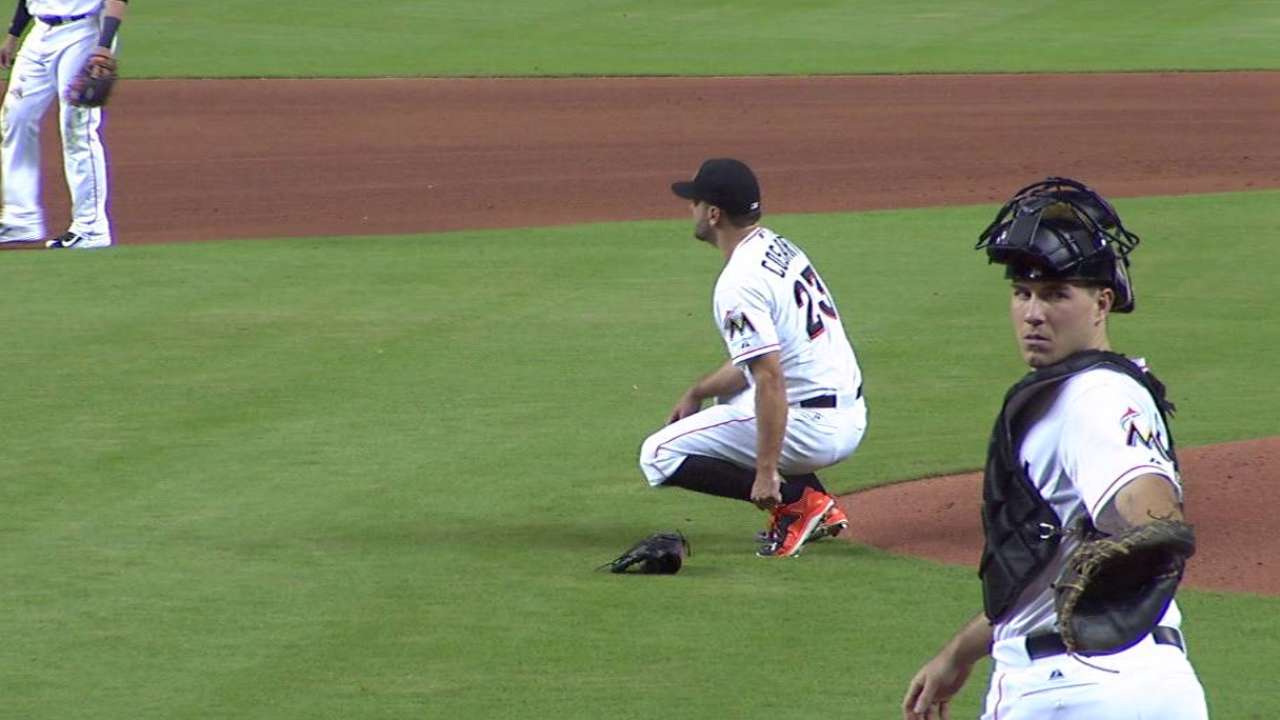 MIAMI -- After initially brushing off a liner to the left forearm in the top of the fourth inning, Marlins starter Jarred Cosart exited Thursday's 1-0 win over the Phillies after only four innings. The club announced the right-hander received an X-ray, which came back negative, and that he is day to day with a left forearm contusion.
All things considered, Cosart -- who anticipates being ready for his next start -- left Marlins Park feeling fortunate.
"They said if it would have been a little bit to the left, I would have definitely shattered whatever that bone is," he said. "I'm happy it didn't [break anything]. I moved a little bit, but it was smoked pretty good."
With one out in the fourth, Phillies third baseman Cody Asche hit a 107-mph liner, according to Statcast™, off the left forearm of Cosart. The 25-year-old stayed in the game after tossing five test pitches and escaped the inning unharmed while stranding two runners.
However, after coming back out for the top of the fifth inning and tossing one warmup pitch, Cosart exited the game. The righty threw just 61 pitches on the night, allowing four hits and two walks while striking out two.
"It was tight, but I could bear through [the fourth inning]," Cosart said. "Then I sat down in between innings and it started throbbing and really tightening up on me."
It's been a season of tough luck for Cosart, who previously battled an inner-ear disorder that bothered him for a majority of the season. He recently returned from the vertigo injury on Sept. 6 -- and in four starts, including Thursday's -- he has allowed just three earned runs in 19 2/3 innings.
"In the back of my head, I didn't have a great feeling," Cosart said. "But I'm just really happy my body feels good and my head feels good. …I was praying it wasn't anything serious, because I just want to finish this September out by not giving up runs."
Steve Wilaj is an associate reporter for MLB.com. This story was not subject to the approval of Major League Baseball or its clubs.