Enberg looks forward to more time with family
Padres broadcaster to retire after 2016 season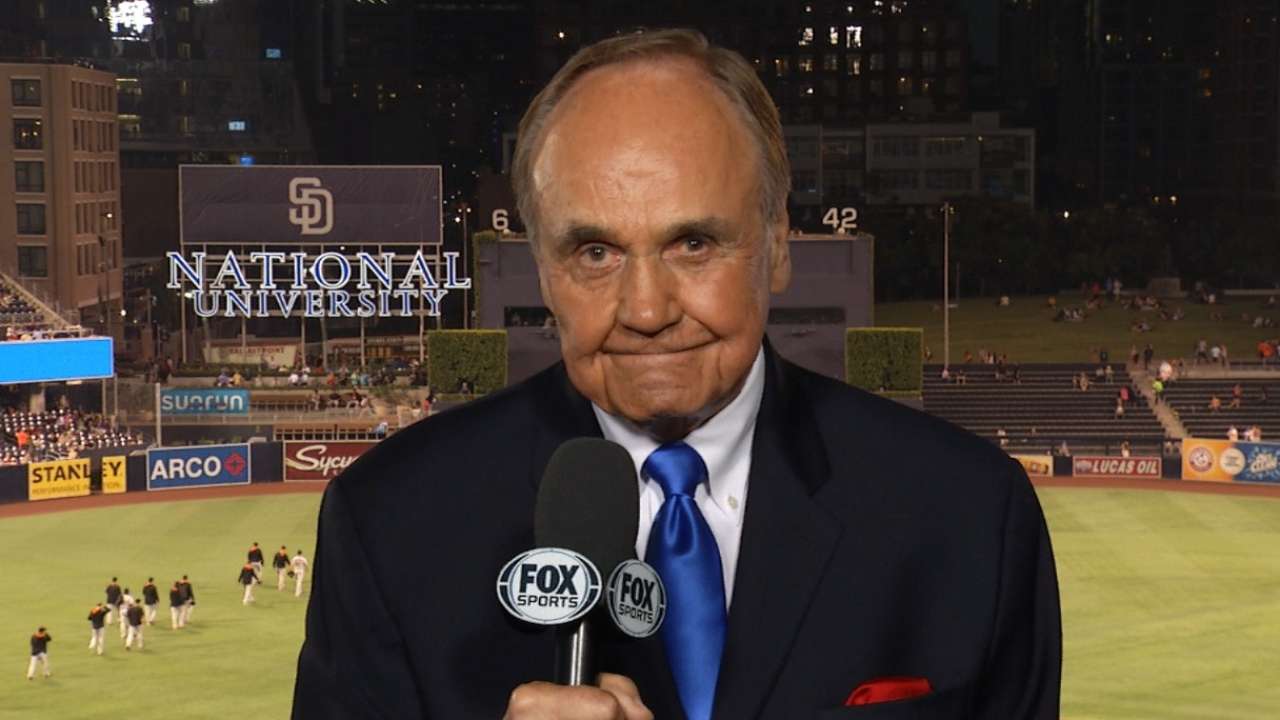 SAN DIEGO -- Padres television broadcaster Dick Enberg announced during the on-air telecast of Wednesday night's game against the Giants that he would retire following the 2016 season as the primary play-by-play host for Fox Sports San Diego.
Before the finale of the three-game series at Petco Park on Thursday, Enberg spoke about what went into his decision to retire, while sharing memories and stories about his time with the Padres.
"It's been a struggle all year thinking about it, but I am really happy I made the decision," said Enberg, who has been San Diego's play-by-play announcer for six seasons and was honored by baseball's Hall of Fame in July with the Ford C. Frick Award for broadcast excellence.
The 80-year-old shared one of his most memorable moments -- his first year with the Padres in 2010.
"The was such an interesting team. It wasn't a great team, but the players individually became a terrific team," Enberg said. "And we went down to the final two days in San Francisco to try to go to playoffs."
Enberg, who turns 81 in January, said he looked forward to spending more time with his family and they have a trip planned to Machu Picchu.
"Another factor [in the decision to retire] was I am a grandfather," Enberg said. "I want to enjoy that part of my life."
Enberg's grandson, Archie (who lives with his parents in London) is just more than a year old, and the broadcaster said that in home videos he has seen of Archie, he is favoring his left hand, something that Enberg was hopeful would continue.
"Inarguably, Dick is the greatest storyteller the sports world has ever known, and we have been fortunate to have heard his legendary voice and signature calls on our Padres telecasts since 2010," said Padres team president and CEO Mike Dee in a press release.
Enberg began his full-time broadcasting career in 1965 in Los Angeles as the radio and television voice of the California Angels, UCLA basketball and the Los Angeles Rams.
Before joining the Padres, Enberg worked with CBS Sports for 11 years as the play-by-play voice for the network's coverage of the NFL, college basketball and U.S. Open tennis championship. He spent 25 years with NBC Sports prior to joining CBS.
Enberg is one of only two people to have been honored by the baseball, football (Rozelle Award) and basketball (Gowdy Award) halls of fame.
"[My career] happened seamlessly because everyone around me allowed me to do what I wanted to do. People who have been around me, it's more than support, they have generously given me time to be a kid for 80 years," he said.
Enberg said he is hopeful for a World Series in San Diego.
"Maybe next year will be the time it happens," Enberg said. "And that's why we are baseball fans, because we always think next year is the year."
Beth Maiman is an associate reporter for MLB.com. This story was not subject to the approval of Major League Baseball or its clubs.