Brantley may rejoin lineup by weekend
Tribe left fielder hits in cage as right shoulder improves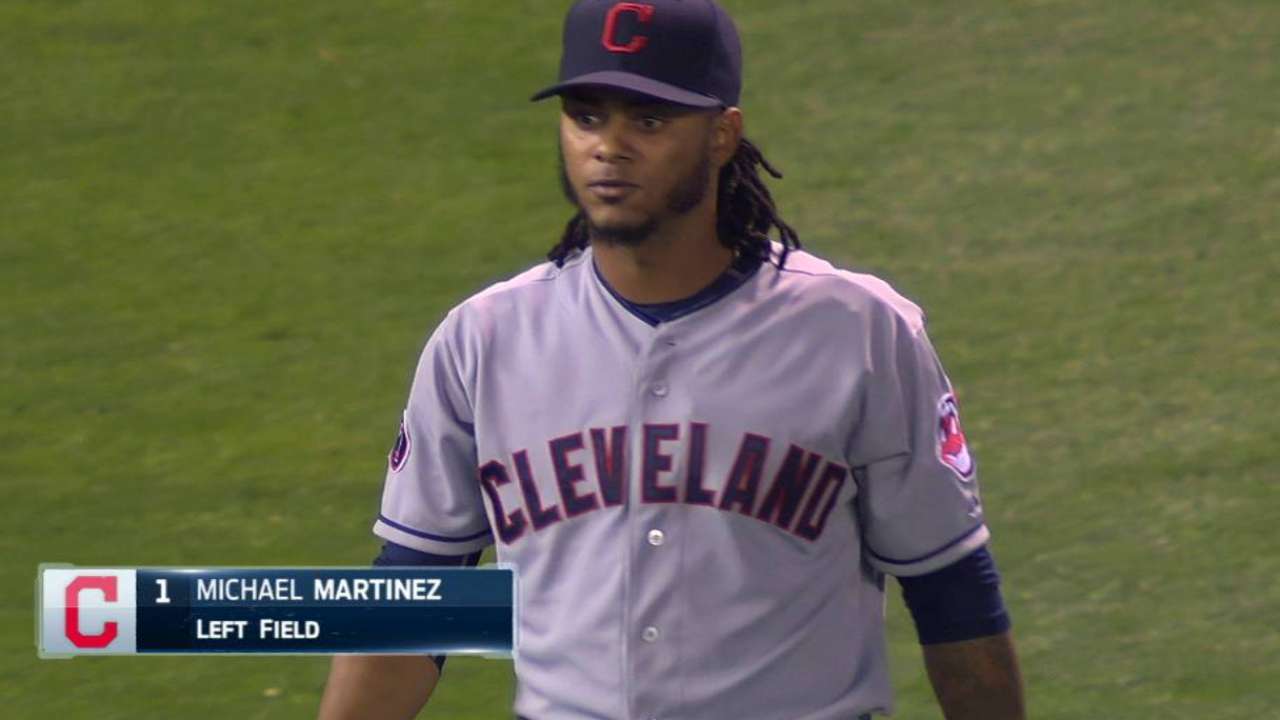 MINNEAPOLIS -- Left fielder Michael Brantley could be back in the Indians' lineup as soon as this weekend. Though the club doesn't have a firm date set for his return, Brantley is progressing and feeling better, just two days after he suffered a right shoulder injury.
Brantley injured his shoulder diving for an Aaron Hicks triple in the third inning Tuesday against the Twins. After taking one at-bat, the Indians removed him from the game in the fourth.
"He went down and hit in the cage. I don't know if he plays [Friday], I don't know, but I guess the fact that we're even thinking about it, it speaks to -- he's getting closer," manager Terry Francona said. "Just when he kind of finishes his swing, still feels it but we'll see. The good news is that he's getting better and that's kind of what we were really hoping for."
Mike Aviles has played left field the past two games and shortstop Francisco Lindor has slotted into the three-hole in the Indians' lineup with Brantley out.
Francona initially described the injury as a "jammed" shoulder and said Brantley was having problems extending his shoulder during his one at-bat post-injury.
Worth noting
• The Indians were officially eliminated from the American League Central with Wednesday's loss. At 74-76, they are in third place and have a slim margin for error as they chase down the second Wild Card. Coming into Thursday, they were 4 1/2 games behind the Astros and also trailing the Twins, Angels and Orioles.
"Since I didn't know [we were eliminated], obviously it was probably foregone," Francona said. "I didn't even know. Our sights are kind of on what's realistic. Again, what's probably the most important thing is for us to play well. You can talk about all the other things -- having teams lose and all that -- that's OK but I just would prefer if we win out, it's not enough, I would probably feel better than sitting around hoping."
• Gavin Floyd threw 2 2/3 scoreless innings in Wednesday's loss, marking his longest outing of the season. His 42 pitches also marked a season high.
Floyd fractured the olecranon bone in his right elbow during Spring Training requiring surgery. He was activated from the disabled list Sept. 1 and has pitched in six games since then, giving up three runs in 10 1/3 innings.
"For where he started this year, I think it's -- I don't want to say a miracle -- but I mean the fact that he's throwing 94 mph after what he had done literally six months ago, that's pretty awesome," Fancona said. "His stuff looks good and for not pitching very much and for having what he had done, he really doesn't look very rusty."
Betsy Helfand is an associate reporter for MLB.com. This story was not subject to the approval of Major League Baseball or its clubs.