Sale's 1,000th K dampened by decisive HR
Beltran's three-run shot hurts White Sox ace, who is 2 shy of club's single-season strikeout mark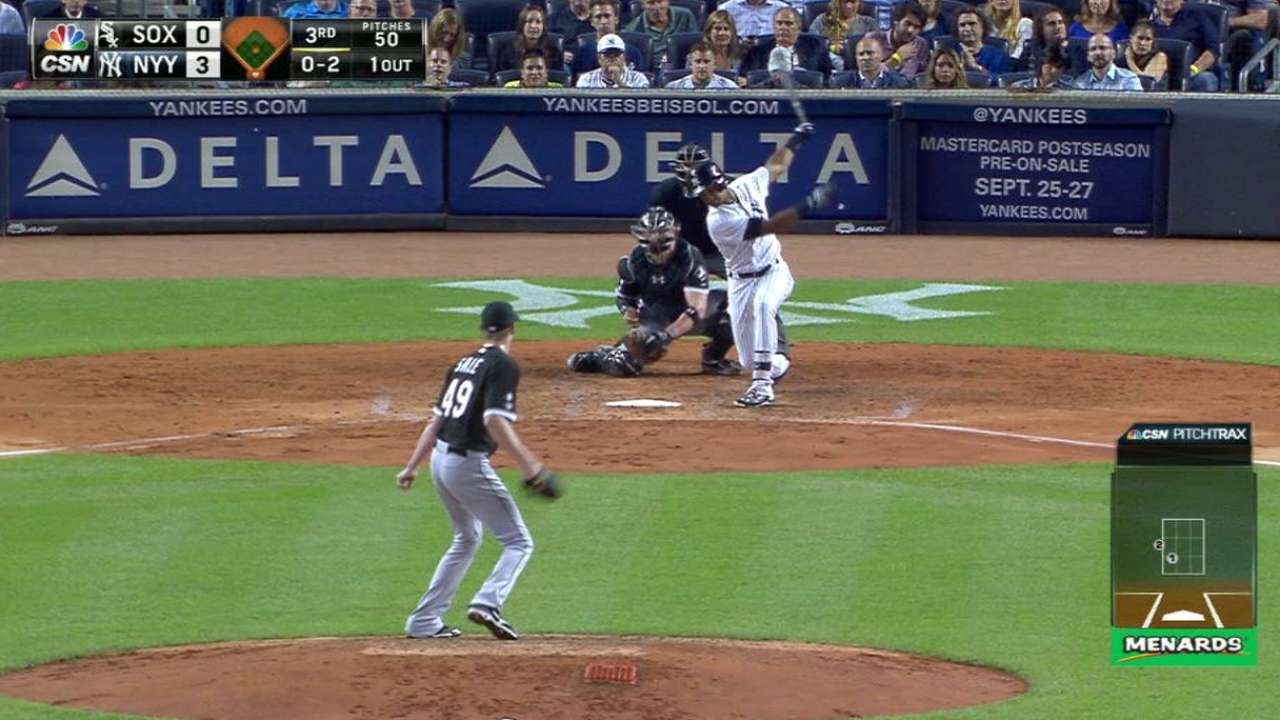 NEW YORK -- A time will come when Chris Sale sits down and revels in becoming the new single-season White Sox strikeout leader, a mark he's almost certain to break during his next start in Chicago.
Thursday night in New York was not really that time.
One pitch to Carlos Beltran basically cost the White Sox ace in a 3-2 loss at Yankee Stadium. That one pitch resulted in Beltran's three-run homer in the third, which preceded Sale blowing away Chris Young for his fourth strikeout of the evening and No. 1,000 in his career.
• Is Sale #AwardWorthy? Vote now for Best Starting Pitcher
Sale worked seven innings and struck out eight, leaving him at 267 for the season and two behind Ed Walsh's franchise mark of 269 set in 1908. But Sale also lost for a fourth straight time, the White Sox lost for a sixth straight time with Sale on the mound and Sale allowed his seventh homer over his last four starts.
That's enough bad news in the moment to dampen the incredible performance that has been Sale's 2015 season, despite Sale and the White Sox having an understanding of the historic nature of these strikeouts piling up.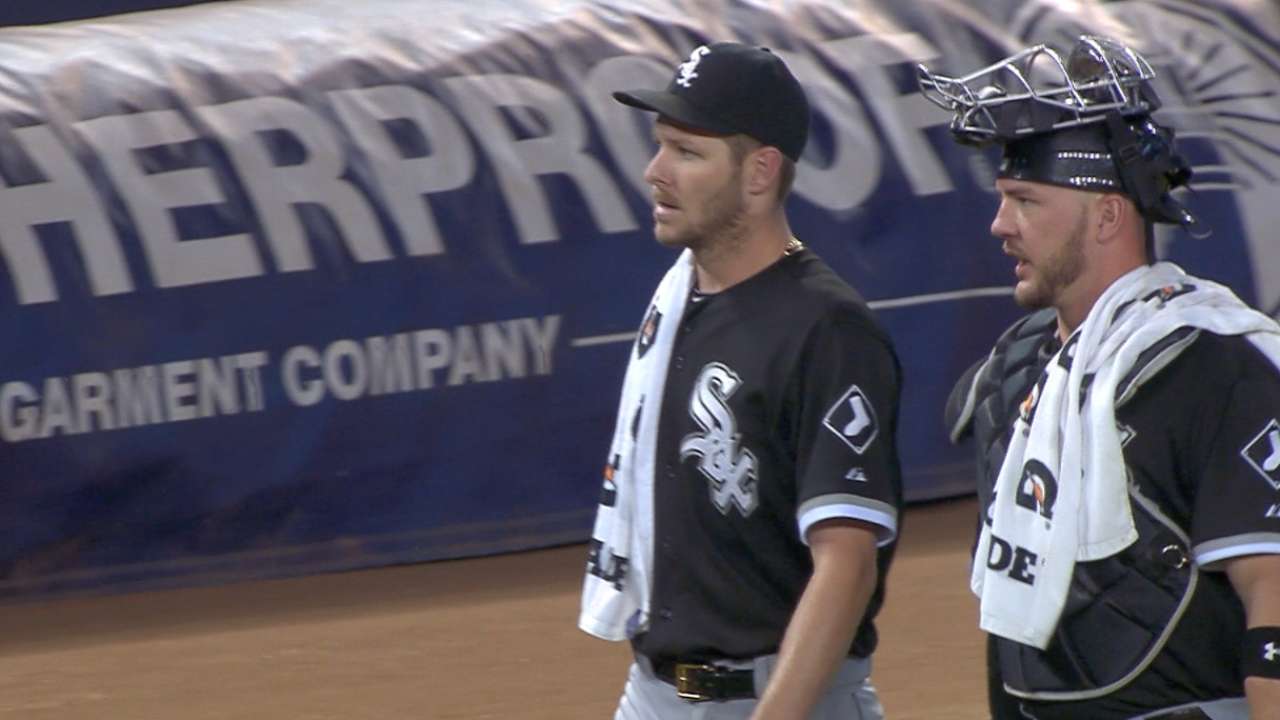 "Like I said a million times, it's cool. I definitely appreciate it," said Sale, who threw 105 pitches in the team's third straight loss. "I don't want to seem unappreciative of any of these things. I know what they are, and I know what they mean."
"When you start thinking about, for us and the White Sox, of how long that record has been around, it has been around a long time," White Sox manager Robin Ventura said during his pregame media session Thursday. "Any time you put him in the category with Ed Walsh, it's pretty impressive."
Jacoby Ellsbury swinging and Alex Rodriguez looking became Sale's first two strikeout victims in the first. He then fanned John Ryan Murphy swinging to open the second.
If Sale had his druthers, the 1,000th strikeout would have come on the 98-mph fastball he threw to Beltran on a 2-2 pitch. But that's not how this season has worked for the White Sox.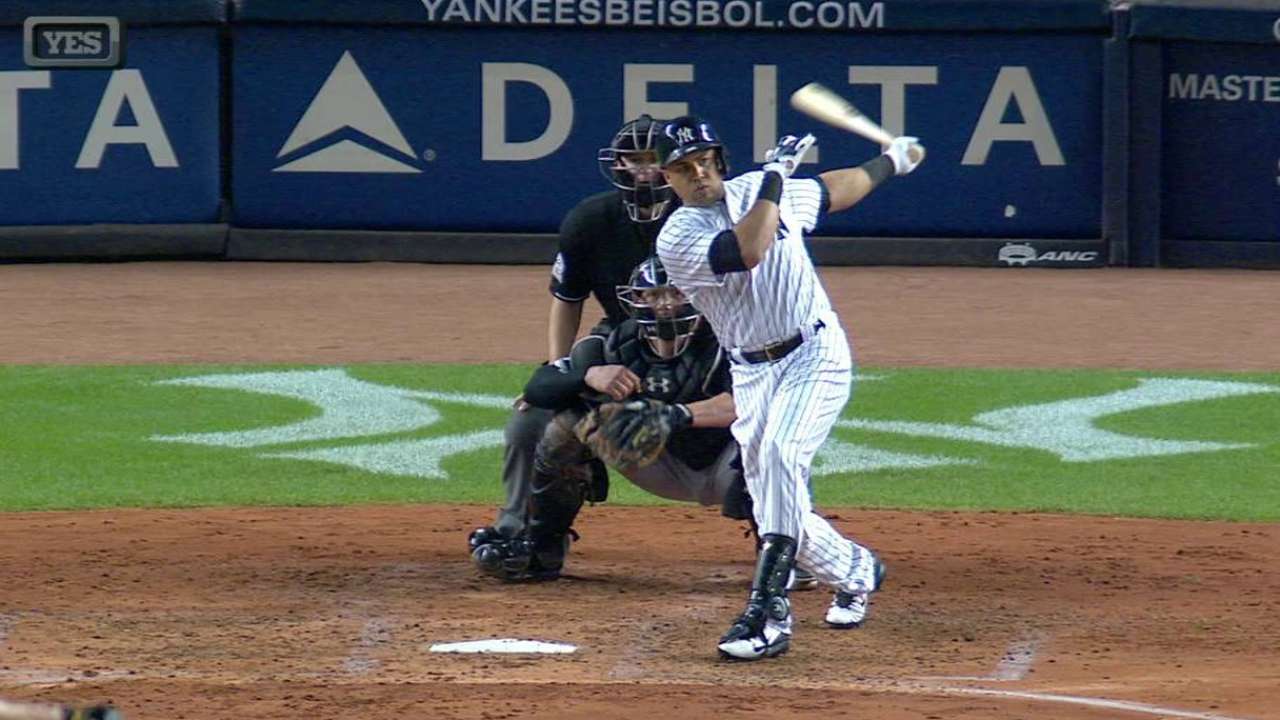 "Today was just a good hitter that took a shot at what he thought was going to happen and executed on it. There was a little something going on before, but we're past that now," said White Sox catcher Tyler Flowers, indicating but not confirming that Sale previously might have been tipping pitches. "You've got to eliminate a couple of those starts. At least from our minds, we have, and continue to work hard, and he's got one more. So one more to punch out three."
Sale's first career strikeout was of Danny Valencia on Aug. 2, 2010, as a reliever. His 500th was of Alfonso Soriano on Sept. 3, 2013.
According to Elias Sports Bureau, Sale joins Billy Wagner (752 2/3), Octavio Dotel (820 1/3), Francisco Rodriguez (827 1/3), Kerry Wood (853) and Tim Lincecum (896 1/3) as the only pitchers to reach 1,000 with fewer than 900 innings. Sale did it over 876 1/3 innings, topping 200 for the season on Thursday.
"You look at guys throughout history, 200 innings is the benchmark," Sale said. "That's what you want to reach. I don't think anything else really matters until there's 200 innings pitched."
Scott Merkin is a reporter for MLB.com. Read his blog, Merk's Works, follow him on Twitter @scottmerkin and listen to his podcast. This story was not subject to the approval of Major League Baseball or its clubs.