Heisey comes up big with go-ahead slam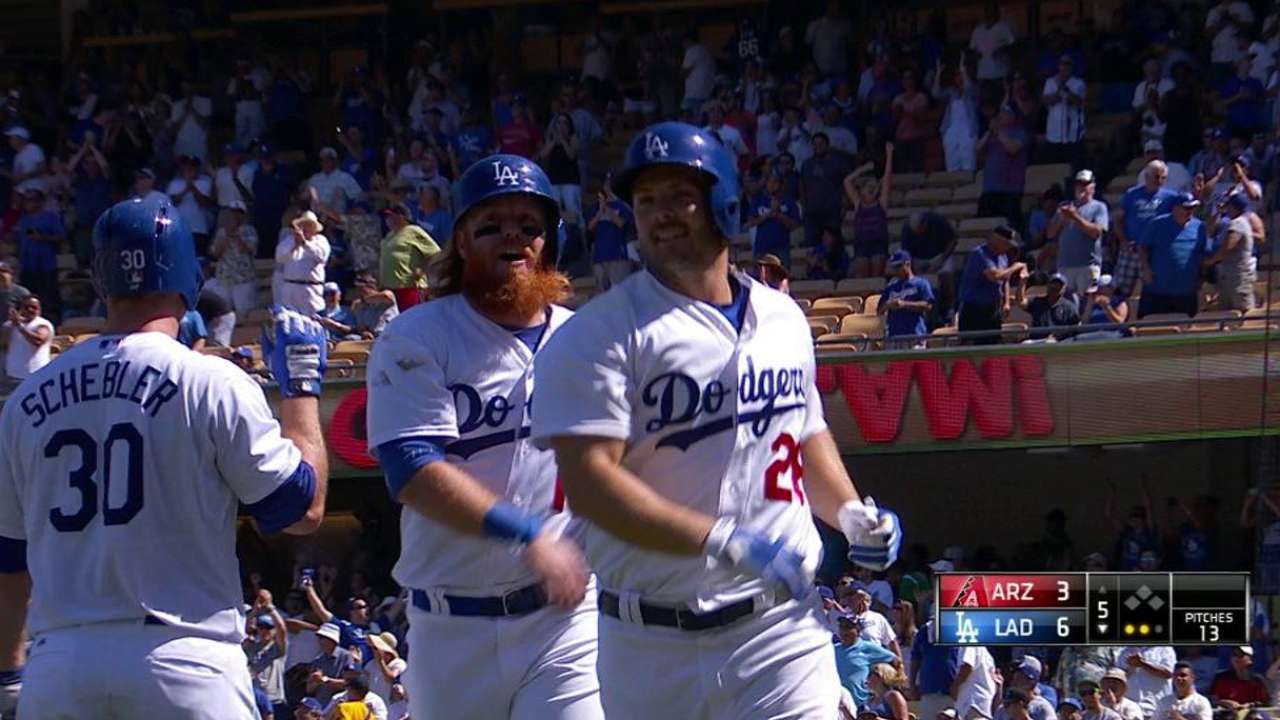 LOS ANGELES -- Stepping back out on the top step of the dugout to acknowledge 38,224 cheering fans on their feet won't make up for how difficult a season this has been for Chris Heisey. But it's pretty close.
Heisey launched a grand slam and took a curtain call to cap a six-run fifth inning as the Dodgers beat the D-backs, 6-3, on Thursday to lower their magic number in the NL West to three.
"I didn't realize they were doing it until Justin Turner told me to go out there and give them what they wanted," Heisey said.
Forgive him for not knowing; it was Heisey's second career grand slam, with the first one coming on his first home run of the season in April 2014 while he was playing for the Reds.
In his first season with the Dodgers, Heisey has been kept on the move and hasn't been consistent anywhere he's landed. He's been optioned and recalled four times after starting the year with Triple-A Oklahoma City and is only hitting .173 at the Major League level.
Heisey was designated for assignment on July 31 to clear room for the Dodgers' Trade Deadline acquisitions, and the Blue Jays picked him up less than a week later. He hit .155 in 17 games for Triple-A Buffalo, the Blue Jays' affiliate, before the Dodgers reacquired him for a player to be named later or cash on Aug. 31.
"Heis had a big swing of the bat right there. He's such a gamer, I love Heis," pitcher Clayton Kershaw said. "For him to do that, with the year he's had, it's been unbelievable."
"It was nice to finally feel like I contributed. I haven't played well and it's frustrating, but it's nice to finally help the team get a win," Heisey said. "I haven't been able to find a consistent rhythm with my swing and my mechanics have been off, but that's just really how it's gone."
Heisey was even more relieved to come through Thursday after missing a golden opportunity the inning before. With runners on the corners and one out, Heisey struck out and the Dodgers wouldn't score in the frame.
But after watching teammates Scott Van Slyke and A.J. Ellis bat against reliever Andrew Chafin, Heisey was able to pick up on a tendency that made all the difference.
"I was able to watch those at-bats and I moved up in the box because he was throwing a lot of offspeed pitches and I was hoping to catch one before it broke," Heisey said. "Fortunately, he left one up, and I was able to do exactly what I wanted to do with it."
Steve Bourbon is an associate reporter for MLB.com. This story was not subject to the approval of Major League Baseball or its clubs.