Kelly on his journey and return back to the bigs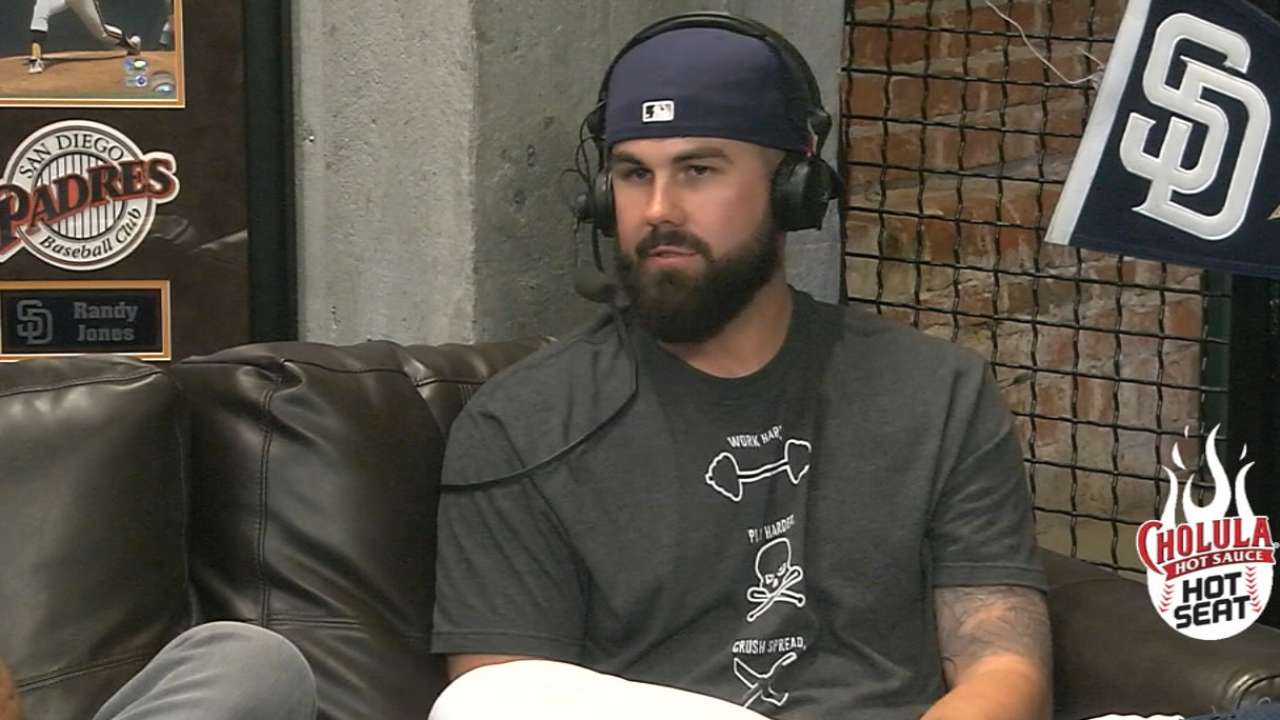 Padres pitcher Casey Kelly stopped by Padres Social Hour on Wednesday to discuss his return back to the big leagues after being absent due to injury since September of 2012. Kelly, who was acquired by the Padres in 2010 from the Boston Red Sox in a trade for Adrian Gonzalez, had not pitched in a big league game almost three full years before taking the mound last Saturday against Colorado.
Needless to say, Kelly is happy to be back.
"It's been so awesome," said Kelly. "It's been a fun ride this year to start out at Double-A then go up to Triple-A and then get the call up in September… I've kind of been all over the place but it's a big year for me to be healthy and make all my starts. I just wanted to finish the season healthy and get better every day, and I feel like I did that."
Prior to Kelly's relief appearance against the Rockies on September 19th, Kelly had not pitched in a Major League game since September 27th of the 2012 season. With such a long gap between Major League appearances, Kelly was quick to notice a change in mentality and approach off the mound.
"When you're out for so long, being in the game is different," explained Kelly. "You think about different things; whereas before the injury I was thinking 'oh, I need to get the hitter out,' but now after the injury I find myself thinking 'is my elbow going to hurt? Is this going to be okay?' But I know did everything I could possible the be ready up to that point and get rid of all the doubt in my head."
Getting to that point of pitching free and easy was no easy task, however.
"(After Tommy John surgery), that was the first thing I was trying to battle mentally - getting past the fear of (throwing too hard) where my elbow will hurt. It took just a lot of repetition and work to get to a point where that isn't even a thought in my mind. I'm out there now, just competing."
To find out more about Kelly's return to the Majors and the journey he took to get back on the mound, be sure to watch the entire interview in the video above. And for more interviews, highlights and Padres content just like this, check out padres.com/socialhour.