Peralta to keep injuries in mind this offseason
Shut down for rest of 2015 campaign, pitcher looks to do what he can to avoid issues in '16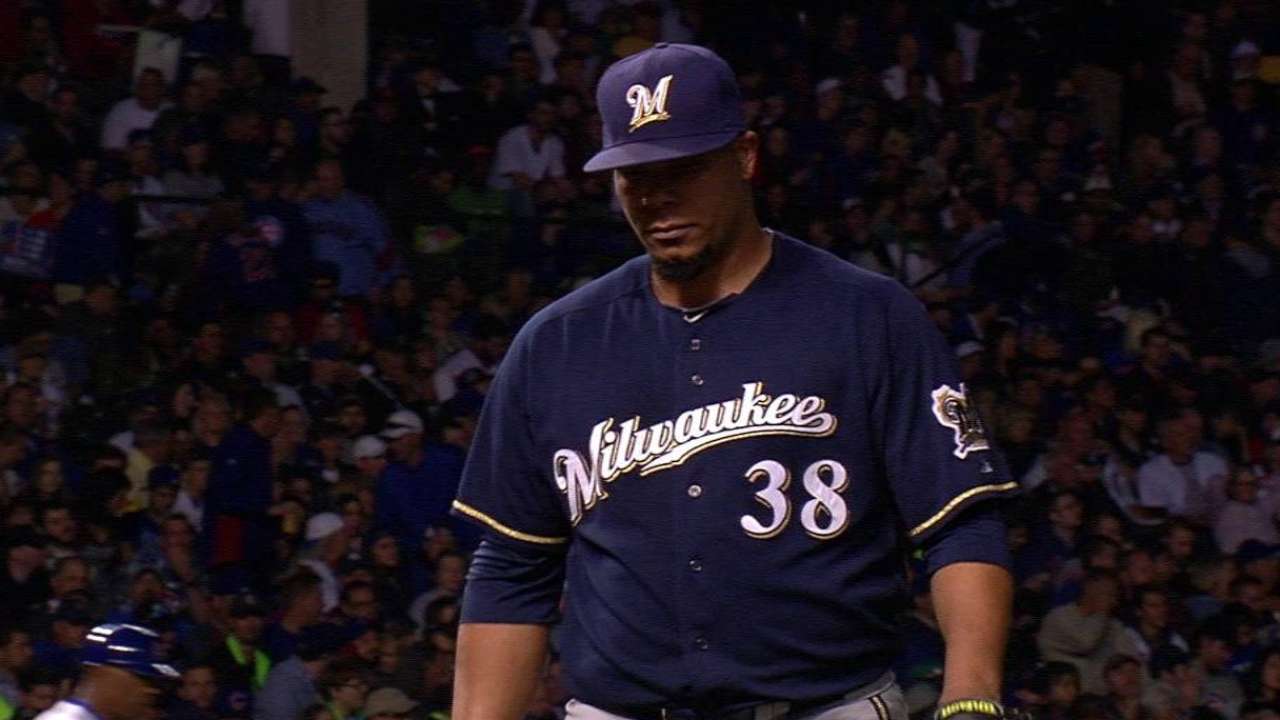 ST. LOUIS -- With his price tag about to go up via arbitration, Brewers right-hander Wily Peralta suggested he would work harder this winter to avoid the physical ailments that tarnished his 2015 season.
The Brewers this week announced they were shutting Peralta down for the season because of a recurrence of discomfort in his right oblique. He spent two months on the disabled list with a muscle strain in that area and was limited to 20 starts, going 5-10 with a 4.72 ERA in his final pre-arbitration season. It was a significant production drop from 2014, when Peralta was 17-11 with a 3.53 ERA in 32 starts.
"They told me to rest for a month and start doing my workouts that I normally do," Peralta said. "I'm just going to do my normal workout that I do in the offseason. I'm not going to change anything. ... Probably work harder. That's the only thing. Work harder than I've been working before. That's the only thing I think that's going to help me."
Asked whether that suggestion came from the team, Peralta said, "That's something I came up with. They never told me, 'You have to come in better shape.' They know I've been pretty much the same weight as five or six years ago. Nothing's been changing. They're fine with the weight that I'm at. Personally, for myself, I think every year you need to work harder.
"Getting older, it's hard to lose weight. It's hard to get in shape when you get older. Just work hard, man."
Peralta indicated he had been feeling tight beginning "a few starts ago," but after a start in Cleveland last month, his velocity was noticeably diminished. The recent trouble had forced Peralta to alter his mechanics, which raised red flags and prompted the preemptive decision to shut him down.
"It's a tough injury, man," said Peralta, who had never been on the Major League disabled list before this season. "When you think it's gone away, it comes back. That's the way it's been."
Peralta will return next season alongside Matt Garza as the only pitchers in Milwaukee's rotation earning significantly above the Major League minimum salary. Peralta will get a raise in his first season of arbitration eligibility. He is represented by Peter Greenberg.
"I don't really pay attention about that," Peralta said. "This year has already been tough. The only thing I can do is go back home and rest and work hard and try to put on a good season like I did last year, for my next season coming up. That's the only thing I can control. This year is already messed up. It's been a tough one."
Adam McCalvy is a reporter for MLB.com. Follow him on Twitter @AdamMcCalvy, like him on Facebook and listen to his podcast. This story was not subject to the approval of Major League Baseball or its clubs.