Walker 'most likely done' for season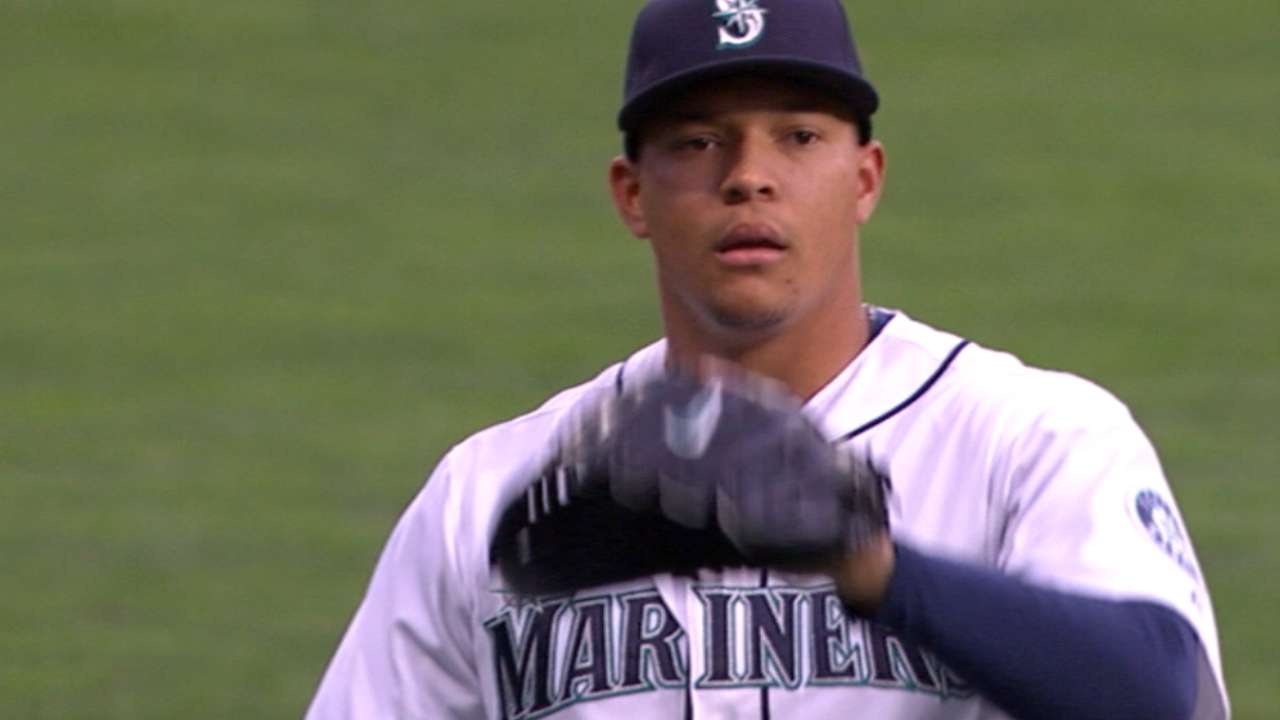 KANSAS CITY -- After much deliberation, southpaw Vidal Nuno will start Friday's series opener for the Mariners against the Angels in Anaheim, meaning Taijuan Walker is "most likely done for the rest of the year," according to manager Lloyd McClendon.
Walker made his last start on Sept. 14, holding the Angels to four hits and one run in seven innings. Looking to protect the 23-year-old's arm by limiting his innings, McClendon then skipped Walker when his next turn in the rotation came up, and now will keep him on the sidelines the rest of the way as the Mariners finish up their final 10 games.
"I weighed a lot of things," McClendon said. "Ensuring that he's healthy and goes into next season feeling good about what he's accomplished this year, that outweighed everything else. His health was the most important thing. He's at [169 2/3] innings. He pitched 129 last year.
"It just makes all the sense in the world. To run him out there at this juncture of the season is not a win-win for anybody involved. The best thing to do is make sure he's healthy going into next year. He's built to go 200-plus innings next year, and we'll leave it at that. He had a great one to end on."
Walker indicated there was some thought he'd pitch Friday's game, but that dissipated when the Mariners lost to the Royals on Wednesday to further crimp any idea of a long-shot American League Wild Card run for a team that had gone 13-6 to start September.
Instead, he'll wrap up his first full season in the rotation with an 11-8 record and 4.56 ERA in 29 starts.
"I feel really good. I feel strong," Walker said. "I finished the season healthy and strong. It ended on a good note with my last start. Now I'm just going to go into the offseason healthy and get ready for next year."
The 6-foot-4 Walker added about 20 pounds during the season and said he weighs 255 now. He's going to work on flexibility and quickness over the offseason, planning to get back to about 245-250 pounds.
"He's got a lot to prepare for now," said McClendon. "He's had some success. He's tasted it, and I believe he wants more of it."
Worth noting
• The Mariners will stay mostly in rotation now for the final homestand, which means Roenis Elias, James Paxton and Nuno pitching against the Astros from Monday through Wednesday. Felix Hernandez is penciled in for Friday's game against the A's on Fan Appreciation Night. Hisashi Iwakuma will go Saturday and it's likely that Paxton will pitch the finale on Sunday afternoon.
• After throwing 32 pitches on Wednesday, closer Tom Wilhelmsen was not available to pitch Thursday's series finale against the Royals, McClendon said.
• In addition to Fan Appreciation Night, next Friday's game against the A's will feature the final postgame fireworks show at Safeco Field. The season finale on Sunday, Oct. 4, will be Kids Appreciation Day, with the game starting at 12:10 p.m. PT.
Greg Johns is a reporter for MLB.com. Follow him on Twitter @GregJohnsMLB, read his Mariners Musings blog, and listen to his podcast. This story was not subject to the approval of Major League Baseball or its clubs.