Refsnyder 'excited' to return to Yanks' lineup
Club's No. 6 prospect makes first start in over two months after being recalled in early September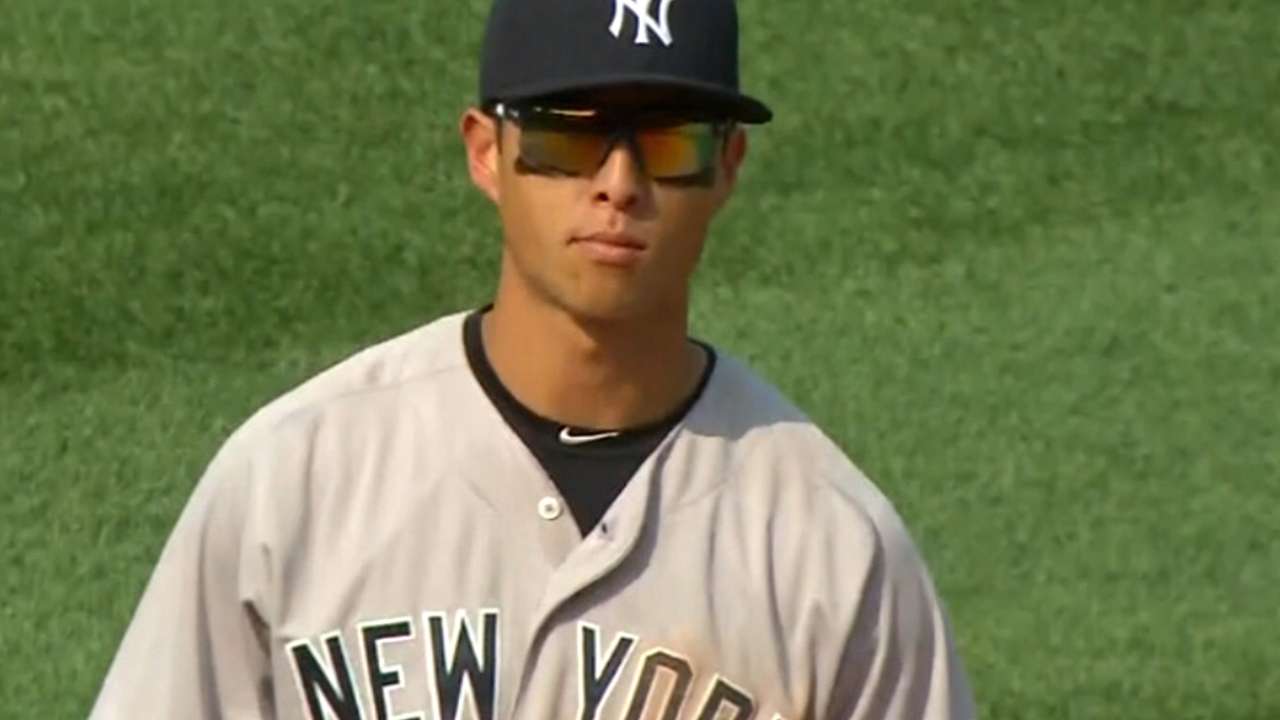 NEW YORK -- It's been more than two months since Rob Refsnyder made a start at the Major League level, but on Thursday the Yankees gave the second baseman his first nod since July 18 with the White Sox in town.
Refsnyder went 1-for-3 in the Yankees' 3-2 victory.
Refsnyder, ranked by MLB.com as the Yankees' No. 6 prospect, was called up on July 11 from Triple-A Scranton/Wilkes-Barre, played four games with the Yanks at second base and then was sent back down. The Yankees told him to continue working on his defense in the Minor Leagues, then he rejoined the club at the beginning of September.
"We're trying to get all the right-handers we can, and you know what, we're seeing a left-hander [Thursday, in Chris Sale] that's extremely tough on left-handers," manager Joe Girardi said. "These young guys are going to have to help us, because some of our bats that are right-handed are young, and they're going to have to help us."
Refsnyder started against left-handed pitchers during his brief Major League stint in July, but the Yanks elected to keep the more experienced Stephen Drew as their everyday second baseman to open September. Recently, Dustin Ackley has worked his way into playing time over Drew.
Refsnyder credited assistant hitting coach Alan Cockrell and third-base coach Joe Espada for helping him make necessary adjustments, and Refsnyder indicated he didn't know what his role would be once he came back up to the Majors.
"I didn't have any expectations. My job is to get ready, help and be a good teammate," Refsnyder said. "I'm just excited about the opportunity today. I'm going to make the most of it, try to help the team win."
Refsnyder has appeared in just four games since being called back up and has a season average of .176 through 17 at-bats. He's hit one homer and driven in two runs.
"Tough luck, to be honest," he said of his second-half struggles. "Obviously my average wasn't as high as I'd like, but it was just tough luck, baseball kind of stuff -- the kind of stuff you can't really see on paper."
Aside from the fact that he was given a chance to prove himself Thursday, Refsnyder was excited to get the start for a personal reason. He and White Sox right fielder Trayce Thompson are childhood friends. On Thursday, Thompson was in the lineup, hitting fourth, and clubbed a solo home run and added a bases-loaded walk.
"Baseball is tough, though, as a whole. I'm looking forward to it. It's awesome; it's a great opportunity," Refsnyder said. "Hopefully [Thompson and I] are both in the lineup together. It would be pretty special, because me and him are pretty close. It would be kind of cool to have both our families celebrate that."
Grace Raynor is an associate reporter for MLB.com. This story was not subject to the approval of Major League Baseball or its clubs.