Alvarez's late HR gives Bucs 6th straight win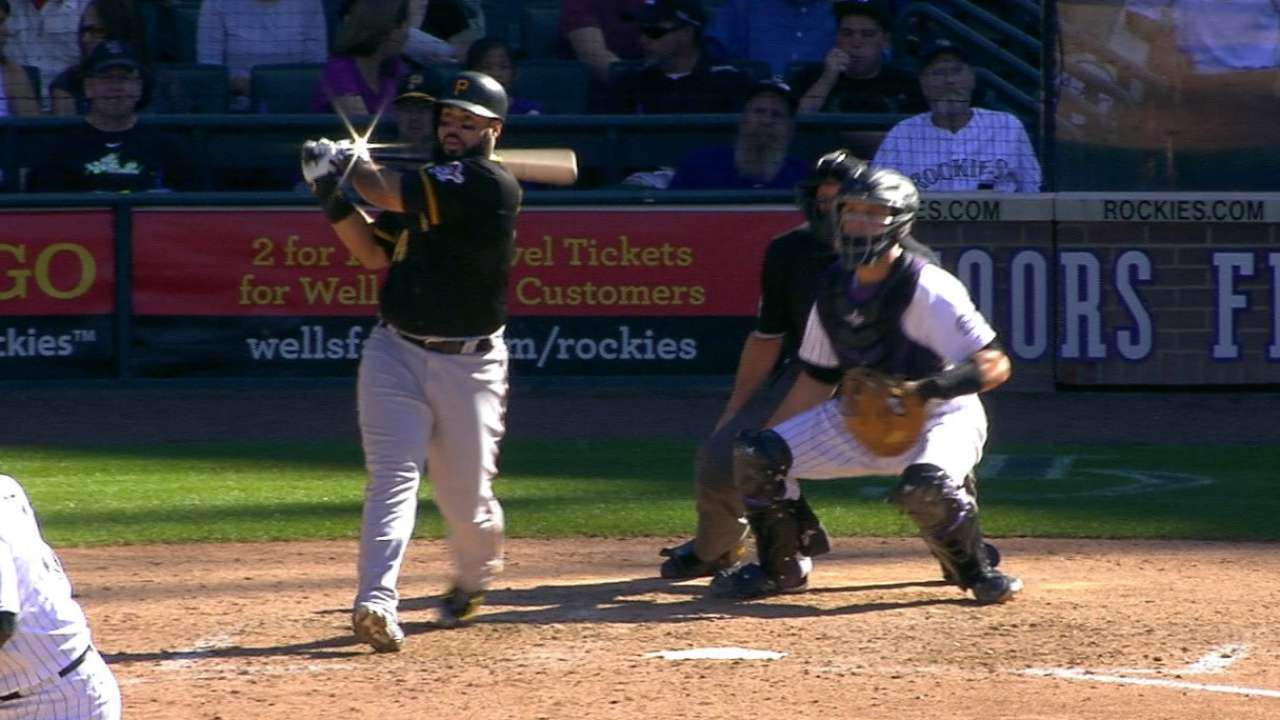 DENVER -- A day after clinching a postseason berth, the Pirates secured a four-game sweep of the Rockies on Thursday afternoon at Coors Field with a 5-4 win -- their sixth straight -- thanks to a lead-changing three-run homer to right field by Pedro Alvarez with two outs in the eighth inning.
With the victory, the Pirates improved to 93-60 and remained four games behind the National League Central-leading Cardinals, who defeated the Brewers, 7-3, on Thursday. Pittsburgh trimmed its magic number to clinch the top NL Wild Card spot to seven. The Cubs, 3 1/2 games behind the Pirates, were idle on Thursday.
Bucs left fielder Starling Marte entered the record books in the win, going 4-for-5 to finish with 13 hits the series and tie for the most knocks in a four-game set in Pirates history. Marte shares the record with Hall of Famer Pie Traynor, who recorded 13 hits from Aug. 2-4, 1928.
"Pie Traynor? That's going back," Pirates manager Clint Hurdle said. "That's a big league name."
The win was No. 10,000 since the Pirates officially joined the National League in 1887. The Bucs became the fifth club to record 10,000 or more victories, according to the Elias Sports Bureau. The others are the Giants (10,859), Cubs (10,600), Braves (10,365) and Dodgers (10,166).
The Pirates had not swept a four-game series since July 2-5, 2012, against the Astros, and this was their first four-game sweep on the road since July 3-6, 1997, at St. Louis.
"With the offensive capabilities that team has, I thought we managed the game off the mound extremely well through the four days," Hurdle said. "We stayed away from big innings. There were tipping points in just about every game where a pitcher was able to get an out."
The Rockies couldn't capitalize on Chad Bettis' 10th quality start of the season. He worked six innings of two-run ball, yielding seven hits and two walks while striking out six. The loss marked the first time Colorado had been swept at home in a four-game series since it lost from Sept. 15-18, 2011, to the Giants.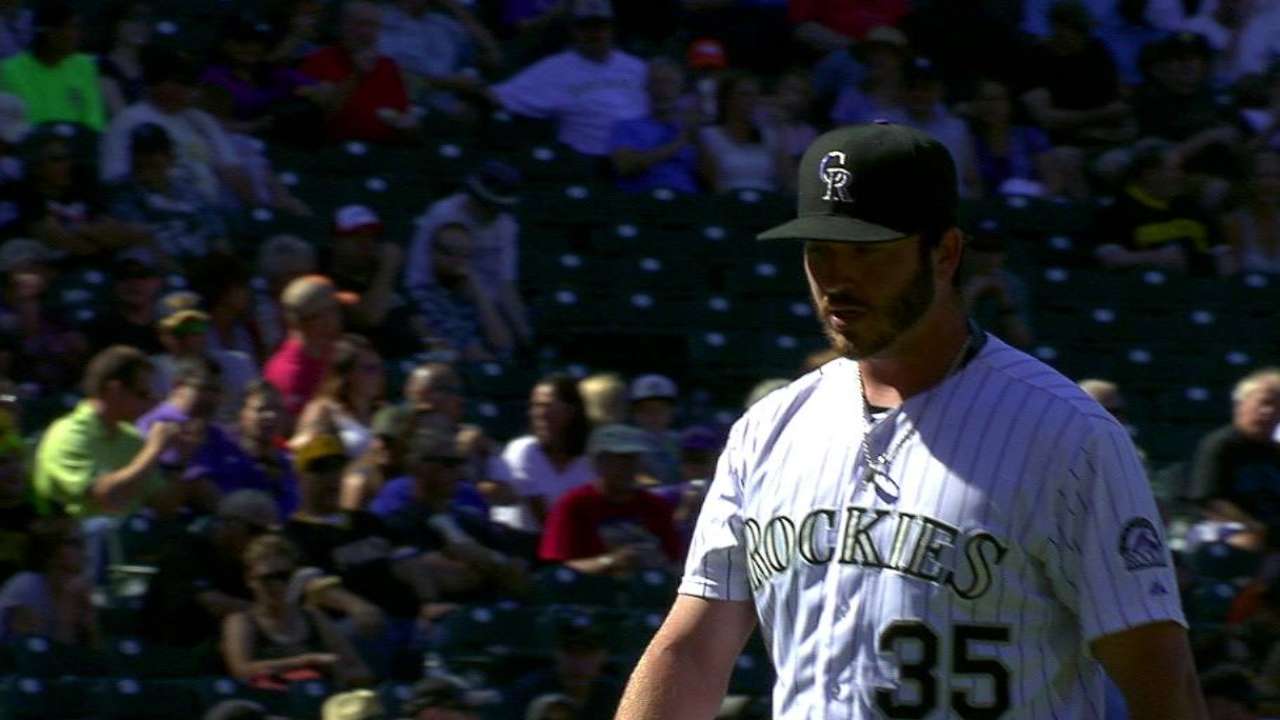 "I felt in control," Bettis said. "I just wish I had been able to be a little more efficient and possibly go back out there for the seventh or eighth. But I was a little erratic at times throughout the whole game. I wish I had been better."
MOMENTS THAT MATTERED
Tough call: Pittsburgh scraped together a run in the first and fifth innings before erupting in the eighth. With one out in the eighth, Marte and Neil Walker singled to center and left, respectively, before right-handed reliever Jairo Diaz struck out Jordy Mercer. Alvarez followed with his 26th homer on a 2-1 offering. Diaz had allowed only three runs (two earned) in 14 innings spanning 16 outings before Thursday.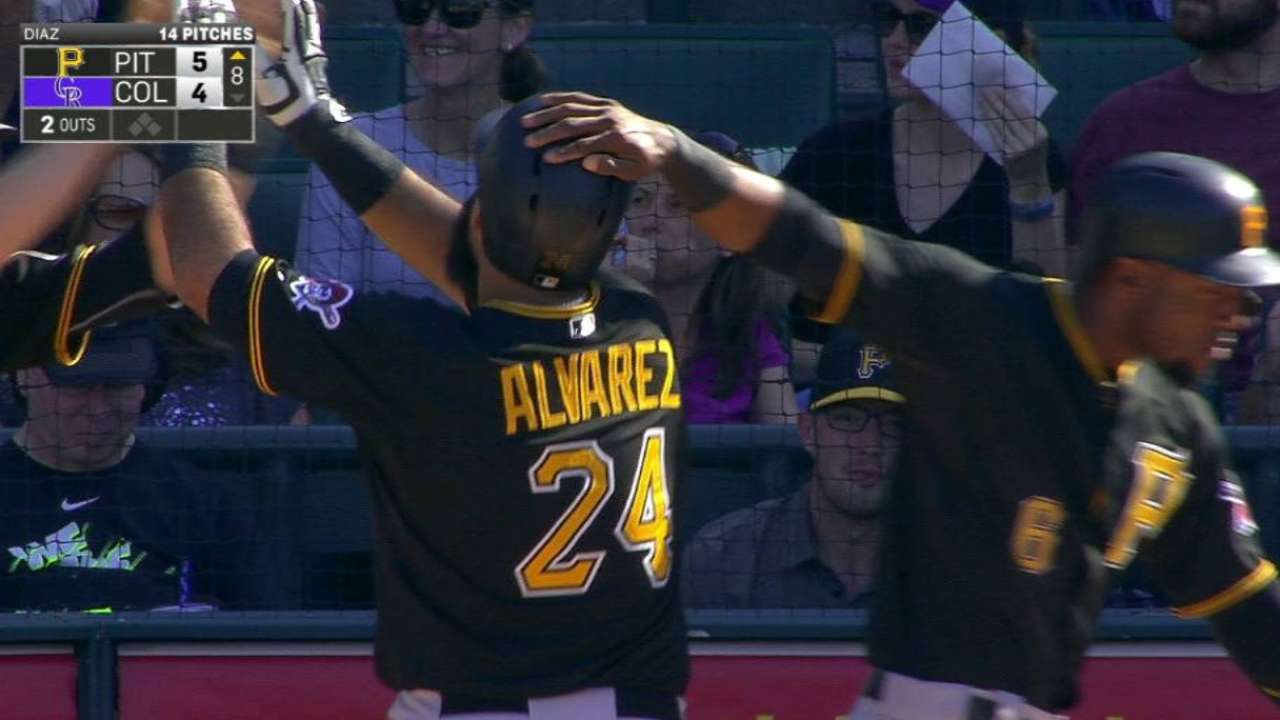 "Jairo's been our guy in the eighth inning," Rockies manager Walt Weiss said of his decision not to go to a lefty-lefty matchup. "He's been lights-out. He's been better against lefties than righties. He's got a lot of power. I thought it was a good matchup for him." More >
On a roll: Marte went 9-for-15 with six RBIs in the first three games of the series and continued his torrid stretch in the finale, going 4-for-5 with one RBI. Marte singled home a run in the first and then singled in the third, fifth and eighth innings. He tried to stretch the two-out hit in the fifth into a double but was thrown out on a play that was reviewed. Marte had a chance to break Traynor's record but grounded out to end the ninth inning in his fifth at-bat. More >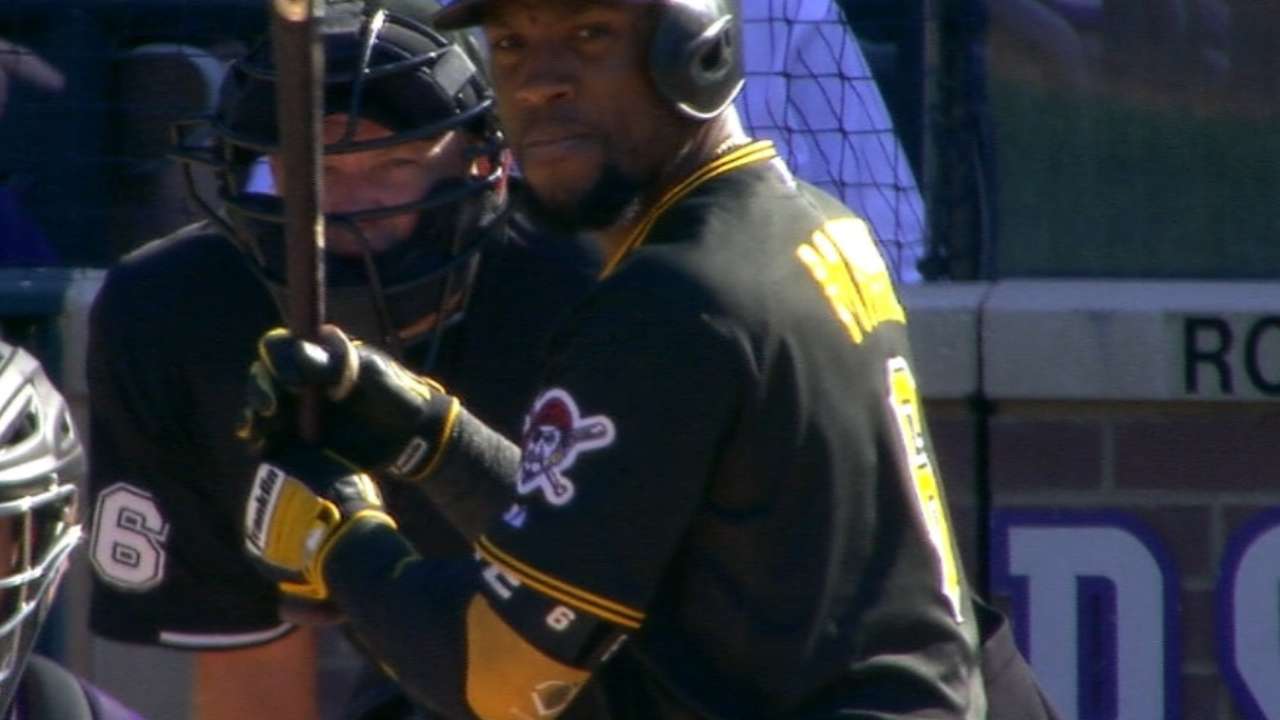 The bat is back: NL Most Valuable Player Award candidate Nolan Arenado was back in the lineup after missing Wednesday night's game upon hitting his head on a diving play at third base. He was 1-for-9 in the first two games of the series but reached base in each of his first three trips to the plate on Thursday. Arenado hit the 100th double of his career in the first inning, then doubled to left to plate two runs in the third, giving the Rockies a 2-1 lead.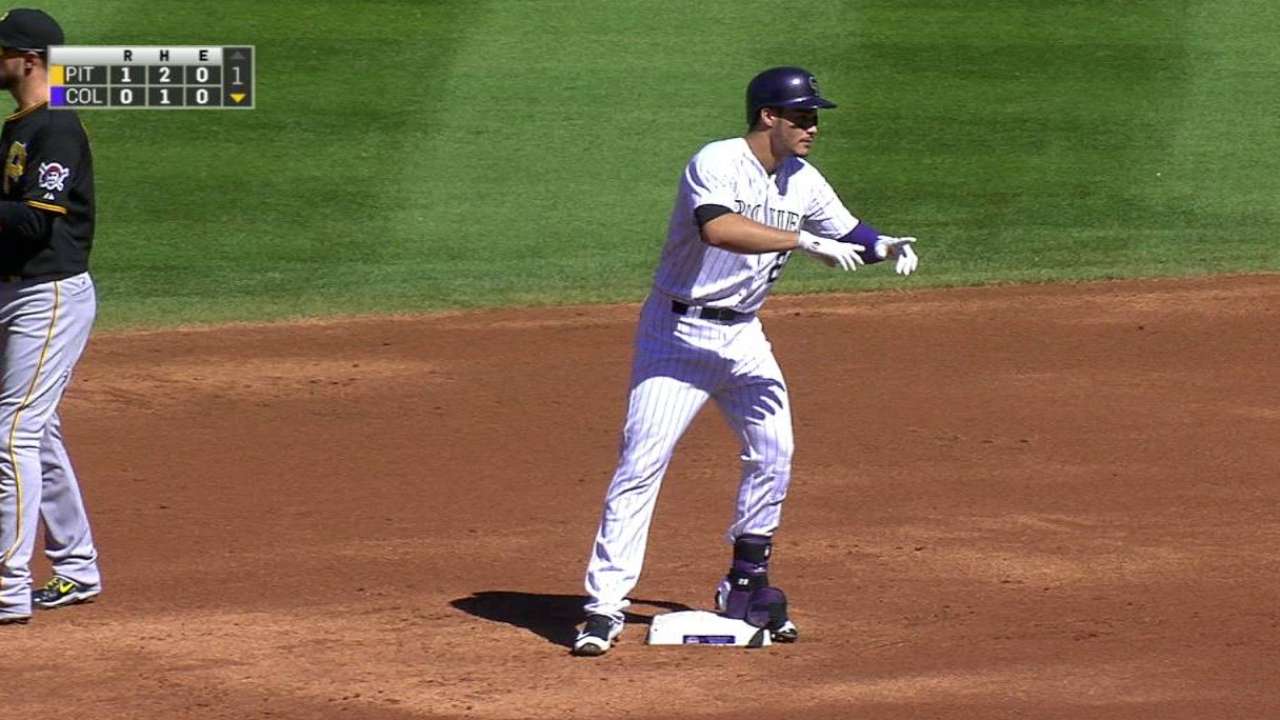 Stealing a lead: Colorado expanded its lead in the sixth inning thanks in part to Kyle Parker's first big league steal. Parker hit a one-out single to center, then stole second to get into scoring position. Pinch-hitter Ben Paulsen hit a hard shot to Alvarez at first, and the hard-to-handle ball went for a run-scoring double. Paulsen followed by stealing second himself -- also his first steal in the Majors. He was stranded at second when Corey Dickerson struck out to end the inning.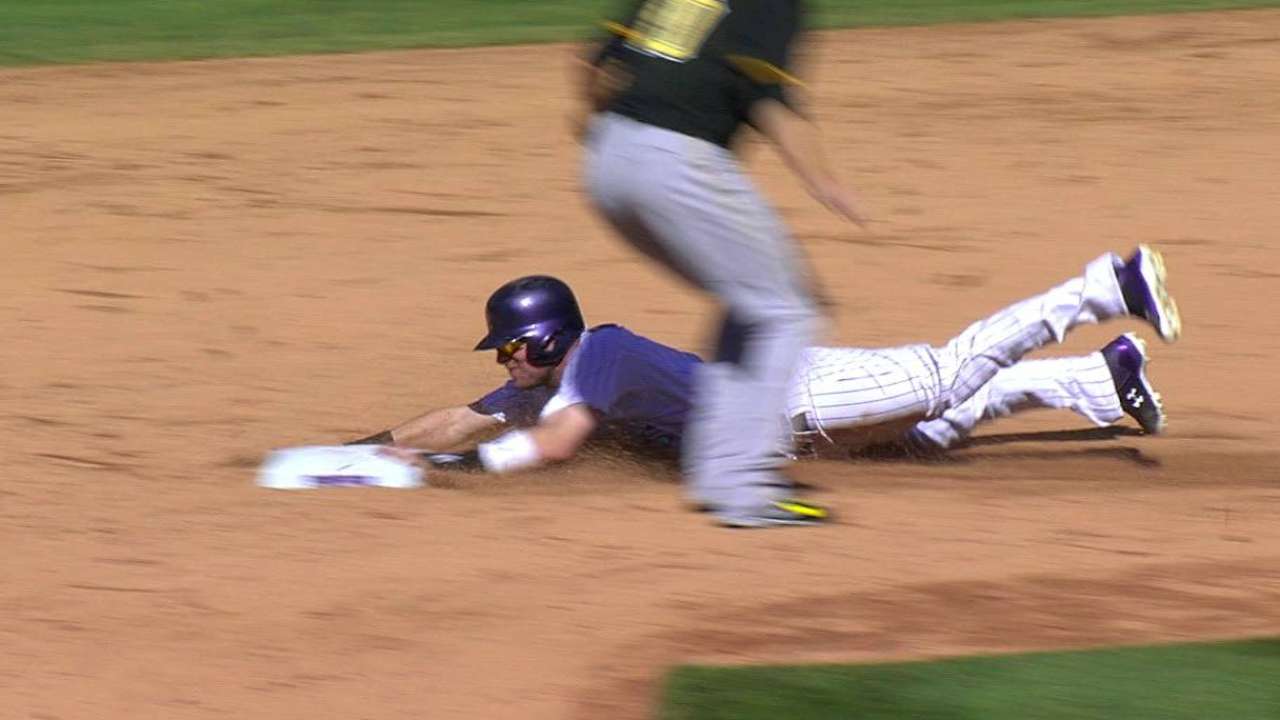 "We put some runners in motion," Weiss said. "We felt like we had an opportunity to that today, so we were a little bit more aggressive on the bases."
Fifty big ones: Pirates closer Mark Melancon retired the side in order in the ninth to earn his 50th save of the season. Melancon, who has thrown nine consecutive hitless innings, is the seventh pitcher in NL history to record 50 or more saves in a season. "It shows what kind of a team we have," Melancon said of his milestone. "The bullpen has been terrific. The guys ahead of me, you can't say enough about them. Fifty's pretty neat."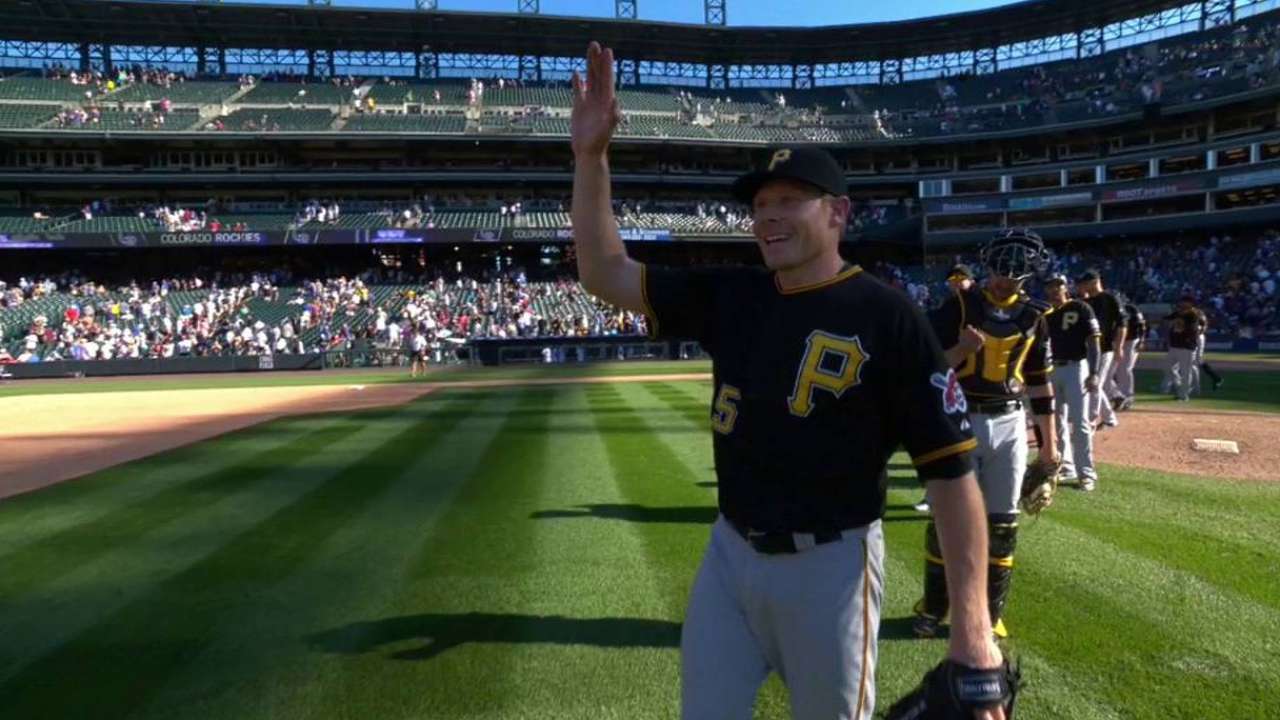 QUOTABLE
"It's good to be playing this kind of baseball heading into this time of the season. We'll see how the rest of these games play out, but I feel like we're in a really good position." -- Pirates starter Jeff Locke
"[Boone] Logan's not going to face Alvarez. They're going to pull him back. They've got [Michael] Morse, and possibly [Aramis] Ramirez. Ramirez is banged up, so I don't know if he's available, but I can't assume that he's not. If I pull the string with Logan right there, go get him, it gives them the upper hand in matchups for the next two hitters, because they've got [Gregory] Polanco sitting over there, too." -- Weiss, on his decision to stick with the right-handed Diaz against the left-handed-hitting Alvarez, despite having the left-handed Logan warmed up in the bullpen
SOUND SMART WITH YOUR FRIENDS
Carlos Gonzalez's pinch-hit single in the seventh gave him hits in successive games for the first time since Sept. 13-14. Gonzalez hit five homers with 12 RBIs in a three-game span from Sept. 2-4 but has homered once and recorded five RBIs since.
REPLAY REVIEW
The Rockies had two replay reviews go their way. In the top of the third, Jaff Decker grounded to first baseman Wilin Rosario, who fumbled the ball before tossing to Bettis, who was covering the bag. Decker was ruled safe, but when Weiss challenged the play, it was overturned.
The second came in the fifth on a hit to left by Marte, who tried to stretch it into a double, but a perfect throw from Ynoa nabbed Marte by a foot to end the inning. Hurdle challenged the call, but it was ruled that the call would stand.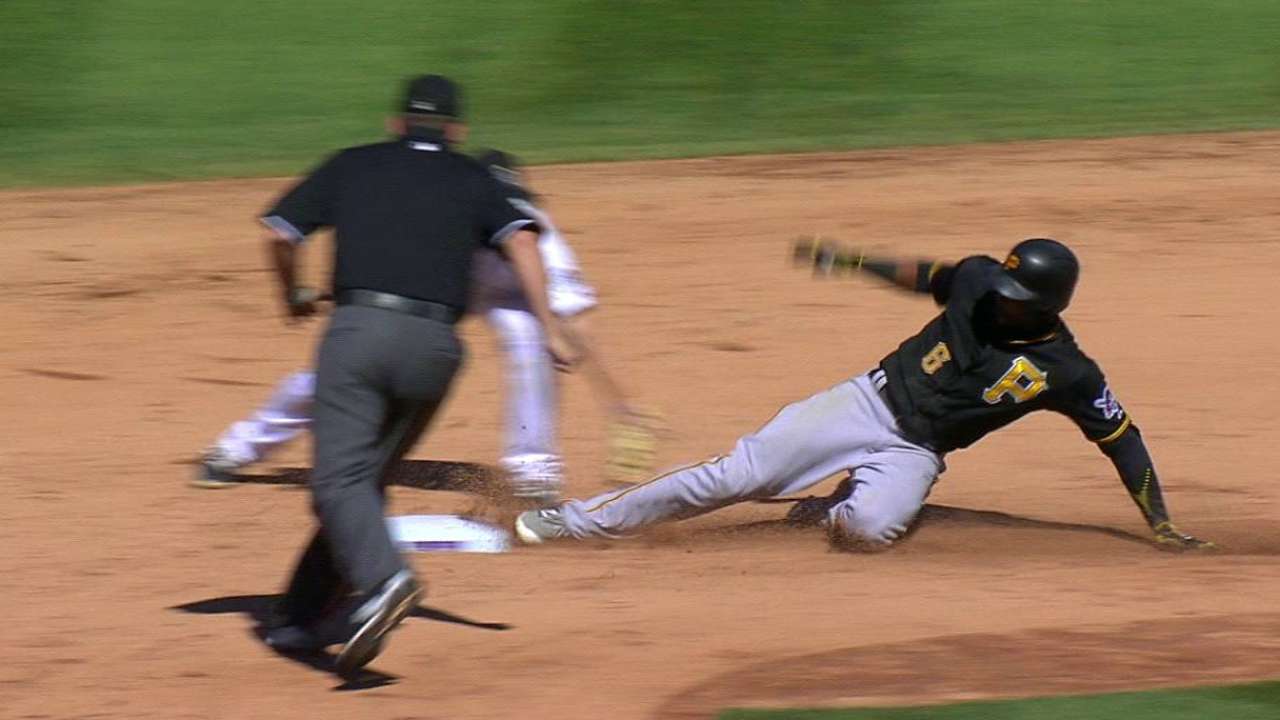 WHAT'S NEXT
Pirates: The Pirates will finish their 10-game road trip with a key three-game set at Wrigley Field on Friday at 2:20 p.m. ET, starting right-hander Gerrit Cole against the Cubs. Cole has gone 3-1 with a 2.79 ERA in his past six starts and is 10-2 with a 3.10 ERA in 15 career starts in September. Cole is 6-1 with a 3.10 ERA in eight career starts against the Cubs and 4-1 with a 3.00 ERA in five starts at Wrigley Field.
Rockies: The Rockies will open their final home series of the season Friday, with right-hander David Hale taking on the Dodgers at 6:10 p.m. MT. Hale gets the start in place of Johan Flande, who was hit in the knee by a batted ball in his last start and will not pitch during the series. Hale is 2-5 with a 6.33 ERA in 10 starts this season. He is 3-2 with a 6.41 ERA in 10 games (seven starts) at Coors Field. He has faced L.A. twice this year, once in relief and as a starter on June 2, when he gave up four runs on seven hits -- including three homers -- in six innings.
Watch every out-of-market regular-season game live on MLB.TV.
Jack Etkin is a contributor to MLB.com. Owen Perkins is a contributor to MLB.com. This story was not subject to the approval of Major League Baseball or its clubs.