ICYMI: Gyorko, Kemp shine in b-day walk-off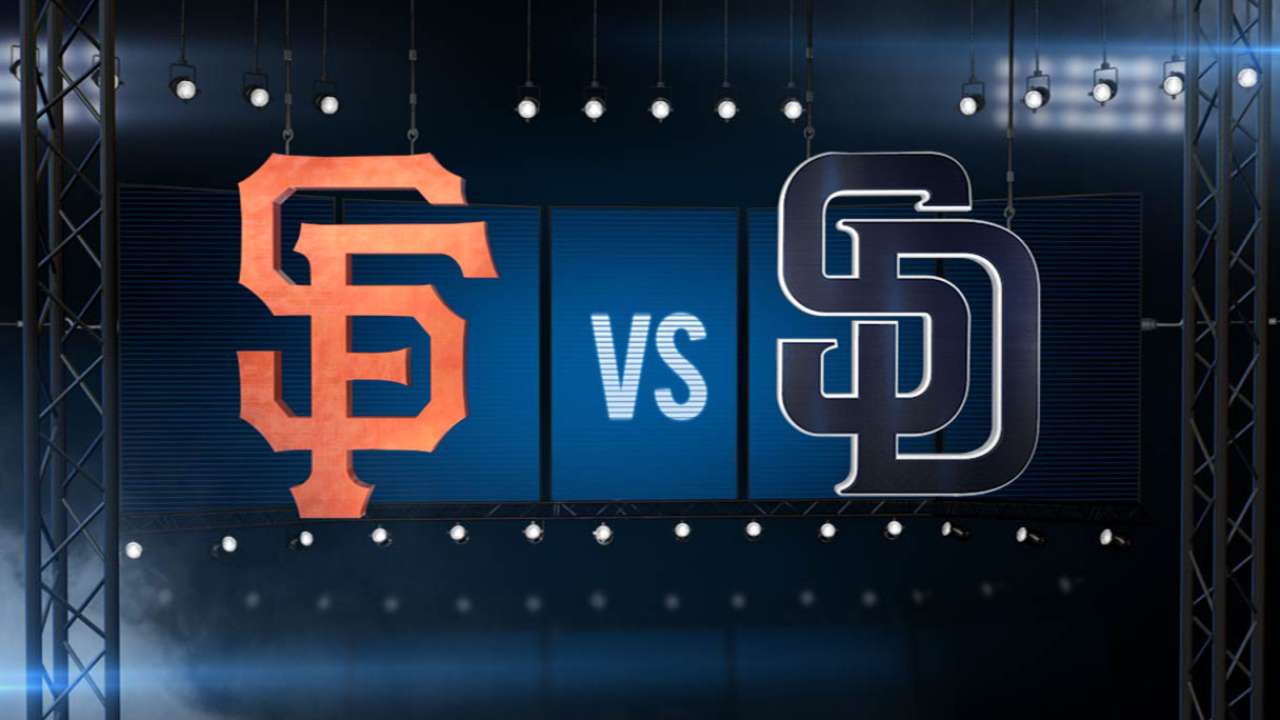 Two Padres players celebrated their birthday at the ballpark on Wednesday as Jedd Gyorko (27 years old) and Matt Kemp (31 years old) combined for six total hits, with Kemp scoring the game-winning run after Gyorko hit a walk-off single in the bottom of the ninth to propel the Padres to a 5-4 win over the Giants.
Righty Andrew Cashner -- despite seeing mixed results against the Giants in 2015 -- entered the game with a solid 2-0 record and a lifetime 2.30 ERA against San Francisco over three career appearances at home. Cashner provided a much-needed bounce-back performance with six innings. San Francisco managed to record only two earned runs on two hits and five walks against Cashner, striking out six times against the hard-throwing Texan. Although Cashner's quality was certainly a factor in keeping the Padres close all night, his strong performance did not factor into the decision.
Cashner did get to be a part of Padres history on Wednesday, however. After Cashner left in the sixth inning, reliever Nick Vincent took the hill and promptly struck out Marlon Byrd for the 1,296th strikeout of 2015, setting a new franchise record for most combined strikeouts in a single season. The Padres would raise that total to 1,299 by the end of the game.
While both Cashner and Vincent put up solid performances, the back end of the bullpen struggled as Joaquin Benoit and Craig Kimbrel each surrendered runs. Despite being pegged with his fourth blown save of the year, Kimbrel came out as the winning pitcher.
San Diego outhit San Francisco 11 hits to four. Infielder Yangervis Solarte plated two runs in the seventh and increased his season total to 61 RBIs on the year thanks to his 2-for-4 performance. Rookie Travis Jankowski also collected a pair of RBIs after delivering a late lead for San Diego with a two-run double in the eighth. Derek Norris and Brett Wallace each recorded hits and runs scored as well.
But the birthday boys took the cake. Kemp went 2-for-5 and scored the game winning run, while Gyorko checked in with an impressive 4-for-5 performance, recording a walk-off base hit in the bottom of the ninth.
In case you missed it, here are some highlights and stories that you might not have seen:
Padres postgame recap: Birthday boy Gyorko gifts Padres with walk-off
Cashner fans six through six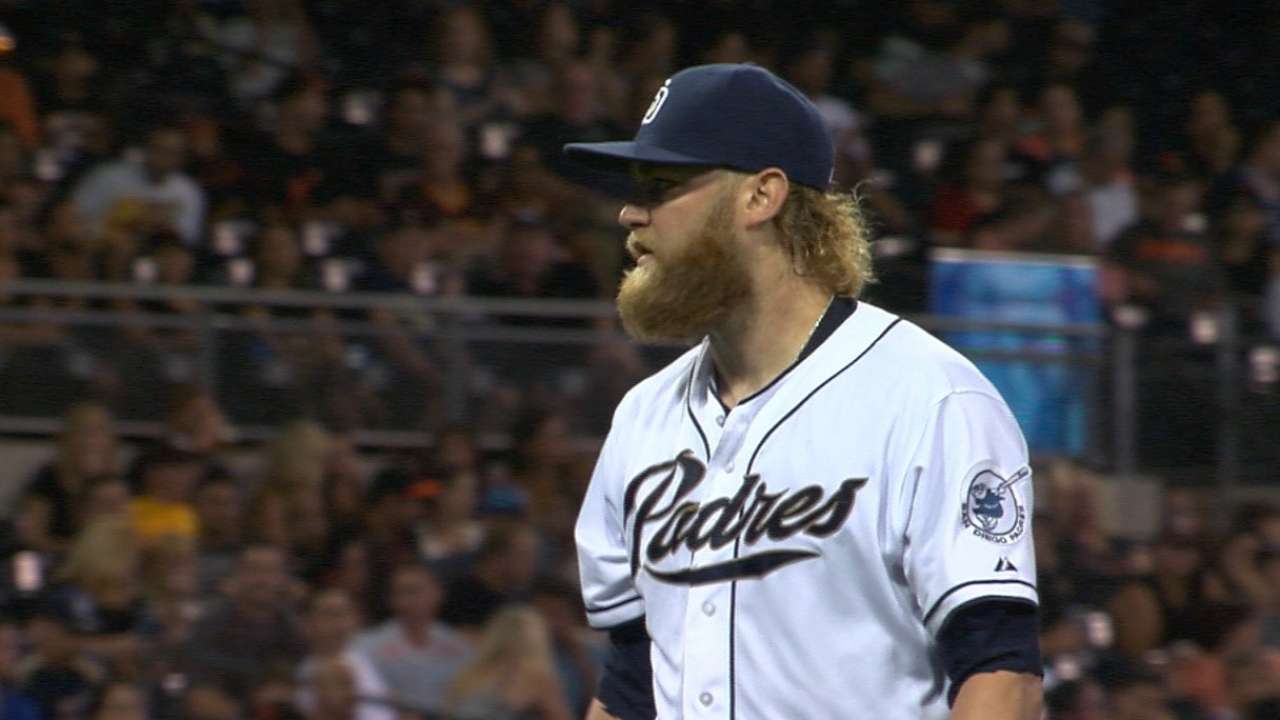 Vincent records the Padres' 1,296th strikeout of 2015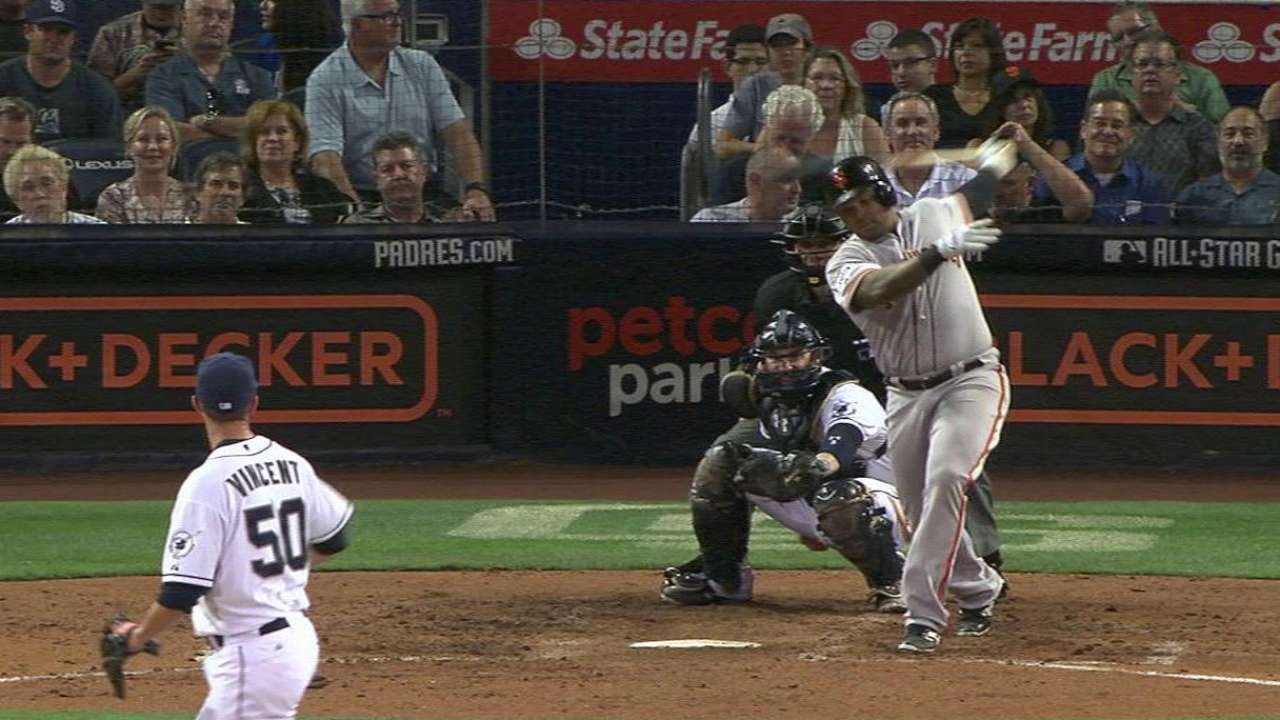 Solarte ties the game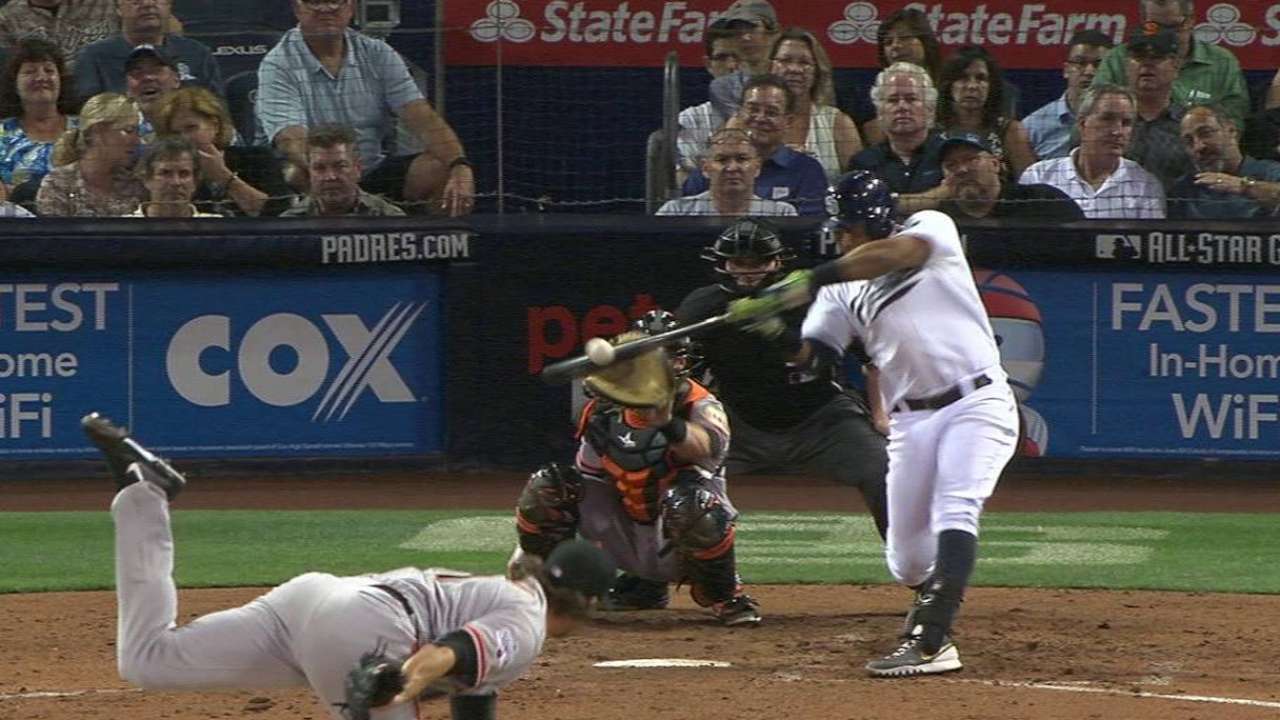 Jankowski's two-run double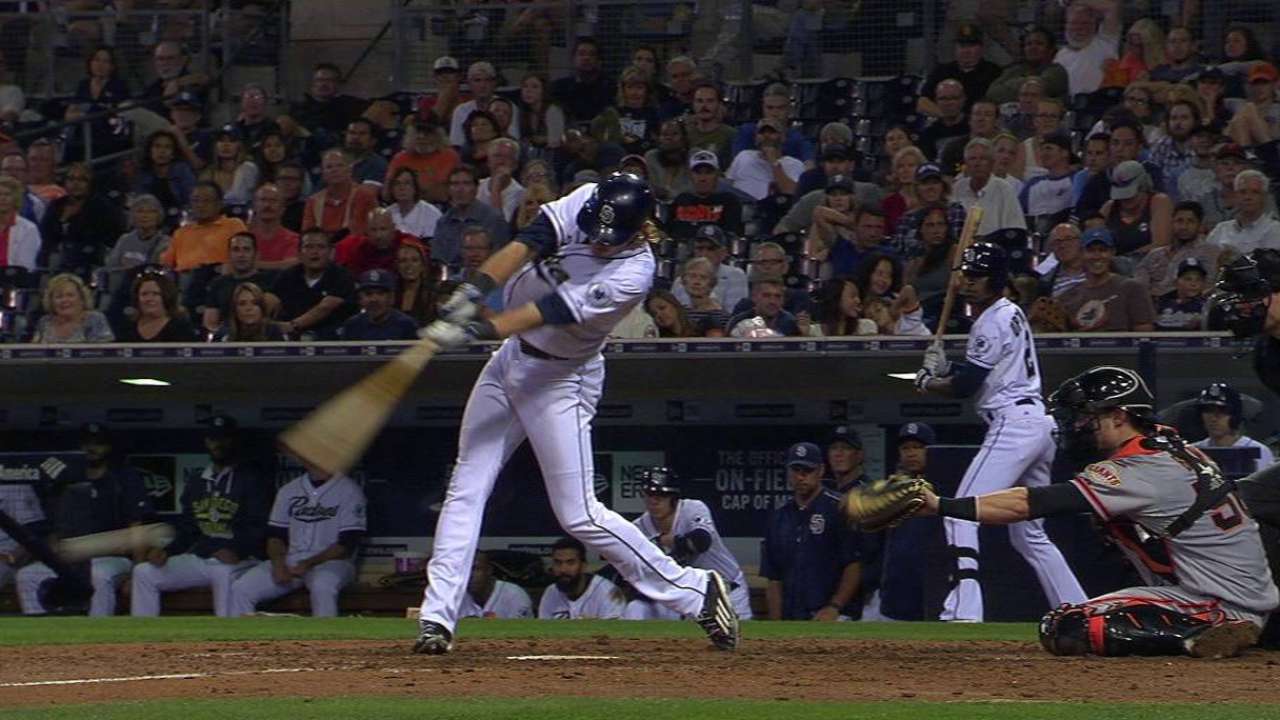 Gyorko helps the Padres walk off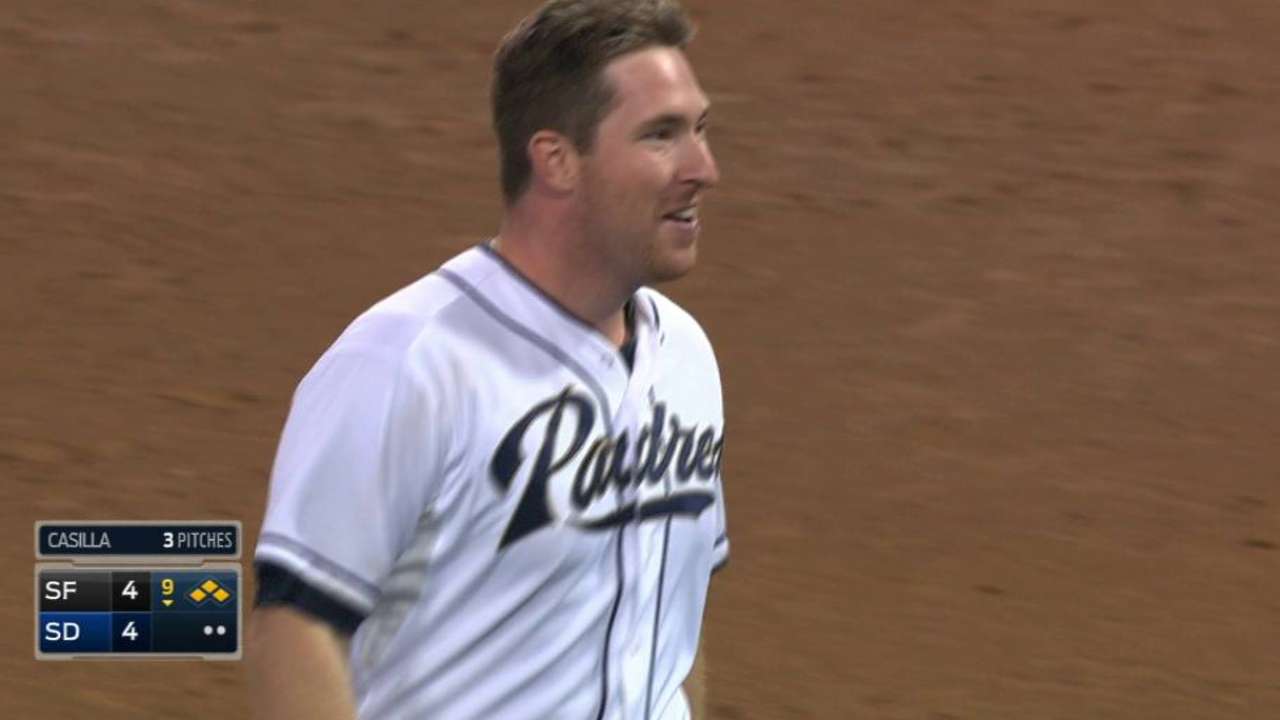 Early exit befalls hot hitting Solarte: Hamstring cramp causes Solarte to leave game
Hall of Fame broadcaster sets sites on retirement: Oh My! Enberg to retire after next season
Leadoff man irked by irritable wrist once more: Sore wrist bumps Myers out of lineup vs. Giants
Scouting sector sees new faces, more potential: Padres give scouting department a makeover
Basketball superstar a San Diego staple: Walton stands out among San Diego athletes
Record-tying performances becoming the new norm: Ross closing out season in strong form
Murph's Musings: Murphy discusses Wallace, Jankowski
Game Notes vs. SF (09.23) Cashner Looks to Rebound in Middle-Match against Giants
Looking forward:
Friar Forecast: Kennedy looks to best Giants ace Bumgarner
Thursday's pitching preview: Ian Kennedy (8-15, 4.29 ERA) vs. Madison Bumgarner (18-8, 2.84 ERA)