Jones undergoes MRI for back soreness
Results reveal inflammation, but no structural damage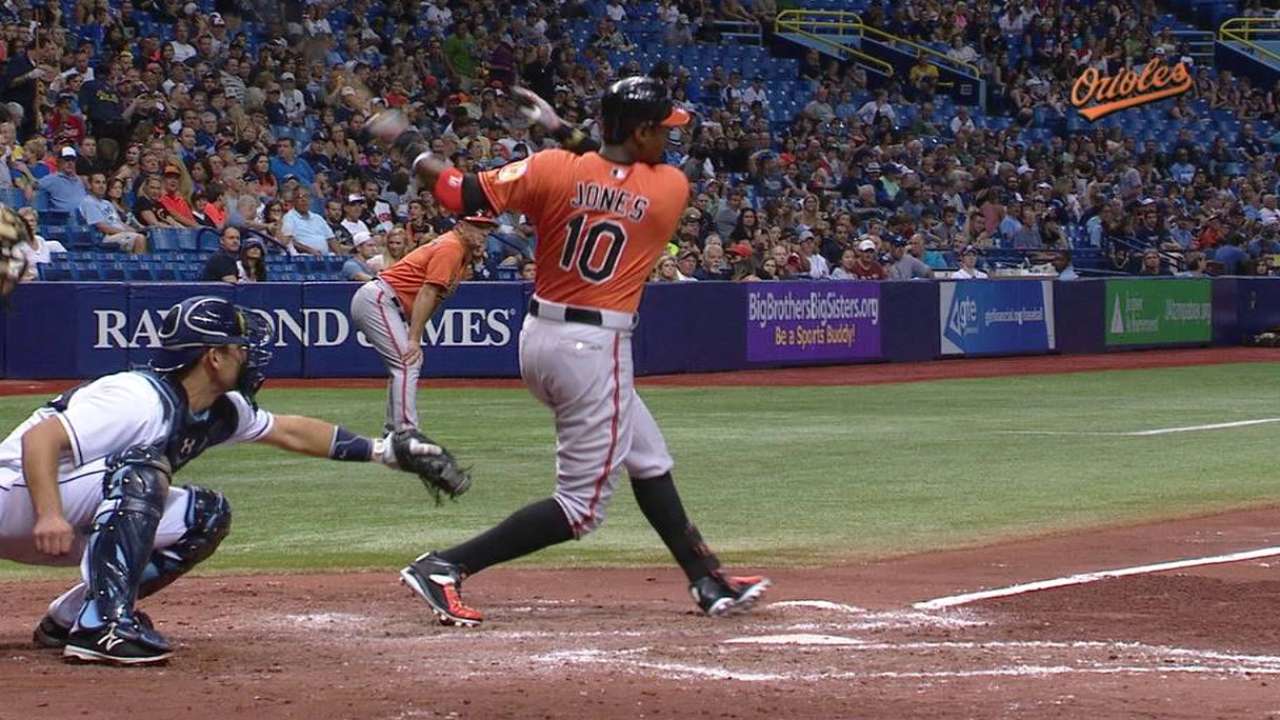 WASHINGTON -- While the rest of the Orioles were in Washington for the series finale against the Nationals, Adam Jones spent part of Thursday in Baltimore getting an MRI on his back.
The results showed inflammation, but no structural damage, and Jones was back on the bench during the 5-4 Baltimore win.
"Just decided to make sure that structurally everything is OK," Orioles manager Buck Showalter said before the game. "He's getting better every day, but not at the rate you would hope. Just want to make sure we have the right information."
Jones didn't play in the first two games of the series after suffering back spams, and he was left out of Monday's lineup in the game that was rained out.
When asked about his absence from the lineup Monday, Jones said it was general soreness and that it was the natural result of playing on Tropicana Field's turf for four straight games.
Worth noting
• Closer Zach Britton hasn't pitched since Sunday in St. Petersburg, and Showalter said he's day to day with a sore left lat muscle.
"Zach had an MRI on Tuesday after [Monday's] rainout," Showalter said.
The results showed no structural damage, and Britton was feeling better on Thursday, according to Showalter. Britton has 34 saves with a 2.04 ERA, and he leads the American League with 54 games finished (tied with the Indians' Cody Allen).
• Orioles top pitching prospect Hunter Harvey, who was shut down again last week with recurring issues in his right elbow, received good news after visiting with the team doctor.
"[Dr. Michael Jacobs] saw Hunter, was real encouraging. Said the MRI looked good," Showalter said. "So, [Harvey will] see Dr. [James] Andrews, and hopefully they concur and he can get back to pitching again. [Dr. Jacobs] said the elbow looked good."
Harvey was the Orioles' top pick (No. 22 overall) in the 2013 Draft, but he missed the entire 2015 season.
Jacob Emert is an associate reporter for MLB.com. This story was not subject to the approval of Major League Baseball or its clubs.