MLB.com Columnist
Jonathan Mayo
Pipeline Inbox: Which club has top pair of prospects?
Jonathan Mayo responds to fans' questions about baseball's future stars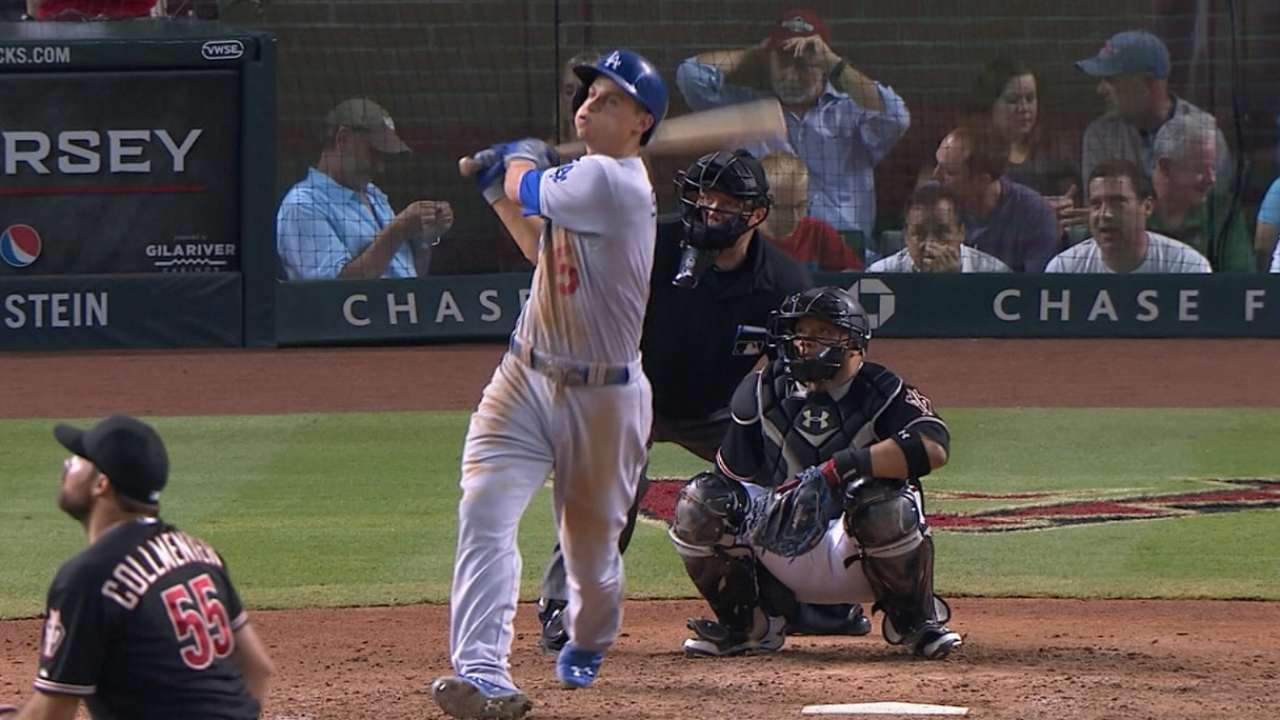 The Minor League season is now officially over, with the Fresno Grizzlies winning the Triple-A Championship Game over the Columbus Clippers on Tuesday night. But that doesn't mean people no longer want to talk about prospects.
This week's Inbox has a couple of queries asking to compare top prospects -- from top organizational hitting and pitching duos to top pitching trios -- then moves behind the plate to take a look at some catching prospects who jumped on the radar in 2015.
Which pair of organizational top hitting and pitching prospects has the highest upside?
-- Nat H., Harleysville, Pa.
MLBPipeline.com recently announced choices for top hitting and pitching prospects in each organization. Obviously, not all duos are made alike, and some do have more upside potential than others. There is one in particular that stands out to me.
That's the Dodgers duo of Corey Seager and Jose De Leon, and I don't think it's even that close. Seager, of course, is the No. 2 prospect on our Top 100 list who is currently making the big leagues look easy (.353/.457/.603 in his first 19 games). He has the upside of being an All-Star caliber player on the left side of the Dodgers infield for years to come.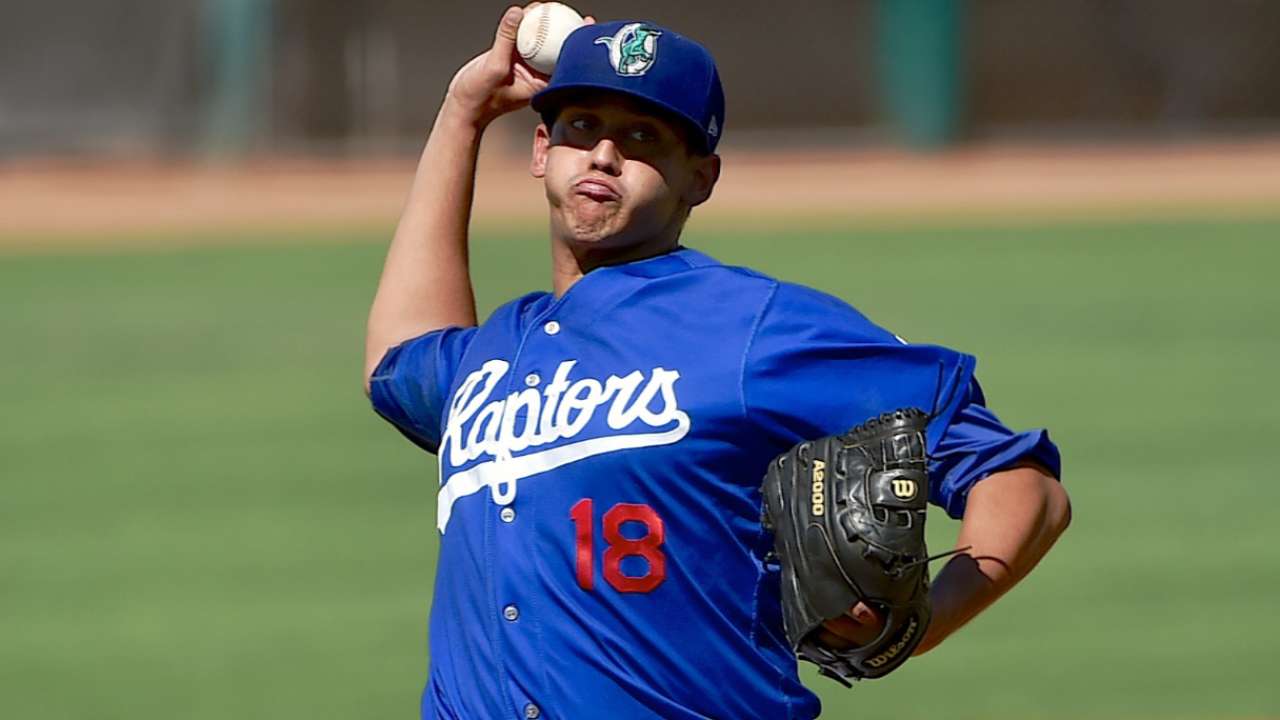 De Leon is now No. 24 on the Top 100 as one of the fastest risers among prospects. He spent most of the season at age 22, made quick work of the California League and pitched very well in the Texas League to boot. After striking out 12.8 and walking 2.9 per nine, he's looking like a future frontline starter.
I don't want to leave other worthy combinations out of the conversation, so here's the next nine, ranked in order of combined upside. There's not a ton separating these pairings:
Pirates: Tyler Glasnow/Josh Bell
Mets: Steven Matz /Michael Conforto
Yankees: Luis Severino /Jorge Mateo
Reds: Amir Garrett/Jesse Winker
Red Sox: Brian Johnson/Yoan Moncada
Nationals: Lucas Giolito/Victor Robles
Twins: Jose Berrios/Max Kepler
Cardinals: Alex Reyes/Stephen Piscotty
Braves: Manny Banuelos /Ozzie Albies
Can any team's Minor League pitchers match the Rays threesome of Blake Snell, Brent Honeywell and Taylor Guerrieri?
- Steve D., Orlando, Fla.
That is a trio of pitchers to be proud of, for sure. Snell was our pitching prospect of the year, finishing first in the Minors in ERA and batting average against and tied for fourth in strikeouts. Honeywell, No. 3 on the Rays' Top 30 (Snell is No. 2), also had a fantastic season. The right-hander pitched at two levels of A ball, finishing with a 3.18 ERA, .228 BAA and a nifty 129/27 K/BB ratio. Guerrieri's star had faded a touch following Tommy John surgery, and then a 50-game suspension, but he pitched extremely well upon his return (1.85 ERA, .223 BAA in 78 IP across two levels).
As impressive as that threesome is, however, it definitely finishes well behind the Dodgers' group of Julio Urias, the aforementioned Jose De Leon and Grant Holmes. All three are in the Top 100, with Urias at No. 4, De Leon coming in at No. 24 and Holmes at No. 60.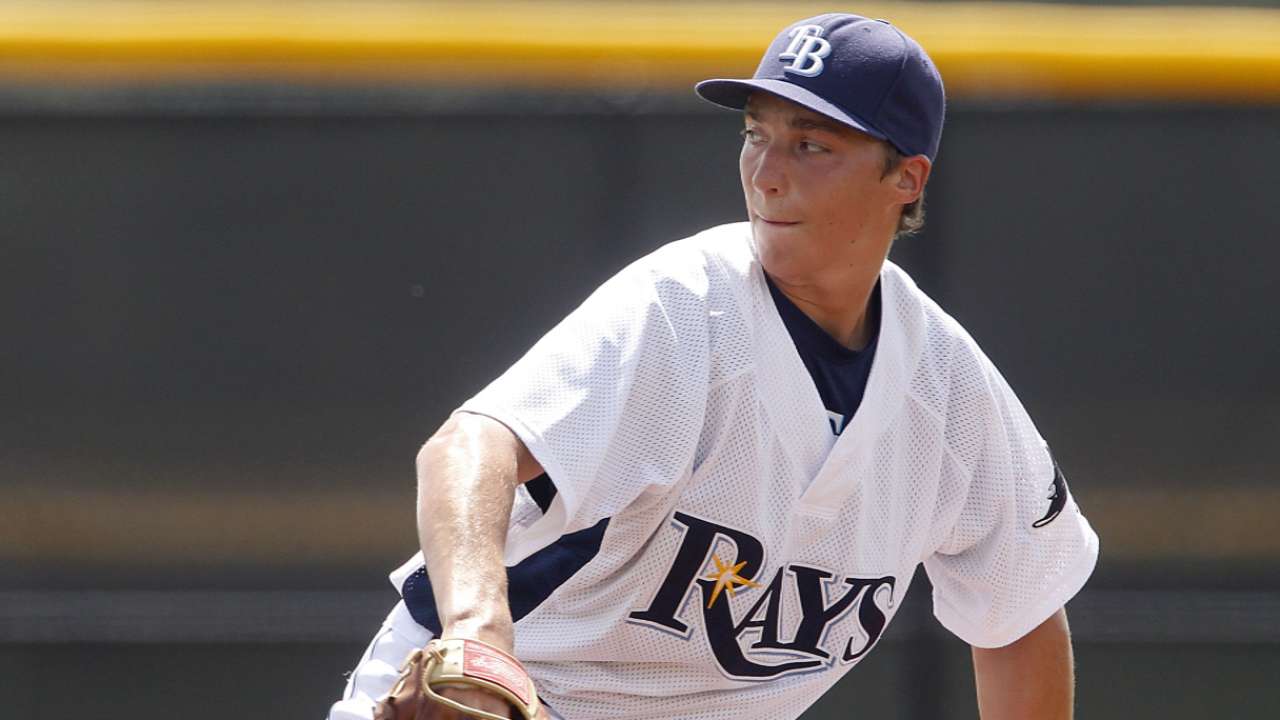 Since we're being thorough in this week's Inbox, here are some other pitching trios one might consider in this:
D-backs: Archie Bradley, Aaron Blair, Braden Shipley
Braves: Touki Toussaint, Kolby Allard, Tyrell Jenkins
Reds: Robert Stephenson, Amir Garrett, Keury Mella
Rockies: Jon Gray, Jeff Hoffman, Mike Nikorak
Cardinals: Alex Reyes, Jack Flaherty, Marco Gonzales
Thanks to the Hamels trade and the development of some kids, the Phillies all of a sudden have a surprising amount of depth in the Minors at catcher. Alfaro is a top prospect, Knapp had a great run at Reading, as did Willians Astudillo at Clearwater. How do you see this shaking out, both short term and long?
- Neil B., Yardley, Pa.
There's that old axiom of not having enough pitching. Ask any general manger and they'd say the same is true of catching. It's so difficult to develop big league regulars behind the plate. Finding someone who can stand up to the rigors of the position, play it well defensively AND hit is a tall order indeed. And it sometimes takes players longer to develop there than at other spots, as a result.
If things continue on this current path, the Phillies could have an embarrassment of riches on their hands. Given that everyone is always looking for catching, if all three end up developing behind the plate, that could give them more flexibility later on in terms of trade potential.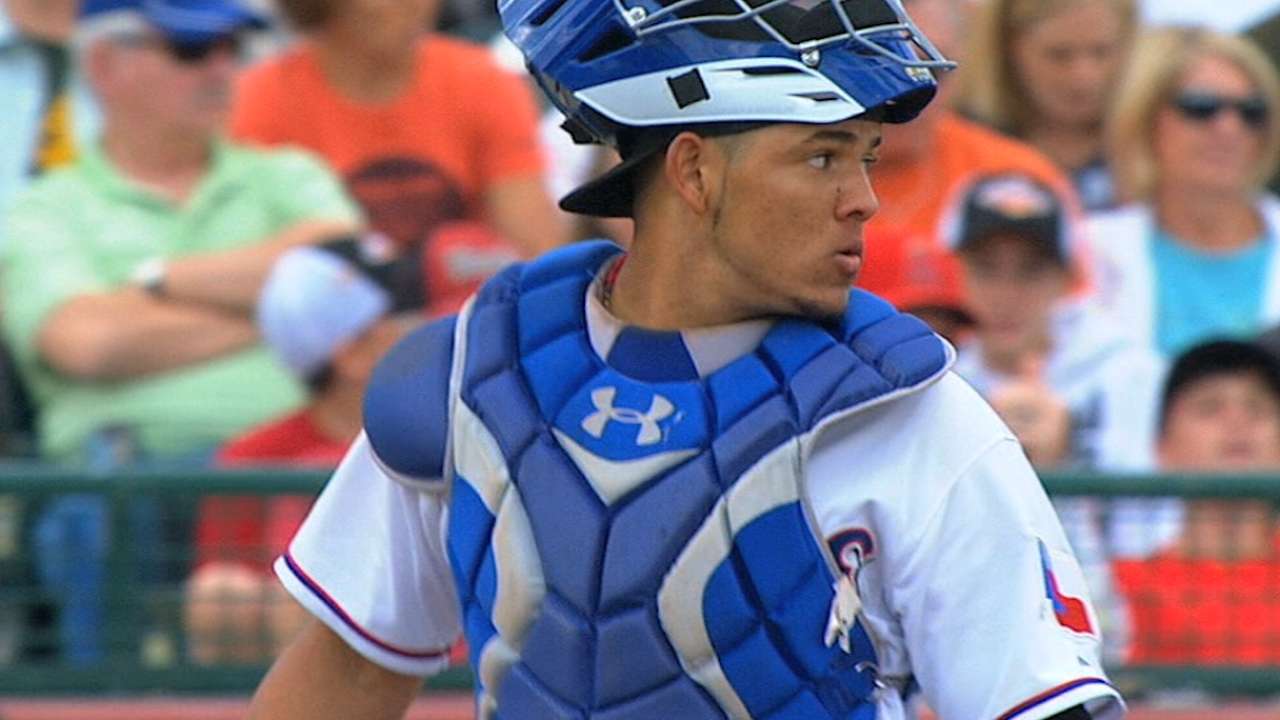 Whether all three make it as big league backstops remains to be seen. Alfaro is the highest profile prospect of the trio (No. 61 on the Top 100). He has a power bat and a power arm, but his other defensive skills are still a work in progress. He's played a good amount of first base in years past (though not so much in 2015) and he's also had to deal with injuries that have slowed him. He has the most upside, but could also end up at first base if the defense doesn't come.
Similarly, Astudillo has impressed with his bat, hitting .333 in Lakewood in 2014 and .314 up a level in Clearwater this past season. He's done it, though, with little power and without drawing any walks, so some might want to see how it translates to the upper levels. He's also played a lot of first base -- he has good hands, but his arm is fringy -- though his defense improved behind the plate in 2015.
Knapp took a big step forward, reaching Double-A and finishing as one of the hottest prospects in any organization with the bat. The switch-hitter hit for average and power. His defense also took a large step forward, both with his arm and overall receiving. Alfaro might have the most upside, but Knapp might be the safest bet to be a big league regular, with Astudillo perhaps more suited for a backup role.
What are your thoughts on the Cubs' Willson Contreras? Is he a legit prospect?
-- Michael I., West Lafayette, Ind.
Finishing off with another question about a backstop who jumped on the radar in 2015. Contreras is certainly legit after a Double-A season that saw him hit .333/.413/.478. This came after two years of full-season ball where he hit in the .240s. The Cubs point to time he had in the Venezuelan Winter League last offseason as a key. He got to be around older players and it clearly rubbed off. He showed more confidence and a more mature approach at the plate (increased walk rate, decreased strikeout rate). He trusted himself more than anything else and it translated to his performance all season.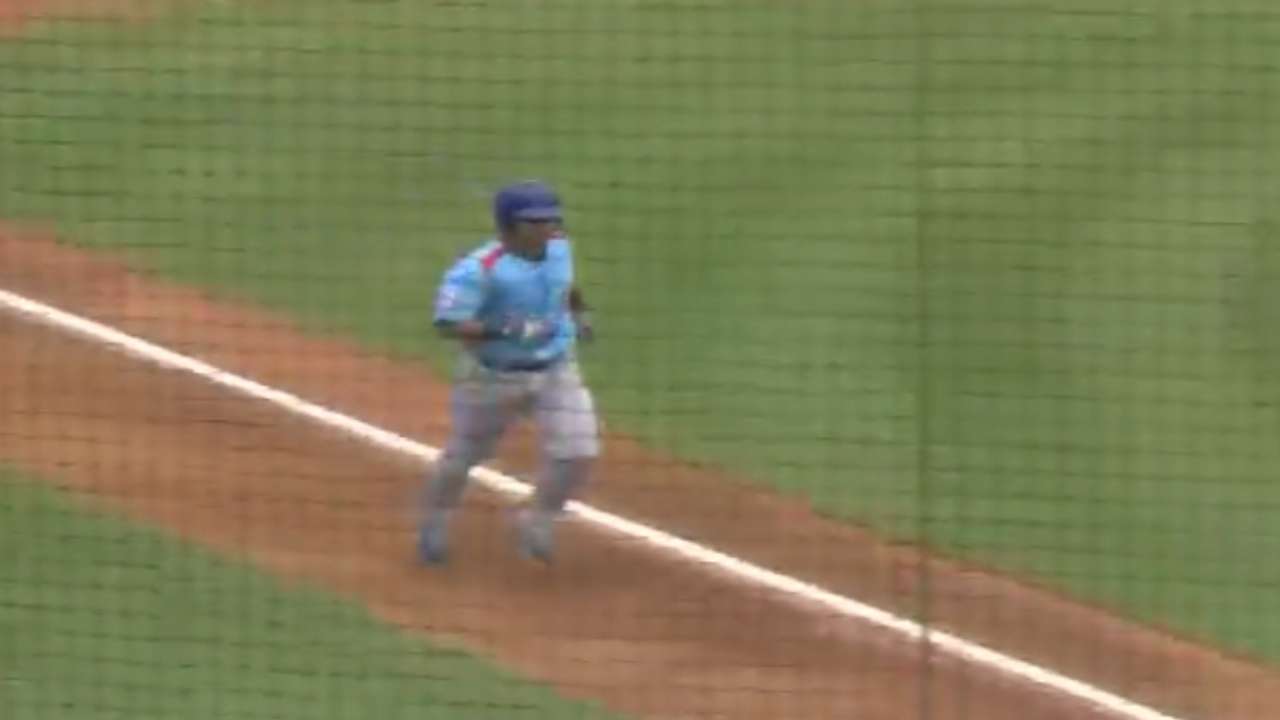 Contreras is headed to the Arizona Fall League, which could very well serve as a springboard to Chicago. Talking about an embarrassment of riches behind the plate again, the Cubs could be in that boat as well, with Miguel Montero signed through 2017 and Kyle Schwarber's bat undoubtedly ready to play every day in the big leagues.
Jonathan Mayo is a reporter for MLBPipeline.com and writes a blog, B3. Follow @JonathanMayo on Twitter. This story was not subject to the approval of Major League Baseball or its clubs.