Murphy has Weiss' attention with power burst
Years after opening eyes in Spring Training, catcher displaying potential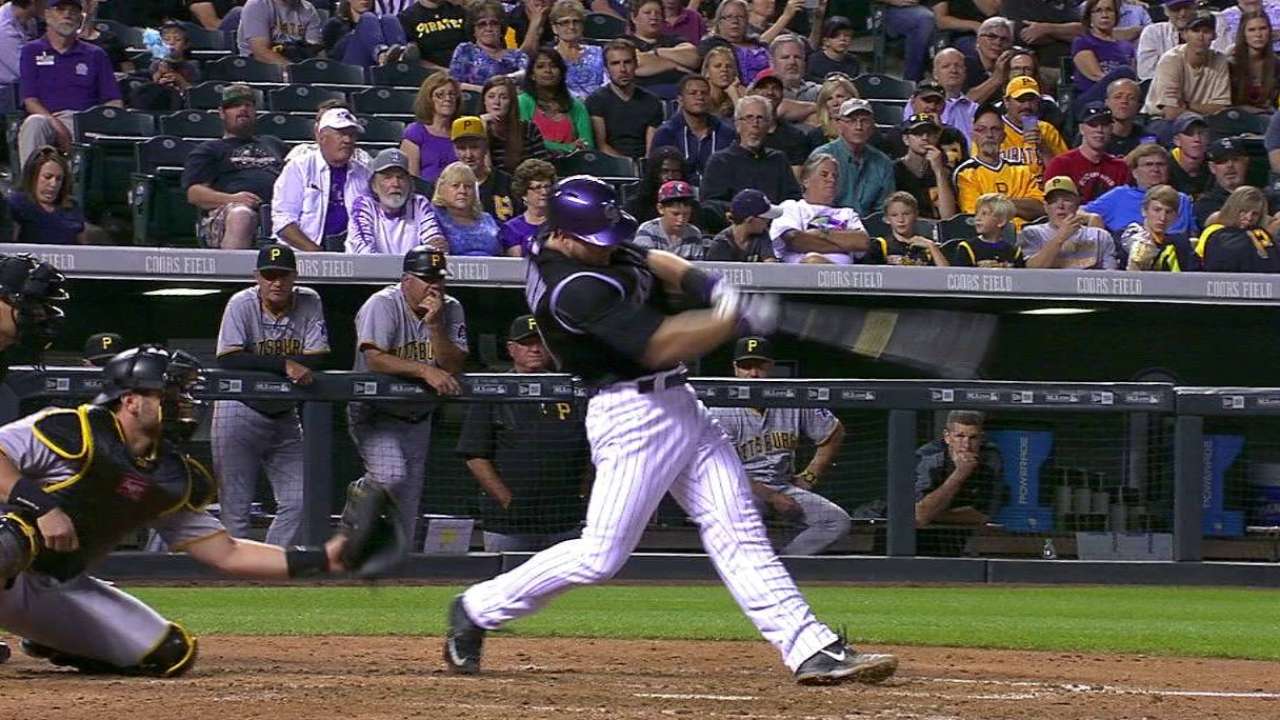 DENVER -- Over the past five weeks, the Rockies called up two catchers from Triple-A Albuquerque to fill the roster spots of backup catcher Mike McKenry (lateral meniscus tear) and starting catcher Nick Hundley (cervical neck strain).
Manager Walt Weiss has used Dustin Garneau and Tom Murphy on an alternating basis since Hundley was placed on the 60-day disabled list on Sept. 11, giving them equal time and playing them every other day, taking matchups and other considerations out of the decision-making process.
That could change in the final 10 days of the season, as Murphy has emerged with a hot hand that is challenging Weiss' ability to resist playing him.
Murphy entered Thursday hitting .300 (6-for-20) with three homers and eight RBIs in his first six Major League games. Everything but the zeroes came in his last three games, during which he hit .500 with a homer in each contest.
"It may happen," Weiss said of Murphy's case for increased playing time. "It's certainly part of the conversation."
Murphy, 24, made a strong impression on Weiss when he first showed up at Spring Training two years ago.
"He certainly passes the eye test," Weiss said. "He's a big, strapping kid. Pretty intense. That come across right away."
The No. 12 prospect in the Rockies' farm system, according to MLBPipeline.com, Murphy was a third-round pick in the 2012 Draft, boosting his status as a top farmhand while jumping to Double-A in 2013 and winning recognition as the top catcher in the South Atlantic League. A year later, in 2014, a shoulder injury sidelined him after 27 games.
"Obviously, when a pitcher hurts his arm, that's his livelihood, but a catcher also," Weiss said. "It's a big part of his game. He's got to be able to throw runners out. So that was a big concern. I think the fact that he's such a big, strong kid helped in his recovery. His work ethic is just as good as it gets. He worked his way back. There was concern at the time, but he bounced back extremely well."
Murphy hit .249 with 13 homers in 72 games at Double-A New Britain and .271 with seven homers in 33 games at Albuquerque this season. He was set to go home for the year when he got the call to join the Rockies after Hundley went down. Now, he's slated to play in the Arizona Fall League after the Rockies wrap up their season next weekend.
"That's a good thing," Weiss said of the extra time Murphy will get on the diamond. "He can get some more at-bats. He had a pretty substantial injury. He missed a lot of time a year ago. He's still playing catch-up a little bit, so it would be good for him."
Owen Perkins is a contributor to MLB.com. This story was not subject to the approval of Major League Baseball or its clubs.