Team, player milestones remain for Blue Jays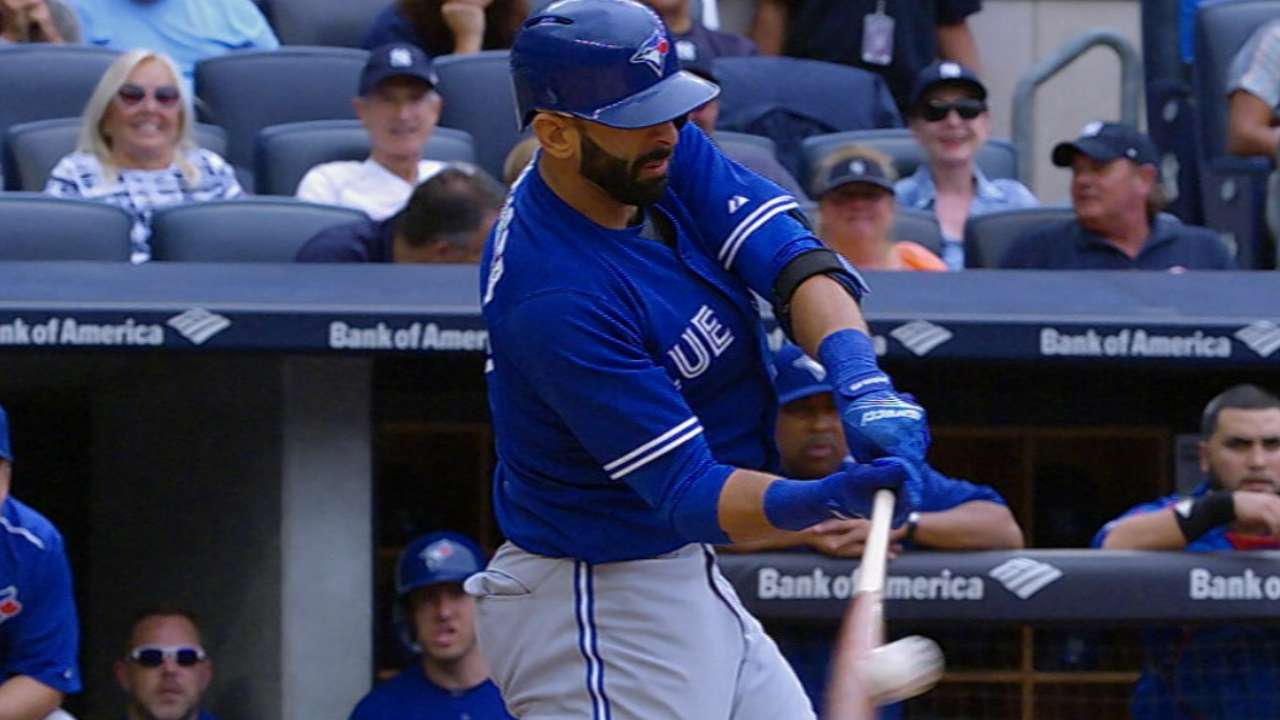 TORONTO -- The Blue Jays have been enjoying their best season since 1993, and along the way, the organization has picked up a lot of personal and team accolades that help to put the success into perspective.
Here's a look at some of the milestones that are still within reach over the final nine games of the season:
Team records
• The Blue Jays are 61 runs shy of the franchise record that was set in 2003 (894). Toronto would need to average 6.2 runs over its final 10 games to set a new high. The club has reached double digits 23 times this year, which is already a record for the franchise.
• Josh Donaldson, Jose Bautista and Edwin Encarnacion have combined to hit 110 home runs this season. That's the fifth most by any Toronto trio in franchise history, and trails the team-record 119 tally that Jose Canseco, Carlos Delgado and Shawn Green hit in 1998.
• Vote now for #AwardWorthy Blue Jays
• The Blue Jays are within the vicinity of several other franchise milestones, but it appears unlikely they will set new highs in on-base percentage (.337, top mark was .352 in 1999), slugging percentage (.451, top mark was .469 in 2000), hits (1,372, top mark was 1,591 in '06), extra-base hits (512, top mark was 597 in '10) and walks (529, top mark was 588 in 1993).
Josh Donaldson
• Donaldson is looking to become the third player in franchise history to hit 40 home runs and 40 doubles in a season. He is one home run shy, and he likely will join the ranks of Green (1999) and Delgado (2000).
• All but two of Donaldson's 39 home runs this season have come while playing third base. That leaves him four short of the franchise record for third basemen, which belongs to Tony Batista, who had 41 in 2000. His 114 RBIs at third are tied for second with Batista (114 in '00) and are one away from Kelly Gruber's mark set in 1990.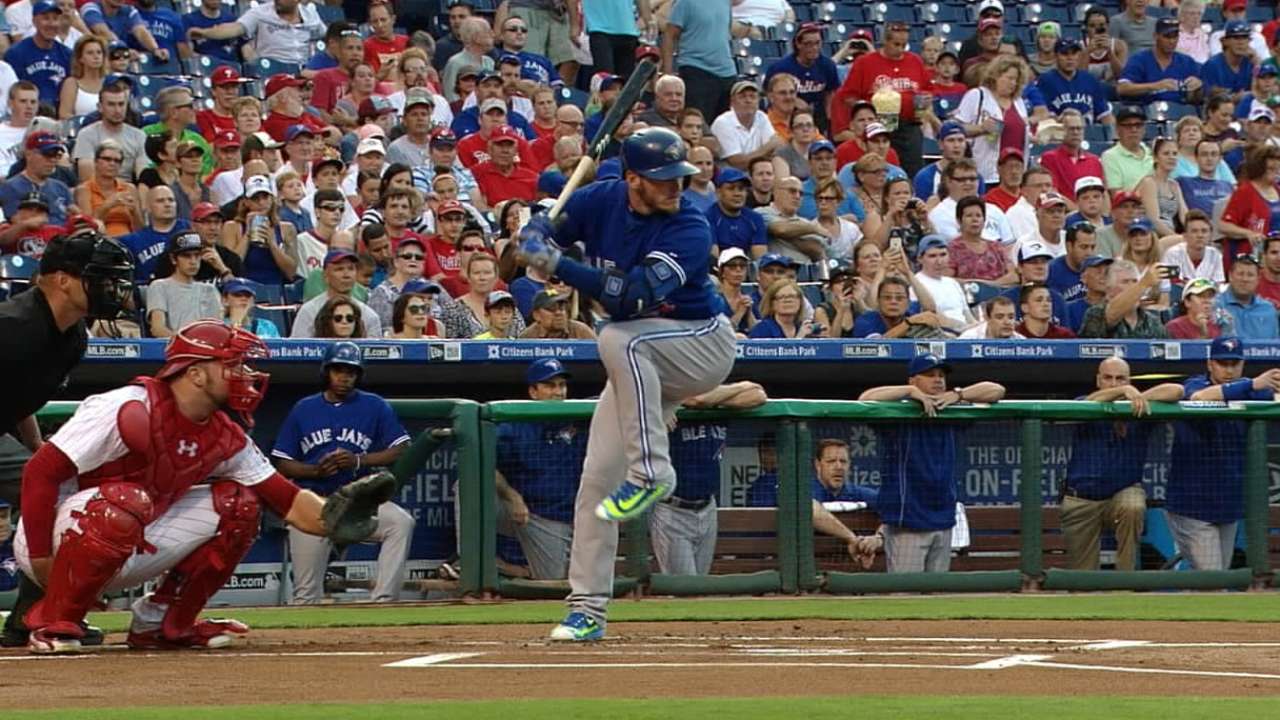 • Donaldson is one of seven players in Major League history to have at least 35 home runs and 100 RBIs while hitting second in the order. Donaldson has 36 homers and 110 RBIs in that spot this season, and Aaron Hill is the only other Toronto player on that list (36 homers and 108 RBIs in 2009).
• Donaldson has a 8.4 WAR, which is the highest by any third baseman since Alex Rodriguez had a 9.6 mark in 2007 and David Wright had 8.4 in the same year.
David Price
• Price has a chance to become the second pitcher in MLB history to win a Cy Young Award after getting traded midway through the season. Rick Sutcliffe won the National League Cy Young Award in 1984 after he began that year with the Indians and eventually went 16-1 with a 2.69 ERA in 20 starts for the Cubs.
• In fact, there have only been nine players in MLB history to finish in the top five in voting for a Cy Young Award after being traded midseason. The list includes: Jon Lester (fourth in 2014 AL), CC Sabathia (fifth in '08 NL), David Cone (fourth in 1995 AL), Doyle Alexander (fourth in '87 AL), Rick Reuschel (third in '87 NL), Bert Blyleven (third in '85 AL), Tom Seaver (tied for third in '77 NL), Sal Maglie (second in '56 MLB) and Sutcliffe.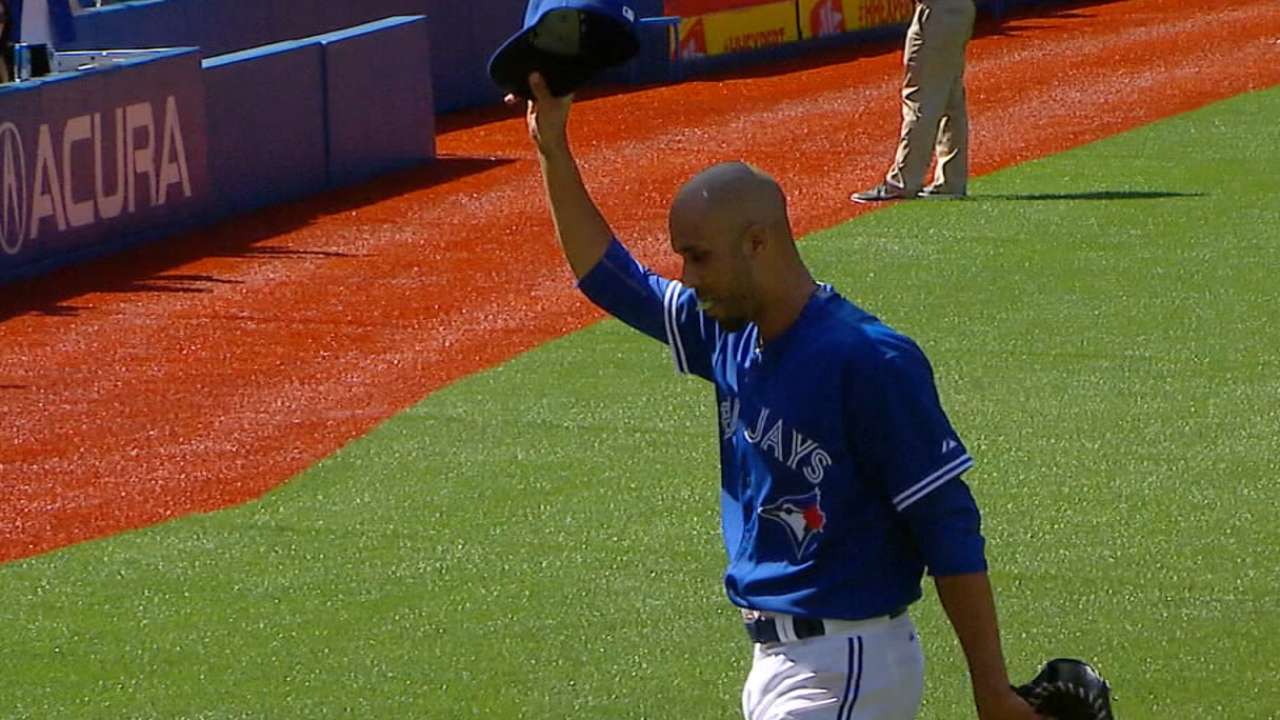 • Since 1893, four pitchers have won at least eight games and had winning records for two teams in the same season. Hank Barowy (1945 with the Cubs/Yankees), Cone ('95 with the Blue Jays/Yankees), Bartolo Colon (2002 with the Indians/Expos) and now Price.
Mark Buehrle
• Buehrle has an outside chance to become the fourth pitcher in MLB history to pitch at least 200 innings in 15 consecutive seasons. Warren Spahn, Don Sutton and Gaylord Perry are the only ones to have done it, but Buehrle still needs 14 2/3 innings with two scheduled starts remaining.
• The veteran lefty is one of seven pitchers to have tossed at least 200 innings in 14 consecutive years. Phil Niekro, Christy Mathewson and Greg Maddux are also on the list. But if Buehrle wants to join the top group of three with 15-plus consecutive seasons, he may need to pitch out of the bullpen on the final day of the year -- which manager John Gibbons raised as a possibility.
Gregor Chisholm is a reporter for MLB.com. Read his blog, North of the Border, follow him on Twitter @gregorMLB and Facebook, and listen to his podcast. This story was not subject to the approval of Major League Baseball or its clubs.