Pushing through pain, Pujols soldiers on
Injury has slugger contemplating what's next with Angels in crucial stretch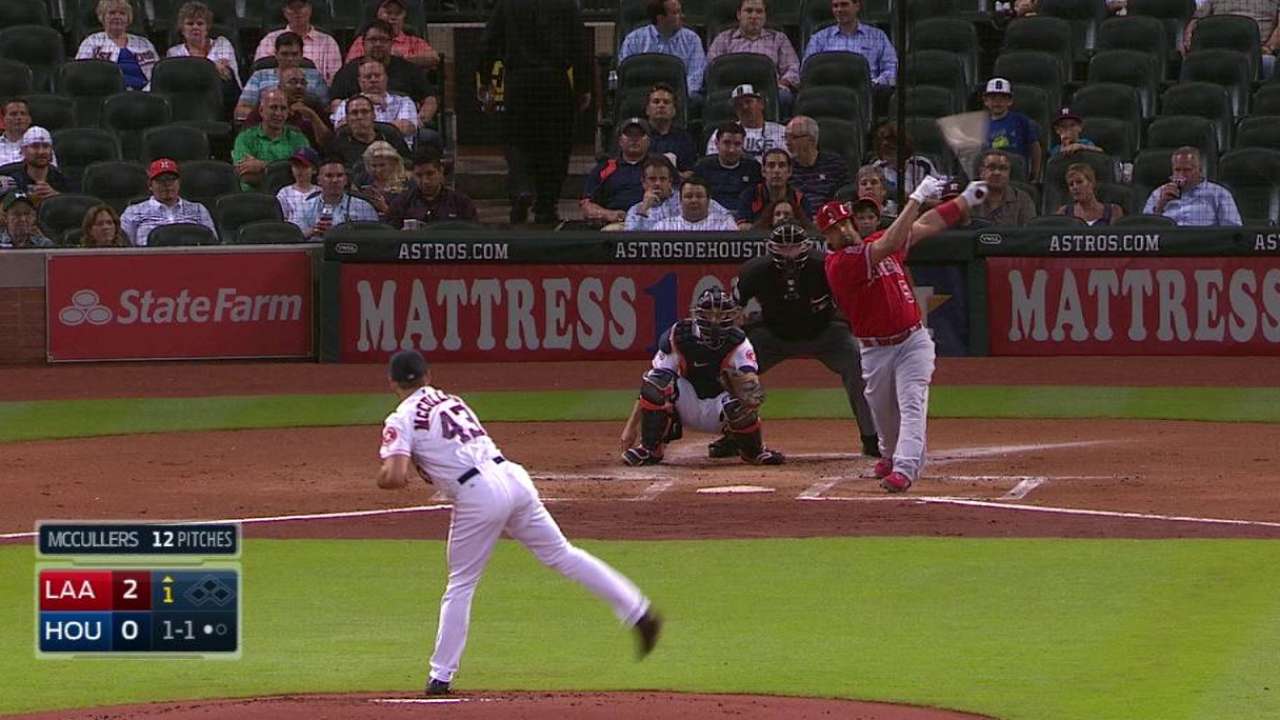 HOUSTON -- Albert Pujols feels it when he wakes up in the morning, when he ties his shoes, when he walks, when he sits and especially when he pivots. He feels it on the hanging breaking ball out over the plate, the mistake pitch that used to sail for a home run but now usually turns into a harmless fly ball. Pujols feels it in his batting average, down to .237, or his on-base percentage, a staggeringly low .301.
But Pujols really feels it now, inside the visitors' clubhouse at Minute Maid Park, hours before the first pitch of a Tuesday night game, when he extends his right leg, wiggles his big toe and sparks the sharp pain at the bottom of his foot that will not go away.
"It [stinks]," Pujols said, "because I can see my numbers going down and I'm not producing the way that I want to."
But Pujols is determined to keep trying.
"I would never go to bed and lay my head on the pillow -- even though I'm limping, even though I'm hurt -- if I shut it down for the rest of the year," Pujols said. "It would bother me for the rest of my life knowing that I threw in the towel on my team when they needed me the most."
The Angels badly need Pujols, whatever percentage of him remains.
With back-to-back wins in Houston, they entered the last off-day of their regular season 1 1/2 games back of the final American League Wild Card spot with 10 to play. And though Pujols is batting .157/.255/.258 since the Aug. 28 game when he suffered this injury to his right foot, the Angels' limited offense doesn't have a better option.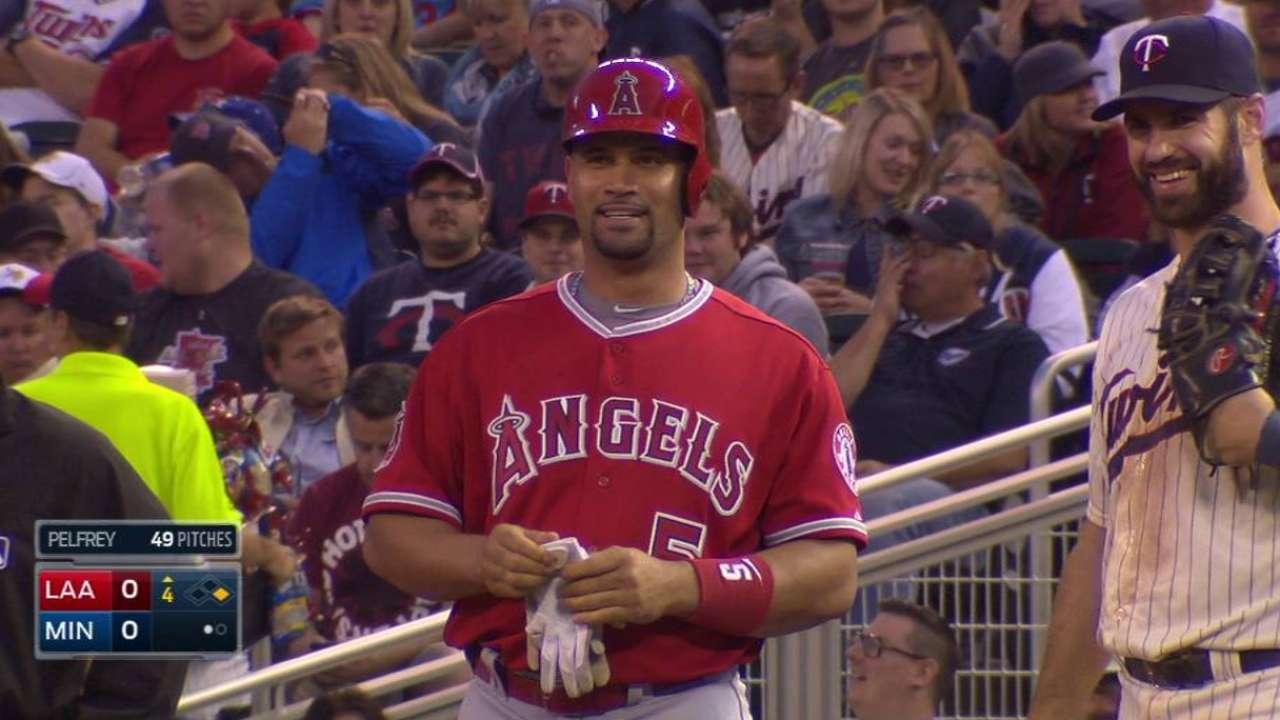 Pujols can't push off his back leg, though. The lower-body strength he had in the first half -- in which he finished with a .277 batting average and 18 home runs over a 41-game stretch, sending him back to the All-Star Game -- is gone. Pujols has to rely on his upper body, he has to guess on pitches and he has to remain a designated hitter.
"I don't like to DH," said Pujols, who has amassed 36 homers, his highest total since 2011. "You have to train your body for that and my body's not ready for it. Maybe when I become a full-time DH, I can go into Spring Training, adapt it to that, take it into the season."
Pujols is asked when he thinks that will happen.
"I don't know, man," he said. "My body still feels really good. I think I'm an elite first baseman. I play really good at that position, and I work my tail off."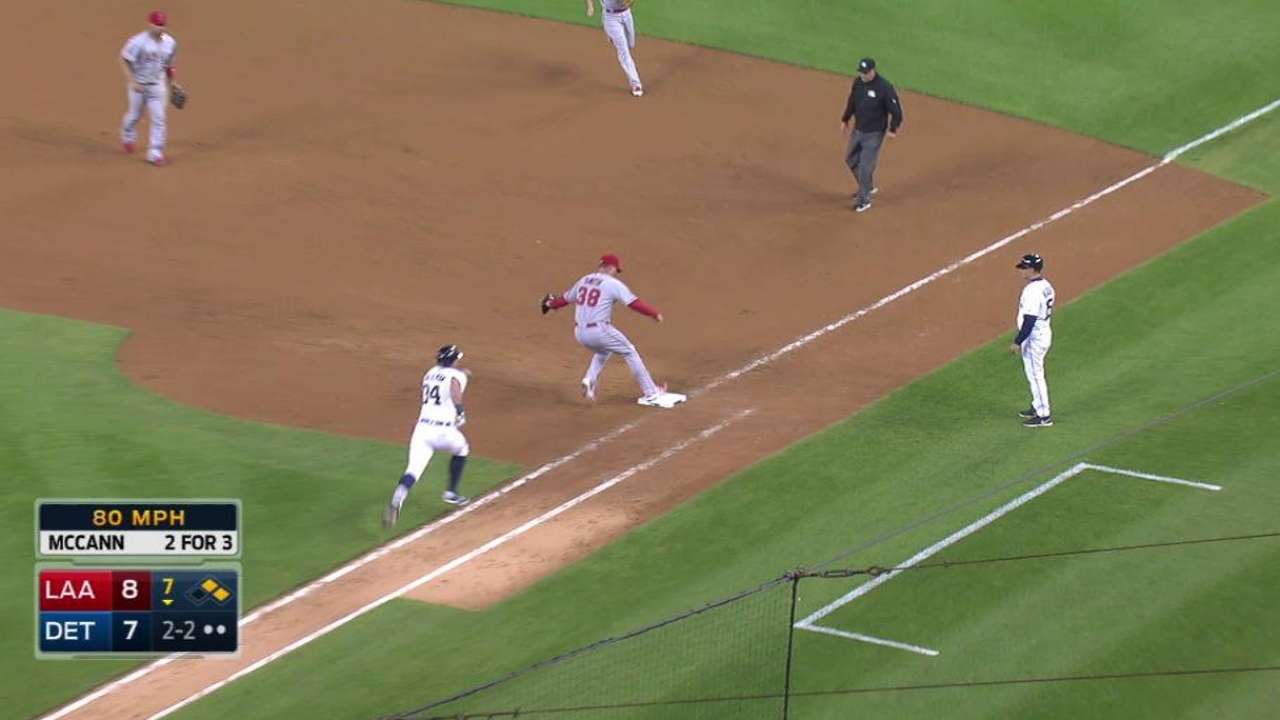 Pujols will try to survive this season, however long it lasts, then recover and get back to work. He's confident that the foot injury will heal itself with some time off, and he's eager to get his legs strong once again. But Pujols will be 36 in January, with six years and $165 million remaining on the 10-year deal he signed in December 2011.
The first four years have been hit and miss. The 2012 season began with a 27-game homerless stretch and followed with a dominant four months. The '13 season was hindered by plantar fasciitis, but the '14 season was solid. The 2015 season was uplifting in the middle, but underwhelming down the stretch.
What about the next six years?
"I don't know," Pujols said. "I know what I would love to see happen -- hopefully we can win a couple of championship rings. I would love to see that happen before I'm done playing this game, but I don't know. To me, it just all depends how I feel. I'm at the point right now where my kids keep asking for Dad. They want me there every day. I don't know."
Pujols remains determined, confident.
"I have a lot of fuel in my tank to play this game," he said. "I showed that in the first half of the season. The second half of the season, I started good. And the last month or so, I'm dealing with this injury, which has been frustrating. But I know that I still can play this game, and I know that I'm going to still be able to play this game for a while."
But Pujols has hinted in the past -- sometimes playfully, a few times solemnly -- that he won't keep playing if he no longer believes he can be a productive everyday player, regardless of the length of his contract.
He swears he means it.
"Oh yeah, and I can tell you that," Pujols said. "If I feel like I can't compete in this game -- I won't throw in the towel, but I'm a competitive athlete, and if I can't compete anymore, why stick around?"
Pujols seems adamant.
"When the moment comes that I cannot anymore, then that's the time," he said. "Whether it's that I can't compete anymore, whether it's that I've just had enough, I don't know. A lot of people ask me about chasing records and stuff like that, but I don't chase ghosts."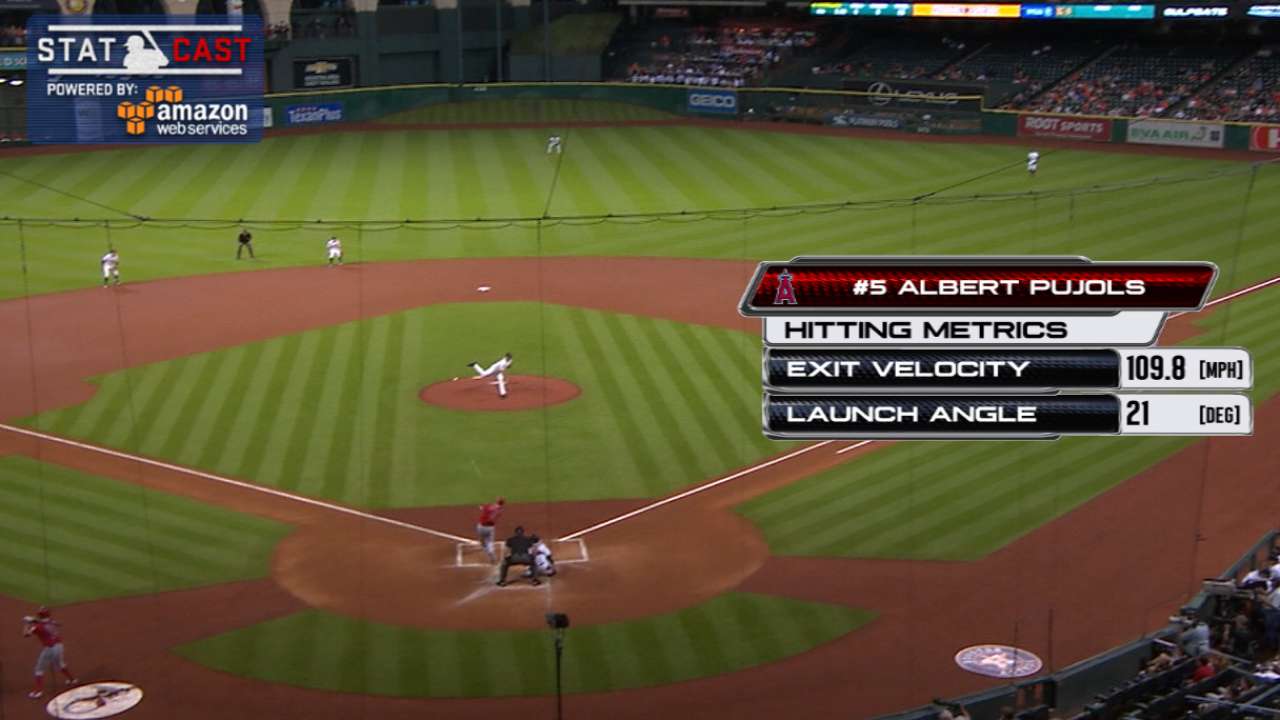 Pujols, a no-doubt Hall of Famer for years now, sits on 556 home runs and 2,652 hits. Someday, he'll get hit No. 3,000. And perhaps someday he might challenge Barry Bonds' record 762 home runs.
"It can happen," Pujols said. "It can really, really happen. But what if I can't do it anymore? Am I going to force it, to go try? Is it worth it to try and deal with injuries? Because it is frustrating. It's dreadful.
"You go through some injuries during the season that make you think, 'Do I want to keep doing this?' … It's frustrating -- especially when you know what you're capable of doing."
Alden Gonzalez is a reporter for MLB.com. Follow him on Twitter @Alden_Gonzalez and listen to his podcast. This story was not subject to the approval of Major League Baseball or its clubs.