MLB.com Columnist
Lyle Spencer
Ranking the contenders' bullpens
Pirates, Cardinals compare favorably to Royals' dominant relief corps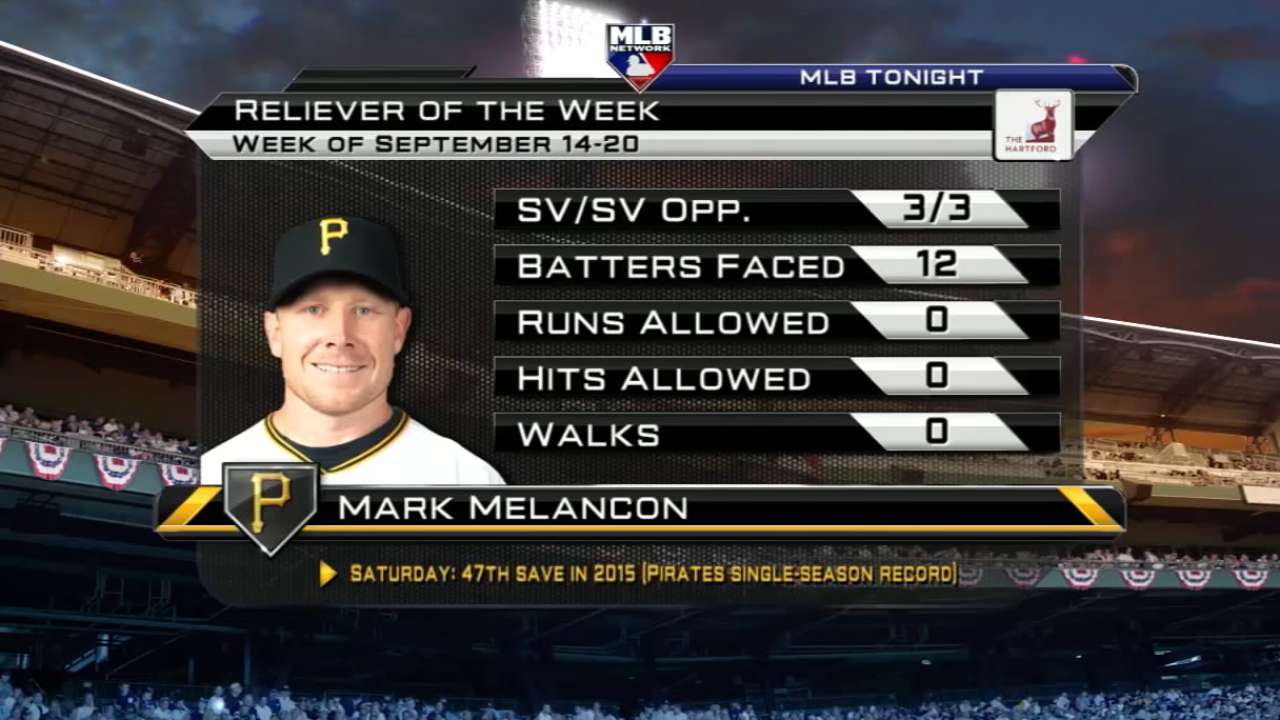 Bullpens can be as unpredictable as the autumn weather. Winding down to the critical final days of the regular season, let's examine how the contenders shape up in the all-important last third of games.
1. Pirates
Pittsburgh's loaded bullpen gets a slender edge over the National League Central-leading Cardinals with its MLB-best 2.63 ERA. Manager Clint Hurdle's crew is finishing strong. Since Aug. 1, the Pirates have an MLB-best 2.21 bullpen ERA, holding hitters to a .217 batting average.
St. Louis' 82.4 percent save success rate is the best in the Majors. The Pirates, led by closer Mark Melancon, are third at 78.8. Melancon's 49 saves in 51 chances have been huge. In one of the game's most underappreciated statistical categories, the Bucs have allowed only 33 of 167 inherited runners to score (19.8 percent). Only the Giants, at 18.9 percent, have been stingier.
Southpaw Tony Watson has emerged as one of the game's elite setup artists (MLB-high 40 holds, 2.02 ERA, 0.925 WHIP). Jared Hughes (21 holds), Arquimedes Caminero, Joakim Soria (who was once a superb closer), and lefty Antonio Bastardo add quality depth.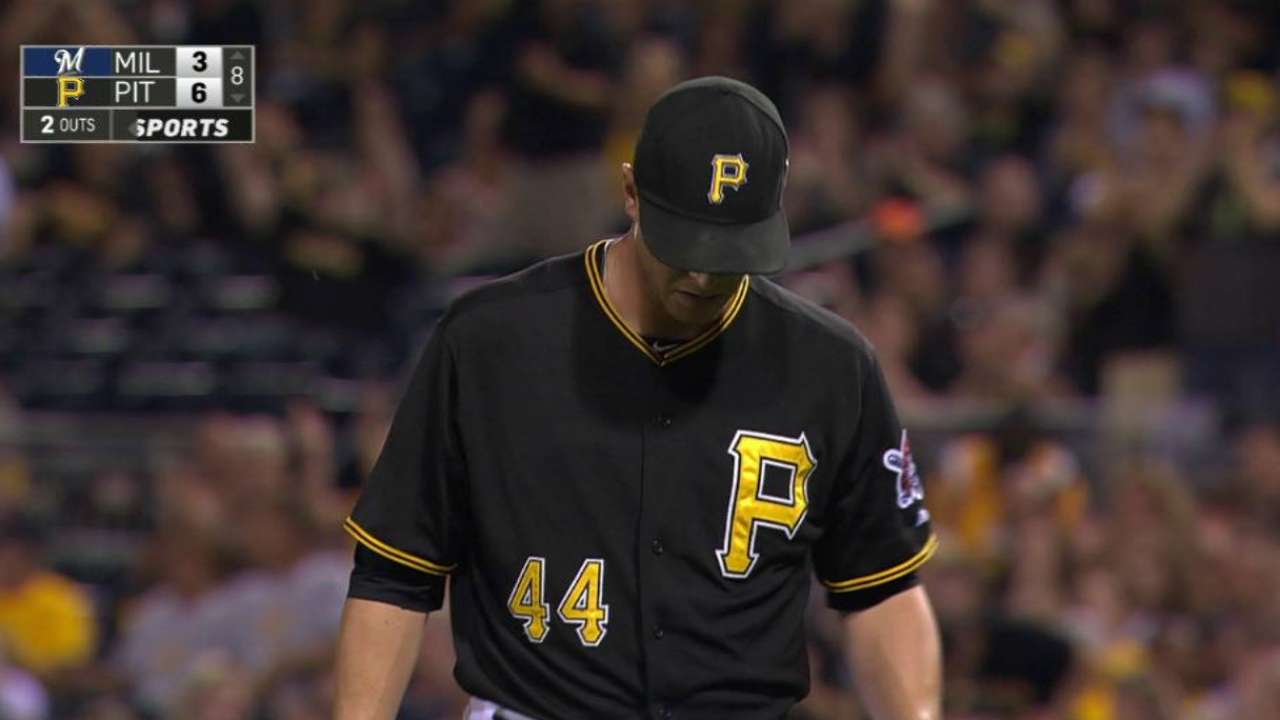 2. Cardinals
With 47 saves in 49 attempts and a 1.49 ERA, Trevor Rosenthal has been lights-out. Durable setup men Kevin Siegrist, Seth Maness and Randy Choate have made it possible for their closer to close. Siegrist and Choate give manager Mike Matheny the luxury of two shutdown lefties, while Maness is a master of the killer double-play ball.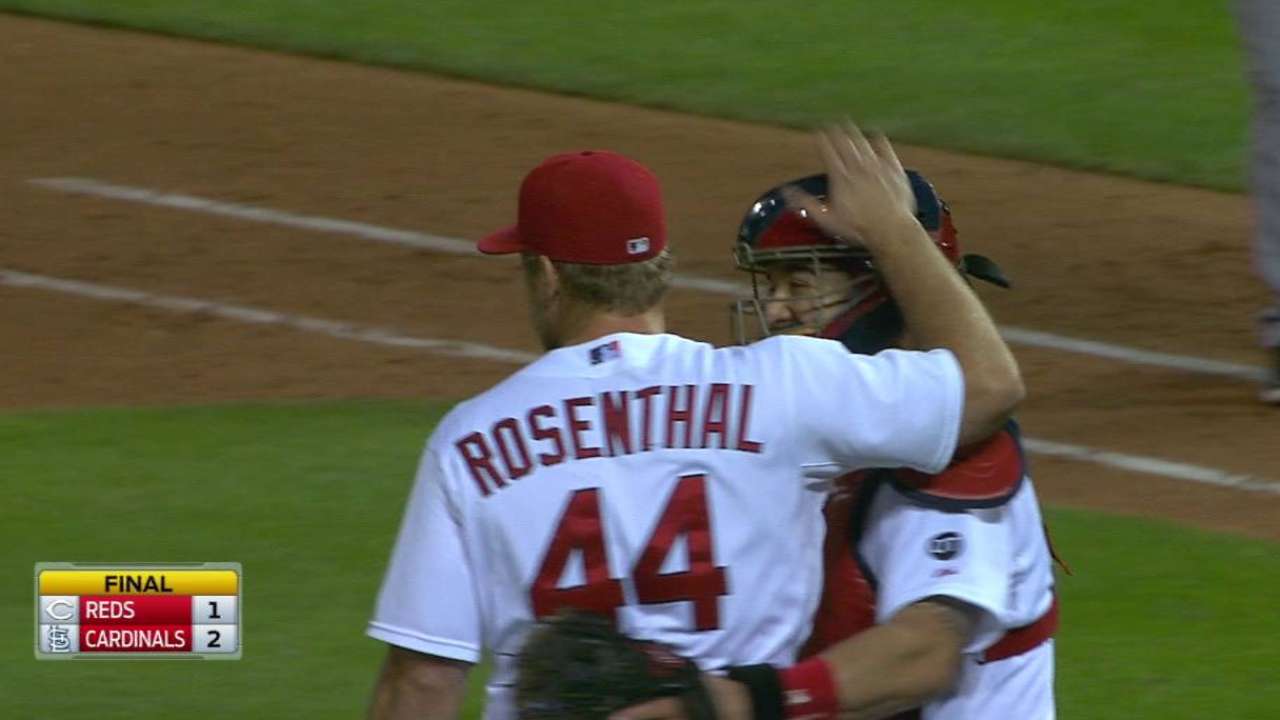 Siegrist has 25 holds, Maness 19. Choate has retained his status as the classic southpaw specialist, muting left-handed bats in key situations. The veteran has inherited 56 runners, and only seven have scored (12.5 percent). As a team, the Cards are third in the Majors at 23.6 percent.
The Cardinals' 2.67 bullpen ERA ranks second behind the Bucs, but the wear of the long season has shown down the stretch. Since Aug. 1, St. Louis' bullpen ERA is 3.41. However, this is a time-tested unit with a history of coming up big when it counts.
3. Royals
Kansas City has flipped former setup man Wade Davis -- arguably the game's best reliever over the past two seasons -- into the closer role, replacing Greg Holland as the former All-Star tries to recapture full command of his high-grade stuff. The American League's best relief corps is third in the Majors with its 2.69 ERA. Davis' greatness (0.86 ERA, 0.798 WHIP, 13 saves) and an amazing comeback by Ryan Madson (2.31 ERA, 0.94 WHIP) have helped ease Holland's command issues (26 walks in 44 2/3 innings).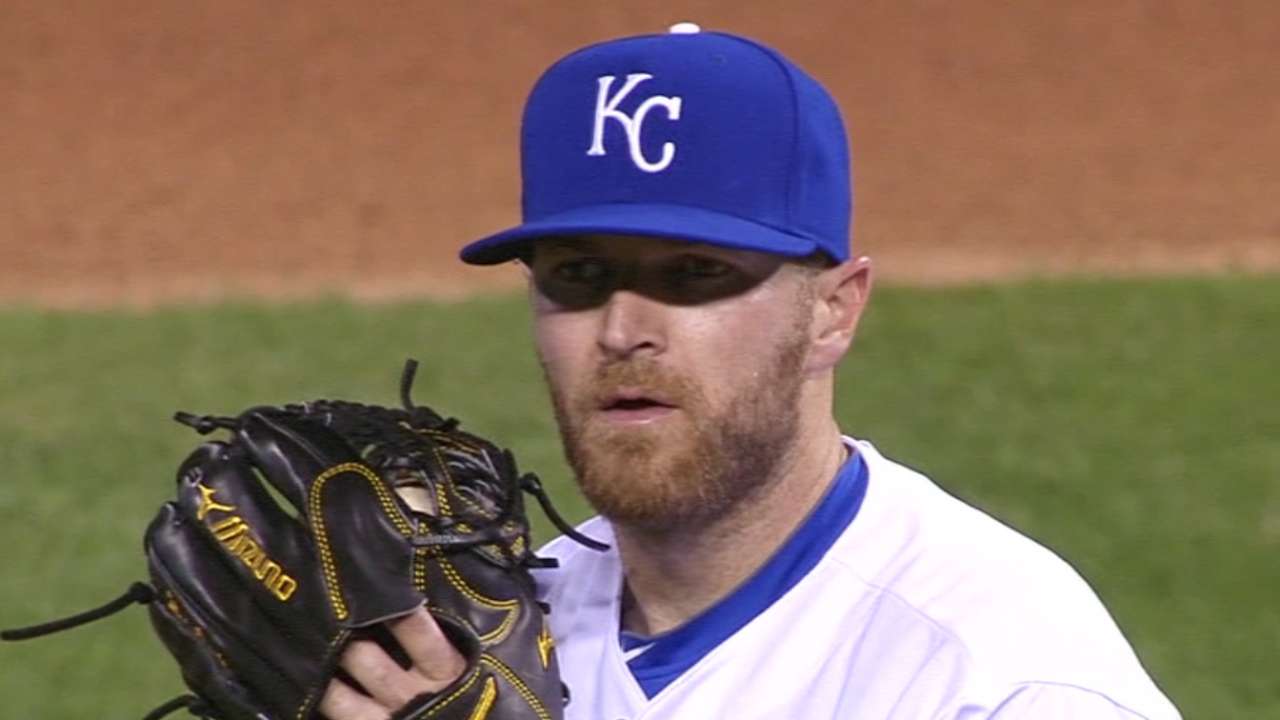 Kelvin Herrera (2.74 ERA) has been solid. Franklin Morales is the lone lefty in the 'pen, and veterans Luke Hochevar, Chris Young and Kris Medlen add quality depth. The Royals have allowed 27.3 percent of inherited runners to score, which ranks sixth in the Majors.
4. Orioles
There have been issues elsewhere, but Baltimore's bullpen has been stellar again. The O's rank fourth in the big leagues with a relief ERA of 3.09, thanks in part to a good lefty-righty balance and different styles. Lefties Zach Britton (34 saves, 2.04 ERA) and Brian Matusz (2.87 ERA) are complemented by the underrated Darren O'Day (1.47 ERA, 0.93 WHIP) and durable Brad Brach (2.39 ERA) from the right side.
5. Rangers
Texas' rise to the top of the AL West has been fueled by a variety of forces, including the bullpen arms. Overcoming a rough start, the Rangers' relievers have put together a 3.01 ERA since Aug. 1, and they lead MLB at 2.10 in September (to go along with a 5-0 record). Closer Shawn Tolleson (33 saves, 2.81 ERA) has been solid, and Keone Kela has been highly productive. Help has arrived from Sam Dyson and lefty Jake Diekman.
6. Cubs
Manager Joe Maddon has manipulated a solid unit featuring closer Hector Rondon (1.74 ERA, 28 saves) and a versatile cast featuring Pedro Strop, Justin Grimm and lefties Travis Wood and Clayton Richard. The Chicago relief corps ranks seventh in NL with 3.49 season ERA, and it has been excellent (2.99 ERA, .211 batting average allowed) in September.
7. Yankees
The Yanks' 80.4 save percentage is second only to the Cards, and they are stranding 72.3 percent of inherited runners, which ranks seventh in the Majors. No club can match the righty-lefty tandem of Dellin Betances (1.40 ERA) and Andrew Miller (34 saves, 2.04 ERA). Despite the duo's overpowering work and Justin Wilson's 26 holds, New York is sixth in the AL in bullpen ERA (3.55). The Yankees lead all bullpens with 562 strikeouts, but they have a 4.04 ERA since Aug. 1.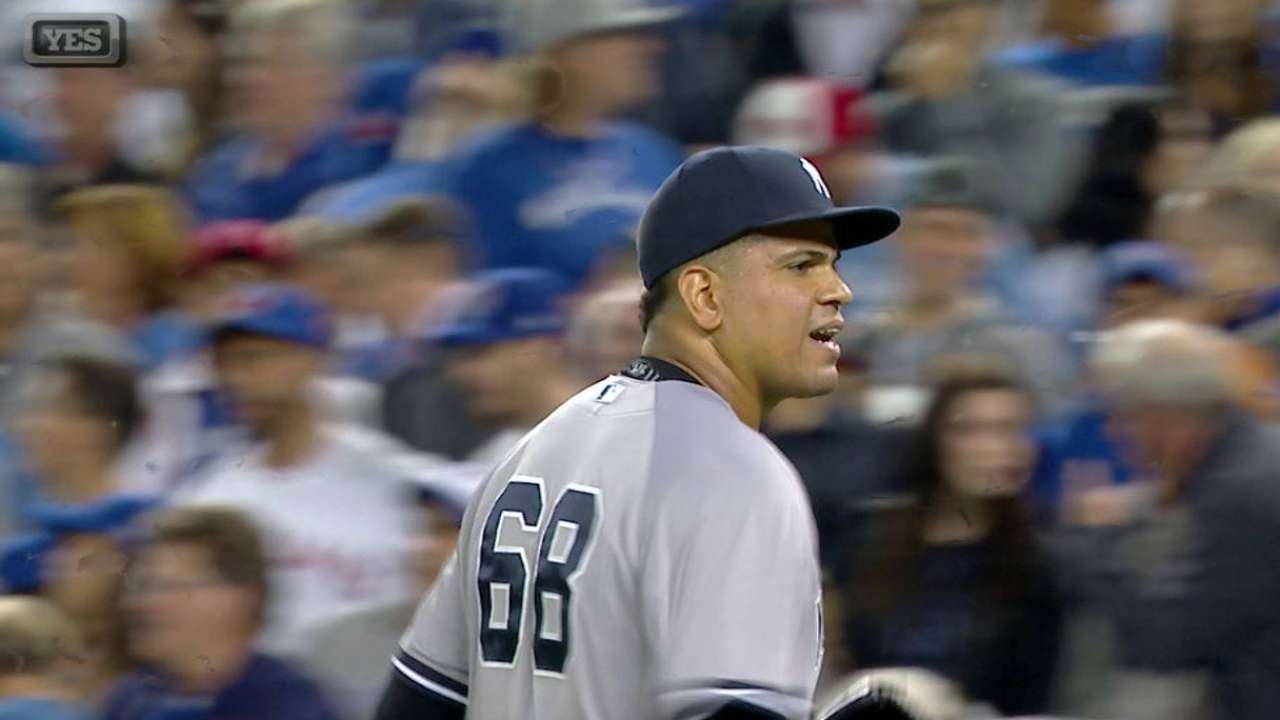 8. Giants
The defending World Series champions have been riddled all season by injuries, but the bullpen -- its 3.18 ERA ranks fifth in the Majors -- has been rock steady. The season-long injury issues appear to be taking a toll now, however. Their faint hopes of overtaking the Dodgers took a hit with Wednesday night's loss to the Padres.
9. Blue Jays
Toronto's firemen have been caught up in the passion of the fans in the club's drive to the top of the AL East, shaving their ERA to 3.38, ninth in the Majors. Brett Cecil has flourished in a setup role with Liam Hendriks, and Roberto Osuna has been on fire as the closer. But the bullpen ERA is 5.05 in September.
10. Mets
Closer Jeurys Familia (41 saves, 1.93 ERA) has been among the best, and the bullpen's 3.45 ERA is eighth in MLB. But it has fallen to 4.54 in September under the workload.
11. Nationals
The Nats have the NL's sixth-best bullpen ERA at 3.48 -- including 2.82 in September -- but their stranded rate for inherited runners (68.6) is 19th in the Majors.
12. Angels
Huston Street (40 saves) gets it done with guile, but Joe Smith's absence has been felt, even though Trevor Gott has been a nice find. A 3.81 bullpen ERA is 17th in the Majors, but they're eighth best in stranding inherited runners at 28.1 percent.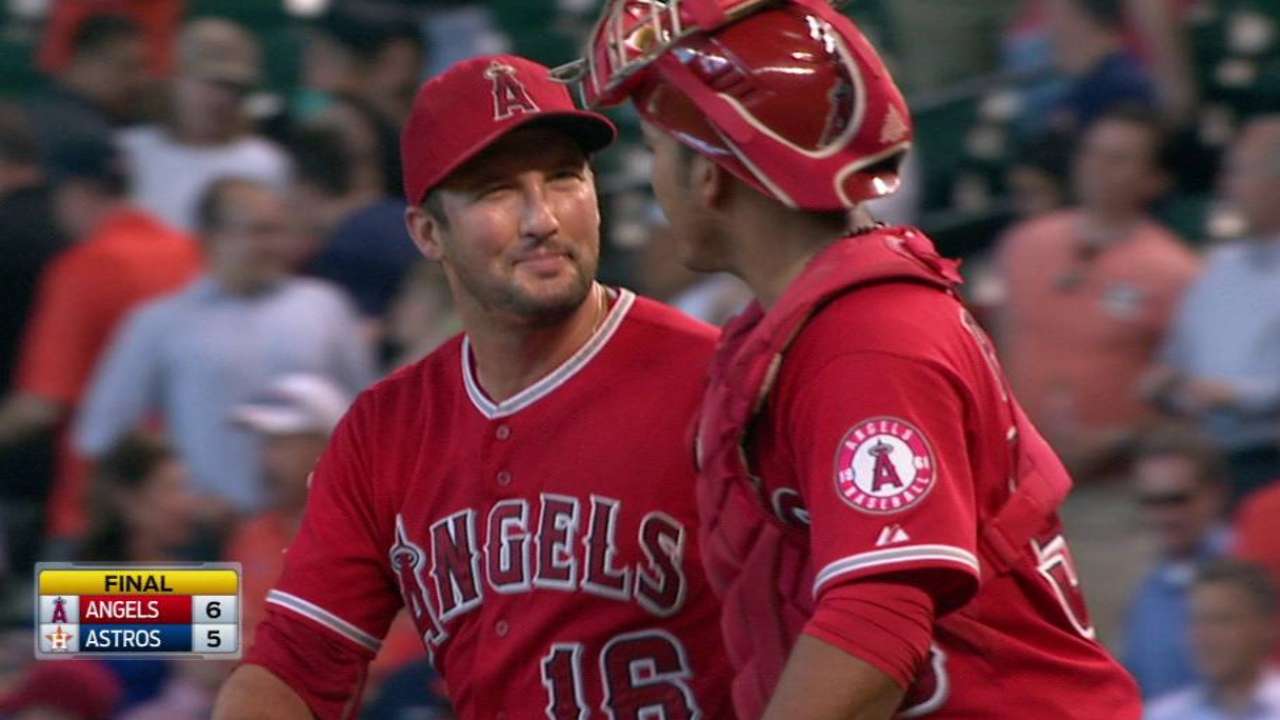 13. Twins
With a 4.03 bullpen ERA, Minnesota is trying to hang in the hunt with a 75.4 save percentage, fourth in the AL. But 33 percent of inherited runners have scored.
14. Astros
Houston's 3.25 bullpen ERA ranks seventh in the Majors, and its runners-stranded rate (75.8) is fourth. The Astros' offseason attention to fortify their bullpen with veterans Luke Gregerson and Pat Neshek has paid off in the club's ascendency. But the unit's ERA has swollen to 4.42 since Aug. 1, and 6.63 in September -- the worst in baseball this month.
15. Dodgers
Kenley Jansen (33 saves, 0.78 WHIP) is as good as it gets, but stability in front of him has been an ongoing issue. The Dodgers' 3.96 bullpen ERA is in the bottom third.
16. Indians
Cleveland's 76.1 save percentage leads the AL, and its 3.22 bullpen ERA is sixth best in the Majors. The Indians are deep and resourceful, with Zach McAllister, Bryan Shaw, Ryan Webb and Jeff Manship getting the ball to Cody Allen. The closer owns 31 saves and 95 strikeouts in 64 innings.
Lyle Spencer is a national reporter and columnist for MLB.com. Follow him on Twitter @LyleMSpencer. This story was not subject to the approval of Major League Baseball or its clubs.