Wright on target: Captain looks like old self
Third baseman excelling since return from injury with extra rest, special pregame routine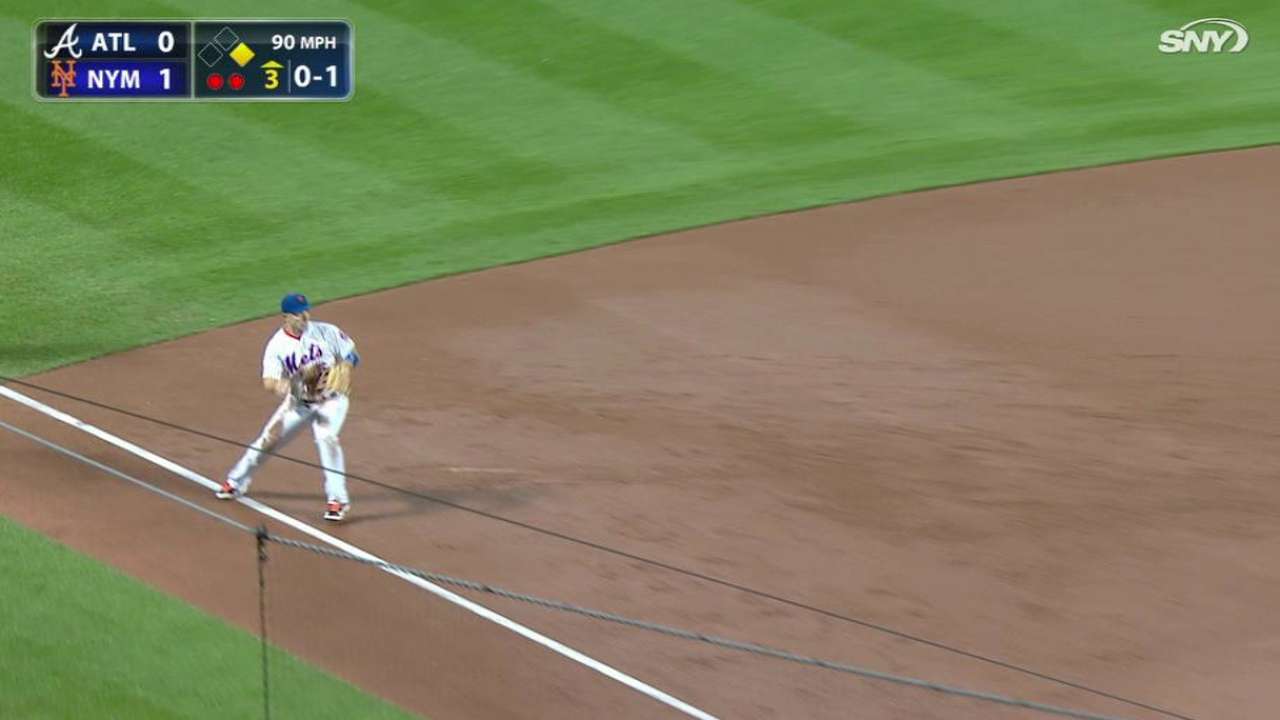 NEW YORK -- It's now been a month since David Wright's triumphant return to the Mets' lineup, and he isn't thinking about his back. Not in between the white lines, at least.
Sudden movements like big cuts and quick dives don't come with nagging "what if" questions for Wright anymore. That phase of his recovery is over. On Tuesday, he drove Matt Wisler's fastball over the right-center-field fence, and two innings later, he took a five-step shuffle to his right to make a fine barehanded play at third.
"That's vintage David Wright," Mets manager Terry Collins said.
On the field, Wright is reactionary, but off the field, everything is meticulously planned. There is the rolling cast of ice treatments, paddings and soft braces taped to his torso, often from around the late morning until well into the afternoon, and again after that night's final pitch. Then there's the specialized stretching and yoga routine Wright undertakes before stepping into the batting cage.
Although Wright would like to be in the lineup every day, he rests roughly every three days, sometimes playing just two games in a row and never more than four.
"Terry has been pretty adamant that that's going to be the schedule," Wright said.
Collins says he sees more explosiveness from Wright in the days after he rests -- better bat speed, more energy and quicker recovery time. Consider it more peace of mind, though, because the drop-off really isn't as steep as Collins believes. In fact, more remarkable than any one swing is just how consistent Wright's performance has been since his return from an injury so uncommon -- spinal stenosis -- that it had some within the Mets organization wondering whether he would play again this season.
"People said [Wright] may not even return at all," Mets outfielder Curtis Granderson said. "Not only has he returned, but he's returned to play at a really high level, both offensively and defensively."
"I didn't have anything to expect," Collins said. "I knew nothing about the injury. I've never had a player who had that. I didn't know how it would affect his swing, his endurance, all the things involved."
Here's a Wright status report:
Hitting
Since Aug. 24, the third baseman is 10-for-33 with two RBIs, seven strikeouts and three walks on days before he rests, and 10-for-34 with four RBIs, seven strikeouts and four walks after returning from a day off. Wright posted a .333 batting average, a .371 on-base percentage and a .424 slugging percentage over the first eight games of 2015. Since returning, his line looks like this: .295/.374/.453.
Overall, Wright's slash line of .305/.373/.445 remains on par with his career averages of .298/.377/.493. The same goes for his walk and strikeout rates.
"I think people forgot that at the beginning of the season, [Wright] was looking like what everybody expected and [had] grown to know," Granderson said. "He's rebounded back to where he was at the start of the season, which mirrored what he's done over his career."
Power
Wright's power numbers have fluctuated over the years, and few expected him to return with the stroke that popped 29 homers as recently as 2010. Perhaps he never will. But Wright does have three homers in 23 games since returning, a rate that projects to about 21 over a full season. About 10.5 percent of his fly balls are finding their way over the wall, behind his career rate of 12.9 percent, according to FanGraphs, but double his mark from 2014. Maybe most importantly, this past homestand provided several examples of Wright driving the ball to the opposite field. That's long been his offensive signature.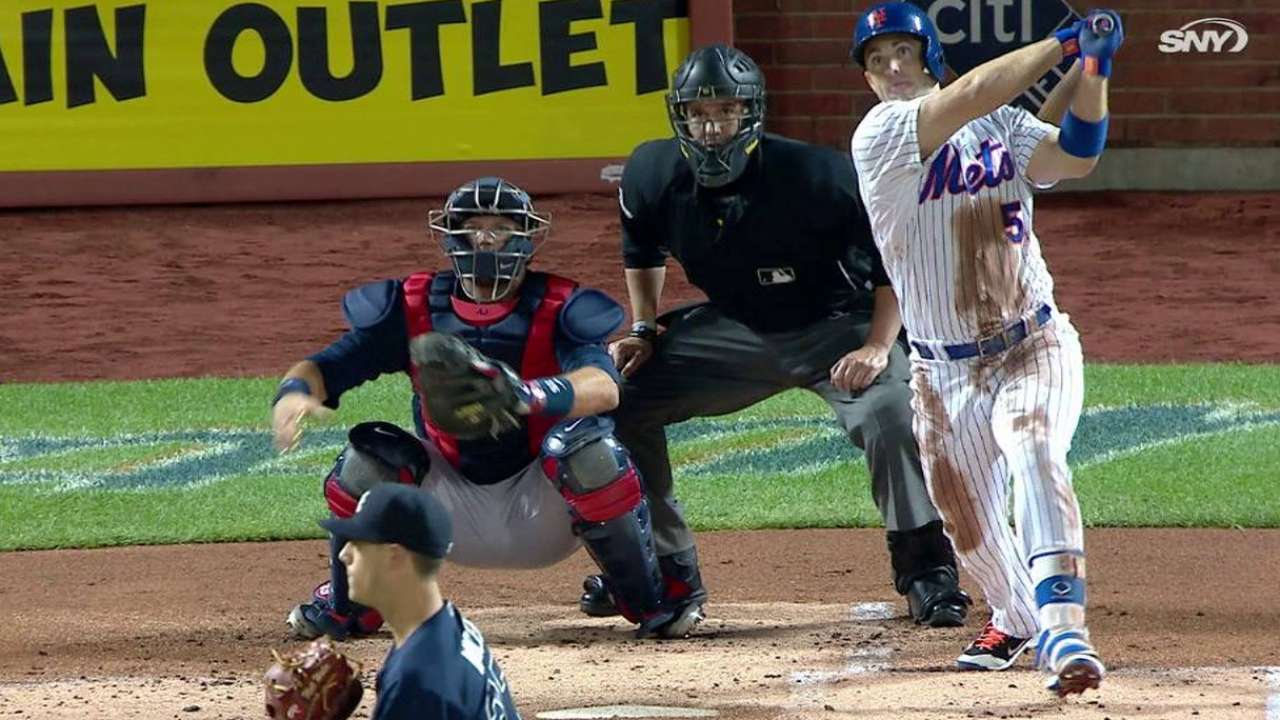 Fielding
Wright has shown little restriction on balls hit to his right and rolled in front of him, approaching them with the tenacity that made him a two-time National League Gold Glove Award winner earlier in his career.
"My first few rehab games, I went to dive and thought, 'What's this going to feel like?'" Wright said. "Now it's satisfying to go do it."
As has always been the case, Wright's glove is optional. He routinely fields bunts with his bare hand, and this week, he even did so on a high chopper behind the bag. It's clear, though, that Wright's range going to his left is diminished somewhat. One glaring example put the go-ahead run on base Wednesday when Wright was able to glove a Cameron Maybin chopper, though he was unable to get himself in proper throwing position. His throw was soft and inside the bag, and Maybin reached and eventually scored.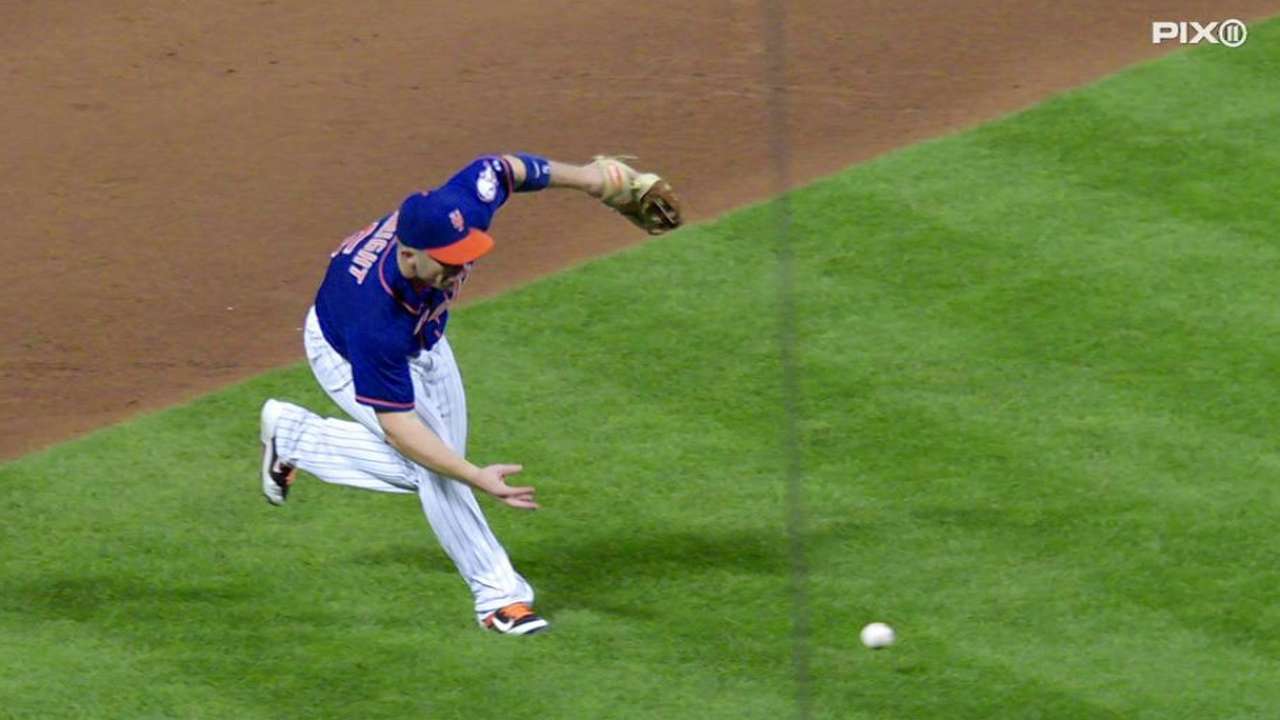 Baserunning
Here is where Wright admits he's taken a step back. After all, it was after stealing second base April 14 that Wright left the game, not to return for more than four months. So the hesitation there is by design, and it's not exactly cramping the Mets' style. New York ranks 28th in the Majors with just 50 stolen bases as a team this season.
"I'd like to steal some bases here and there, but I won't be as active for the time being as I was," said Wright, who stole 183 over the first 10 years of his career. "There are some things I'm probably better off not doing."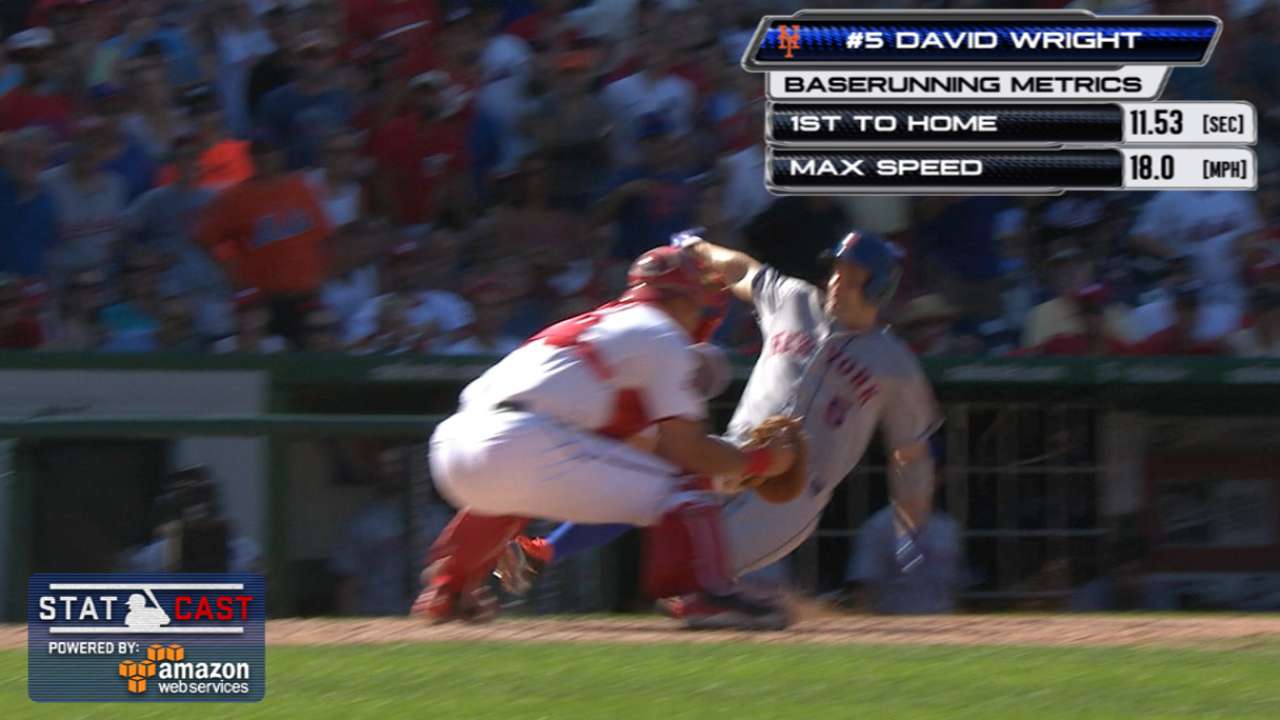 Joe Trezza is an associate reporter for MLB.com. This story was not subject to the approval of Major League Baseball or its clubs.