Andrus finds groove in resurgent second half
Rangers shortstop hits career-high 7th HR in win over A's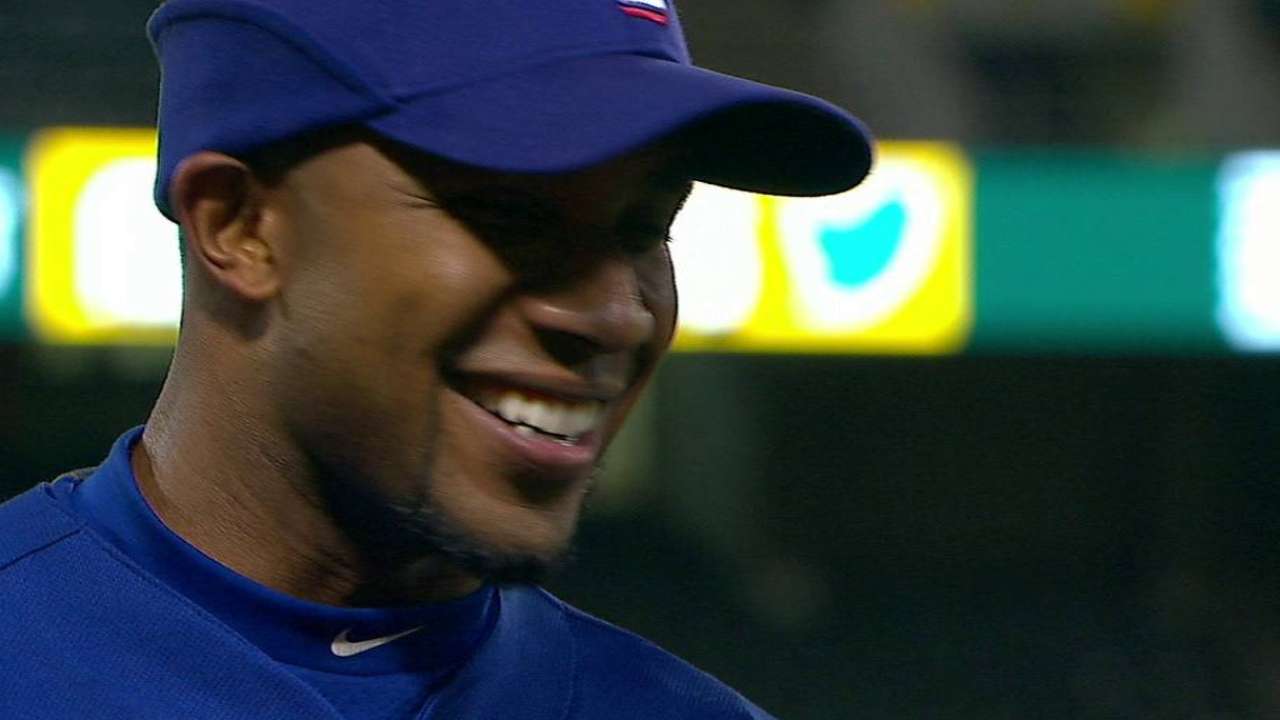 OAKLAND -- Former Rangers manager Ron Washington had an observation about shortstop Elvis Andrus before Wednesday's game.
"It looks like he's got some life back in him," said Washington, now a coach with the Athletics.
A few hours later, Washington's observation was reaffirmed. Andrus crushed a three-run home run in the fourth inning that snapped a 1-1 tie and helped propel the Rangers to 10-3 victory over the Athletics at the Coliseum. The win pushed Texas' lead over Houston to 3 games in the AL West standings.
The home run came off of Athletics starter Felix Doubront and went sailing deep over the left-field fence, projected by Statcast™ to land 419 feet away from home. It was the first three-run home run of his career and his seventh homer of the season, a new career high. Andrus' previous best was six as a rookie in 2009. He hit only two last season.
"Yeah, you got to feel good about that," Andrus said.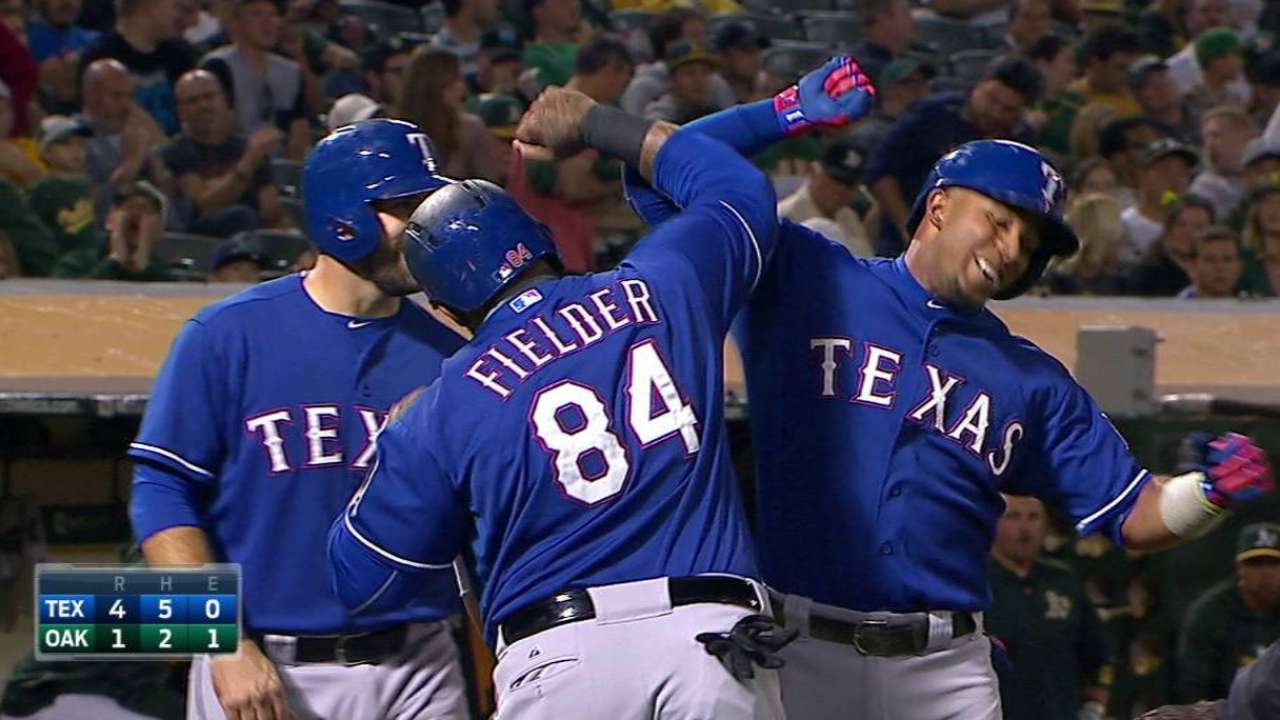 The night was an extension of how Andrus has been hitting since the All-Star break. Andrus, who also had a double off Doubront, finished 2-for-4 and has hit .333 (14-for-42) with five walks in his last 11 games. Over the longer haul, he has hit .285 with an .324 on-base percentage and a .417 slugging percentage since the All-Star break. He hit .242 with a .301 on-base percentage and a .323 slugging percentage in the first half.
"The biggest thing offensively is I'm not looking for a certain pitch, I'm just going up there and being aggressive," Andrus said. "That has helped me develop my swing. I have always used a leg kick but this year it is higher and I have my timing. Before I was not on time. I was fighting with my timing. Now that I have my timing, I'm hitting balls that I have never hit in my career."
The second half improvement has also shown up on the defensive side. Andrus made 15 errors over 86 games in the first half with a range factor of 4.53 chances per nine innings. In the second half, Andrus has five errors in 63 games with a range factor of 5.22 chances per nine innings.
Manager Jeff Banister said Andrus has become more comfortable with the Rangers' myriad of defensive alignments and drastic shifts that change from hitter to hitter.
"I believe his focus is so much better and he is gotten more comfortable where we have asked him to play," Banister said. "Early on with all the shifting and different setups, it was challenging: a different look, moving the infield around, different spots, the ground balls are different. Now he is comfortable and confident and he is playing at a high level."
T.R. Sullivan is a reporter for MLB.com. Read his blog, Postcards from Elysian Fields, follow him on Twitter @Sullivan_Ranger and listen to his podcast. This story was not subject to the approval of Major League Baseball or its clubs.