Statcast: Orlando dashed home for Royals' win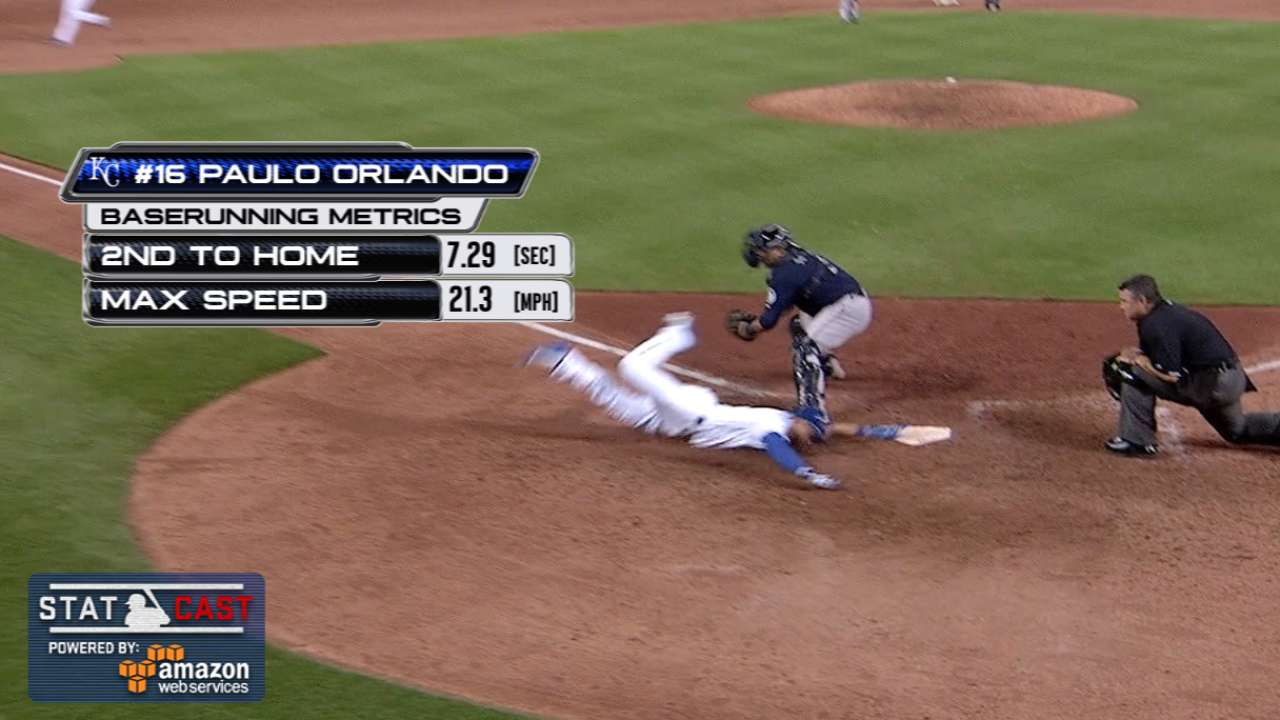 With a little speed off the bench Wednesday night, the Royals lowered their magic number to clinch the American League Central title to two. With a little help from Statcast™, we can see how they earned their 4-3 walk-off win against the Mariners.
Pinch-runner Paulo Orlando scored the game-winner, flying home from second base on the go-ahead single by Lorenzo Cain. The win improved the Royals' record to 88-63, giving them a chance to clinch a division title Thursday.
But that wasn't the only play worth a second look from Wednesday night. Kyle Schwarber made a spectacular catch, Manny Machado obliterated a milestone home run, Jose Altuve hustled home and Lonnie Chisenhall made a diving grab in right field.
Here is an in-depth look at each play.
Orlando sprints home to win it
With Cain coming to the plate in the bottom of the 10th, Orlando entered the game as a pinch-runner for Alex Gordon at second base. Cain did his part, knocking a ground ball to right field.
And Orlando did his job, dashing from second to home plate in just 7.3 seconds to score the walk-off run in the Royals' win. Orlando reached a top speed of 21.3 mph before sliding home, according to Statcast™.
Schwarber makes the catch
As he showed Wednesday night, and as Statcast™ helps further explain, Schwarber may not be flawless in left field, but he's holding his own out there. Schwarber made a highlight-reel grab on a play that was not perfect, but it was still impressive in its own right.
In the seventh inning of a 4-1 win over the Cubs, the Brewers loaded the bases with one out. Up came Martin Maldonado, who knocked a fly ball to the warning track in left-center field. Schwarber headed toward the ball, covering 85.8 feet, according to Statcast™, and he somehow snagged the ball before it landed for an extra-base hit.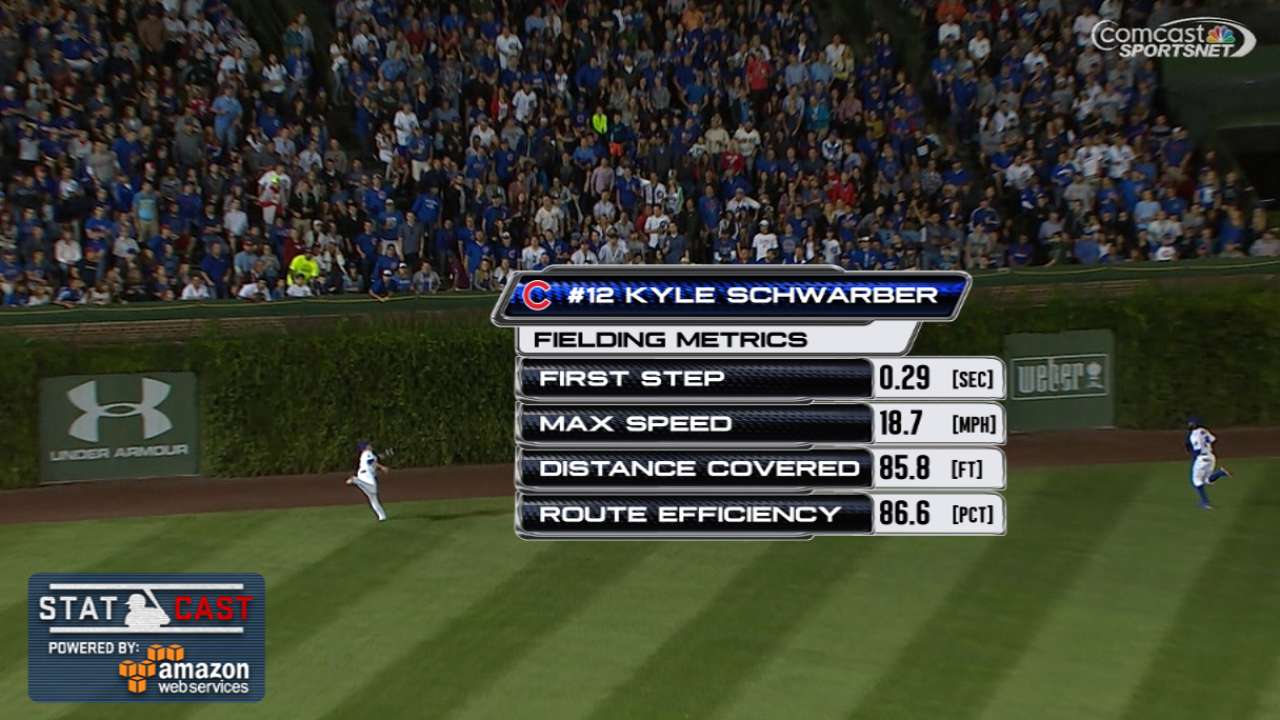 Schwarber got to the ball with a route efficiency of just 86.6 percent, according to Statcast™, but he overcame that with solid awareness and great hands, as he turned a potential bases-clearing hit into a sacrifice fly.
Machado goes deep for No. 30
Machado gave the Orioles a 4-3 lead in the seventh inning on Wednesday night, ripping his 30th home run of the season to left-center field off Nationals ace Max Scherzer. Baltimore hung on to that lead to beat Washington, 4-3.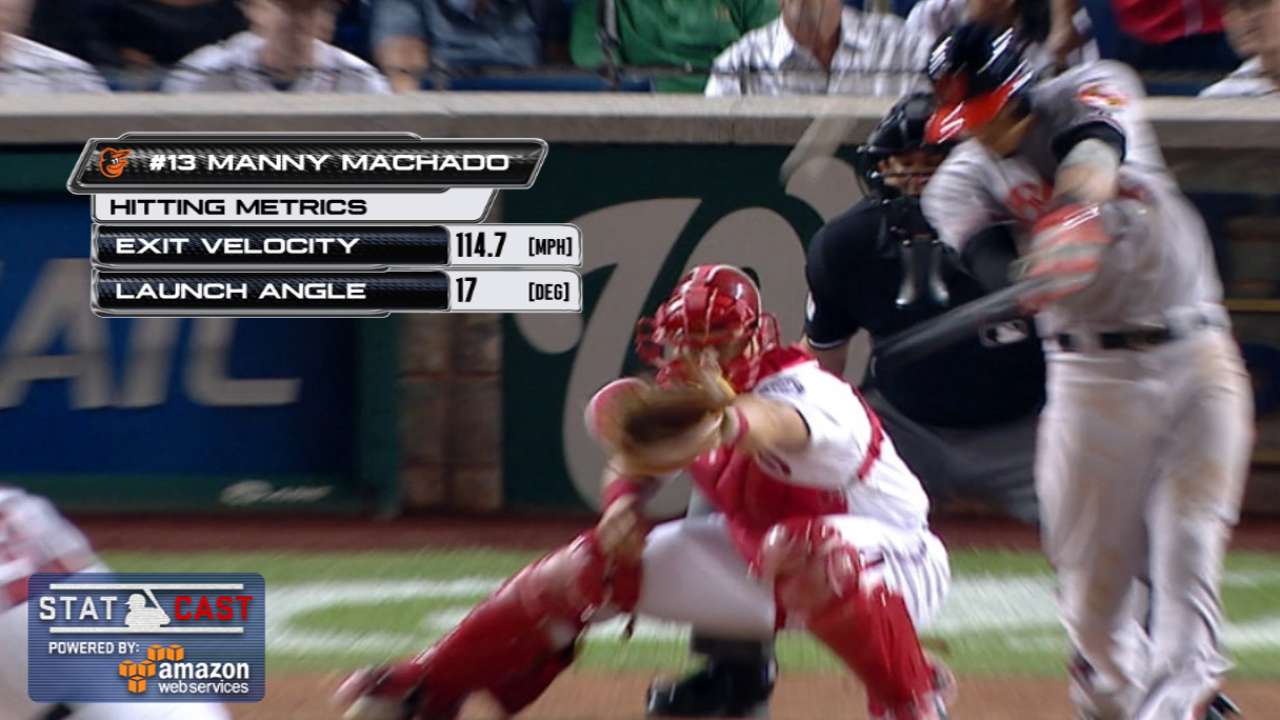 The ball came off Machado's bat with an exit velocity of 114.7 mph -- the second-hardest ball he's hit all season -- at a launch angle of 17 degrees. The line drive hung in the air for 4.8 seconds and traveled a projected 435 feet.
Altuve hustles home
The Angels would come back to win, 6-5, but the Astros took a one-run lead on an electrifying play in the seventh. George Springer drilled a triple into the right-field corner, Jake Marisnick easily scored the tying run, and Altuve took off from first.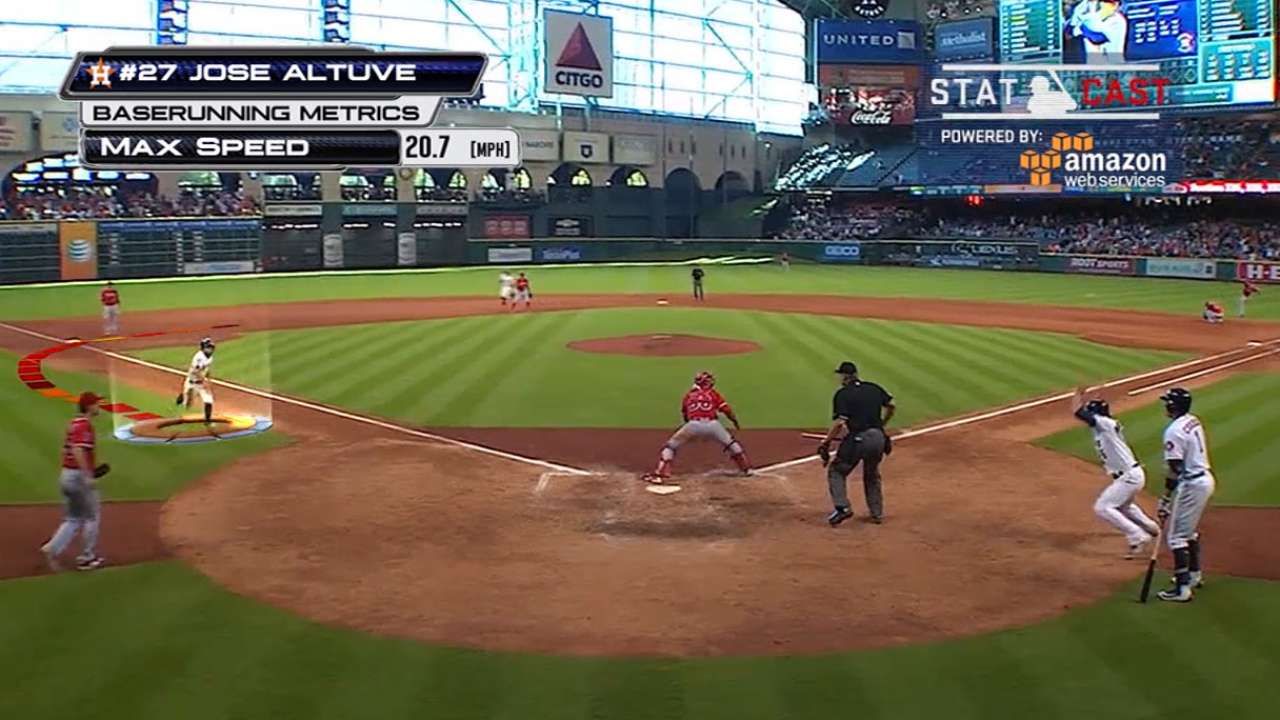 Altuve wheeled around the bases, going from first to home in 10.1 seconds -- the fastest such time he's recorded all season -- while reaching a top speed of 20.7 mph.
Chisenhall's diving grab
With the Twins leading, 4-0, in the seventh inning, Trevor Plouffe sent a shallow fly ball to right field. Indians outfielder Chisenhall came sprinting in, taking his first step in 0.3 seconds, and reaching a top speed of 19.8 mph. Then, he laid out to make a diving grab.
According to Statcast™, Chisenhall covered 97.9 feet with a route efficiency of 87.6 percent. Minnesota beat Cleveland, 4-2, which leaves the club just one game back of the second AL Wild Card spot.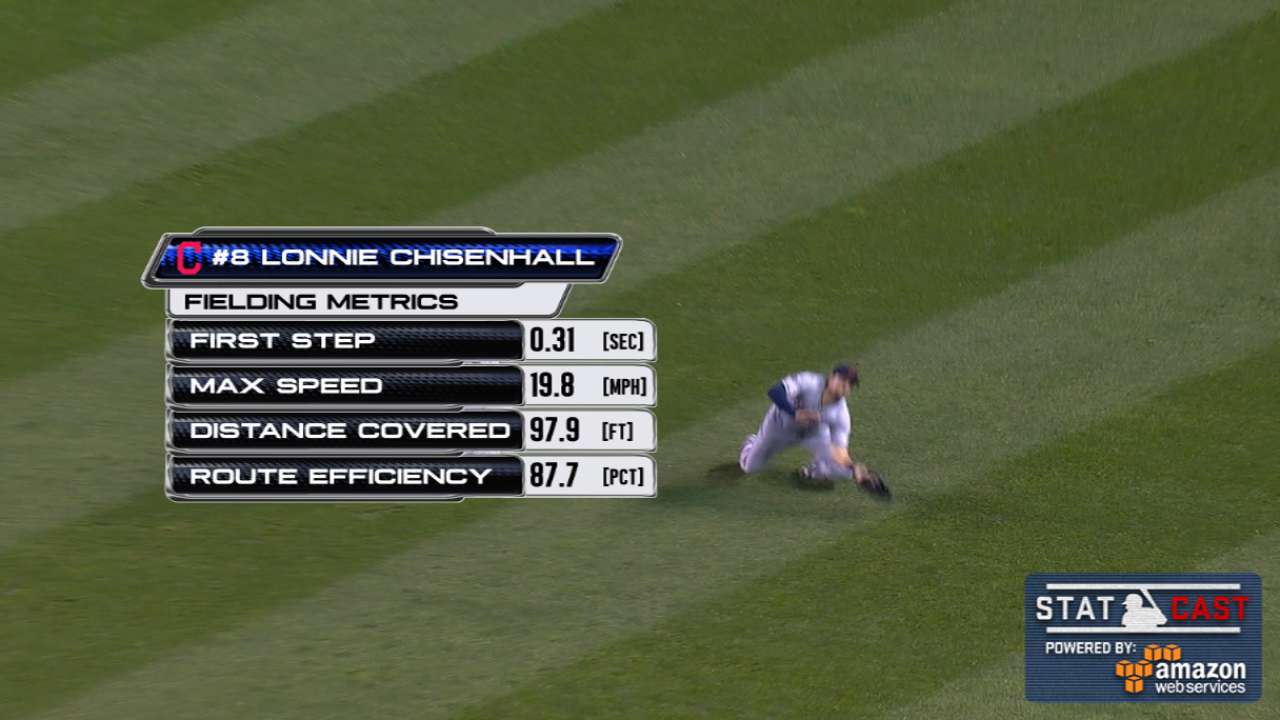 Adam Berry is a reporter for MLB.com. Follow him on Twitter at @adamdberry. This story was not subject to the approval of Major League Baseball or its clubs.