MLB.com Columnist
Tracy Ringolsby
Simply reaching postseason not enough for Bucs
The Pirates know the real celebration will come with a World Series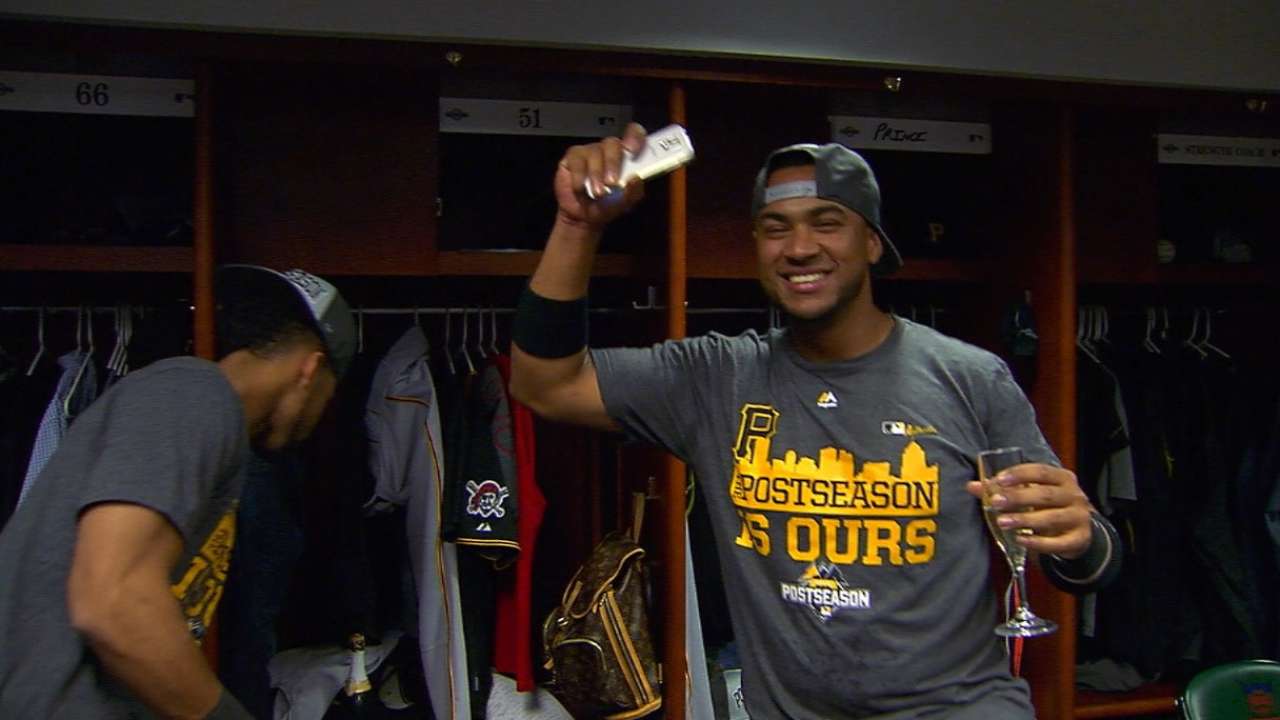 DENVER -- Put the celebration on hold.
Yes, the Pirates clinched a trip to the postseason for the third consecutive season with a 13-7 victory against the Rockies at Coors Field on Wednesday night. And yes, they recognized the moment, but it was with a subdued, closed-clubhouse gathering, where a toast was offered up to celebrate the moment.
Then it was back to business.
There's a bigger challenge ahead of the Bucs than merely getting into the postseason. And they know that well.
• Buy Pirates postseason gear now
Making the postseason was a reason for celebration two years ago, when the franchise ended a 20-year drought in which the Pirates not only never advanced to the postseason, but never even had a winning record.
This, however, is a third consecutive season of claiming a National League Wild Card spot, and after being knocked out in the NL Division Series by the Cardinals two years ago, and suffering elimination in the Wild Card Game with the Giants a year ago, just being a part of the postseason is no longer enough to satisfy the Bucs and their fans.
"It was a huge step for us as a team two years ago," said center fielder Andrew McCutchen. "And we wanted to take care of business this year. That started with the getting to the playoffs. But that is just the first step to where we want to be.
"Our overall goal is to win the championship."
That's been a long time coming.
Yes, the Pirates were NL East champions in 1990, '91 and '92, but they never got past the NL Championship Series, losing to the Reds in six games in 1990, and the Braves in seven games each of the next two.
A World Series championship? The Bucs haven't been able to enjoy one of those celebrations since they rallied to beat the Orioles in a seven-game World Series 36 years ago.
Neil Walker, their first-round Draft choice in 2004, is a Pittsburgh native, born in 1985, six years after that last championship, but in time to be a part of the sellout crowds at Three Rivers Stadium that enjoyed the three-year division title run of the early 1990s, and then he suffered through that 20-year drought, first as a fan, and then as a member of the Pirates.
"There is nothing more lonely than a September when you are in first place in late July and are looking up at everybody else in the division in September," Walker said. "It's what made 2013 so special. I had never been a part of meaningful baseball in August and September. After getting over the hump that year, we started to believe in ourselves, and we knew we could play with anyone in the league. Our confidence jumped through the roof."
McCutchen, the Pirates' first-round selection and the 11th player taken overall in 2005, was raised in Fort Meade, Fla., far removed from any fan angst over the early part of the Bucs' drought, but he was a part of the team in those final three losing seasons of the two decades of futility.
Now, McCutchen is the focal point of a team that is being invited to baseball's October showdown for the third year in a row. He won the NL MVP Award in 2013, and finished third in the voting a year ago.
"It's good to be a part of the change," McCutchen said. "We've shown we are getting better and we can't be taken for granted."
Now it is time to take that next step. And that is what is driving this team, which now has a 37-man roster, with only six players who weren't a part of last year's celebration.
"I can't speak for anybody else," said manager Clint Hurdle. "That first time [in 2013], I was wired because it has been a long time coming, and there had been flirtations.
"I'm not caught up in it now. There's no tingling this time."
Instead, there is a business-like motivation to not be satisfied until that final out in that final game of the season is recorded, and there is a full-fledged celebration in the Pirates' clubhouse.
In 2011, the Bucs were in first place four months into the season, having won 53 of their first 100 games, but they finished the season on a 19-43 slide that left them in fourth place, 24 games out of first.
Again, in 2012, they were very much a factor in the NL Central four months into the season, winning 58 of their first 100 games that time, but they lost 41 of the final 62, and were 18 games out by season's end.
That added to the emotional reaction to clinching a postseason berth in 2013, when anticipation of what laid ahead was fed by a win in the Wild Card Game and advancing to the Division Series.
There are, however, no guarantees in baseball, and when the Pirates' postseason run was abruptly ended by the Giants after just one game a year ago, the Bucs fully grasped the magnitude of the challenge they faced.
"We are trying to create a different legacy, and to do that it is best if we keep things in perspective," said Hurdle. "There's a definite focus on a better finish to this season. We got to five games in the playoffs [in 2013], and then we got [Giants lefty Madison] Bumgarner before anybody else did last [postseason]. We saw him in the first game. Others saw him later.
"This year, the walk is different. The goals are different. Our fan base has been a long time without a World Series trophy. I'm sure they can find room for one more."
And that, Hurdle admitted, would be worth celebrating.
Tracy Ringolsby is a columnist for MLB.com. This story was not subject to the approval of Major League Baseball or its clubs.