Freeman torments Mets with two big blows
Braves slugger hits pinch-hit two-run 2B in 7th, then decisive three-run HR in 9th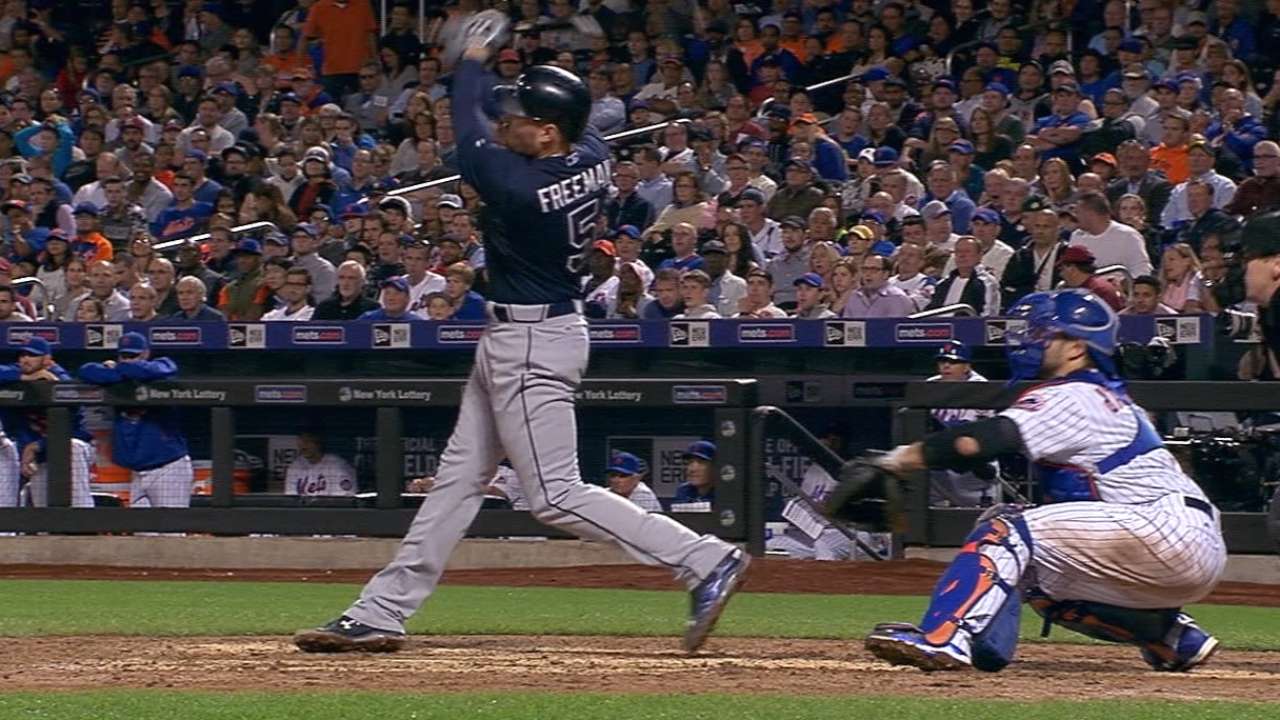 NEW YORK -- With two big swings that he wasn't originally slated to take, Freddie Freeman provided the Braves a chance to celebrate an unexpected road series win and gave Mets fans further reason to view him in much the same light that they did Chipper Jones, Atlanta's former Mets killer.
Still, Freeman certainly did not exude a jubilant spirit after he came off the bench and capped a five-RBI performance with a decisive three-run homer in the ninth inning of Wednesday night's 6-3 win over the Mets at Citi Field. Instead, he looked more like a guy who has been beaten mentally by the struggles the Braves have endured most of the summer and physically by the right wrist discomfort that returned a few weeks ago.
"It's been a frustrating season in all areas for this team and for me personally -- it has been injury-plagued and it looks like it's going to end injury-plagued," Freeman said. "To be able to come off the bench and help this team win, it's definitely a good feeling."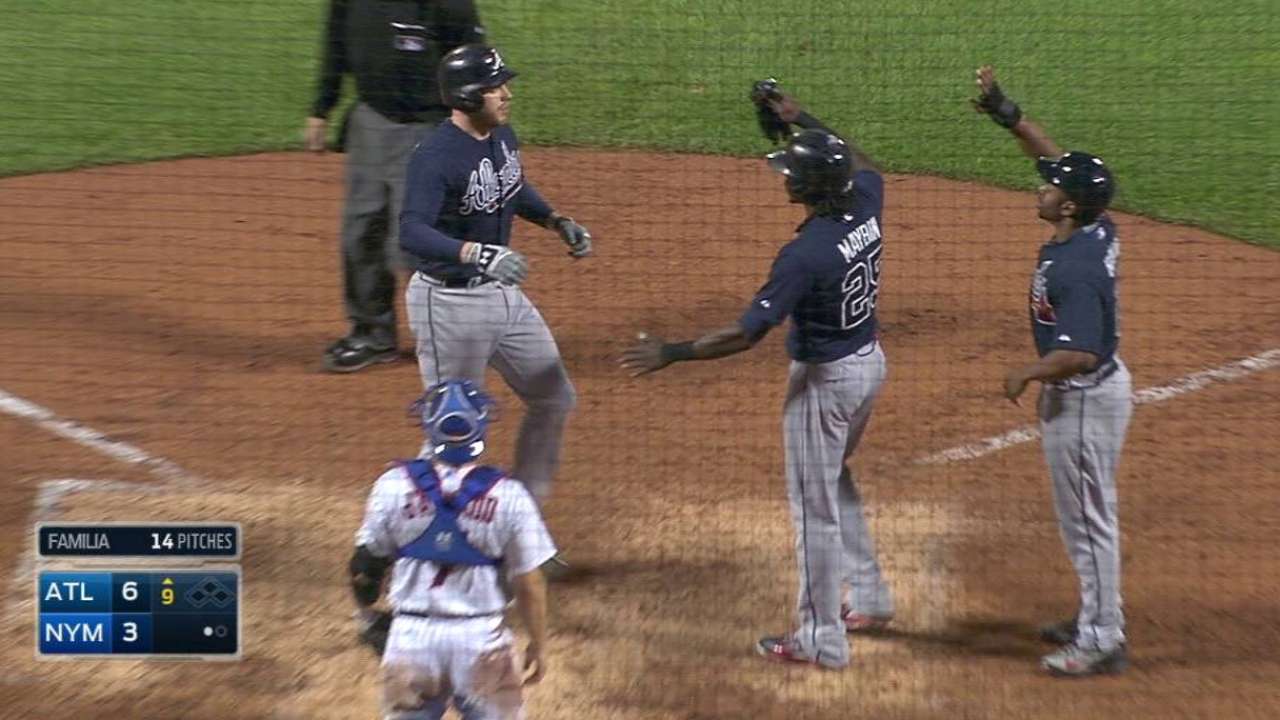 With a pair of wins against the first-place Mets this week, the Braves claimed just their second road series victory since the All-Star break. They now need to win just one of their final nine games to prevent a 100-loss season. Freeman just hopes he can continue to provide some assistance down the stretch.
Freeman sprained his right wrist with a swing he took at Citi Field on June 13 and then spent five weeks on the disabled list. Shortly after returning to action, he suffered an oblique strain that sidelined him for another three weeks. Now as he nears the end of the season, he is once again battling wrist discomfort that was significant enough for him to be held out of Wednesday's starting lineup.
With Thursday's off-day, this seemed like the perfect opportunity to provide two consecutive days of rest. But this plan was scrapped when Freeman came off the bench with the bases loaded in the seventh inning and delivered a go-ahead two-run double off Addison Reed.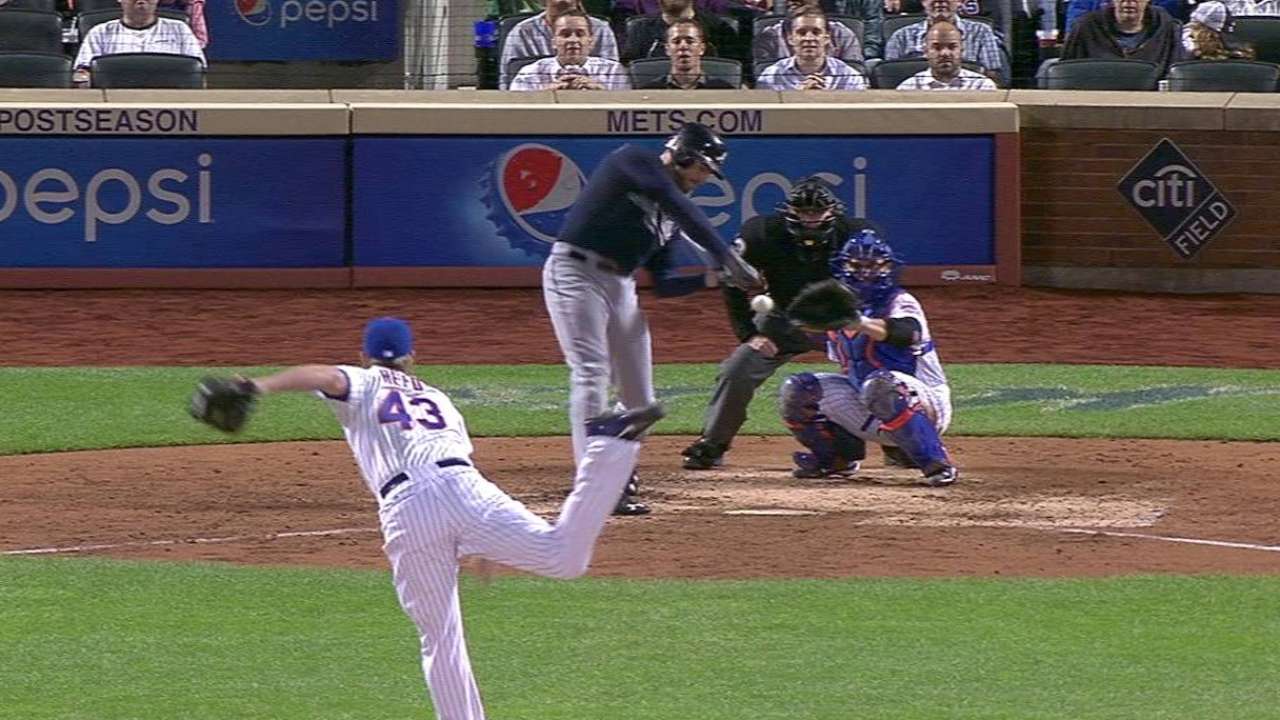 Two innings later with the game tied, Freeman capped his productive short night by drilling an opposite-field three-run homer off Mets closer Jeurys Familia. The Braves first baseman now has produced a career-high five RBIs four times, and three of those occasions have come against the Mets.
This mastery seemed to prompt Mets third baseman David Wright to deliver some choice words toward Freeman after he produced a game-tying single in the bottom of the seventh. Some fans interpreted the message as heated, but both Wright and Freeman described it as just amicable banter.
"I am angry at him," Wright said. "He hit a two-run double and a three-run homer. I am angry at him, but more in a playful way."
Freeman chuckled when asked about the exchange between himself and Wright. But as he talked to reporters with his wrist wrapped in ice, he was not necessarily in a laughing mood.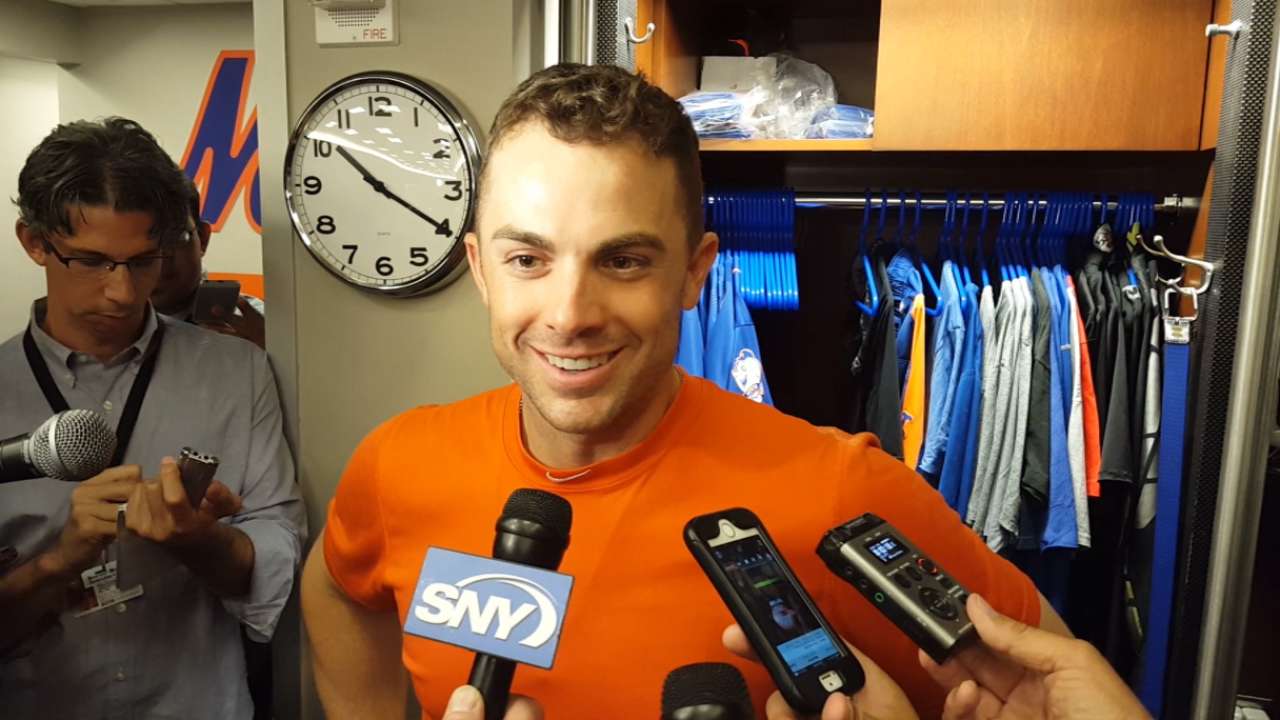 Instead, Freeman just repeatedly said he hopes that his wrist allows him to get through the remainder of this season in productive fashion.
"It's not getting any worse, that's the only good thing about this," Freeman said. "Hopefully, with treatment and some anti-inflammatories and a day off, it will be better and I can finish the final nine games strong."
Mark Bowman is a reporter for MLB.com. This story was not subject to the approval of Major League Baseball or its clubs.