Pennant Chase: Utley helps trim magic number to 5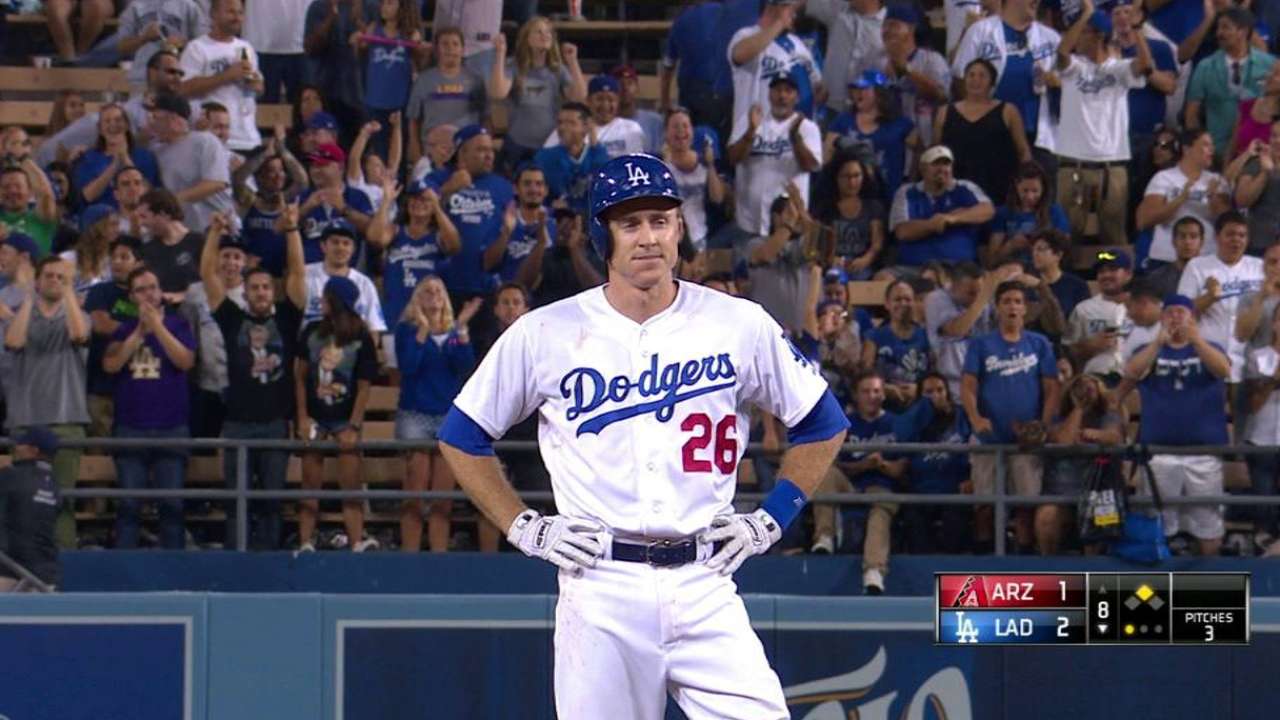 LOS ANGELES -- Chase Utley hit the first leadoff home run of his career and Corey Seager hit a two-run homer in the eighth to propel the Dodgers to a 4-1 win over the D-backs on Wednesday night at Dodger Stadium.
The win, coupled with a Giants loss in San Diego, lowered the Dodgers' magic number to win the National League West to 5. Los Angeles also owns a 1 1/2 game lead over the Mets, who lost, for home-field advantage in the Division Series.
"It's like golf, when you're playing match play. You expect the guy to make the putt. I expect San Francisco to win, besides when we [play them]," Dodgers manager Don Mattingly said. "We've just got to win our way through it."
The Dodgers and D-backs were deadlocked at 1 from the second inning on, until Utley roped a double off the right-field wall to score Jimmy Rollins in the eighth. Seager followed the homer, and the Dodgers were well on their way to snapping a four-game skid.
Both starters made one mistake in otherwise impressive outings. Arizona's Chase Anderson had a career-high 10 strikeouts and allowed one hit -- Utley's homer -- in six innings. He retired the final 13 batters he faced, but was left with a no-decision.
"I thought he threw as well as we've seen him -- as well as probably early in the year when he was dominating," D-backs manager Chip Hale said. "He showed a lot of guts tonight, and his changeup was electric."
Carlos Frias had the unenviable task of making a spot start in place of Zack Greinke, who was scratched with a right calf injury, but Frias looked the part. In four innings on 43 pitches, he allowed one hit -- a home run to Paul Goldschmidt in the second. Frias had been been in the bullpen for the past month and had reached his pitch limit.
"They didn't say for sure, but they told me come ready to pitch tomorrow," Frias said. "I think in my mind they had a low pitch count, around 45 pitches. I could go 3-4 innings, then give it to the bullpen guys."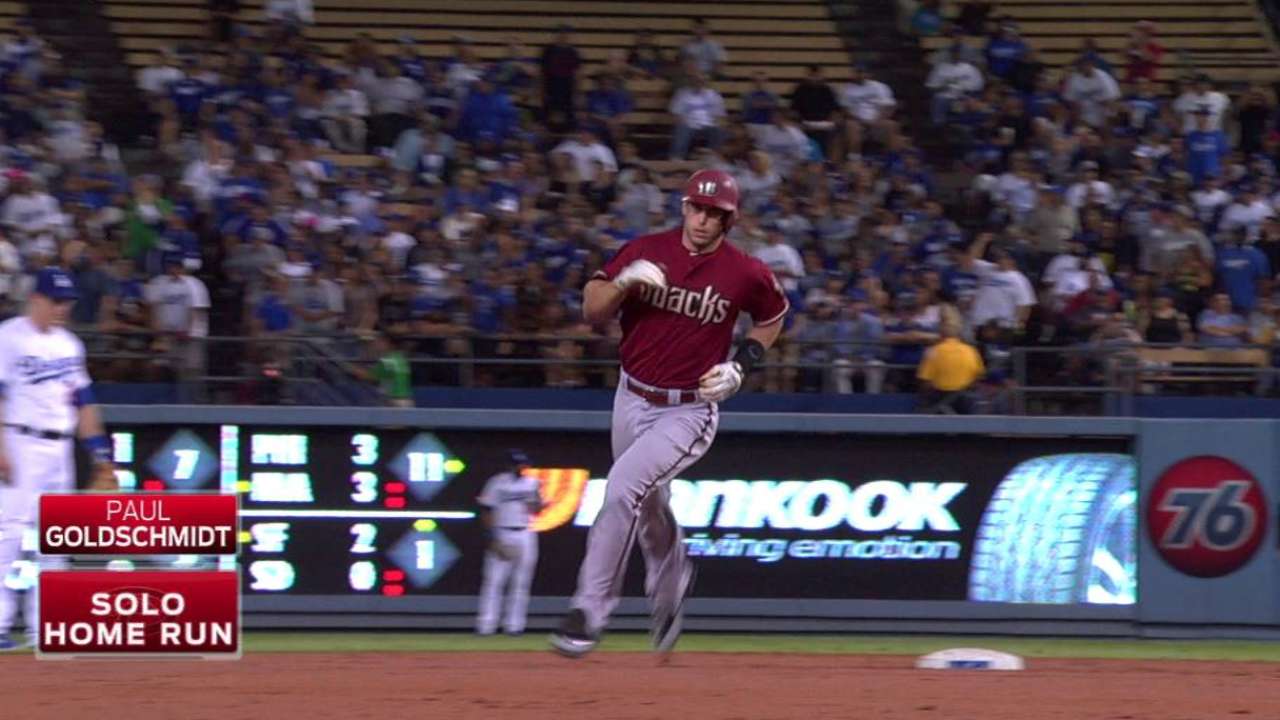 MOMENTS THAT MATTERED
Bullpen game: The Dodgers used six pitchers and kept the D-backs in check after allowing eight runs in each of the first two games of the series. The lone offensive threat for Arizona came in the fifth, as they had two on and one out, but Ian Thomas got rookie Brandon Drury to hit into a 5-4-3 double play to end the inning. Chris Hatcher earned the win, throwing 2/3 of an inning in the eighth.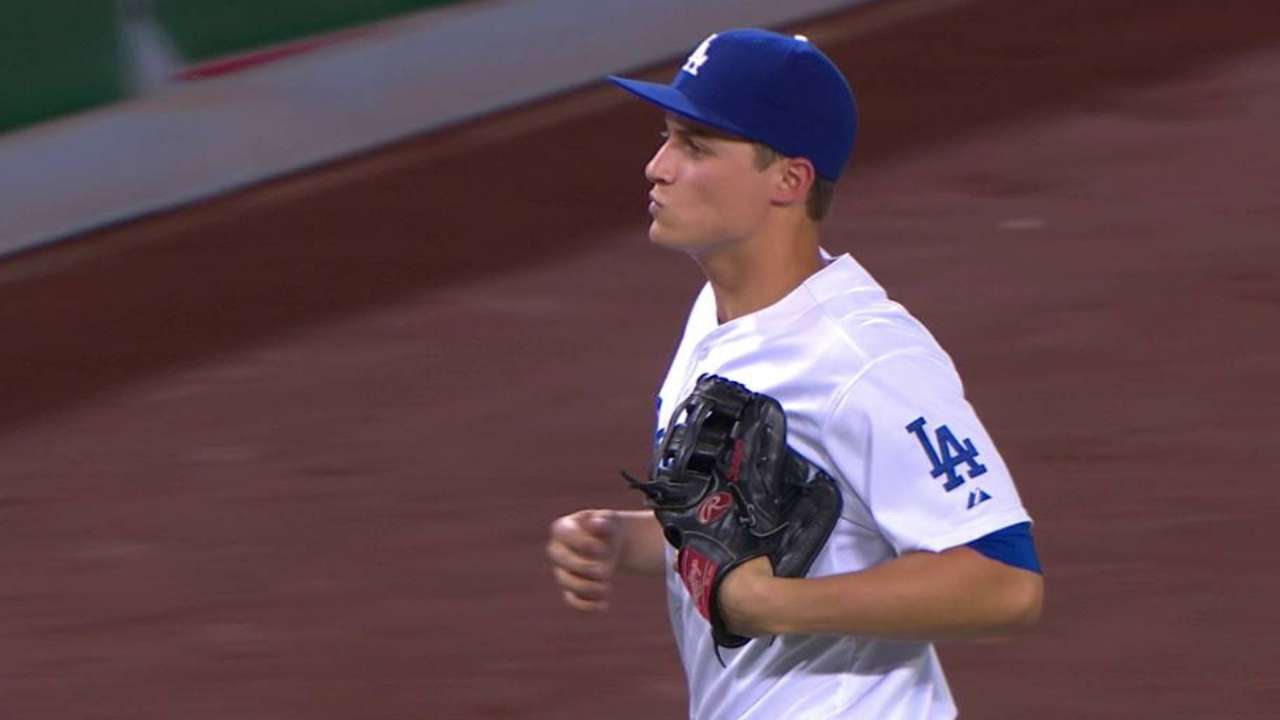 Dropped call: The D-backs had been planning to bring in left-hander Matt Reynolds to face Seager if he came up in the eighth, but they couldn't let him know because their bullpen phone wasn't working. So when Reynolds entered with Seager batting and Utley on second, he hadn't been warming up. Reynolds left a 2-1 curveball over the plate, and Seager hit it out to right field to put Arizona in a three-run hole.
"Matt wasn't even up," Hale said. "This is a really difficult phone here, one of the harder ones in the league, and I guess the communication wasn't there. We wanted him ready for Seager, and I guess he wasn't even up. So that's obviously an issue with the coaching staff and myself. We just can't let that happen."
• Faulty phone costs D-backs as Reynolds can't get loose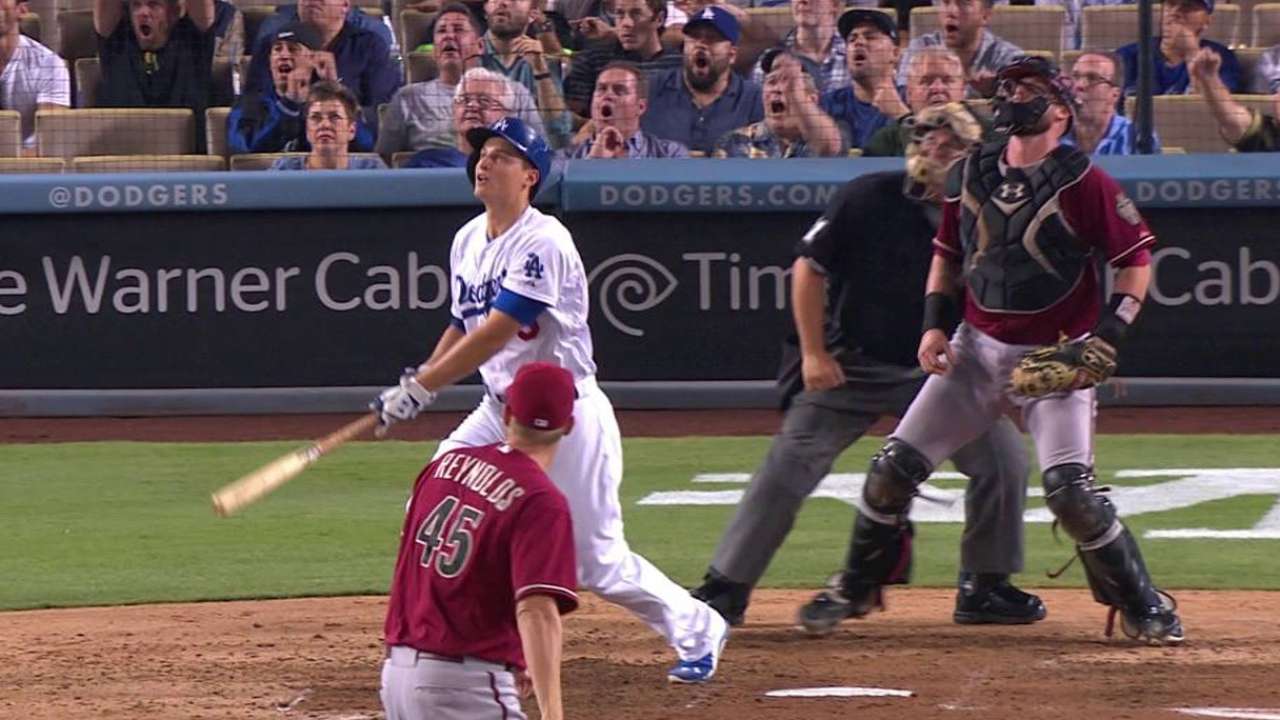 It's a start: Frias was remarkable, given the short notice of his start. His 43 pitches were the most he's thrown at any level since June 30, his last start with the Dodgers. Frias has been on the active roster for less than a week after spending over two months on the disabled list with lower back tightness.
"I feel great because they gave me a great opportunity," Frias said. "They trust me, they have a lot of guys here and they gave me a great opportunity."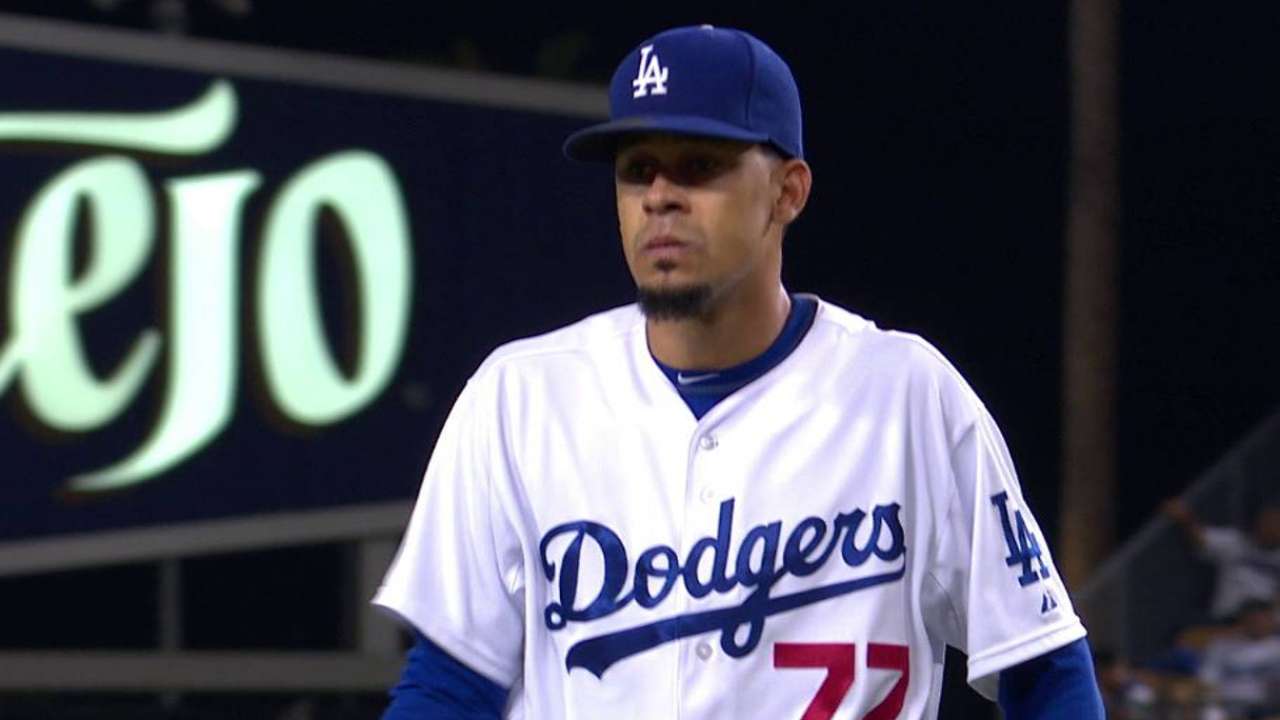 So close: D-backs center fielder A.J. Pollock came within inches of robbing Utley's homer leading off the home half of the first inning. He had also just missed robbing a homer in Monday's series opener. On Wednesday, reaching high above the center-field wall at the top of his leap, Pollock had the ball glance off the tip of his glove and land just over the fence. Pollock checked his glove upon landing and, finding it empty, punched the wall in frustration.
"I've had some chances here for sure. I just didn't time it right," Pollock said. "I thought I had a good chance at it, I just didn't have the legs, to be honest. … It was a catchable ball; I didn't catch it."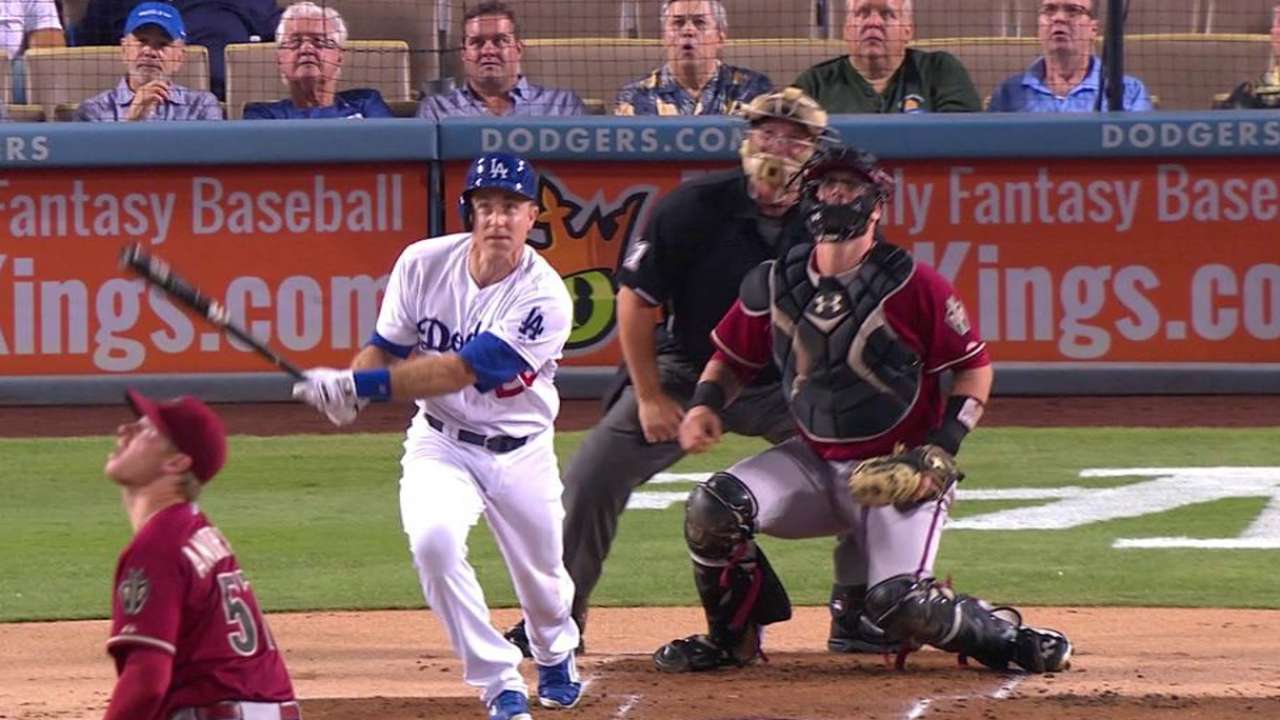 QUOTABLE
"His tone, his preparation, the way he goes about his business has been an addition for us, and it's a good addition in that area." --Mattingly on Utley
• Utley making the most of his chance in L.A.
"This place, for me, is kind of confusing. It kind of smothers you, it's so shallow out there. So there's a lot of balls that I don't think are going to be home runs, that I'm running to try to catch, and then all of a sudden I'm on top of the wall -- and then you've got to get your footing." -- Pollock, on playing center field at Dodger Stadium.
SOUND SMART WITH YOUR FRIENDS
The Dodgers are the first team in MLB history to have four different players hit leadoff home runs in a calendar month after Utley's homer on Wednesday. Along with Utley, Scott Schebler, Justin Ruggiano and Carl Crawford have all hit home runs to lead off the game this month.
WHAT'S NEXT
D-backs: Left-hander Patrick Corbin starts Thursday's series finale at Dodger Stadium at 12:10 p.m. MST. Corbin's been excellent in September, with a 1.42 ERA in four starts -- including a tough loss to the Dodgers after throwing six innings of two-run baseball on Sept. 13.
Dodgers: In the finale of the four-game set with the D-backs -- and the last game of a 10-game homestand -- Clayton Kershaw takes the mound for the 12:10 p.m. PT start. Kershaw took the loss to Pittsburgh in his last start, allowing three runs in seven innings. It was his first loss since June 27.
Watch every out-of-market regular season game live on MLB.TV.
David Adler and Steve Bourbon are associate reporters for MLB.com. This story was not subject to the approval of Major League Baseball or its clubs.