Giles turning page after first blip as closer
Right-hander blows first save in 14 chances since taking over for Papelbon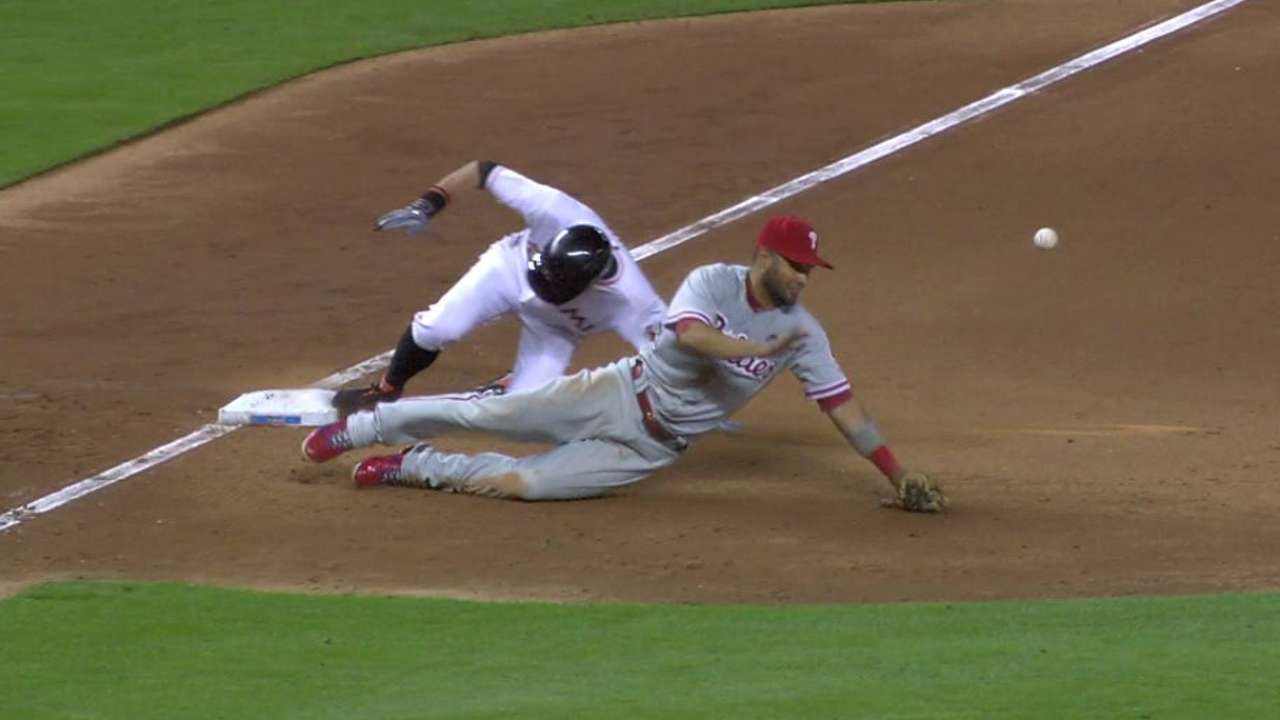 MIAMI -- Ken Giles had been perfect since the Phillies made him their closer in July.
But nobody can be flawless forever. Giles' run of perfection came to an end on Wednesday night in a 4-3, 11-inning loss to the Marlins at Marlins Park. Giles blew his first save in 14 opportunities since the Phillies traded former closer Jonathan Papelbon to the Nationals in July for Double-A pitcher Nick Pivetta.
Phillies manager Pete Mackanin called Giles into his office after the game to remind his closer that these things happen.
"He just wanted to tell me, 'I don't expect you to be perfect,'" Giles said. "Just be ready to go next time. He doesn't expect anybody to be perfect, and I don't expect myself to be perfect. As much as I would love to be perfect, it's not going to happen."
Giles allowed a leadoff single to Ichiro Suzuki to start the bottom of the 10th inning. Dee Gordon followed, dropping a bunt up the first-base line. Giles had an easy play, so much so that Gordon essentially slowed to a jog to first. But Giles bobbled the ball and Gordon was safe.
"I just rushed it," Giles said. "I got there in time, but I just rushed it with my hands too quick. I didn't want to rush it, but I was anxious to get him out, too."
Donovan Solano followed with another bunt, this one in front of home plate. Carlos Ruiz picked up the ball and threw past third baseman Andres Blanco into left field to allow Suzuki to score to tie the game.
"He tried to make a big play and it cost us," Mackanin said about Ruiz's throw.
Giles limited the damage to one run, getting Christian Yelich to fly out and Justin Bour to ground out to end the inning.
"The positive is I overcame something in a big situation like that, being able to give my team a chance to win the game," Giles said. "Not just there and done."
In other words, despite the defensive miscues and the blown save, Giles did not unravel.
Giles is 6-2 with a 1.38 ERA in 64 appearances this season. He has the lowest ERA among National League relievers and the best ERA among Phillies relievers since Roger McDowell posted a 1.11 ERA in 1989. Overall, he must be pleased with the way he has pitched.
"I can't ask for anything better than what I'm doing right now," Giles said.
But Mackanin can ask for better defense. Second baseman Darnell Sweeney's error in the second inning led to the Marlins' first run. Better defense and the Phillies might win on Wednesday.
"As a matter of fact, I'm thinking about Spring Training next year and my thing for Spring Training is going to be defense and baserunning," Mackanin said. "That's what the theme is going to be. You don't want to lose games due to bad defense. That's why defense is so important. There was a perfect example of that tonight."
Todd Zolecki is a reporter for MLB.com. Read his Phillies blog The Zo Zone, follow him on Twitter and listen to his podcast. This story was not subject to the approval of Major League Baseball or its clubs.