Stroman's arsenal sharper with every start
Blue Jays righty harnesses command of slider in dominating Yankees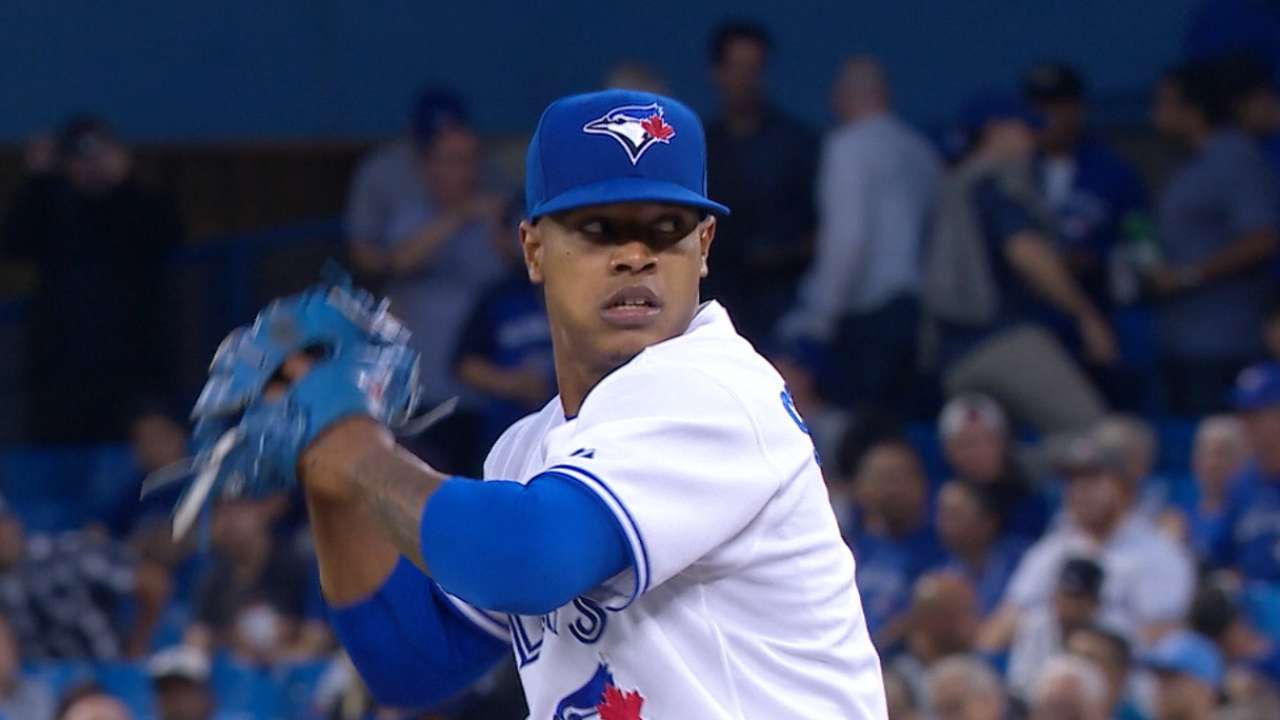 TORONTO -- Marcus Stroman wasn't one of the big-name additions the Blue Jays made prior to the July 31 non-waiver Trade Deadline, but he might as well have been based on the impact he has made down the stretch.
Stroman was once ruled out for the year with a torn ACL in his right knee, but he returned in September and has been in midseason form since. The right-hander was back at it again on Wednesday night, and his seven stellar innings were one of the main reasons the Blue Jays came away with a pivotal 4-0 victory over the Yankees that dropped New York 3 1/2 games behind Toronto for the American League East lead and trimmed the Blue Jays' magic number to clinch the division to eight. Toronto is 1 1/2 games behind Kansas City for the top record in the AL.
In three starts since returning from surgery, Stroman has allowed four runs over 19 innings. The stage at Rogers Centre, in front of a sold-out crowd and with a pennant race on the line, was Stroman's biggest yet, but instead of wilting under pressure, he rose to the occasion in dominant fashion.
"He thrives on that; that's really what he wants to do," Blue Jays manager John Gibbons said of Stroman's ability to succeed in big moments. "If he ever had a chance to choose where he wants to go, it would definitely be a city like this, like some of the other ones, where you're in the limelight, because he thrives on that.
"I've never seen the kid rattled, so you don't have to worry about that, and he has a great arm, which is the key. Perfect guy."
Stroman looked very strong in his season debut against the Yankees on Sept. 12, but he has been even better over his last two. The fastball command has been there since Stroman's return, but his secondary pitches have shown the most improvement of late. In his second start, against Boston, it was the curveball that came to life, and on Wednesday, it was his slider.
The 24-year-old frequently went to the slider as his out pitch. It's a weapon that is particularly effective against lefties, as Stroman can keep it low in the zone and in on the hands to generate weak contact and ground balls. Stroman also generated a lot of swings and misses with the slider, with all five of his strikeouts coming on that pitch.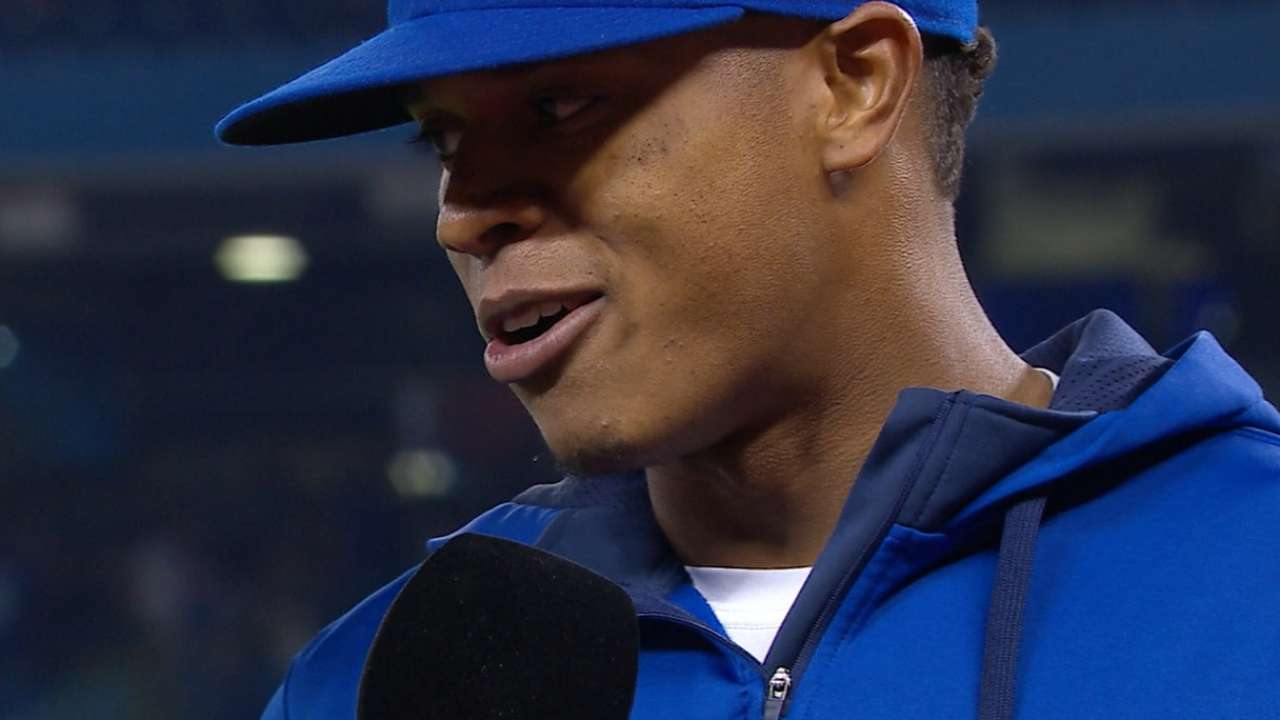 The result of Stroman's performance was a rough night at the plate for the Yankees. In a game they desperately needed to win to threaten for the AL East crown, the Yankees managed to put just two runners in scoring position against Stroman. Both times, they came up empty.
"Honestly, I just go off feel," Stroman said in reference to his pitch arsenal. "I predominantly threw sliders; I didn't throw many curveballs. Me and [catcher Russell Martin] went with it, and we had pretty good success with it.
"I wasn't hitting on it like I was today in my first two starts. It was definitely a big pitch for me. It helped me get a lot of the lefties. They had eight lefties in the lineup, so it was a huge pitch to keep the ball down in the zone and on the ground."
Many questions were asked about Stroman a month ago. Was he being brought back too soon? Should the Blue Jays ease his workload by putting him in the bullpen instead of the rotation? Both of those concepts seem borderline ridiculous at this point, but the way Stroman has been able to settle in so quickly after missing the first five months of the season has left a lot of his teammates marveling.
Martin wasn't sure exactly what to expect, but he has been blown away by what he has seen in Stroman's three outings. Behind ace David Price, it appears as though Toronto has its clearly defined No. 2 starter.
"He was super-amped in his first outing, and now it seems like he's getting comfortable out there," said Martin, who added a three-run homer in the victory. "He has a lot of movement on his fastball. It moves late; guys aren't getting good swings at it.
"You can pretty much challenge anybody at any time with that fastball because of the movement. He spins the ball as good as anybody in the game, in my opinion. ... He has five pitches that work for him. He's a special cat."
Gregor Chisholm is a reporter for MLB.com. Read his blog, North of the Border, follow him on Twitter @gregorMLB and Facebook, and listen to his podcast. This story was not subject to the approval of Major League Baseball or its clubs.