Davies benefits from new game plan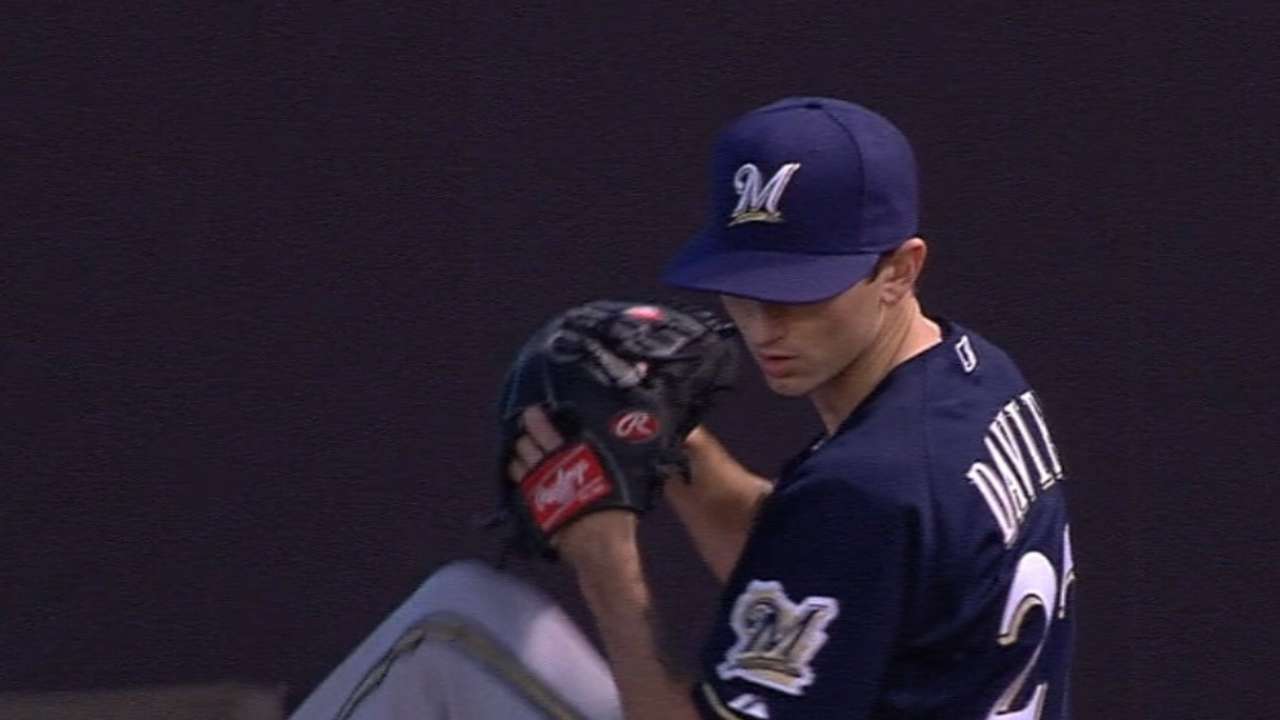 CHICAGO -- Like many pitchers do right after they are promoted to the Major Leagues, Zach Davies found himself giving the hitters a little too much credit.
"I have," Davies said following the Brewers' 4-1 win over the Cubs on Wednesday. "Not through the entire start, but there are times where definitely it happened."
But not this time.
With a new aggressive mind-set, Davies, a 22-year-old making just his fifth start, allowed two hits in six shutout innings, and the Brewers snapped their nine-game losing streak to the Cubs.
"It was a great performance, and I think a real confidence-builder for him," manager Craig Counsell said. "They need to prove to themselves that they can have success up here, and a night like tonight, when he does what he's good at, it works. That's a huge confidence for him that he knows he has weapons to get Major League hitters out and go through good lineups. He went through that lineup pretty stress-free today.
"Zach's getting an understanding of what he needs to do."
Davies thought about that a lot following his previous start, last Friday against Cincinnati -- in which he allowed three runs on five hits in six innings -- and decided to make some changes.
"I think a little of it was [having a] game plan," Davies said. "Going after hitters, attacking them and making sure that I'm not losing strikes down in the zone, and making sure that I'm making them swing."
The Cubs, who are closing in on their first playoff spot since 2008, have a potent top of the lineup, but Davies kept Dexter Fowler, Kyle Schwarber, Kris Bryant and Anthony Rizzo off base.
"I think it was me changing up my game plan a little bit, not being afraid of hitters," Davies said. "Attacking them, going in and not shying away from going in the zone."
The Brewers, who are in the middle of a major rebuild, will go with all rookie starters the rest of the way now that veteran Wily Peralta (strained left oblique) has been shut down. Davies is one of the six who are scheduled to start, and performances like Wednesday's provide some encouragement that the process of rebuilding might not be prolonged.
"You have performances like tonight and you certainly see a way for a guy like Zach Davies to be successful here," Counsell said.
The Cubs certainly were impressed, even though Davies' fastball was consistently registering just 88 and 89 on the radar gun.
"He wasn't throwing hard, but from the side he has a quick arm," Cubs manager Joe Maddon said. "I know that's a scouting term, but I thought the ball was really getting on hitters. And then he threw his changeup and he threw his curveball for a strike.
"He did a lot of good things. I was impressed. I thought he pitched extremely well. For me, we didn't have a good offensive night. There might have been a reason. Their pitcher was really good."
John Jackson is a contributor to MLB.com. This story was not subject to the approval of Major League Baseball or its clubs.