Tribe prospects in development program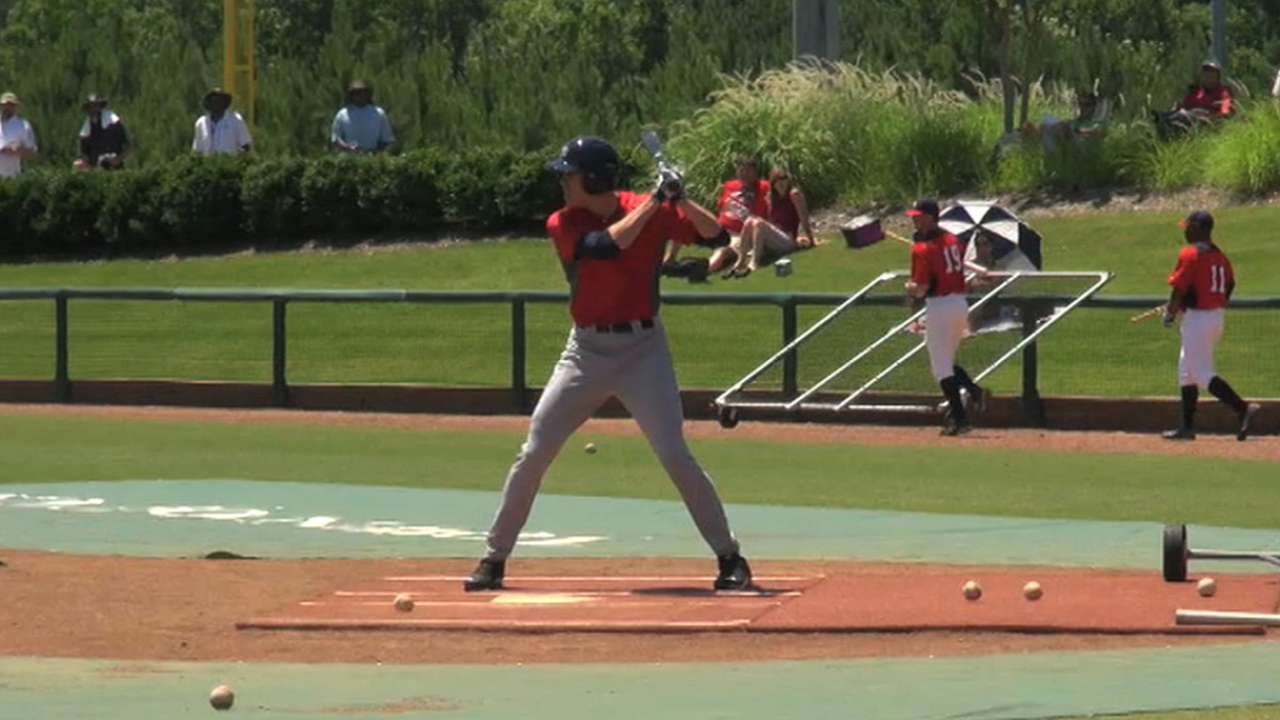 CLEVELAND -- There was a youth movement at Progressive Field on Wednesday. With the big league club on day two of a six-day road trip through Minnesota and Kansas City, the visiting clubhouse in Cleveland served as home base to 29 Indians prospects participating in the team's Fall Development Program.
The program, which started in 1995 and is typically held in January, was moved up to September this season to better utilize the facility and maximize the experience of participating players. It includes 17 of the team's top 30 prospects.
The group attended Sunday's 6-3 series finale victory over the Chicago White Sox, and they met with Tribe manager Terry Francona and reigning Cy Young Award winner Corey Kluber. Kluber spoke to the prospects about the importance of hard work, dedication, and developing an effective routine and sticking to it.
"That's what we're trying to instill on these guys," Indians director of player development Carter Hawkins said. "It means one thing if I say it, but when Corey Kluber says it, I feel it has a little bit more of an impact."
During Wednesday's media session, reporters met with Cleveland's No. 1 prospect Bradley Zimmer, No. 2 Clint Frazier, No. 3 Rob Kaminsky, No. 6 Justus Sheffield, No. 7 Bobby Bradley and No. 14 Adam Plutko.
Zimmer, the team's 2014 first-round pick, opened the season with a stellar showing with High-A Lynchburg before a promotion to Double-A Akron. Zimmer scuffled in Akron, perhaps in part due to a hairline fracture in his right foot that he suffered in June. The injury went undiagnosed until this week, and Zimmer may miss the Arizona Fall League because of it.
Frazier, a 20-year-old center fielder drafted fifth overall in 2013, turned heads with his performance at Lynchburg, where he hit .285/.377/.465 with 36 doubles, three triples, 16 home runs and 15 steals in 133 games. Frazier struggled in the first half, and said "failing for the first time" in his life helped him learn. Going back to a toe-tap in his swing -- his timing mechanism -- allowed him to simplify his swing, dramatically cut his strikeouts and maintain his power in the second half.
"The hardest thing for me when the timing was off, I wasn't able to recognize the pitches that were thrown at me," Frazier said. "Once I figured that out, I was able to pick up the ball a lot better."
Kaminsky, acquired from St. Louis at the trade deadline for Brandon Moss, threw for just two games in High-A before being shut down due to a minor lower back injury. In 19 High-A starts between Lynchburg and St. Louis' Palm Beach club, Kaminsky, who is working on developing his changeup and sinker, didn't allow a single home run.
The vibe in the clubhouse of teenagers and young 20-somethings was a mixture of incredulity and business. Every prospect was quick to invoke the messages of hard work, determination and routines that were imparted by Kluber and Hawkins. At the same time, also present were the wide eyes of a room full of hopeful future Major Leaguers in a clubhouse of the stadium they hope to call their own one day.
"It's eye-opening," Sheffield said. "It's crazy to think that I could be here in a few years, or however long it will take. It keeps that dream kind of a reality, putting it into perspective, coming out here with these guys, we're out here having a good time and soaking it all up."
August Fagerstrom is an associate reporter for MLB.com. This story was not subject to the approval of Major League Baseball or its clubs.