MLB.com Columnist
Mike Petriello
Martinez quickly developing into Cardinals' ace
Fastball velocity of 97.26 mph best in NL since All-Star break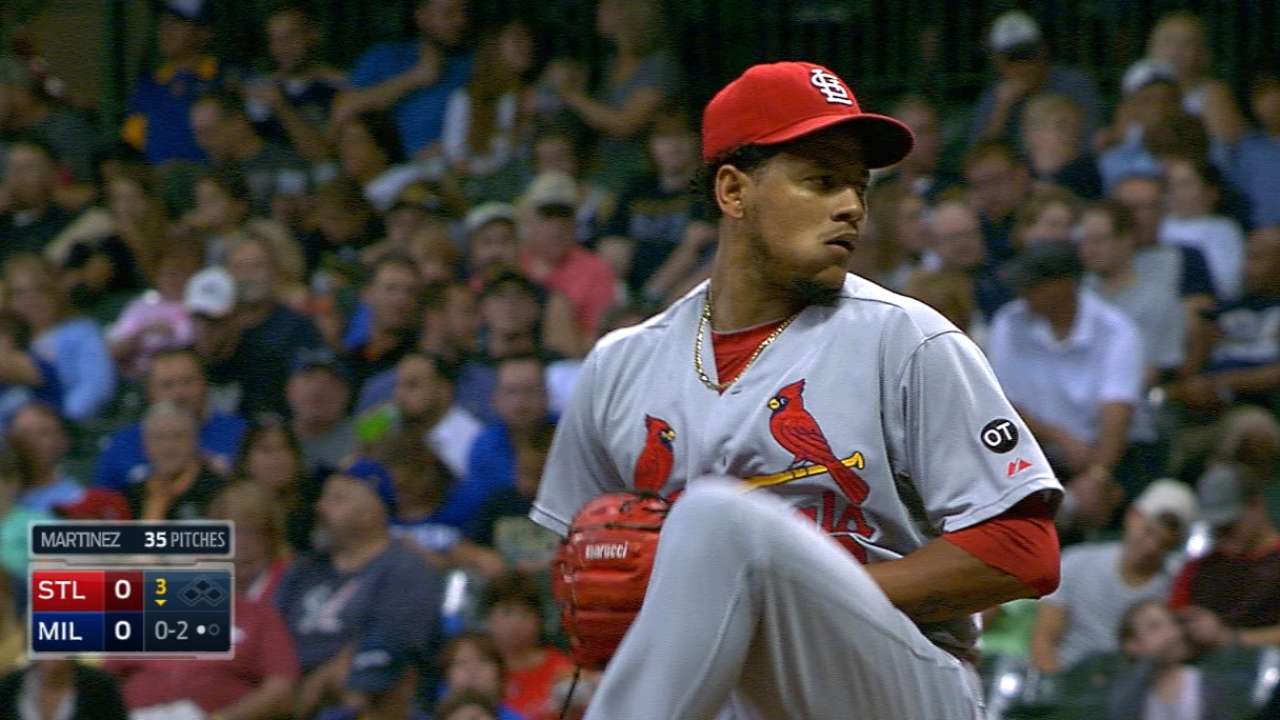 There was a time when it wasn't certain Carlos Martinez would ever even be in the St. Louis Cardinals' rotation. He'd lost a spring battle with Joe Kelly in 2014, and he only barely made it into the rotation out of camp this year, sliding in behind Adam Wainwright, Lance Lynn, John Lackey and Michael Wacha largely because Jaime Garcia started the season on the disabled list.
Save for an emergency relief appearance in an 18-inning game in July, Martinez has kept his rotation spot ever since. He's done a lot more than that, actually. Martinez isn't just the young fifth starter trying to make the move from the bullpen any longer. Despite the big names around him, he just might be the best starter the Cardinals have -- and he deserves to start Game 1 of the National League Division Series, presuming the team clinches the NL Central.
Now, there's a difference between "has been the best all season" and "is the best right now," and while there's an argument to be made that Martinez is both, as he's tied with Lackey in Wins Above Replacement, we're going to focus on the latter, since what's happening in September is more important than what may have happened in April or May when deciding October roles.
So let's do this, fully admitting that the endpoints we're choosing are somewhat arbitrary. In early May, after allowing just five earned runs in his first four starts, Martinez had back-to-back starts allowing seven earned runs apiece to the Cubs and Pirates. Since then, he's started 22 times, and the results have been so stunning that they bely his full-season (and still-impressive) 3.01 ERA.
Beginning with a May 15 start in Detroit, Martinez has allowed three earned runs or fewer 19 times in 22 tries, striking out 149 in 145 innings, good for a 2.56 ERA and a 2.81 Fielding Independent Pitching mark. For reference, that ERA/FIP combination is very similar to what Jacob deGrom and Dallas Keuchel have done this season, and Keuchel may very well end up winning the American League Cy Young Award. Over the full season, Martinez's numbers compare favorably with Matt Harvey.
Now compare that to the four other regular St. Louis starters -- once healthy, Garcia joined soon after Wainwright injured his Achilles in April -- over the same timeframe, entering Wednesday night:
Martinez: 2.56 ERA, 2.81 FIP, 17.3 K%-BB%
Lackey: 2.67 ERA, 3.60 FIP, 14.2 K%-BB%
Lynn: 3.28 ERA, 3.96 FIP, 10.5 K%-BB%
Wacha: 3.43 ERA, 3.69 FIP, 15.1 K%-BB%
Garcia: 2.52 ERA, 3.09 FIP, 12.2 K%-BB%
If your takeaway from that is "they're all great," well, you wouldn't be wrong, not when we've been talking about the team's historic run prevention pace for months (they still have a slim shot of setting a record). But while ERA can be affected by factors outside a pitcher's control -- defense, the bullpen, etc. -- FIP attempts to evaluate a pitcher only by what he manages, meaning strikeouts, walks, and home runs. It's not hard to see that Martinez stands apart.
So what has Martinez done to improve from last year's moderately successful middle reliever to this year's dominating starter? He's improved his repertoire, for one thing. In 2013, Martinez threw one of his two fastballs 75 percent of the time. So far this month, his four-seamer, two-seamer and slider have all been thrown about 26 percent of the time, but he's also worked to incorporate a surprisingly effective changeup, which, according to Statcast™, has the highest swinging strike rate among any right-hander's change, and is second only to Zack Greinke in ground ball-to-fly ball rate among pitchers who have thrown as many as he has.
That's a big deal, because it's allowed Martinez to solve his biggest problem, which was vulnerability to lefty hitting. Last year, lefties torched him to the tune of a .289/.387/.462 line, which has improved to .255/.338/.414 this year. It's not a coincidence that Martinez has increased his changeup usage to lefties from 17 percent to 28 percent, or that he's using it more against them with two strikes (up from 26 percent to 38 percent).
Really, though, whenever a pitcher throws as hard as Martinez does, that's what's going to get the attention. Martinez's in-season velocity change is rare for a pitcher who hasn't been moved to the bullpen. Since the All-Star break, Martinez's 97.26 avg four-seamer mph is second highest only to the currently-injured Nathan Eovaldi, and the rising heat corresponds to more difficulty in hitters making strong contact:
As Carlos Martinez has been throwing harder each month (blue), his exit velocity has dropped (red). Very impressive. pic.twitter.com/Y4mZsPspfY

— Mike Petriello (@mike_petriello) September 24, 2015
The truth is, there's probably not a wrong answer here. Lackey has been there before, winning titles with the Angels in 2002 and the Red Sox in 2013. Wacha, Lynn and Garcia have each made postseason starts in multiple years with St. Louis. Martinez hasn't started, but he has entered 16 October games for the Cardinals over the past two years. He's ready now, and he's proving it. Martinez is the best starter the Cards have to offer. Considering the quality of his colleagues, that's high praise indeed.
Mike Petriello (@mike_petriello) is an analyst for MLB.com. This story was not subject to the approval of Major League Baseball or its clubs.