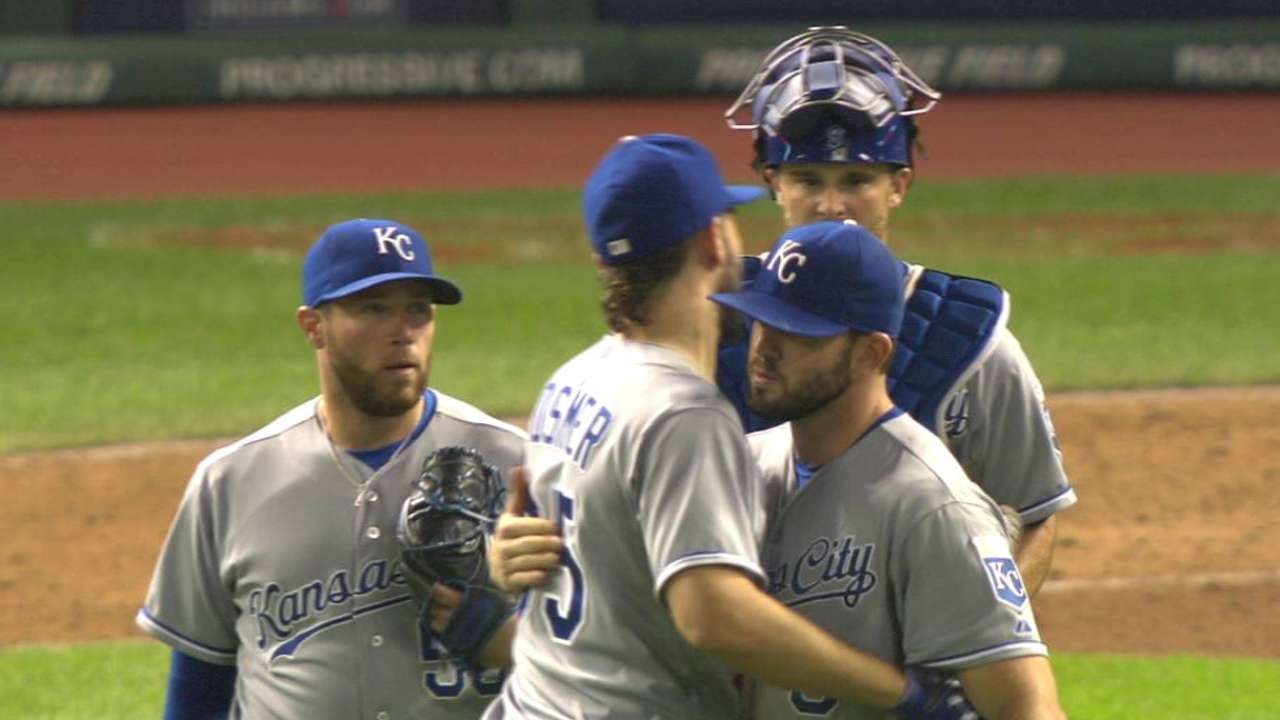 Greg Holland out as closer?
Coming into the season, there were three closers who looked like sure things for fantasy purposes. One of them has done poorly enough over the past month that it's looking like he'll be taken out of the ninth inning just in time for the fantasy stretch run. Holland has a 5.54 ERA since he started August with a discouraging 14-to-8 K:BB ratio. Even worse, he's watched his velocity dip in a big way since the start of September, sitting in the low 90s this month, as opposed to his typical 95-96-mph heat. Ned Yost doesn't want to talk about it, but it appears likely that Holland will be relegated to setup duties for the last couple of weeks of the season.
Meanwhile, Wade Davis owners who are in need of last-minute saves are ecstatic. Davis has been his typical fantastic self this year, and he already has 13 saves to his name. But he wasn't expected to contribute here at this point of the year. Don't get too excited, though. The Royals already know they're going to the playoffs, so they're not going to wear Davis down for a couple of extra saves. Expect guys like Kelvin Herrera, Ryan Madson and Luke Hochevar to grab a save chance or two down the stretch.
Glen Perkins is back but monitor his situation
The good news for Perkins owners is he's back from injury. After dealing with back spasms for much of the second half and missing most of September, Perkins appeared in two games this weekend against the Angels. Unfortunately, it's unlikely he'll regain his closer job after Kevin Jepsen's success in Perkins' stead. Jepsen has put up much better peripherals since being traded from Tampa Bay at the deadline, and the righty should hold on to the ninth-inning unless he really struggles in his next couple of outings.
Brad Boxberger continues to slide
It's hard to know where you stand as a Boxberger owner at this point, not that it's much different than it's been all season. On the one hand, he has all the talent to be a near top-tier fantasy option. On the other hand, he just can't put it together. This has especially been the case lately, as Boxberger has allowed runs in two of his six September appearances, and he has a 6.19 ERA since the start of August. He's still getting the chances in Tampa, however, and he should get them down the stretch. Owners just need to hope the good Boxberger shows himself again over the next two weeks.
Quick Hits
Bruce Rondon has struggled lately, blowing three of his last four save chances and still allowing a run in the one save he converted. However, with the Tigers out of the race, it's likely they'll stick with the struggling 24-year-old, and hope he can recover to end his year on a good note.
Remember a few months ago when everyone was worried about Mark Melancon's ability to stick as Pittsburgh's closer all season? Well, he's now up to 49 saves on the season, which not only leads all of baseball, but also represents a new franchise record for the Pirates -- a pretty decent recovery.
It is now time for your weekly Sean Doolittle update. The A's have continued to ease him back into action, as he appeared in just one game since the last time we spoke. It was a good outing, at least, as Doolittle pitched two innings of scoreless ball, striking out two batters and allowing just one hit. As the only American League team officially out of playoff contention, they clearly won't overwork him, so he hardly has any value in redraft leagues. However, he's been throwing the ball well lately, and more performances like this should make those in long-term leagues feel much better about Doolittle moving forward.
The Red Sox have had some ninth-inning stability as of late. Robbie Ross has been far from lights out, but he has not been bad, either. Ross will continue to get the save chances for a surprisingly hot Boston club, and he could be an unexpectedly valuable fantasy asset down the stretch.
A version of this story originally appeared on Baseball Prospectus.
Matt Collins is a contributor to MLB.com. This story was not subject to the approval of Major League Baseball or its clubs.