Freeman comes off bench to burn Mets late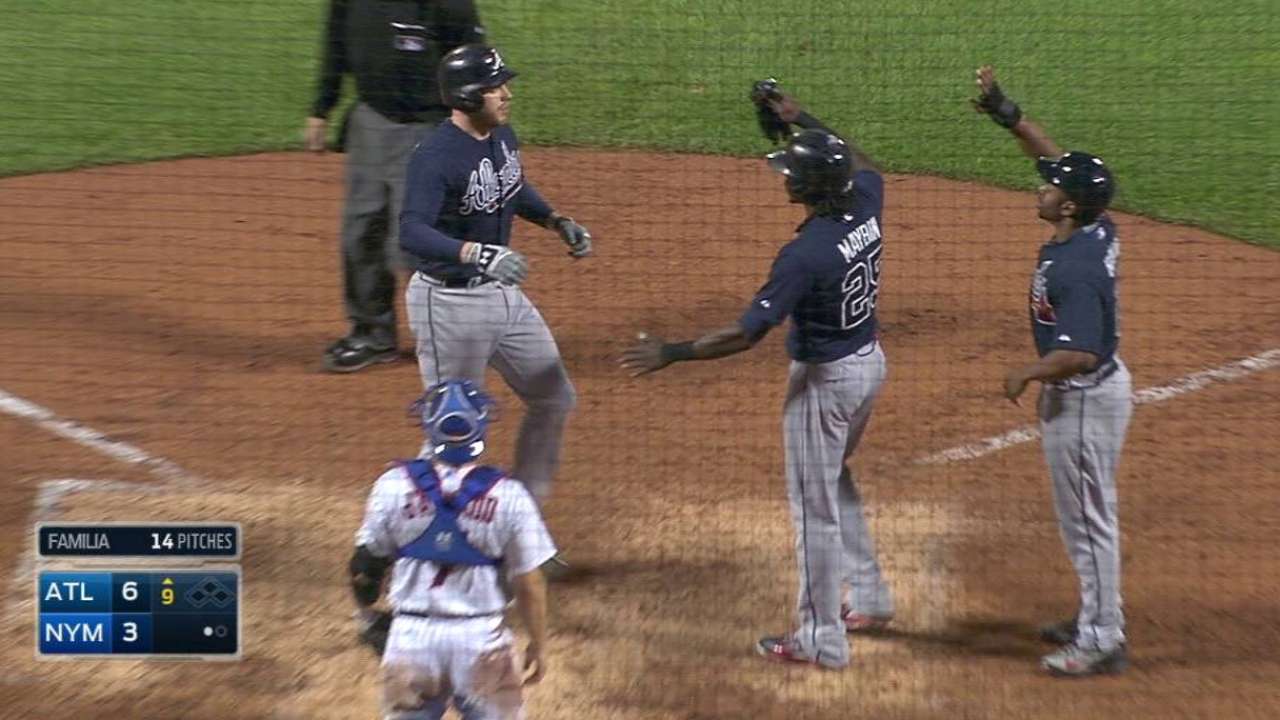 NEW YORK -- The Mets had to begin the day thinking, at least this once, Freddie Freeman wouldn't hurt them. The slugger started the day on the bench to rest his right wrist. But by the end of the night, Freeman had provided two deciding blows in the Braves' 6-3 series-stealing win on Wednesday at Citi Field.
Freeman's pinch-hit two-run double gave Atlanta a lead in the seventh, and his tiebreaking three-run homer off Jeurys Familia in the ninth ensured the Mets finished their homestand 3-6, but their magic number to clinch the National League East was reduced to 5 as the Nationals lost to the Orioles.
"We heard before the game his wrist was really bothering him and they didn't think he was going to play," Mets manager Terry Collins said of Freeman.
"I'm going to fire that scout, I'll tell you that," Collins added jokingly.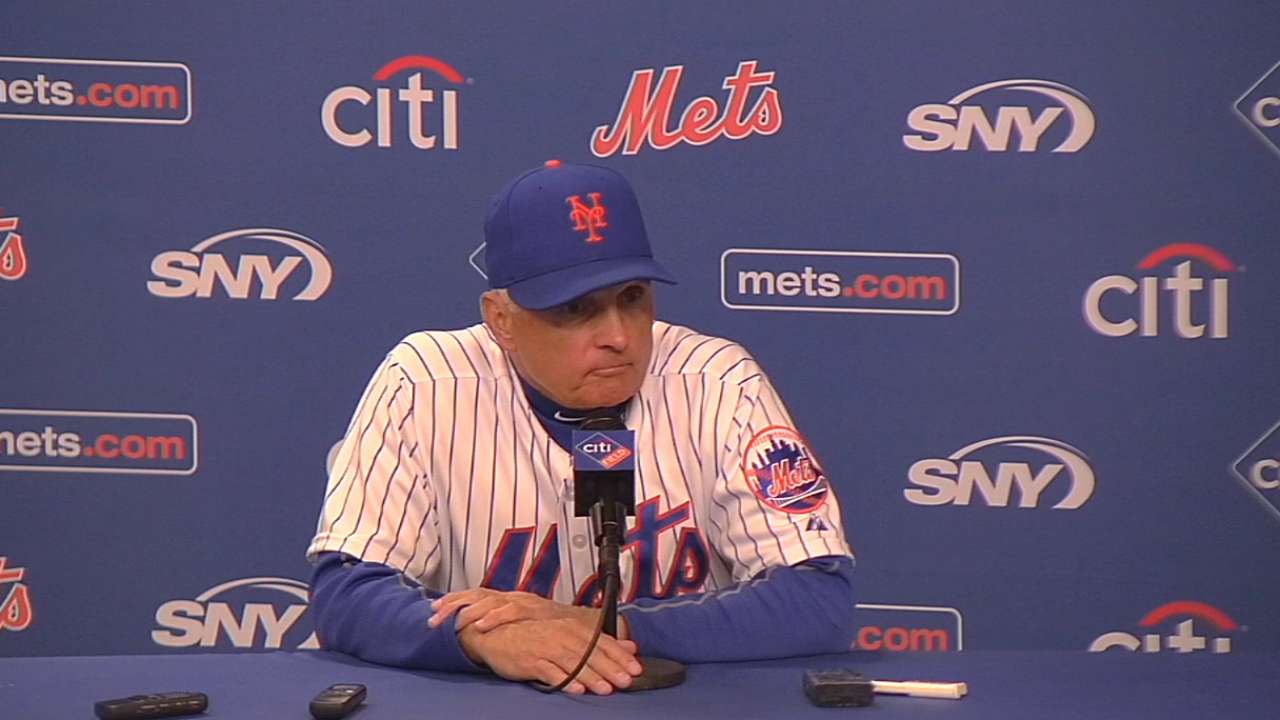 Familia allowed an infield single to Cameron Maybin and walked Michael Bourn to set the stage for Freeman, who clubbed his 16th career home run against New York in 86 games. Freeman's five RBIs gave him 69 over the last five years against the Mets, more than any other player. By taking two of three from New York this week, the Braves claimed their second road series victory since the All-Star break and put themselves in a spot where they have to win just one of their final nine games to avoid a 100-loss season.
"We haven't laid down as bad as it's been and as tough as it's been," Maybin said. "I enjoy showing up every day and playing with these guys because we've got no quit in this group. We believe we have a chance every day. You play 27 outs for a reason."
The Mets appeared poised to notch their 40th comeback win of the season when David Wright tied the game at 3 with a seventh-inning RBI single off Brandon Cunniff. That wriggled Bartolo Colon off the hook after he allowed three runs over 6 1/3 innings. Colon took a perfect game into the fifth before his pace and location lagged in the seventh, when three singles loaded the bases to end his night. That brought on Addison Reed for the biggest situation of his young Mets career. Reed allowed all three inherited runners to score.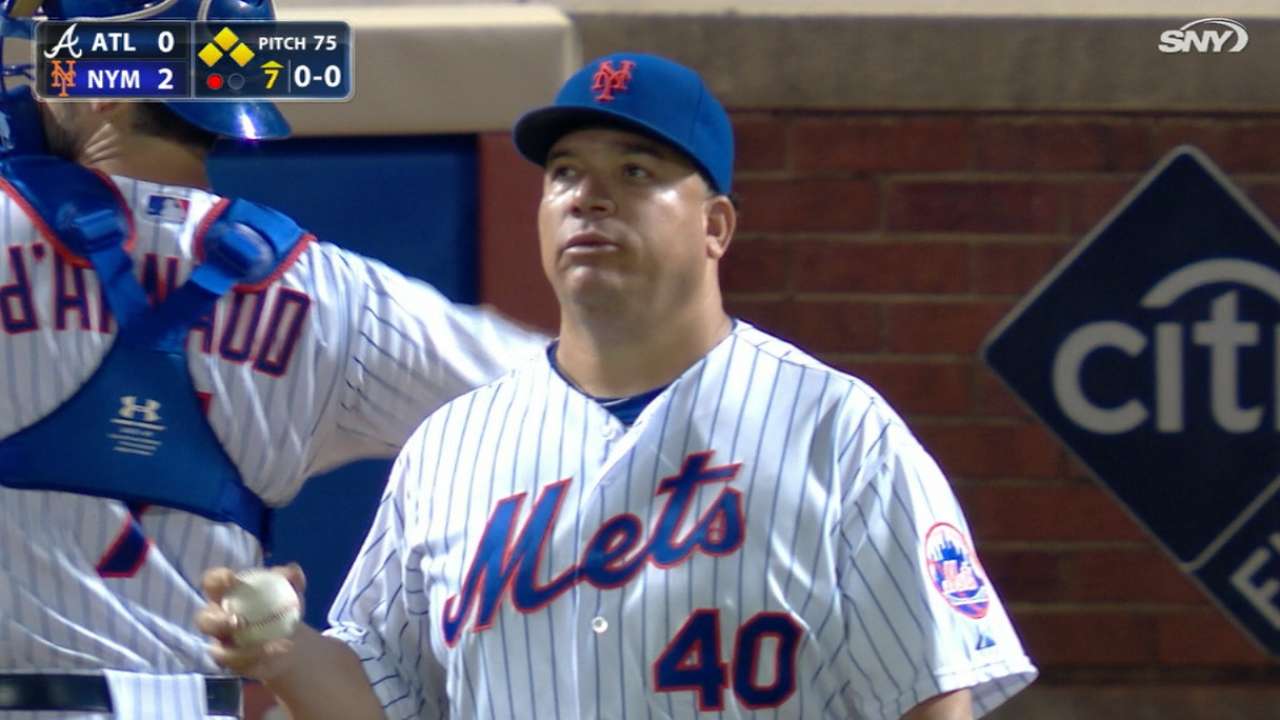 MOMENTS THAT MATTERED
Wright stuff: The Mets averaged 2.55 runs per game on this homestand, but Wright hit .353. One of his biggest hits came off Cunniff in the seventh, when he lined a 94-mph fastball into left-center for a clutch single to score Eric Young Jr. with the tying run.
Healthy enough to deliver: With an off-day scheduled on Thursday, the Braves took advantage of a chance to allow Freeman to rest his previously sprained right wrist, which has occasionally bothered him over the past few weeks. But when the situation presented itself with the bases loaded in the seventh, Freeman came off the bench and delivered the go-ahead two-run double. His mammoth opposite-field homer in the ninth capped the fourth five-RBI game of his career, three of which have come at the Mets' expense.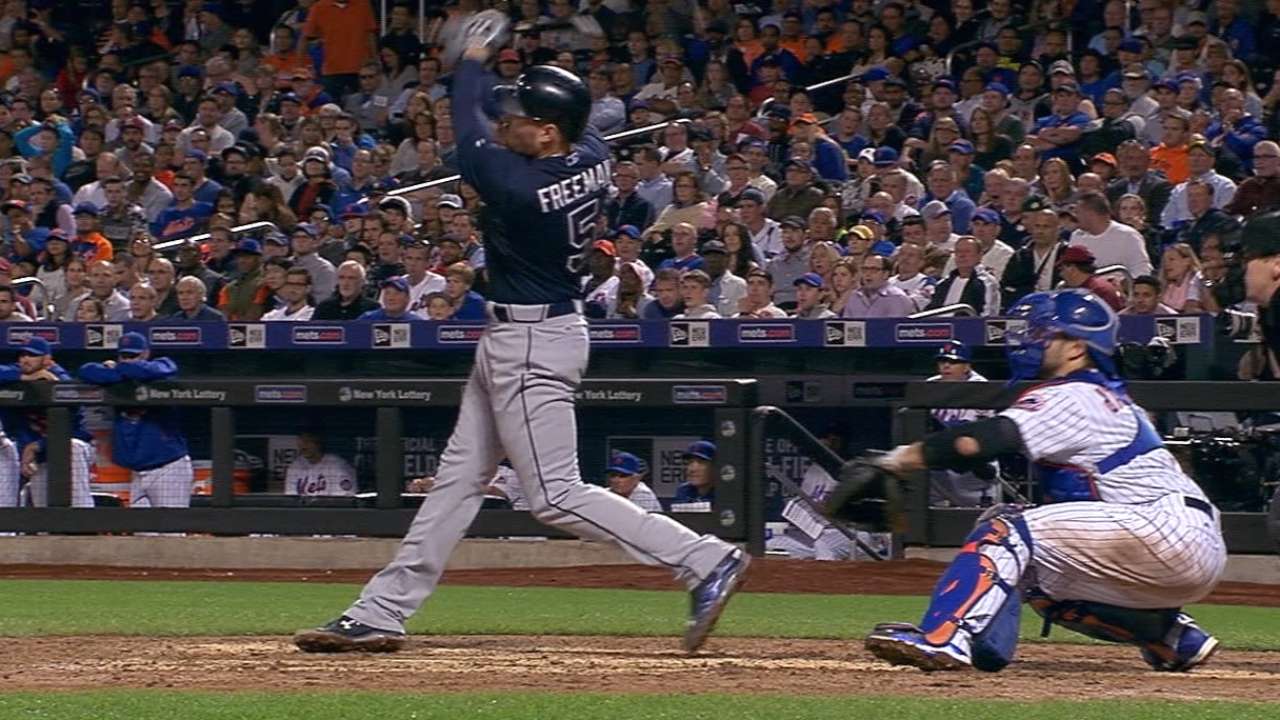 Freeman originally injured the wrist while taking a swing at Citi Field on June 13. Less than a week later, he began a five-week stint on the disabled list.
"It's just been one of those years that hasn't gone the way we wanted it to go," Freeman said. "But when you have a game like this where you get down early and come back against a first-place team, it's definitely a good feeling." More >
Holding steady: Williams Perez surrendered Daniel Murphy's first-inning homer and allowed singles to three of the first four batters he faced in the second inning. But despite encountering frequent threats, he allowed just two runs over six innings. The Braves rookie, who has a 2.91 ERA over his past four starts, benefited from a Colon sacrifice-bunt attempt that resulted in a double play to end the fourth inning.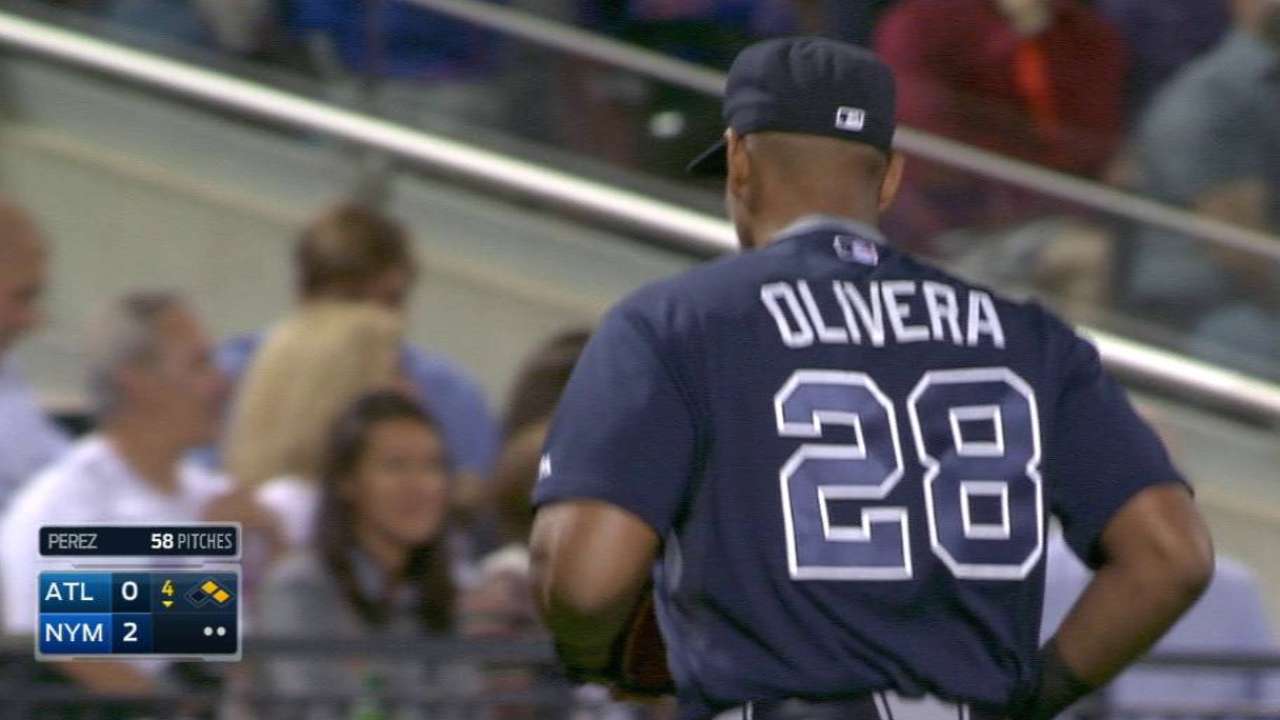 QUOTABLE
"[Former Braves manager] Bobby Cox did it all the time. When you give your [top] players a night off, it's almost better because you can put them in a game at any point that you want. He came up with the bases loaded and then came up again [in the ninth] with guys on first and second in a clutch situation." -- Braves manager Fredi Gonzalez, on Freeman
"I wasn't expecting to see him tonight. He came off the bench and killed us in the end. We're glad to get rid of him and Andrelton Simmons and everyone else who beats us up over there." -- Wright
SOUND SMART WITH YOUR FRIENDS
Wright's game-tying single stands as the only hit Cunniff has allowed against the last 19 batters he has faced.
Pinch-running for Ruben Tejada in the seventh, Young swiped his second base since rejoining the Mets on Sept. 1. That put him in scoring position for Wright. Young doesn't have a hit in September, but he's now scored nine runs. That ties the record for runs scored in September/October by specialty pinch-runners, set by Allan Lewis in 1973.
YOGI TRIBUTE
The Mets played a pregame video tribute to Yogi Berra on the scoreboard and observed a moment of silence for the baseball legend before the first pitch. Berra, who died Tuesday at age 90 of natural causes, managed the Mets for four seasons in the 1970s.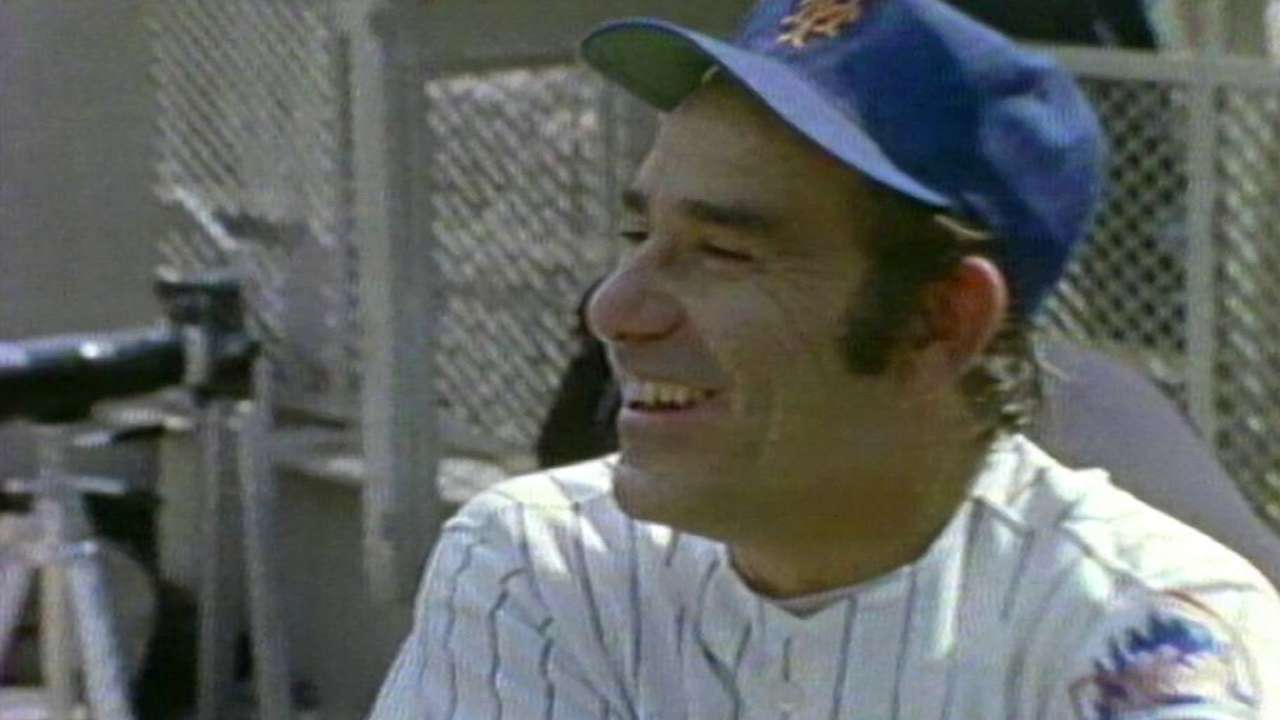 WHAT'S NEXT
Braves: Atlanta will enjoy an off-day on Thursday and then begin a three-game series at Marlins Park on Friday at 7:10 p.m. ET. Rookie Ryan Weber will oppose Jose Fernandez in the series opener. The Braves have won each of the previous six games played in Miami this year.
Mets: New York's magic number sits at 5 as the Mets open a four-game series in Cincinnati on Thursday. Left-hander Steven Matz starts for the Mets against the team he beat in his Major League debut on June 28.
Watch every out-of-market regular-season game live on MLB.TV.
Mark Bowman is a reporter for MLB.com. Joe Trezza is an associate reporter for MLB.com. This story was not subject to the approval of Major League Baseball or its clubs.