Top Tribe prospect Zimmer may miss AFL
Outfielder wearing protective boot on broken right foot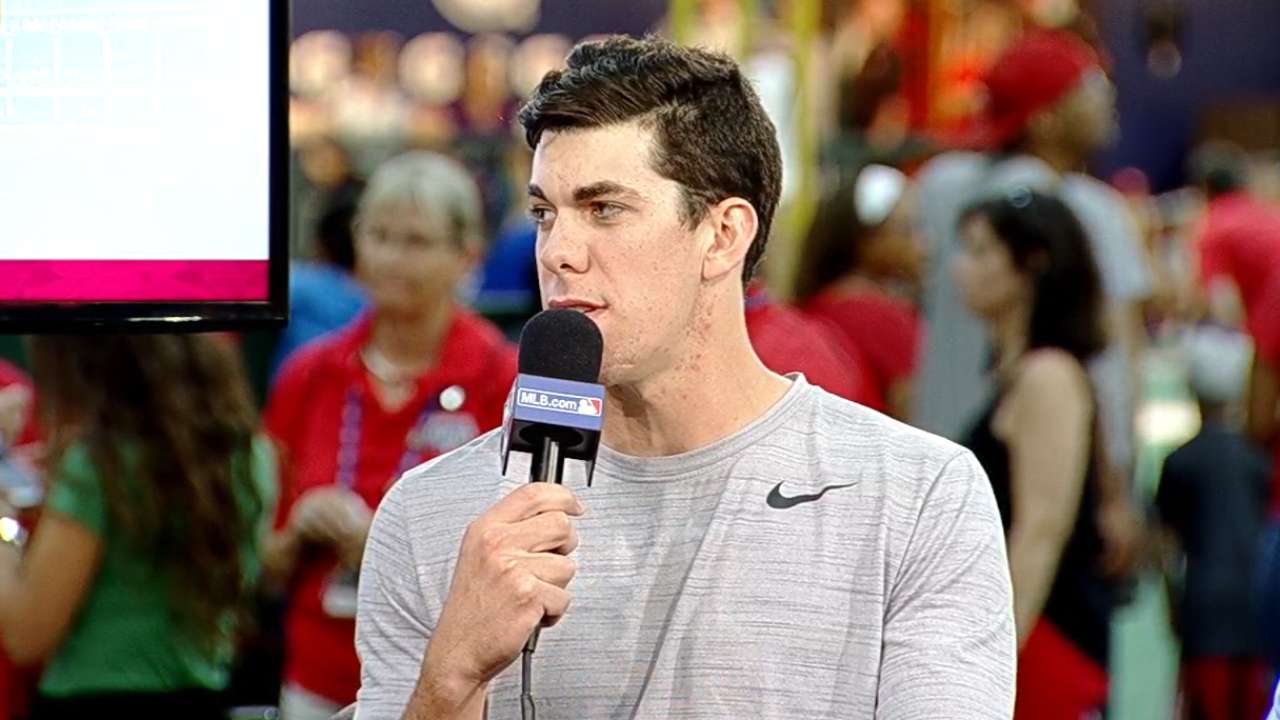 CLEVELAND -- Outfielder Bradley Zimmer, the top prospect in the Indians' organization, sat in front of a locker in the visiting clubhouse at Progressive Field on Wednesday with a walking boot on his right foot.
The club announced that he has a hairline fracture in his right foot and could miss the Arizona Fall League season. Zimmer, along with 28 other Tribe prospects, were at Progressive Field for the beginning of the team's annual development program -- now being held in the fall for the first time after previously being held in the winter.
Zimmer sustained the injury in mid-June, before his promotion to Double-A Akron, after fouling a ball off the foot.
"It's one of those things where we're glad that we found it at this point," said director of player development Carter Hawkins. "He had been playing with it for a couple months. He's a pretty tough kid to be working through that. We'll see how it plays out over the next couple weeks. Obviously, we're glad he was able to get a full season in and we want to make sure that nothing he does impacts Spring Training 2016."
Zimmer, the club's first-round selection in the 2014 Draft, began his first full season with the team at High Class A Lynchburg, hitting .308/.403/.493 with 10 home runs and 32 steals in 78 games before a mid-July promotion to Double-A Akron. Zimmer got off to a hot start in Akron, but scuffled down the stretch, finishing his season there with a batting line of .219/.313/.374 and six homers and 12 steals in 49 games. Some of his late-season struggles could be attributed to the foot injury.
"There's a lot of variables," Hawkins said. "First full season, first time playing 140-plus games plus Spring Training, plus Instructional League before that. There's a lot of variables involved, but I can't imagine [the foot] helped."
Zimmer also says he got away from his approach at the plate once some of the struggles began at Akron, but a sit-down with his hitting coach, a better mindset and an eventual clean bill of health has him confident moving forward.
"I think making a jump from High [Class] A to Double-A was more of a maturity thing," Zimmer said. "There are guys in Double-A that have been around, veterans that have played the game a lot longer and kind of have an idea of what they're doing. Up there, I wouldn't say the stuff's much different, but the overall maturity and command is definitely there. I think that was probably the biggest thing I noticed. Other than that, it was great."
August Fagerstrom is an associate reporter for MLB.com. This story was not subject to the approval of Major League Baseball or its clubs.