MLB.com Columnist
Richard Justice
Angels primed for improbable Wild Card run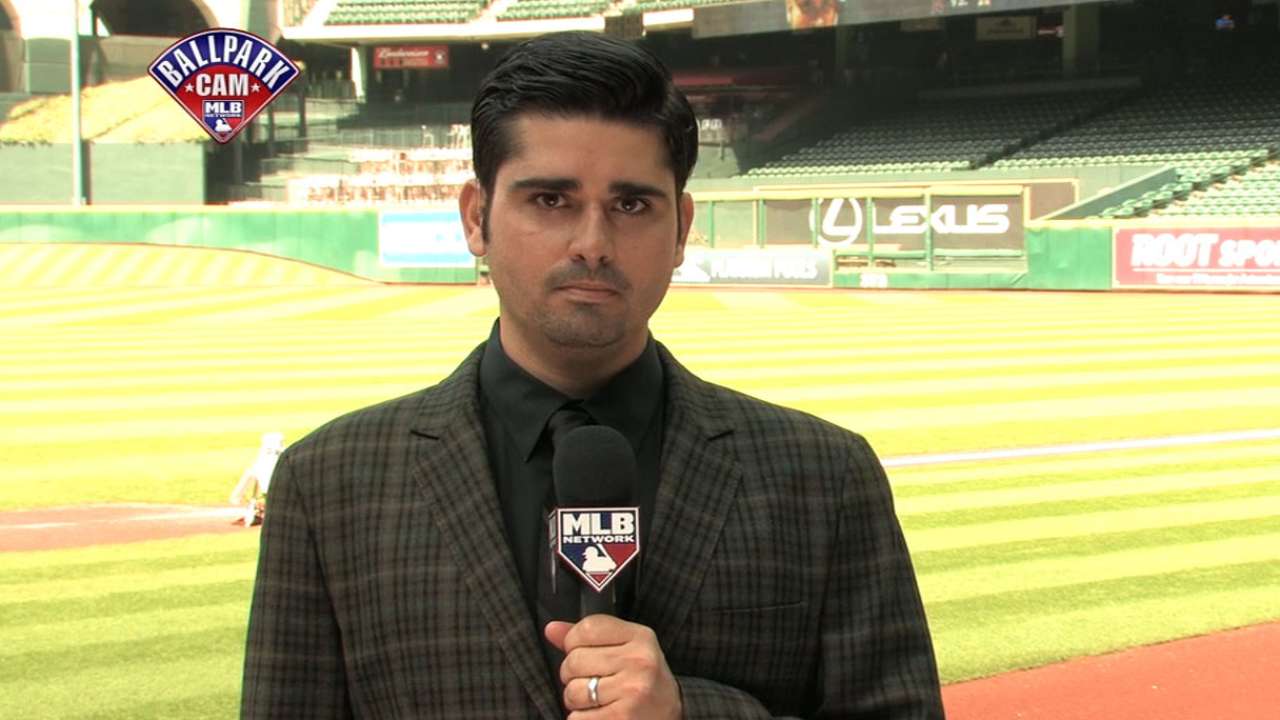 HOUSTON -- The starting pitcher didn't get through the fifth inning, and then the lead disappeared in the seventh. Nothing has come easy for the Angels in this strange season.
What has changed is the bottom line. The Angels are grinding through, are winning and are very much in contention. They solidified their once flickering hopes a bit more by beating the Astros 6-5 Wednesday afternoon at Minute Maid Park.
At a time when a season seems to be hanging in the balance virtually every day, it's impossible not to be impressed by the Angels' resilience.
"Through it all, these guys just kept grinding it out," manager Mike Scioscia said.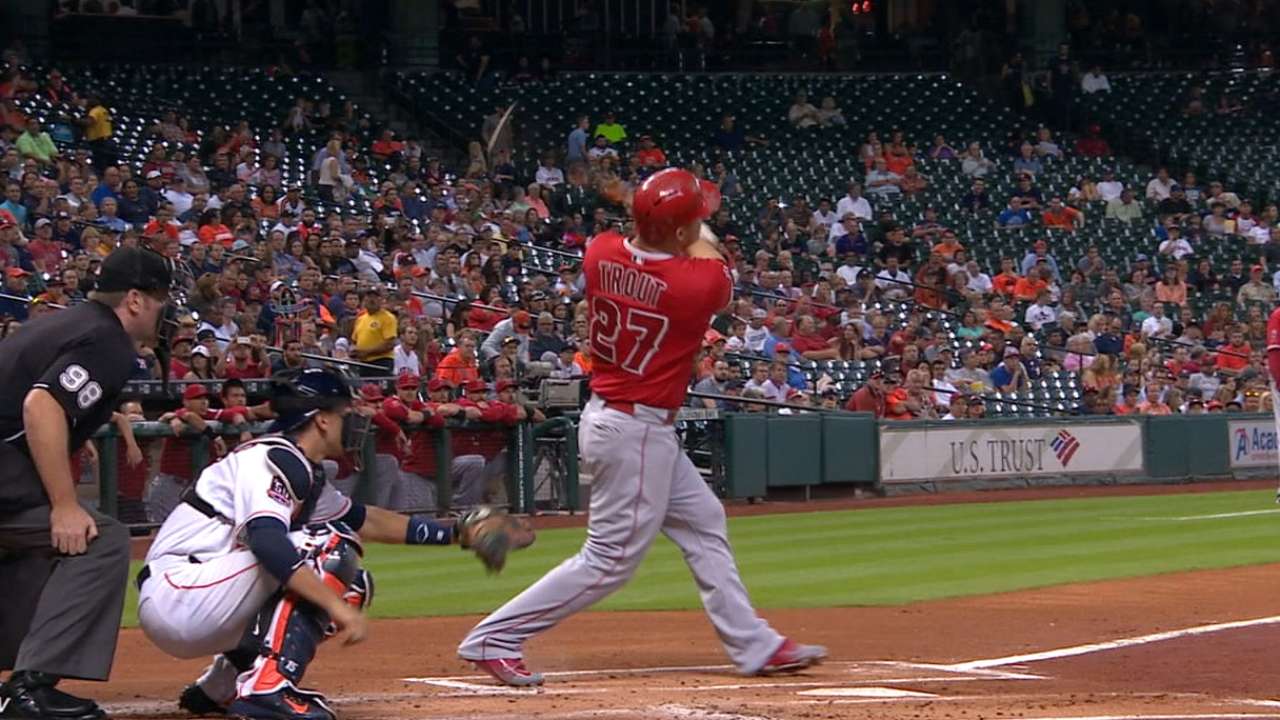 That they've gotten within striking distance of a playoff berth is remarkable considering how everything has gone this year: injuries up and down the roster, disappointing performances, outside distractions.
"I don't want to get into everything that went on this year, but I will tell you that these guys filtered out every distraction," Scioscia said. "They just came here to play ball. There's a lot of veteran leadership in there, and I think our Major League staff has been incredible in keeping these guys where they need to be. They're a great group to be around. I love being around them."
Now, in these final games, the Angels can see that what was once a pipe dream is very much in the realm of the possible.
The Astros, Twins, Angels, Indians and Orioles could all end up fighting it out for the second American League Wild Card berth. Seeing how the Angels were 10-19 in August and four games out in the Wild Card race nine days ago, this is a stretch run that has the feel of something improbable.
So Scioscia is leaning on his bullpen and extending guys -- calling on them again and again. He's counting on his veteran players for leadership and production. The vets know that oddball stuff sometimes happens in the final days of a baseball season.
"The history of the game is that a lot of things can happen," first baseman Albert Pujols said. "I've been a part of a lot of those teams."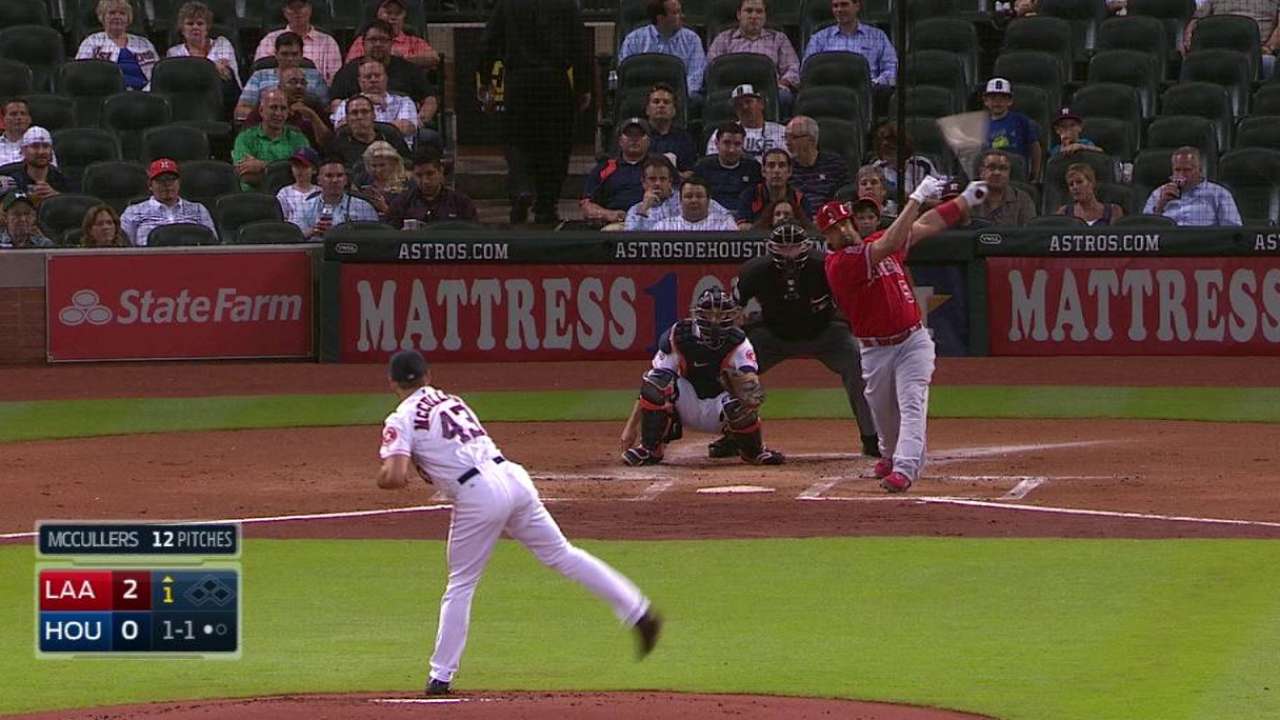 Oh, the stories he can tell these kids…
Pujols' Cardinals were 10 1/2 games out in the National League Wild Card race on Aug. 25, 2011. Around that time, his manager called a meeting. Tony La Russa told his guys that they'd done a tremendous job of playing hard and being professionals, even during a season when the wheels kept coming off.
"So let's play this thing out and see where we are," La Russa said.
The Cardinals ended up winning their 11th World Series that season. Pujols was the best player on that team, and another member of these Angels, third baseman David Freese, was the World Series MVP. Those Cardinals are a good reminder of the strange things that can happen in September.
"We could easily have thrown in the towel and said, 'Let's do this next year,'" Pujols said. "You can't take anything for granted. It's not like we've got three months left. This is the right time to get hot."
The Angels and Astros played another tough, tense game on Wednesday. The Astros took a 4-3 lead on George Springer's two-run double in the bottom of the seventh inning, but the Angels got a two-run double of their own from Freese in the top of the eighth.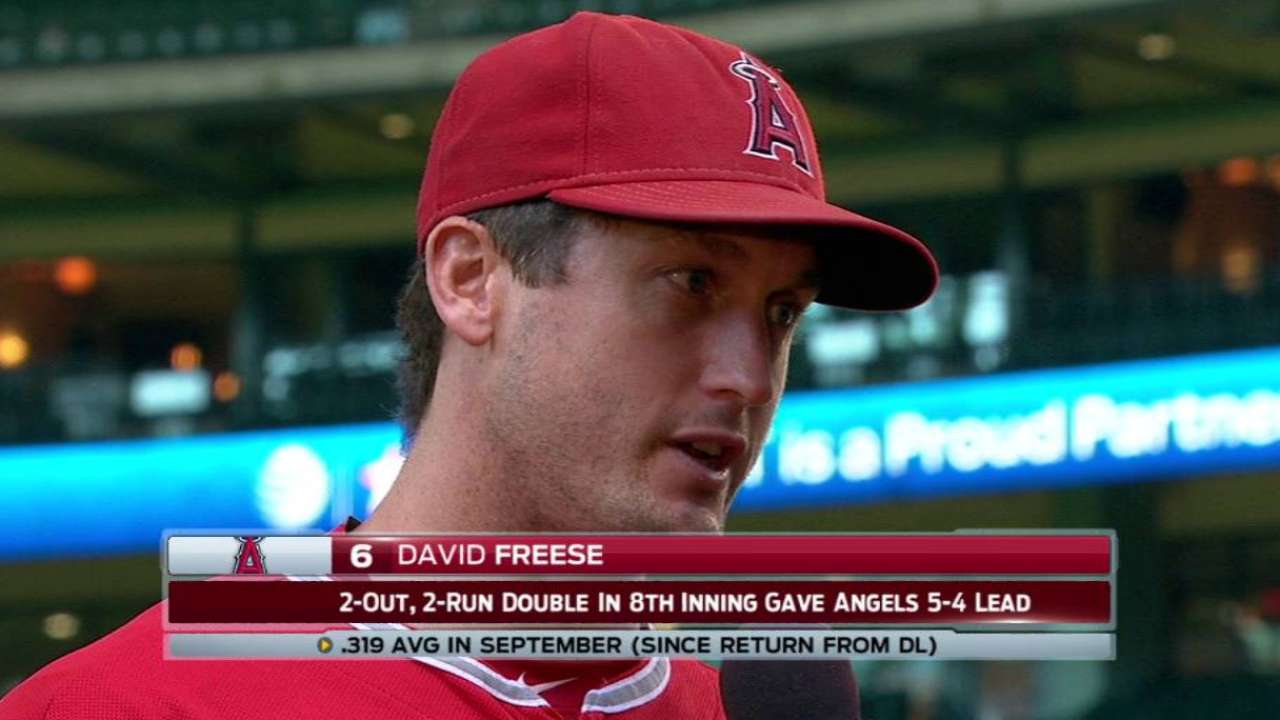 Scioscia's starter, Nick Tropeano, was gone after 4 1/3 innings, but six Angels relievers combined to go 4 2/3 innings and allow two runs. Closer Huston Street finished it off by getting Jed Lowrie on an infield grounder. That's the same Lowrie who burned Street for a three-run, ninth-inning home run 10 days ago in Anaheim.
Are the Angels close enough to believe they've got a legitimate chance?
"I think we've thought that the whole time," Street said. "You have to think that. It's frustrating when you fall back. We've just kept fighting. We've still got work to do."
The Angels return home Friday for a six-game homestead against the Mariners and Athletics before finishing the regular season with four in Arlington against the Rangers.
There are no moral victories, so don't even ask.
"We know what our goal is, and we're doing to be very disappointed if we don't meet it," Scioscia said. "But I'm extraordinarily proud of these guys. Our whole staff is because of the stuff that could have been a distraction. Let me tell if you, if we lose every game the rest of the year, we'll still be so proud of these guys."
He's not planning on that kind of scenario, though.
"These guys have never complained about anything," Scioscia said. "We're so proud of them. Lots of times this year things really could have gone the wrong way. They just keep bouncing back."
Richard Justice is a columnist for MLB.com. Read his blog, Justice4U. This story was not subject to the approval of Major League Baseball or its clubs.