Cano logs 2,000th career hit against Royals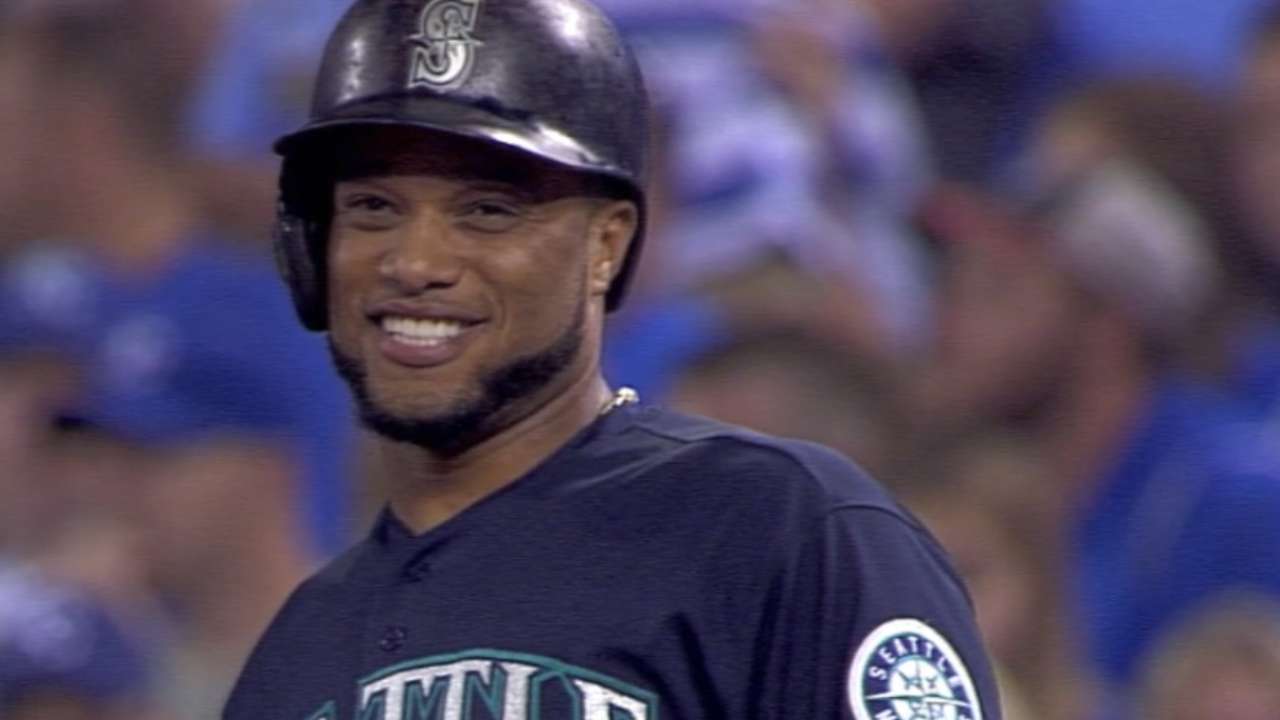 KANSAS CITY -- Mariners second baseman Robinson Cano collected the 2,000th hit of his career in Wednesday night's 4-3 loss in 10 innings to the Royals with a sharp single to left off reliever Kelvin Herrera, becoming just the 14th player in MLB history to reach that milestone in their first 11 seasons.
"It was good, but it would have been better if we'd ended up winning," Cano said. "That's all that matters now is winning games. But it's something, getting to 2,000, you'll never forget. As a kid in your backyard playing, you're dreaming of getting to this day. But losing is not fun."
Former Seattle outfielder Ichiro Suzuki holds the Major League record for most hits in his first 11 seasons with 2,428 from 2001-11. Ichiro reached his 2,000 hit in his ninth season in his 1,402nd game, the second-fastest to that mark.
Al Simmons holds the record for first to 2,000 in 1,390 games. Cano's milestone came in his 1,677th game and put him in some pretty exclusive company.
In addition to Cano and Ichiro, the others to reach 2,000 within their first 11 years are Paul Waner 2,254 (1926-36), Simmons 2,188 (1924-34), Pete Rose 2,152 (1963-73), Kirby Puckett 2,135 (1984-94), Wade Boggs 2,098 (1982-92), George Sisler 2,094 (1915-26), Hank Aaron 2,085 (1954-64), Albert Pujols 2,073 (2001-11), Richie Ashburn 2,067 (1948-58), Stan Musial 2,023 (1941-52), Joe Medwick 2,004 (1932-42) and Jesse Burkett 2,001 (1890-1900).
"It means a lot, being in the same category as Pete Rose and Musial, and those guys that are legends, heroes, guys that are examples," Cano said. "To be in with those kinds of names, as a person and player, you should be proud of yourself."
The 32-year-old Cano also became the fifth active player to reach 2,000 hits prior to turning 33, joining Miguel Cabrera, Alex Rodriguez, Adrian Beltre and Pujols.
"He's a great player," manager Lloyd McClendon said. "He's had a tremendous year and there's a lot more to be done for him. It's unfortunate he got it in a loss tonight, but it's still one heck of an accomplishment."
Cano got his 1,000th hit also against the Royals, that one coming in a 12-6 win for the Yankees off Victor Marte when Cano was 27 in 2009.
"I do remember it," Cano said. "It was against a Dominican pitcher and I didn't get the ball right away. I had to send a driver almost two hours to get that ball, because the person left and didn't know. This one, I have. No driver needed."
Cano had the historic ball tucked safely in his locker. It will soon join his other baseball mementos in a special place in his house.
"I like to collect my stuff and save it," he said. "Those are memories you have to show friends and kids, and family and your sons."
Cano said the 2,000th hit ranks right with the other milestones he's accomplished, including being the first player in MLB history to hit 30 doubles in each of his first 11 seasons, which he reached earlier this year.
"All those things mean a lot to me," Cano said. "Those are the kinds of things that make me work harder every single day and try to go out and do my best."
Greg Johns is a reporter for MLB.com. Follow him on Twitter @GregJohnsMLB, read his Mariners Musings blog, and listen to his podcast. This story was not subject to the approval of Major League Baseball or its clubs.