Gray, De La Rosa shut down by Rockies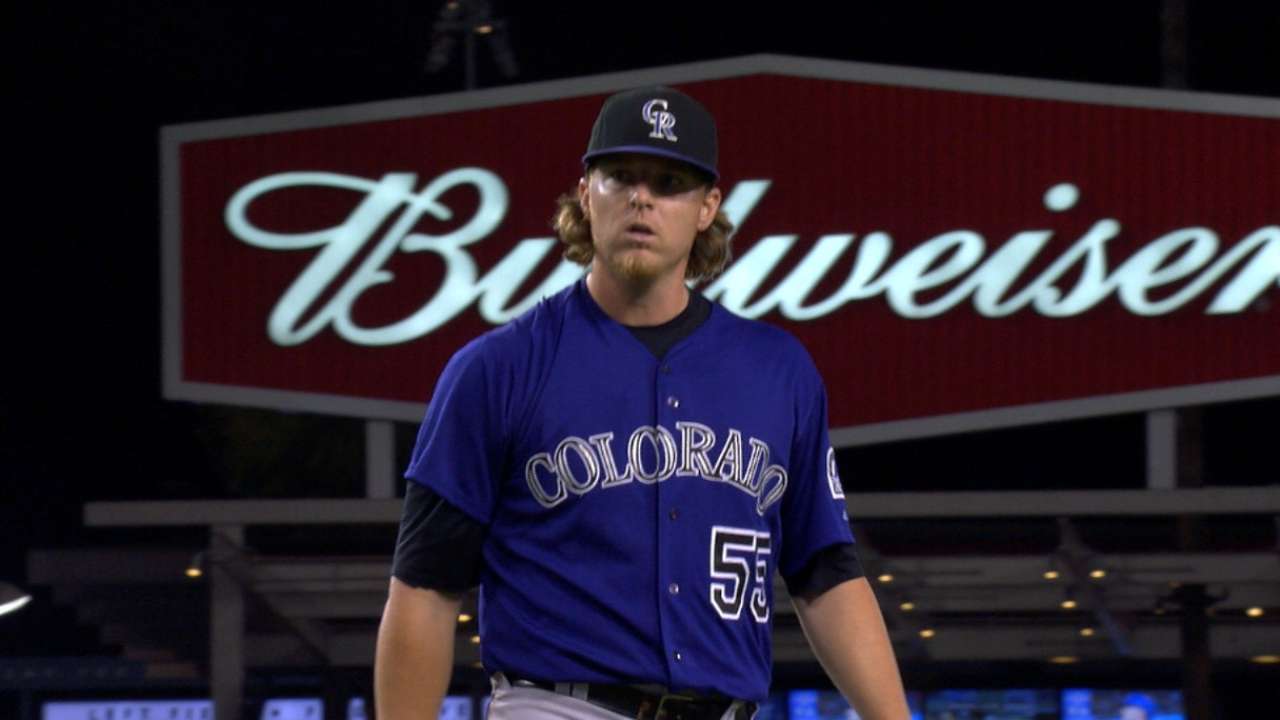 DENVER -- Rockies rookie righty Jon Gray has reached his innings limit, and lefty Jorge De La Rosa is limited by right Achilles tendon pain, so neither will pitch again this season, Rockies manager Walt Weiss said on Wednesday.
Gray, 23, went 0-2 with a 5.53 ERA in 40 2/3 innings over nine Major League starts after debuting on Aug. 4. Counting his 21 appearances (20 starts) at Triple-A Albuquerque, he threw 155 innings. Gray, the third-overall pick in the 2013 Draft, threw 124 1/3 innings last year at Double-A Tulsa.
"He'll still work on mechanics over the last couple weeks with [pitching coach Steve] Foster and [bullpen coach Darren] Holmes. And he'll have a typical offseason," Weiss said. "He should be built up and ready to go for a full season next year."
Gray's season ends on a sour note -- nine hits and five runs in 4 2/3 innings in a loss to the Pirates on Monday. Afterward, Gray expressed frustration with not being able to succeed at Coors Field (0-1, 8.27 ERA) the way he did on the road (0-1, 2.70). Club officials believe he will further develop his offspeed pitches, which could make him successful in any venue.
Weiss said Gray looked strong in his last start. There was no thought of giving him another road start to end the year on a good note, Weiss said.
De La Rosa (9-7, 4.17 ERA) had a flareup of the Achilles problem during his last start, when he threw an eight-inning shutout in a loss at Dodger Stadium. De La Rosa said he's had the problem for four months.
It's also unclear whether lefty Yohan Flande, who was hit on the left knee with a line drive during his last start, will reappear on the mound this season. He was scratched from Friday's start against the Dodgers and said he underwent an MRI exam on the knee on Tuesday and was awaiting the results.
Righty Jordan Lyles, who underwent season-ending surgery on his left big toe in May, and righty Tyler Chatwood, who has missed the whole year while recovering from Tommy John surgery, will pitch in autumn instructional ball in Arizona and in the Dominican Republic.
Worth noting
• Third baseman Nolan Arenado, who said he "saw a little bit of stars" after landing on his head after diving for a one-hopper during the top of the ninth inning Tuesday night against the Pirates, not only passed postgame concussion tests but reported being symptom free on Wednesday. Still, he did not start. Weiss said he would have considered giving Arenado the evening off, anyhow.
"When [the ball] hit off my wrist, I was kind of looking for where the ball went and that's why I didn't brace myself on the landing," Arenado said. "Usually when I dive, I brace myself. I didn't do it there, and I have the evidence of that."
Thomas Harding is a reporter for MLB.com. Follow him on Twitter @harding_at_mlb, and like his Facebook page. This story was not subject to the approval of Major League Baseball or its clubs.