Brantley out after jamming right shoulder
Indians not planning to have left fielder get an MRI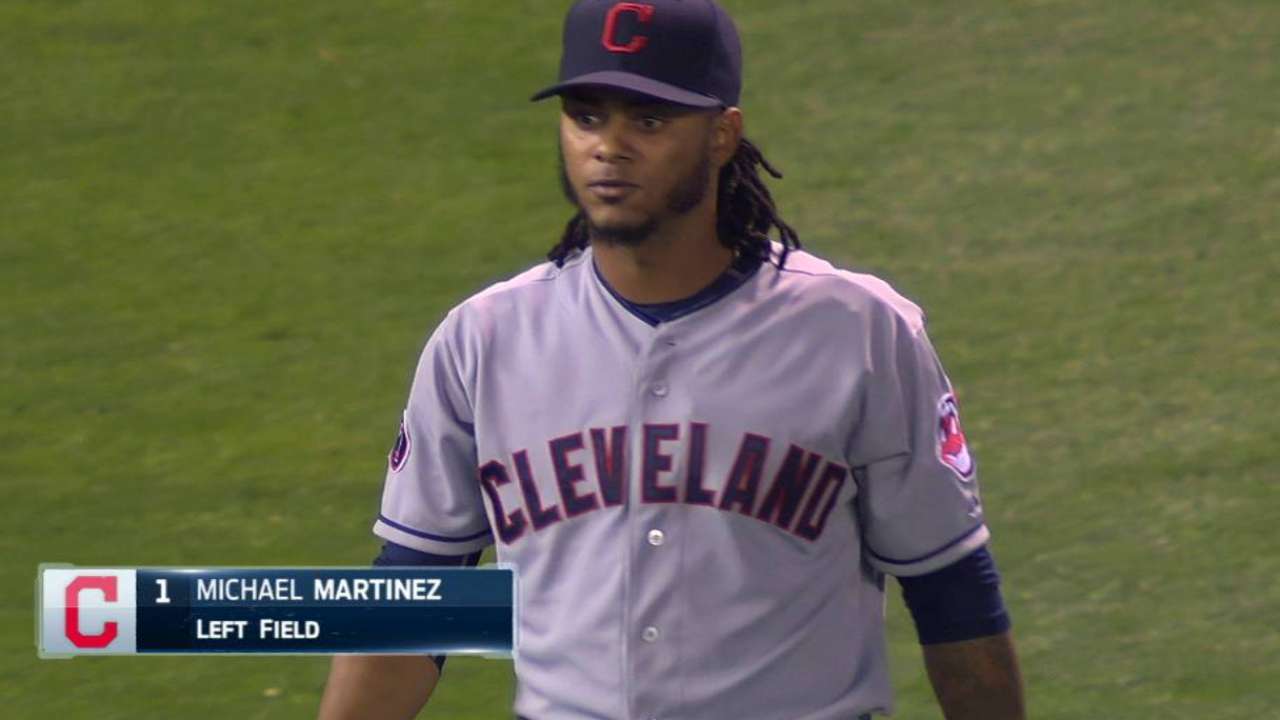 MINNEAPOLIS -- Michael Brantley was out of the Indians' lineup Wednesday, a day after jamming his right shoulder trying to make a play in left field. But for the most part, serious concerns about his shoulder seem to be assuaged.
"He showed up and he really wasn't more sore, which was good," manager Terry Francona said.
Though Brantley wasn't in the lineup, the Indians haven't done an MRI and don't plan to unless his condition worsens. Francona said the plan was for Brantley to work with the team's trainers and see where that leads him.
"If he's able to go down to the cage and take some swings, we'll kind of see how it goes," Francona said. "We'll just kind of play it by ear."
Brantley injured his shoulder diving for an Aaron Hicks triple in the third inning of Tuesday's 3-1 Indians loss. He took his next at-bat leading off the fourth, but Francona said Brantley had problems getting his shoulder extended during that at-bat and he was removed in the bottom of the fourth.
The left fielder is hitting .314 with 15 home runs and 84 RBIs in 135 games. Michael Martinez came in to replace Brantley in the lineup Tuesday. On Wednesday, Mike Aviles got the start in left.
Worth noting
• Giovanny Urshela was out of the lineup again Wednesday as he continues to deal with a lingering shoulder injury. Urshela hasn't played since Sept. 17.
"He's been fighting that thing since Milwaukee [in late August]," Francona said. "It's just musculature, but it's still bothering him. He took a swing the other day in BP and it kind of grabbed at him. Obviously we're aware of it and we don't want to hurt him. He is struggling a little bit with it."
• The Indians recalled C.C. Lee and Jesus Aguilar from Triple-A Columbus, while also purchasing catcher Adam Moore's contract. Tyler Holt was designated for assignment.
Lee was 4-3 with a 3.39 ERA in 48 games at Triple-A Columbus and Francona said he thinks the only hurdle Lee has left is understanding that he belongs in the Majors.
Calling up Moore gives Francona some flexibility. Roberto Perez was the designated hitter Wednesday, something Francona said they wouldn't have done without a third catcher on the roster.
He said Aguilar might not get much playing time, but they wanted to acknowledge the successful season he had in the Minors.
"[Triple-A Columbus coach Chris Tremie] thought he did such a good job that I think as an organization, sometimes we need to listen to Trem, and a little bit of a reward for having a good year and being a good teammate," Francona said.
Betsy Helfand is an associate reporter for MLB.com. This story was not subject to the approval of Major League Baseball or its clubs.