Current Yanks recall Yogi's genuine humility
Girardi among those to share stories of Hall of Famer's kindness in clubhouse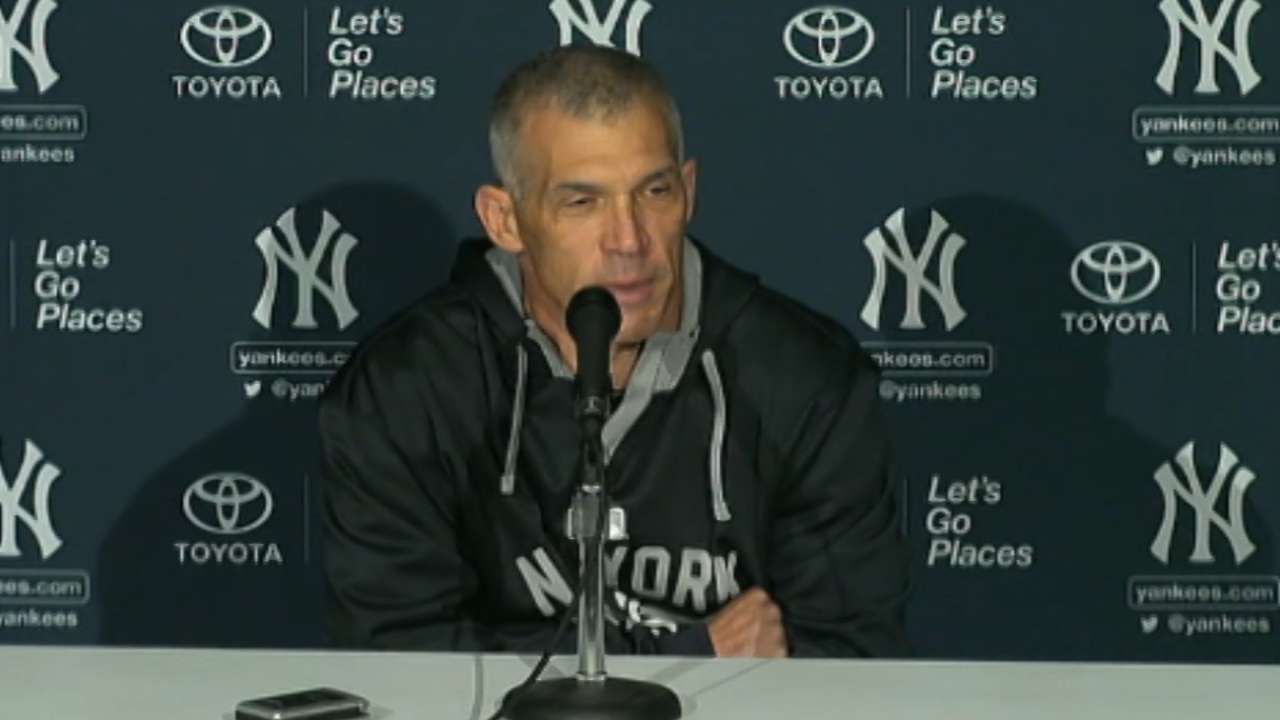 TORONTO -- Yogi Berra was riding in the passenger's seat of Joe Girardi's rental car one March morning, muttering to himself as the vehicle crawled toward the Astros' Spring Training facility in Kissimmee, Fla. They were going the wrong way to the game, the Hall of Famer insisted, because there was a shorter route to the ballpark.
Girardi shrugged and promised Berra that he would ask the Astros' visiting clubhouse manager for the best way to avoid traffic lights on the way back. Before Berra buckled his seatbelt nine innings later, he made sure to ask if Girardi had gotten the proper directions toward the Yankees' complex in Tampa, Fla.
"We proceeded on the drive home, and I knew the directions were the same way we came," Girardi said. "We make all these turns and I said, 'Yogi, it's the same way we came. I didn't take the long way.' And he said, 'I told you my way was faster.' It was just another Yogi-ism, and it really made me laugh."
The Yankees will miss Berra's presence for countless reasons, but it is his general warmth and deep love for the organization that stands out most. Berra could not attend Spring Training this year for health reasons, but he had long been a mainstay in camp, shipping his golf clubs to Girardi's office and enlisting Ron Guidry as his personal chauffeur.
Seeing Berra shuffle around the corner from the manager's office always seemed to be a thrill for the players, who genuinely enjoyed the chance to interact with the legend. Berra did his homework and knew the players on the roster, even telling Girardi each year that he was keeping his eye on a new hot prospect.
"He always called me 'Shorty,'" said Yankees outfielder Brett Gardner. "It's Yogi Berra. He can call me whatever he wants. It's something I'll always cherish."
Alex Rodriguez said that one of the highlights of any spring was the opportunity to sit down for a meal with Berra, which he guessed that he had the opportunity to do a half-dozen times.
"Every room he'd walk into, the room would light up, and everyone would be a better person for it," Rodriguez said.
Girardi said that Berra had a knack for instantly making everyone in a room feel comfortable, telling stories in a humble way. Though Girardi was always in awe of Berra, he said that Berra never made him feel like he should have been.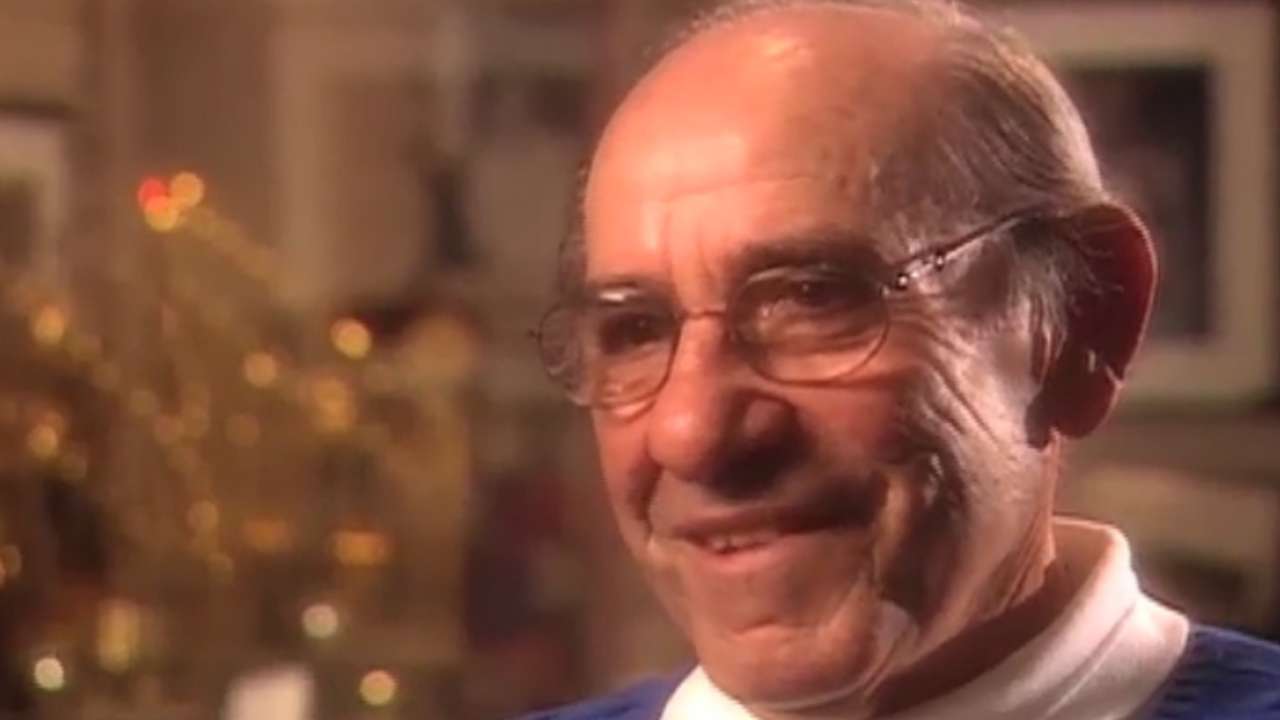 "When you were in his presence, I always felt like I was talking to my grandfather," Girardi said. "I just felt comfortable. I always felt he was going to pull something out of his pocket, a piece of licorice, and give it to you. It was a joy to be around him, and that's who Yogi was."
"He was like walking into a family Italian restaurant, and all of a sudden the kitchen and bar opens up to you, and it's, 'Have a seat,'" general manager Brian Cashman said. "He was just very warm, welcoming and kind. He was very special."
Rodriguez described Berra as consistently supportive, while offering moments of wit and humor. He often marveled at Berra's stature, wondering how he had produced such eye-popping statistics during his playing career.
"To see him, and how small he was -- and what a big impact he made," Rodriguez said. "The other thing is, if Yogi was here today, I don't think he would want us all to mourn on this day. He'd want us to play with joy, to celebrate his 90 years and to be happy going about our day celebrating his great life."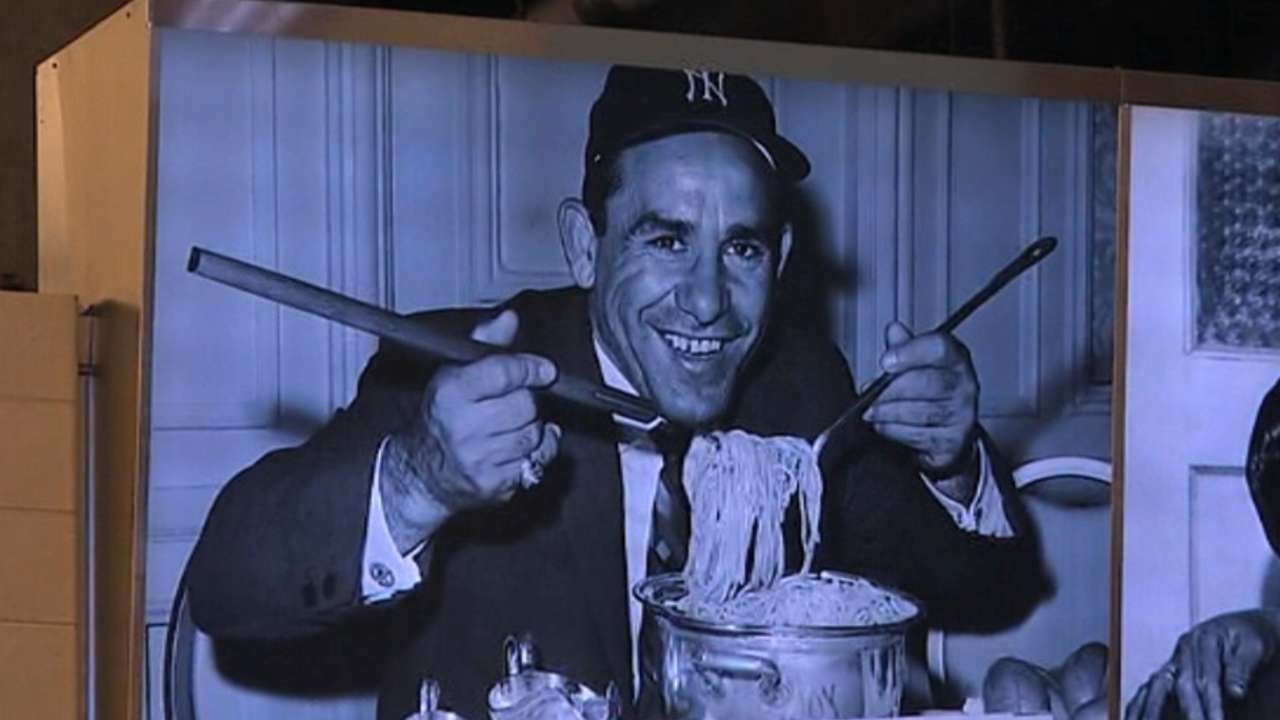 Berra was fiercely proud of the Yankees and their winning tradition, and as the Yankees prepare to wear the No. 8 on their left uniform sleeves, Gardner said that the best way to pay tribute would be to put a victory on the scoreboard.
"Yogi probably played as big of a part in the Yankees organization being what it is today as any other person on the field," Gardner said. "I think that he'll be pulling for us. He always has. He's always kept up with us, so I think he'll pull for us and root for us. I know that if we can not just play well today, but finish strong and accomplish some of our goals that we want to accomplish, I think it will make him proud."
Bryan Hoch is a reporter for MLB.com. Follow him on Twitter @bryanhoch, on Facebook and read his MLBlog, Bombers Beat. This story was not subject to the approval of Major League Baseball or its clubs.