Freese summons clutch gene to propel Angels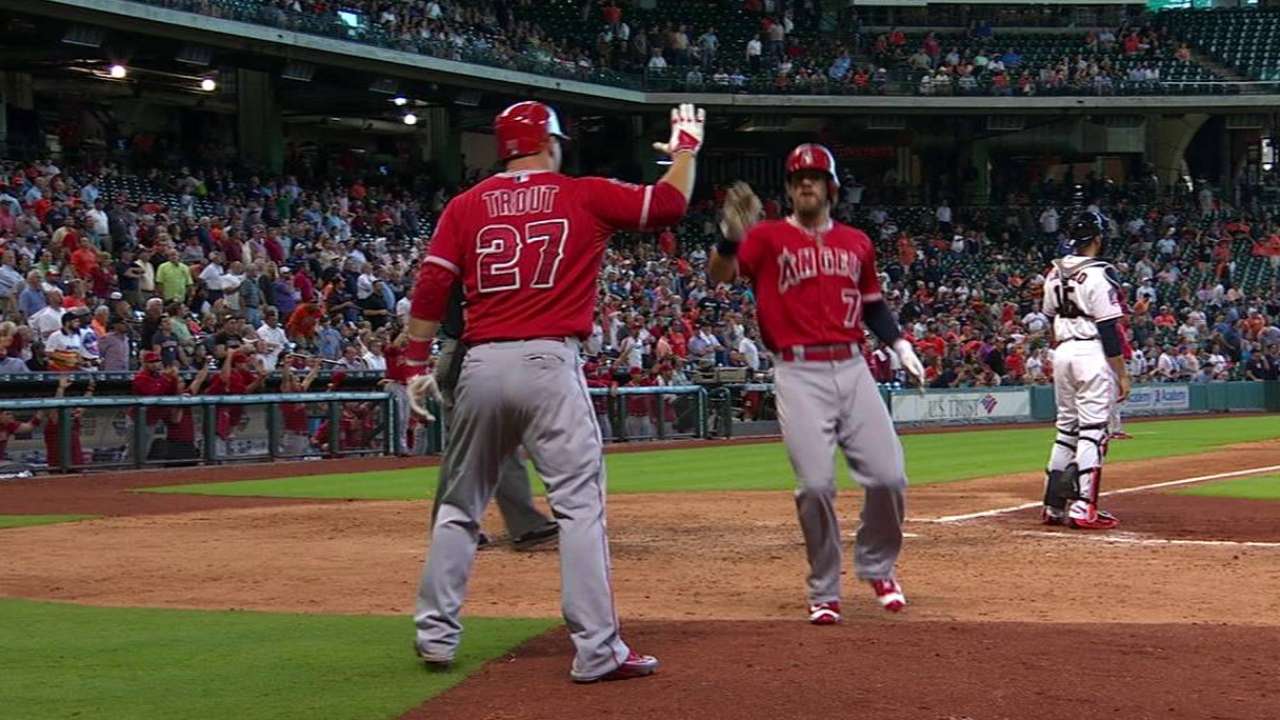 HOUSTON -- David Freese finds comfort in the noise. It makes him feel at ease, recalibrates his brain and simplifies his approach. Freese heard it in the top of the eighth inning on Wednesday afternoon, with two on, two outs and the Angels trailing by a run, their faint playoff hopes four outs away from near-extinction.
"It's nice when you hear the crowd," Freese said. "It kind of reminds you to take a breath, relax."
With Pat Neshek and his indecipherable delivery on the other side, and 25,573 filling an enclosed Minute Maid Park with deafening racket, Freese put together the at-bat that temporarily saved the Angels' season. He lifted a 2-2 slider deep into the left-center-field gap, plating two runs to give the Angels a lead and propel them to a 6-5 win over the Astros.
It was the biggest hit of Freese's Angels career, reminiscent of his historic performance with the Cardinals during the 2011 World Series.
Albert Pujols was there.
"That was a big hit for him," Pujols said after the Angels closed to within 1 1/2 games of the Astros for the second American League Wild Card spot with 10 games left. "He wasn't having that good of a game, but you can never count him out. He's always huge in these situations."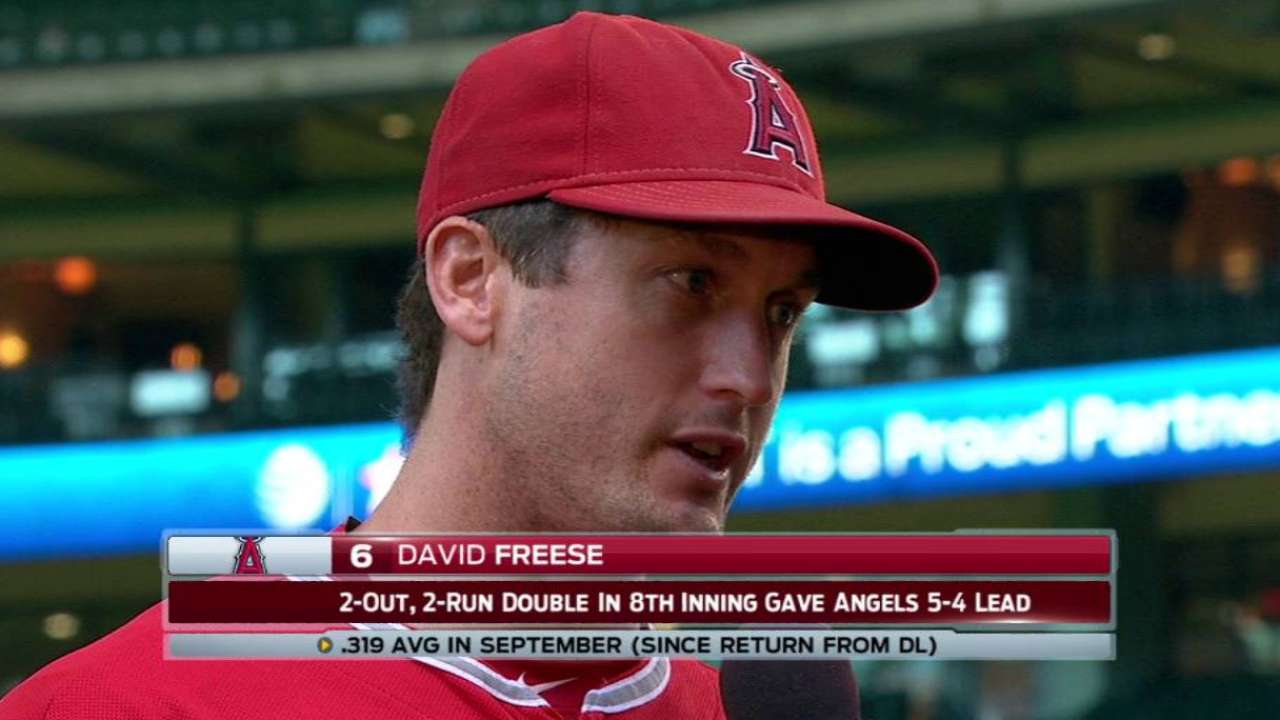 Neshek, who had held opposing right-handed hitters to a .619 OPS this season, entered with Mike Trout on second, David Murphy on first and one out, and immediately induced a harmless popup from C.J. Cron. Five pitches later, he left a breaking ball up to Freese and thought he recorded a flyout.
Freese put his head down as he jogged toward first base, thinking he had just spoiled a premium opportunity.
"I think it surprised a lot of people that the ball fell in there," said Neshek, who looked on as left fielder Colby Rasmus was unable to reach far enough around one of the columns to make the catch.
"I was praying that 'The Juice Box' was small enough for it to go off the wall," Freese said. "I clipped it, and it just went far enough out of the reach of Rasmus. It ended up being good for us."
Freese's absence wasn't the sole reason -- and probably not even the biggest reason -- that the Angels lost 19 games throughout a crippling August. But they finished last in the Major Leagues in every offensive category that month, and the third basemen who replaced Freese combined for a paltry .522 OPS.
They needed Freese's power to deepen their lineup; they needed his experience in times like these.
Since returning from a fractured right index finger on Sept. 1 -- an injury that forced him to miss 36 games -- Freese has batted .319 and the Angels have won 13 out of 21, breathing some life back into their playoff chances.
It's no coincidence.
"This is the time of year where you have to come through, especially this close to the race," said Freese, the Most Valuable Player of the 2011 National League Championship Series and World Series. "Whoever wants to make the playoffs, if they're still fighting, you have to have big hits, you have to hit your spots when you're pitching and make plays. You just have to do things the right way to get into October."
Alden Gonzalez is a reporter for MLB.com. Follow him on Twitter @Alden_Gonzalez and listen to his podcast. This story was not subject to the approval of Major League Baseball or its clubs.