Grind of long season taking toll on bullpen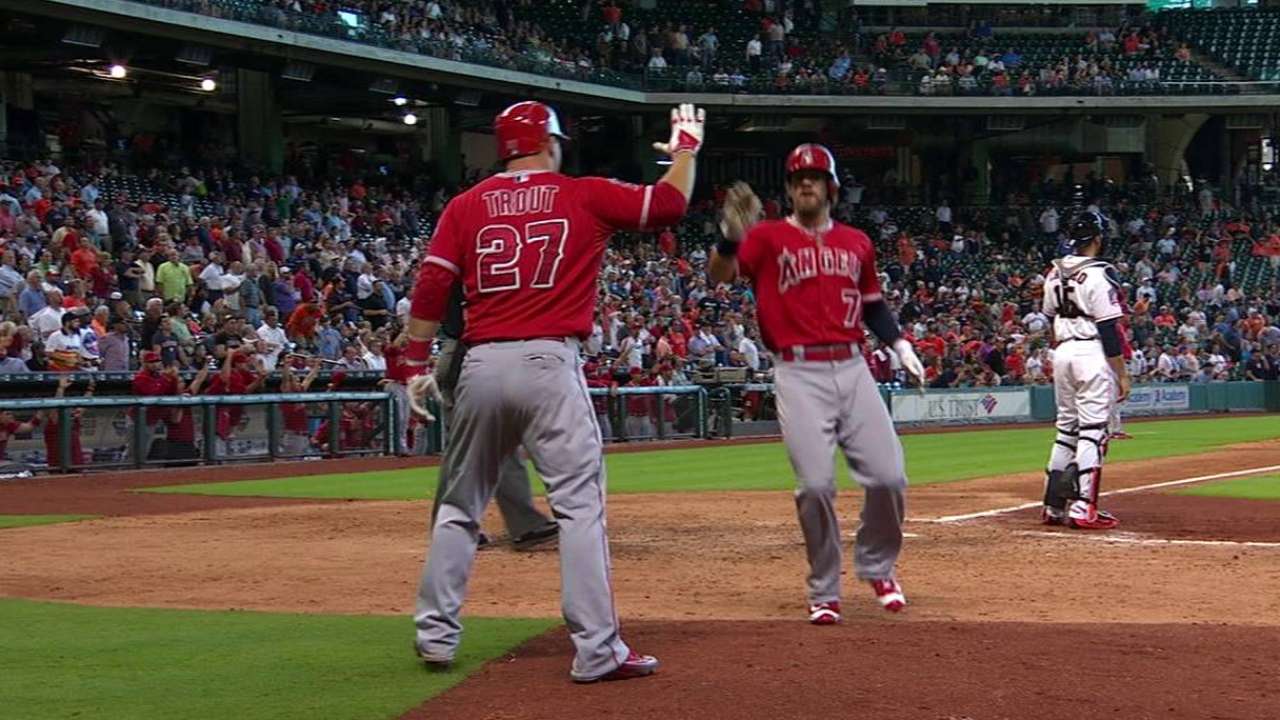 HOUSTON -- The same relief pitchers Astros manager A.J. Hinch has put in key situations all year are the same arms he's going to rely on to end the season. Hinch has no choice at this point. The bullpen, which had been a strength, has been a hindrance in September, but help isn't on the horizon.
Will Harris and Pat Neshek, two guys who have struggled in September, couldn't get it done with the game on the line Wednesday afternoon, allowing the Angels to rally for three runs in the eighth inning and beat the Astros, 6-5, at Minute Maid Park.
"That's a tough loss this time of year -- or really any time of year," Hinch said. "The way we fought back both in the seventh and the ninth is encouraging. But you definitely feel for the guys who have been there doing it for us all year. One of the big reasons we're where we're at on the good side of things is the way these guys have pitched. We didn't get into the game very well today. We didn't finish the game very well today. Tough loss for that group in there."
The Astros' relief corps was among the best in baseball through the first five months of the season, posting a 2.73 ERA through the end of August. September has been rough, though, as Houston relievers have a 6.63 ERA during a month in which the Astros have gone 7-14 and lost the division lead.
"When you pitch late in games, you know, it happens every now and then," Neshek said. "It's just happened a lot more frequently."
After the Astros took a 4-3 lead in the seventh, Harris (5-5) was pulled in the eighth after allowing a leadoff double to Mike Trout and a one-out walk to David Murphy. Neshek got C.J. Cron to fly out before David Freese hit a towering fly ball to left field that glanced off the wall and just out of the reach of Colby Rasmus, allowing a pair to score and put the Angels ahead, 5-4. Carlos Perez followed with an RBI single.
"I saw Freese put his head down, so I thought it was just a pop fly," said Neshek, who has a 7.50 ERA in nine games in September.
Sure, the Astros' bullpen is probably tired this time of year. The Astros have played 48 one-run games (19-29) and 30 two-run games (14-16), so there have been a lot of high-leverage innings. And with nine games remaining and a slim lead in the Wild Card race, there's more pressure to come.
"I'm not going to hang this loss on Pat," Hinch said. "We win as a team, we lose as a team. It's rough sledding right now in September, but we're still in a very, very favorable position to play these nine games and bring something special to the end of the season."
Brian McTaggart is a reporter for MLB.com and writes an MLBlog, Tag's Lines. Follow @brianmctaggart on Twitter and listen to his podcast. This story was not subject to the approval of Major League Baseball or its clubs.