8 memorable moments from the life of Yogi Berra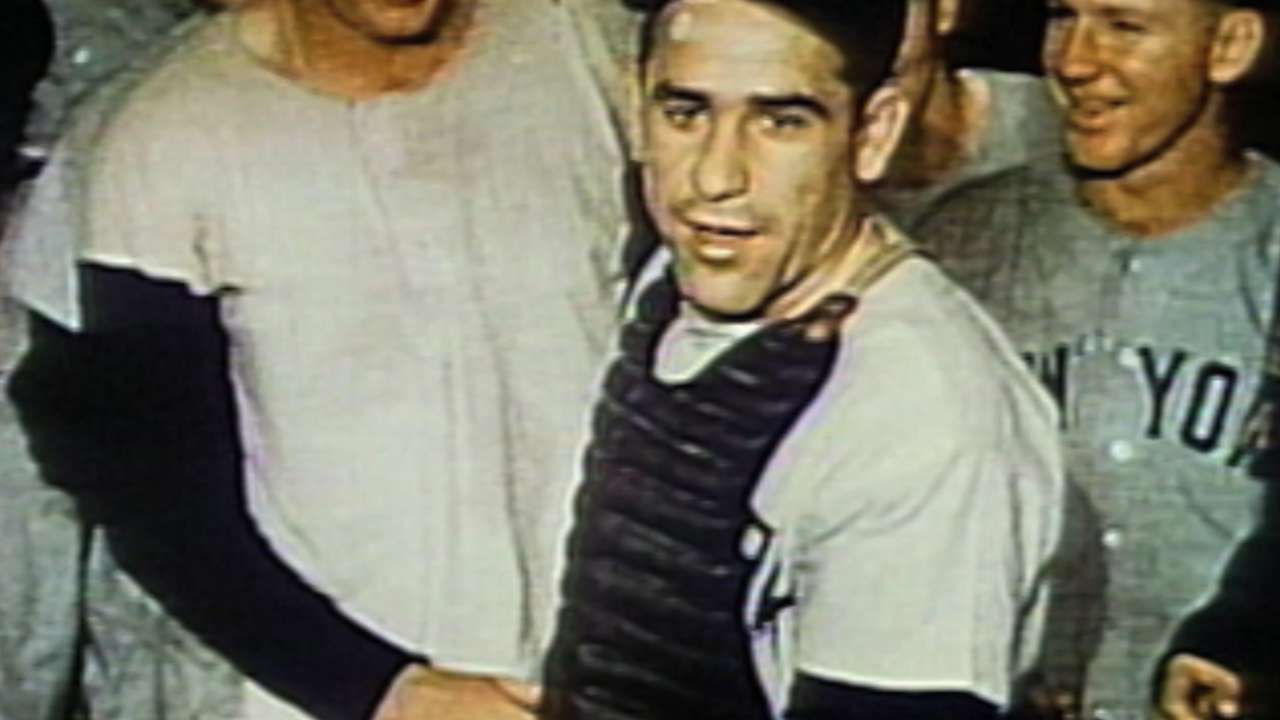 It's impossible to fully capture what truly made Lawrence Peter "Yogi" Berra such a beloved baseball icon. But here are eight memorable moments from the life and career of No. 8, the Hall of Fame catcher who passed away Tuesday night at the age of 90, courtesy of @MLBGIFs.
1. A winning smile
A legendary athlete as an 18-time All-Star and 10-time World Series champion, Berra is just as well-known and fondly remembered for his winning personality.
2. A 10-ring swing
Berra's one-of-a-kind personality and famous "Yogi-isms" often obscure the incredible career he put together, including his 358 home runs.
3. Getting things started
Who better to christen the opening of the new Yankee Stadium in 2009 with a ceremonial first pitch?
4. The perfect celebration
Berra caught Don Larsen's perfect game in Game 5 of the World Series against the Brooklyn Dodgers on Oct. 8, 1956. It was the first and only perfect game in World Series history.
5. A World Series hero
Berra hit 12 homers in 14 World Series appearances, including this game-tying solo shot in Game 6 of the Yankees' 1952 Fall Classic victory over the Dodgers.
6. Another trophy
The Yankees gathered a number of legends to celebrate their 2009 World Series championship, but Derek Jeter chose to share his fifth Commissioner's Trophy -- in his own unique way -- with Berra.
7. A perfect handshake
On "Yogi Berra Day" in 1999, Berra caught the ceremonial first pitch from Larsen. Coincidentally, David Cone followed up that perfect moment with a perfect game of his own.
8. Honoring an icon
Soaking in the response from the crowd, Berra tipped his cap as he was introduced and ran onto the field for the 59th annual Old-Timers' Day at Yankee Stadium in 2005.
Adam Berry is a reporter for MLB.com. This story was not subject to the approval of Major League Baseball or its clubs.