Machado's HR puts O's within 4 of WC spot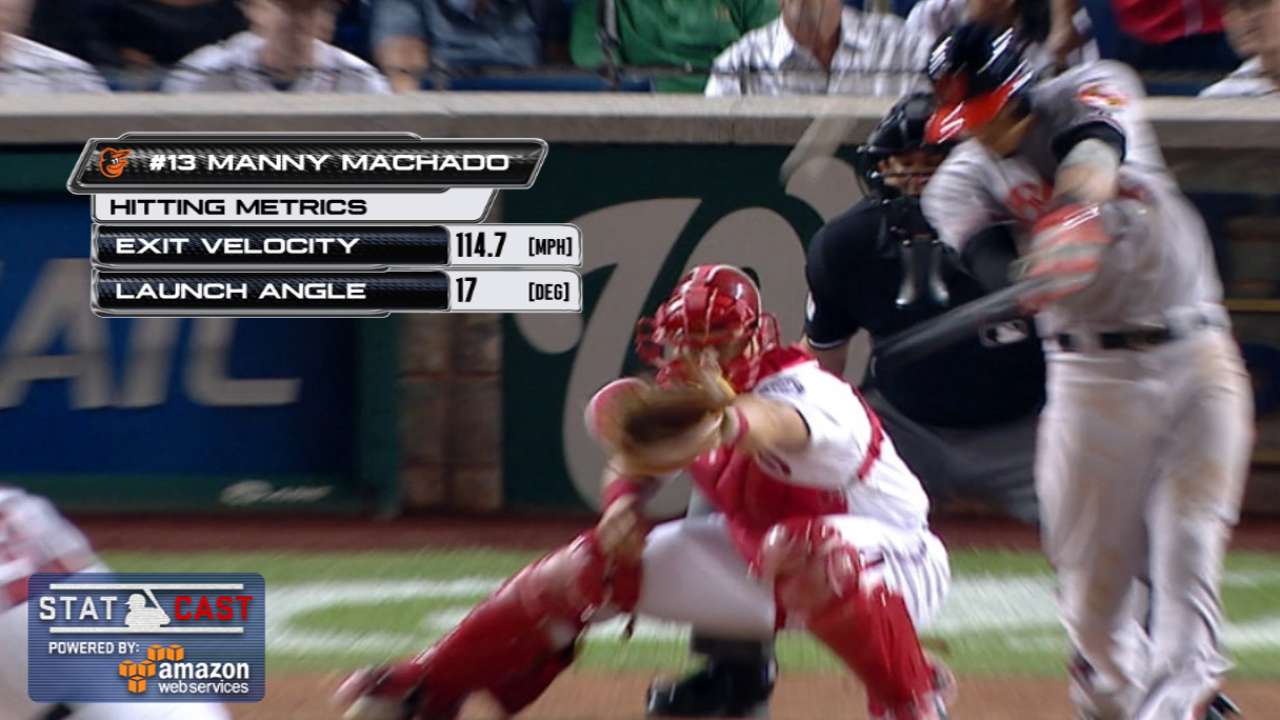 WASHINGTON -- Right-hander Max Scherzer did his best to keep the Nationals' postseason pursuit alive. He was dominant, but Manny Machado's two-run homer in the seventh ended Scherzer's night and sent the O's to a 4-3 win over the Nationals in the Battle of the Beltways on Wednesday night.
The Nationals remain 6 1/2 games behind the Mets in the National League East race. The Mets lost to the Braves, 6-3, at Citi Field. The Orioles moved to within four games of the second Wild Card spot in the American League.
The Nationals had a 3-2 lead going into the seventh inning. Scherzer had thrown 104 pitches, and was still nasty for most of the seventh until he faced Machado.
"I actually felt very strong in the seventh," said Scherzer. "My pitch count wasn't indicative [of how my arm felt]. I was in the low 100s [with the pitch count] after the sixth. I still felt strong, I still felt good. I knew I could go out there and compete for a full inning, and I did."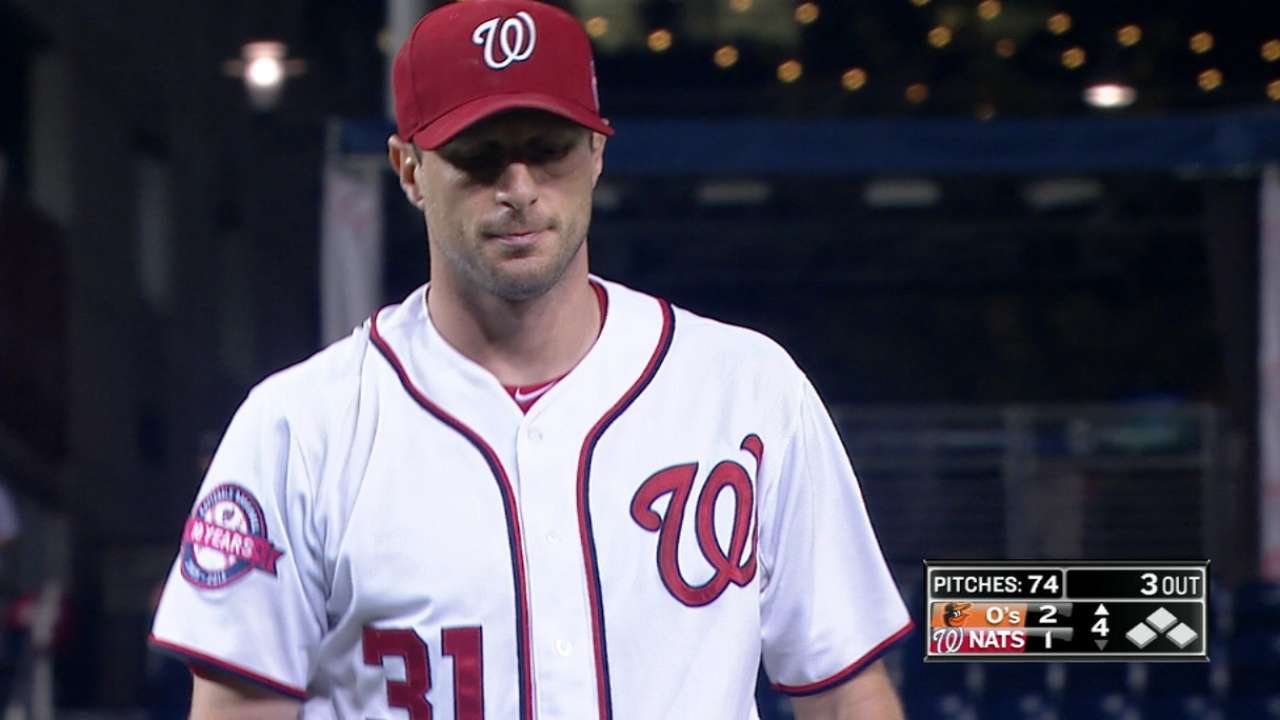 After J.J. Hardy led off the seventh with a double, Machado came to the plate three batters later and hit a 2-2 pitch into the left-center-field stands for a two-run homer.
"I finally got a pitch to hit, and I drilled it," Machado said. "It's one of the hardest balls I've hit all year [Statcast™ measured the exit velocity at 115 mph], and one of my hardest home runs. It was just a great swing I put on against one of the best in the game right now."
• Is Machado #AwardWorthy? Vote now for Best Everyday Player
Right-hander Chris Tillman was the winning pitcher for Baltimore. He lasted six innings, allowing three runs on six hits. The Nationals' big inning came in the fifth, when they scored two runs. Wilson Ramos had an RBI double, while Anthony Rendon gave the Nationals a 3-2 lead with a sacrifice fly.
Said Tillman, who allowed a first-inning run on Yunel Escobar's RBI single: "I think the hitters let me know right away it wasn't good enough, and I had to start making better pitches, and we were able to do that and get to that point in the game where you feel like you've done the job."
MOMENTS THAT MATTERED
Scherzer breaks record: Scherzer put himself in the Nationals' record books, finishing his night with 12 strikeouts, giving him 249 this season. The record was previously held by Stephen Strasburg, with 242 in 2014.
"It's cool, but at the same time, it's overshadowed by a loss. Maybe after the season, I will feel good about it," Scherzer said. More >
• Is Scherzer #AwardWorthy? Vote now for Best Starting Pitcher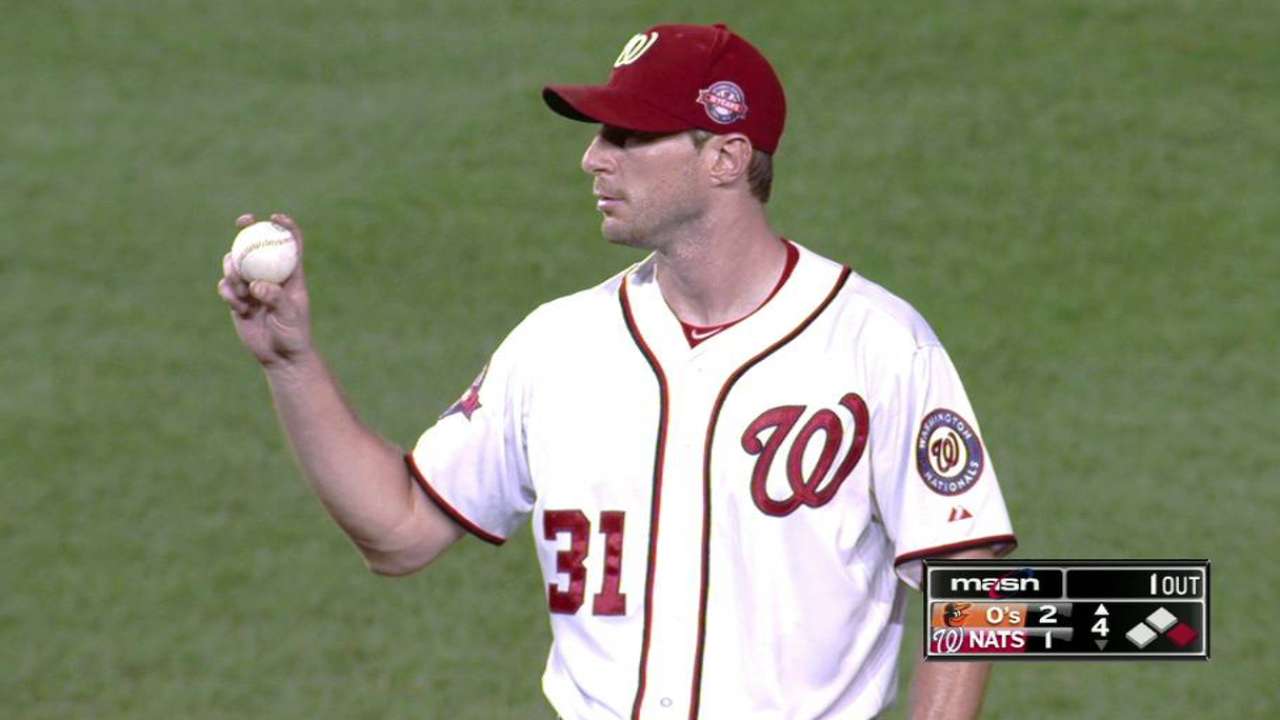 Pearce's early pop: With two outs in the first frame, Chris Davis drew a bases-empty walk to extend the inning to Steve Pearce. Pearce made Scherzer pay, slamming a two-run homer that Statcast™ projected to travel 367 feet.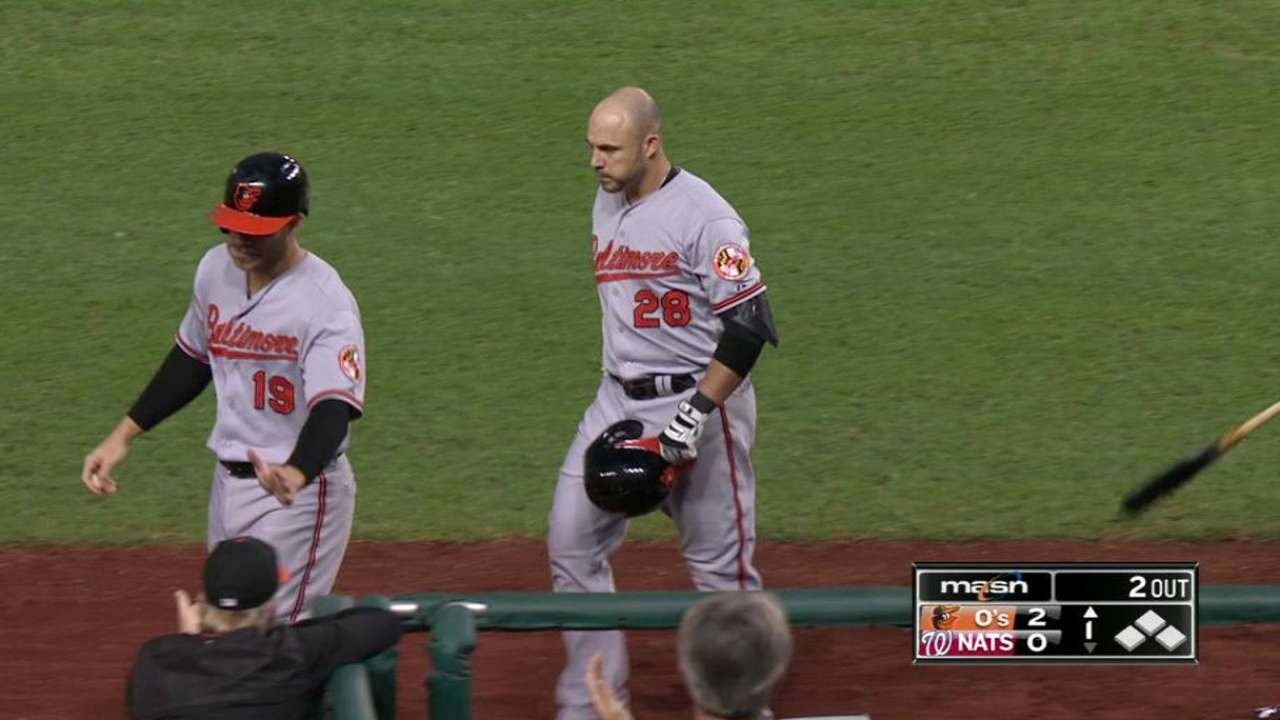 Papelbon ejected: Jonathan Papelbon was ejected with two outs in the top of the ninth inning after hitting Machado with a pitch. The benches on both sides emptied without incident. Felipe Rivero finished the inning for Washington.
"I was pretty surprised. I felt [home-plate umpire] Mark [Ripperger] let the crowd into it a little bit there. I think he allowed that to dictate his decision to toss me there," Papelbon said. "As players and as umpires, we have to keep our cool out there and let the game play out for itself."
"It's something that's uncalled for," Machado said. "It's [garbage]. It's something that you don't do. I expect more from a guy like that, with the past that he has. You've just got to go out there and keep playing baseball. It's part of the game. If you can't take the heat, just stay out of the kitchen and just go on from it. You don't throw at somebody's head. I think that's [garbage]. I think we've just got to keep playing baseball." More >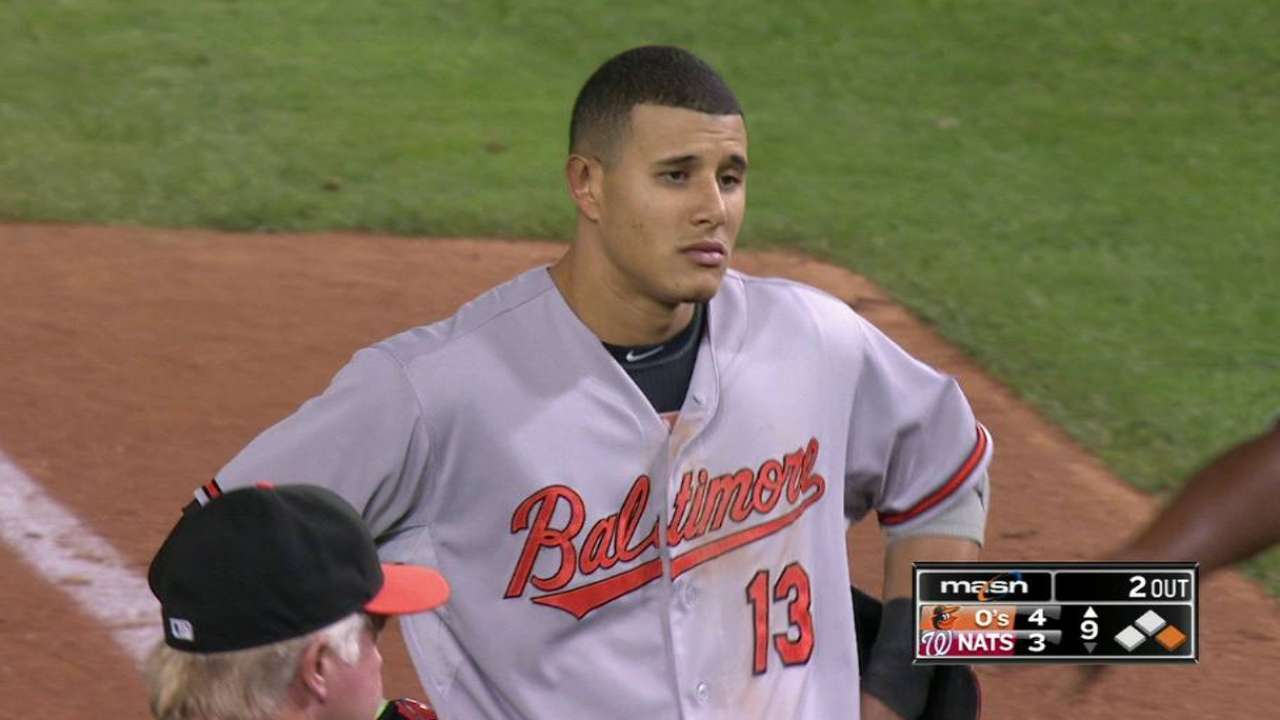 Keeping it close: After allowing one run on two hits and a walk in the first inning, Tillman settled down to retire 12 straight Nationals, which took him through the fifth. He encountered trouble again that inning and needed more than 35 pitches to escape the frame, but not without the Nationals regaining the lead. Tillman returned for a strong sixth inning and ended the night with 110 pitches.
"Tilly got a big out to get that win, kind of pushed him a little bit," Orioles manager Buck Showalter said. "He had an extra day. Chris, I thought he deserved a better fate. I thought he punched out Rendon a couple of times, maybe [Bryce Harper]. He didn't let those calls affect him, and he kept grinding."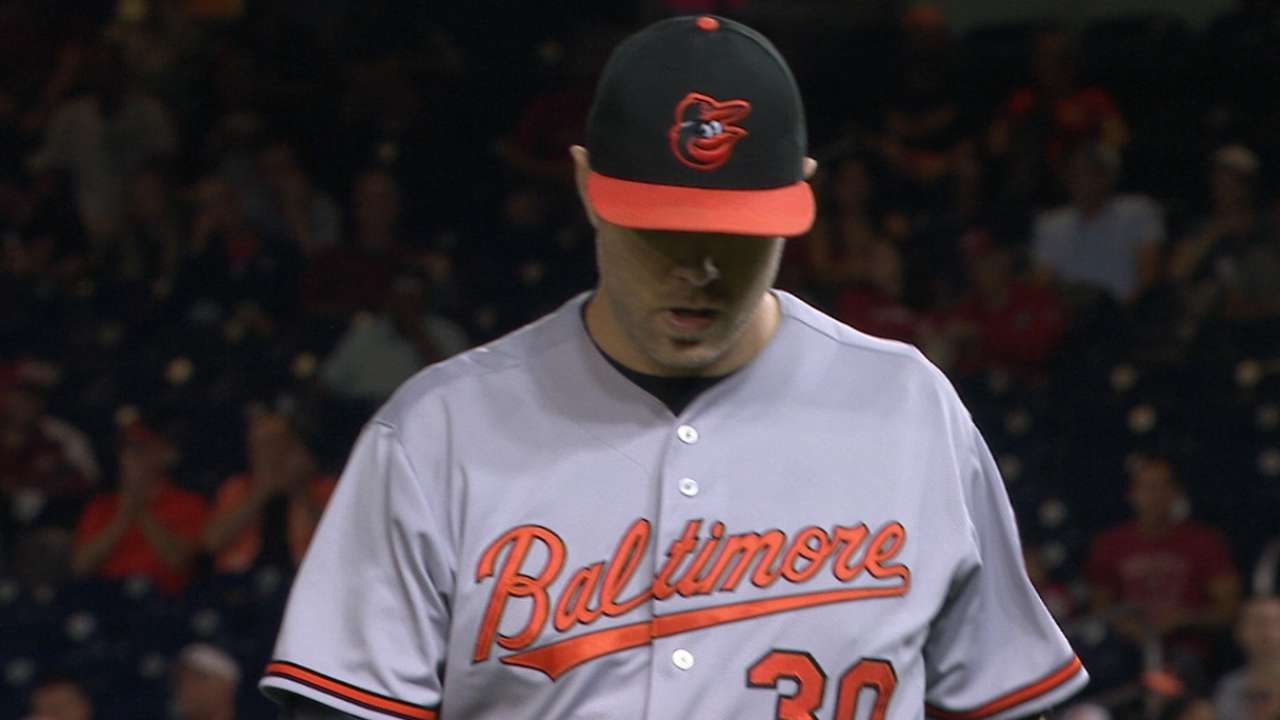 UPON FURTHER REVIEW
In the first inning, Orioles catcher Matt Wieters hit a fly ball near the left-field stands. It looked like Jayson Werth had a play on the ball, and after he was unable to make the catch, Nationals manager Matt Williams challenged the call and claimed that a fan interfered with the play. The call was overturned, with fan interference resulting in the out and ending the inning.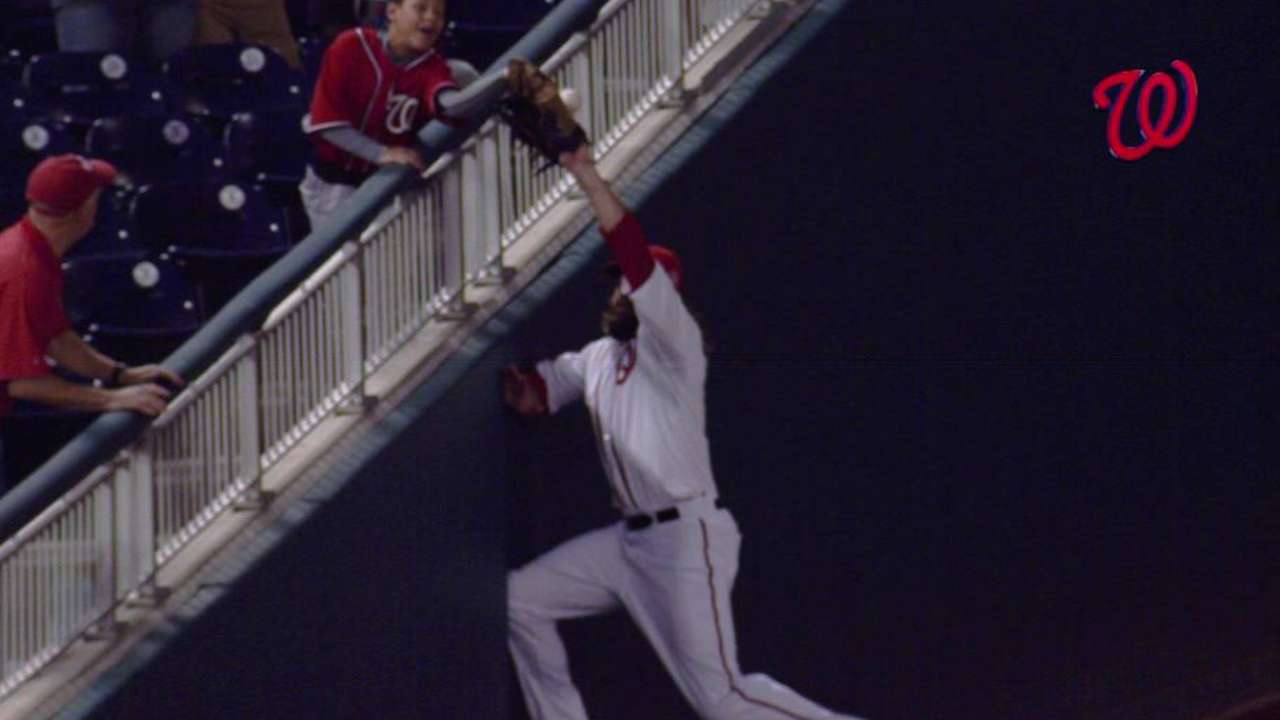 WHAT'S NEXT
Orioles: Rookie Tyler Wilson will make his fourth career start on Thursday at 4:05 p.m. ET when Baltimore and Washington wrap up the 2015 edition of the Battle of the Beltways. Wilson is 1-2 with a 5.00 ERA over 18 innings in his three starts.
Nationals: The Battle of the Beltways wraps up on Thursday at 4:05 p.m. ET. Nationals starter Tanner Roark felt good in his previous start last week, but the results were all too familiar in a loss to the Marlins. Making his third start since returning to the rotation, Roark threw five innings and allowed six runs on eight hits, including two homers.
Watch every out-of-market regular-season game live on MLB.TV.
Bill Ladson is a reporter for MLB.com and writes an MLBlog, All Nats All the Time. He also can be found on Twitter @WashingNats. Jacob Emert is an associate reporter for MLB.com. This story was not subject to the approval of Major League Baseball or its clubs.