'Thoughtful' Gordon checks in on fan struck by ball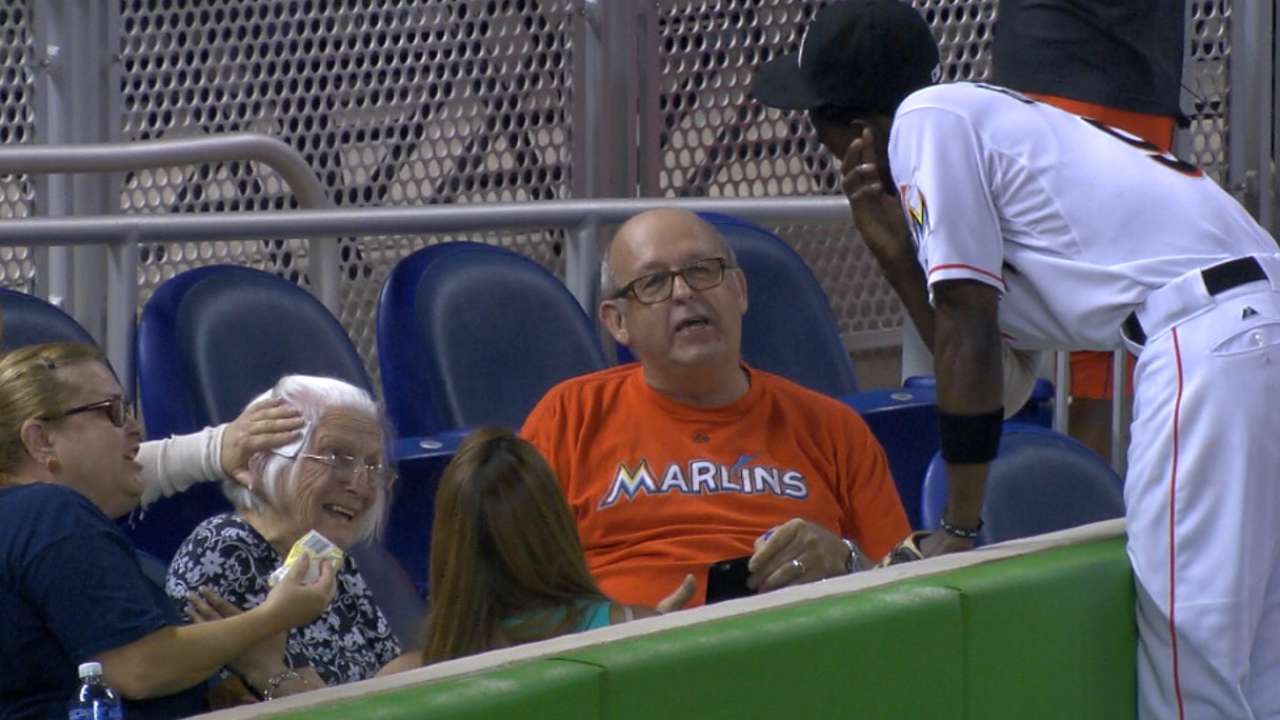 MIAMI -- When Odubel Herrera blistered a foul ball that struck an elderly woman at Marlins Park on Tuesday night, Miami second baseman Dee Gordon felt compelled to do something. So between innings, the All-Star headed straight to the woman to see if she was all right.
Even after being reassured she would be fine, Gordon still wanted to make sure. So after Tuesday's game, the 27-year-old second baseman revisited the lady. This time, he brought some gifts -- handing her a bat, autographed jersey and the cleats he wore that night.
"I was scared," said Gordon, who hit a walk-off double in the 11th inning of the Marlins' 4-3 win over the Phillies on Wednesday. "I was like, 'That could have been my grandma getting hit.' I had to make sure she was alright. Luckily, it just grazed her, more than anything. She was shaken up, but she was OK. Just to kind of say, 'sorry.'"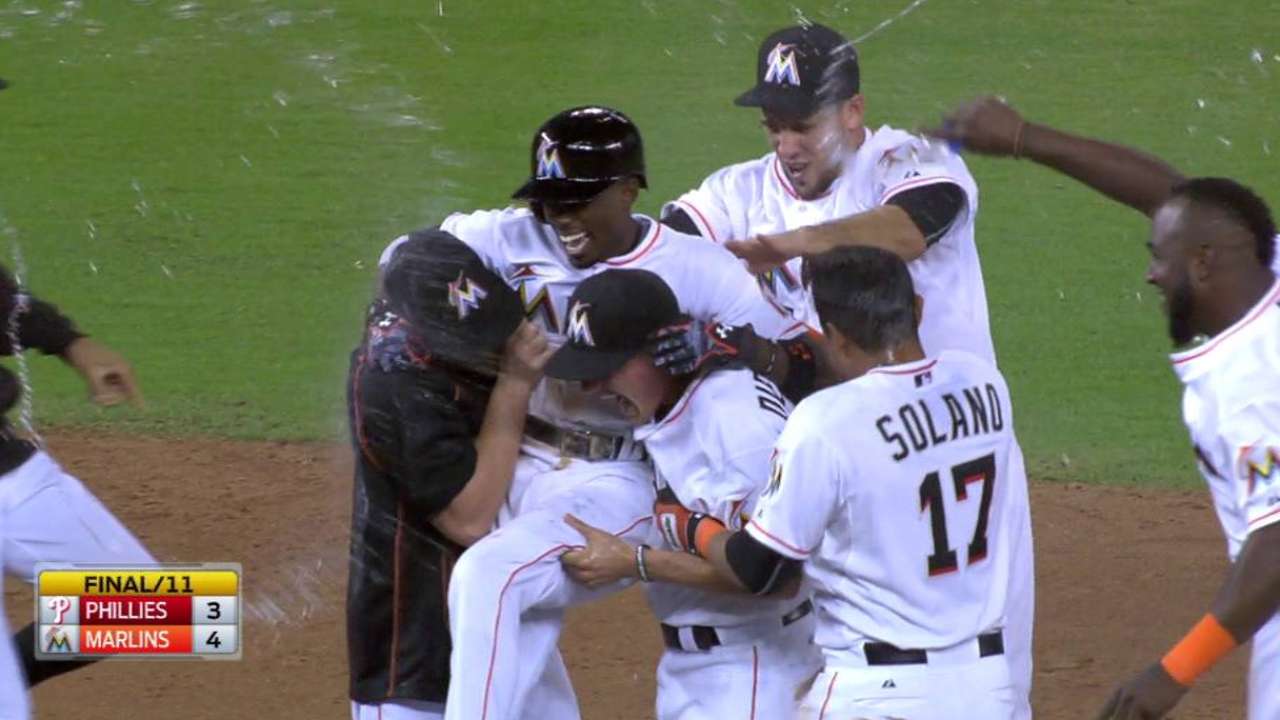 In his small way, Gordon hoped to make a big impression.
"That's Dee being Dee," manager Dan Jennings said. "What can you say? Forget the ballplayer side of it for a minute -- just the quality of person he is. He's a tremendous human being.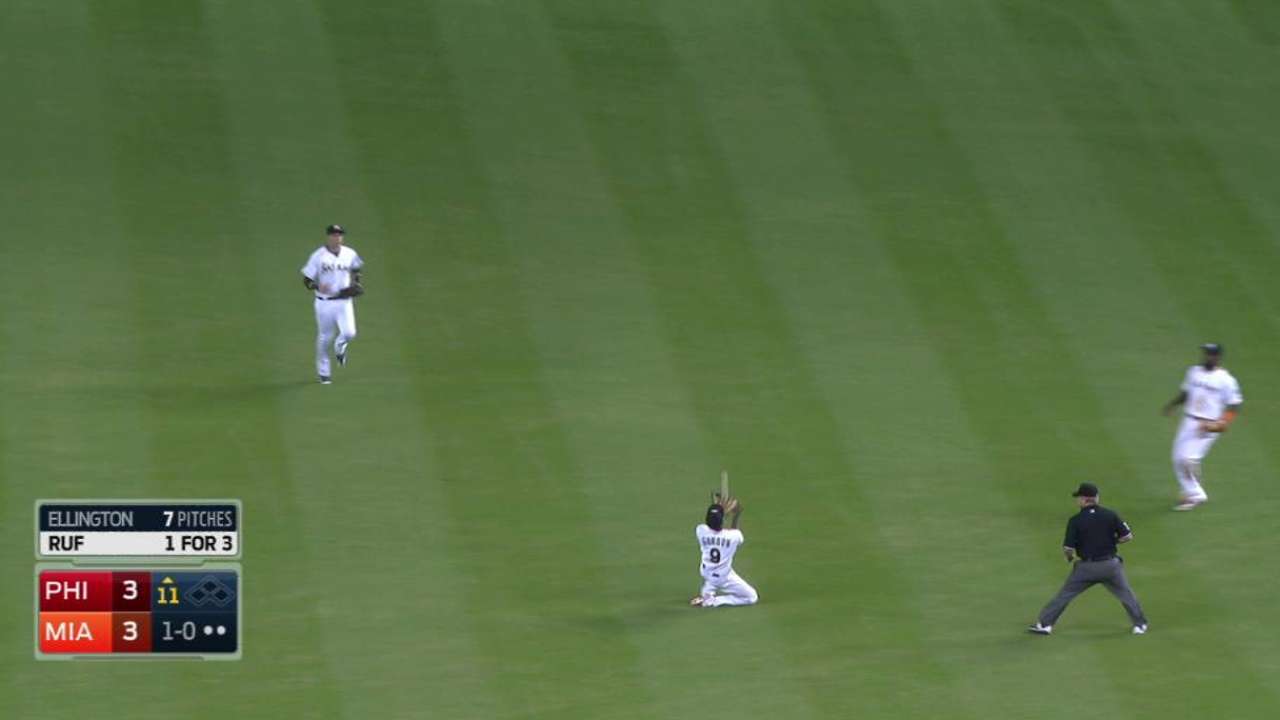 "I know that in the conversations I have with him, he's just very thoughtful, considerate and respectful. He's a delight to be around and I think that's why he's so respected by his teammates, the managers and coaches. It's just part of the package that makes Dee, Dee."
Fan safety has become an issue this season. Some in the industry have suggested netting extending down the first- and third-base lines.
• Cut4: Gordon gives 93-year-old Marlins fan souvenir
Gordon, who also made an over-the-shoulder catch in Wednesday's win, favors the idea.
"We need a net," he said. "I know it's cool to catch balls, but guys are hitting these balls hard. I do it all the time. I hit straight line drives this way."
A left-handed hitter, Gordon routinely smokes liners foul on the third-base side. Herrera did the same thing on Tuesday.
"Those line drives are scary," Gordon said. "I never put my family near down there. I know it's really scary.
"It's cool to be closer. But you've got to be able to protect these people. That ball was hit really hard. That was scary. That scared me."
Joe Frisaro is a reporter for MLB.com. He writes a blog, called The Fish Pond. Follow him on Twitter @JoeFrisaro and listen to his podcast. This story was not subject to the approval of Major League Baseball or its clubs.