Verlander hits 99 mph in 7th inning of win
Tigers' ace ramps up velocity to end day with 8th strikeout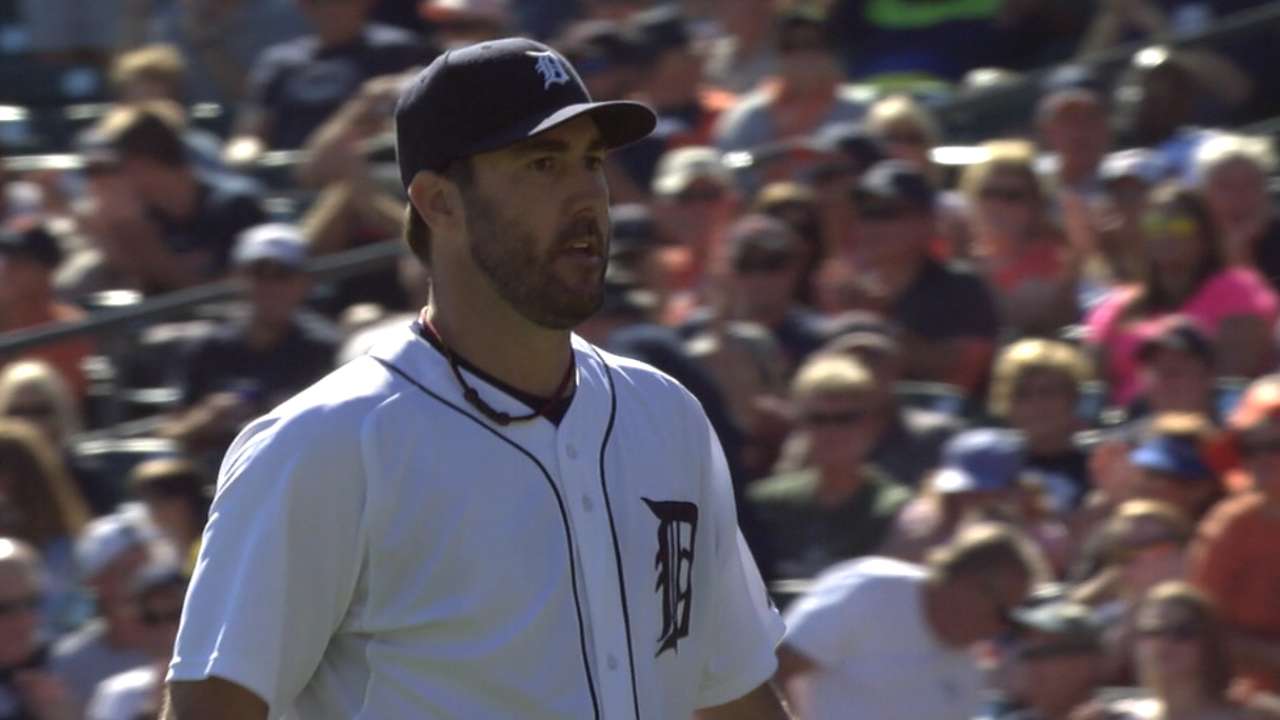 DETROIT -- Tigers ace Justin Verlander can't tell the difference between his 97-mph fastball and a 99-mph offering. The exertion, he says, is essentially the same.
It wasn't until he saw the radar gun while facing Geovany Soto -- his final batter of the game during a 7-4 win over the White Sox on Wednesday afternoon -- that he realized his heater was consistently reaching speeds it hadn't in years.
With two out and the bases loaded in the seventh inning, Verlander fed Soto five straight fastballs. Four of them left his right arm at 98 mph; the other at 99. Soto struck out swinging.
"It felt great," Verlander said of that moment, flashing a smile.
The ability to reach back and crank up the heat in big situations has always been a Verlander staple. But a core injury impaired the right-hander's velocity in 2014, and he started '15 on the disabled list with a triceps strain. When he returned in June, his fastball rarely surpassed the mid-90s.
Since being booed at Comerica Park on July 19, though, Verlander has rebounded to post a 2.27 ERA with a 4.53 strikeout-to-walk ratio over 12 starts. On Wednesday, while he admitted to being "lethargic" early, he continued to prove there's plenty of life left in his right arm.
Take James McCann's reaction, for instance. The rookie has caught the majority of Verlander's outings this season, and what he saw Wednesday surprised him.
"I don't know where that came from," McCann said of the 98- and 99-mph fastballs. "That's impressive. Especially in September, late in the season, finding a way to bear down and reach back for all you've got for a couple pitches, very impressive. That's vintage Ver."
Even manager Brad Ausmus, in his second season at the helm, was taken aback.
"I haven't seen 99 since I've been here from Ver," Ausmus said.
Data from pitch-tracking website Brooks Baseball indicated that Wednesday was just the third game since 2013 in which Verlander has reached 99 mph.
"That same effort level earlier was 96-97 earlier in the year," he said. "I think all the work and everything I've put in is starting to show itself."
It certainly got McCann's attention, and that of Ausmus and the fans. When Verlander struck out Soto, two months after his performance had been jeered, the ace received a now-commonplace standing ovation from the Comerica Park crowd.
And that, Verlander said, never gets old.
Alejandro Zúñiga is an associate reporter for MLB.com. This story was not subject to the approval of Major League Baseball or its clubs.