MLB.com Columnist
Alyson Footer
Yogi and Carmen, 'Together again'
Yogi Berra is famous for his 10 World Series rings and a Hall of Fame career that has, over time, deemed him the greatest catcher in baseball history.
But there's an argument to be made that Berra is equally as famous for his devotion to faith and family, and for his long and enduring marriage to his wife, Carmen -- one that spanned more than six decades.
Now, as Lindsay Berra -- Yogi's granddaughter -- poignantly tweeted, the two are "Together Again."
Baseball marriages come in all varieties. Some are stronger than others. Some stand the test of time; some do not. The Berras, married for 65 years until Carmen's death in March 2014, had a little something extra special -- sure, they loved each other. But they also liked each other. And, yes, those two elements don't always go hand-in-hand.
The machismo nature of baseball sometimes prevents ballplayers from expressing emotions of any kind. Beyond showing elation while rounding the bases after a home run, or a muted fist pump after a pitcher gets a big strikeout, actually feeling things -- sadness, love, anxiety, whatever -- is, while perhaps not taboo, sometimes construed as a little unusual.
Berra, who passed away on Tuesday at the age of 90, was the perfect anti-conformist. He was in love with his wife, fiercely devoted to his family -- and vocal about both. There was never a question about the order of Berra's loyalties: he was a husband and father -- and later, grandfather -- first, and a baseball player second.
"He prioritized his life very well," said Hall of Famer Craig Biggio, who has known Berra since Berra scouted him in college. "He loved the game of baseball, he loved his family and he loved his faith."
Yogi and Carmen, who would have turned 87 on Thursday, were, as Biggio described, "Sweethearts, like little kids growing up, and they had that special relationship that we wish we could all have. They had that innocence about each other, to be married and together for 60-plus years."
Together again. #RIPYogiBerra #Yankees pic.twitter.com/ODsoWcTZfi

— Lindsay Berra (@lindsayberra) September 23, 2015
Yogi, who joined the U.S. Navy when he was 18 and served as a machine gunner on the USS Bayfield during the D-Day invasion of Normandy, and Carmen's first encounter was safe and sweet, a precursor for a marriage that would be described as the same. In 1947, Carmen was a 19-year-old waitress at Biggie's, a St. Louis restaurant. Yogi, having just finished his rookie season, eventually mustered up the courage to talk to Carmen, who had just served him lunch.
Yogi described himself as "bashful, nervous, not good-looking" in one of his books, as he reflected on courting Carmen, a blonde beauty. "I could hardly believe my luck that Carmen liked me as much as I liked her."
Yogi and Carmen attended a hockey game on their first date, and a romance soon blossomed. They were married in 1949 and raised three sons: Larry Jr., Dale and Tim. Eleven grandchildren would follow.
Lindsay Berra, the eldest of the 11, adored "Gramp" and "Grammy," her two greatest role models, with whom she spoke almost daily throughout her adult life.
"Her 65-year love affair with my Grampa was truly an incredible thing to see, made even more so by the utterly selfless way in which she shared him with baseball and the millions of others -- friends and total strangers alike -- who love him, too," Lindsay wrote on her Facebook page the day Carmen passed in 2014.
Lindsay, a reporter for MLB.com, is a baseball nut in her own right, fascinated by both the mechanics and nuances of the game and the rich history of the sport that her grandfather was so much a part of. But when she talks about Gramp, the conversation rarely centers around baseball. Rather, she revels in the sweet stories involving both of her grandparents, whom she knew as people, not icons.
The time Gram laughed off Lindsay's concerns about Gramp pouring half and half over his cereal every morning instead of the healthier option, milk. Or the conversation that she had with Gramp, as illustrated in a 2009 article in the New York Times, after she interviewed a handsome tennis player for a feature story for ESPN Magazine.
"You should date him," Yogi said.
"Gramps, he dates a swimsuit model," Lindsay replied.
"You have swimsuits," Yogi said.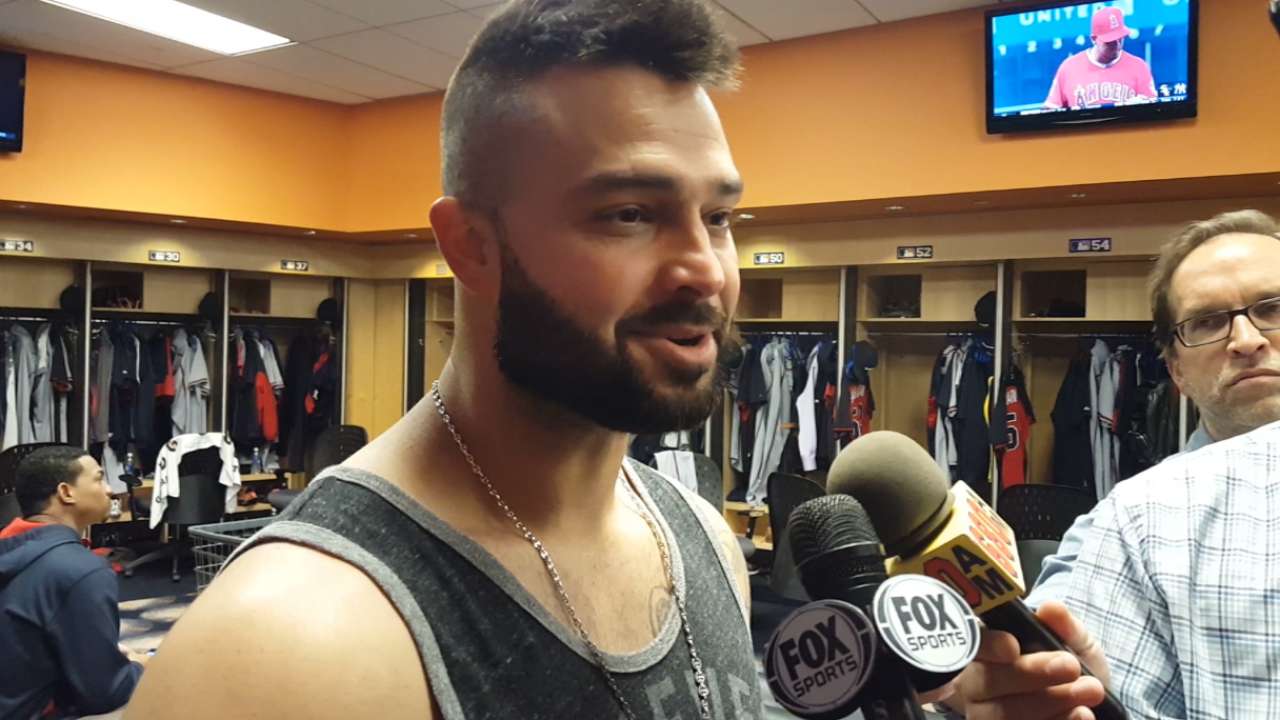 Yogi's status as one of the greatest athletes in New York history, and his wife's unofficial title of the First Lady of the Yankees, made the Berras a true power couple in the Big Apple. From never having to wait for a table at a restaurant to hobnobbing with some of the most famous people in baseball and the entertainment industry, there's no doubt theirs was a charmed life.
But every story about their celebrity encounters always ended the same way -- with the Berras wanting to get home, to check on their three kids.
"If we could all just grab a little piece of that, and live our lives like that," Biggio said, "That would be pretty amazing."
Alyson Footer is a national correspondent for MLB.com. Follow her on Twitter @alysonfooter. This story was not subject to the approval of Major League Baseball or its clubs.