Jeter: Yogi was 'dear friend, mentor'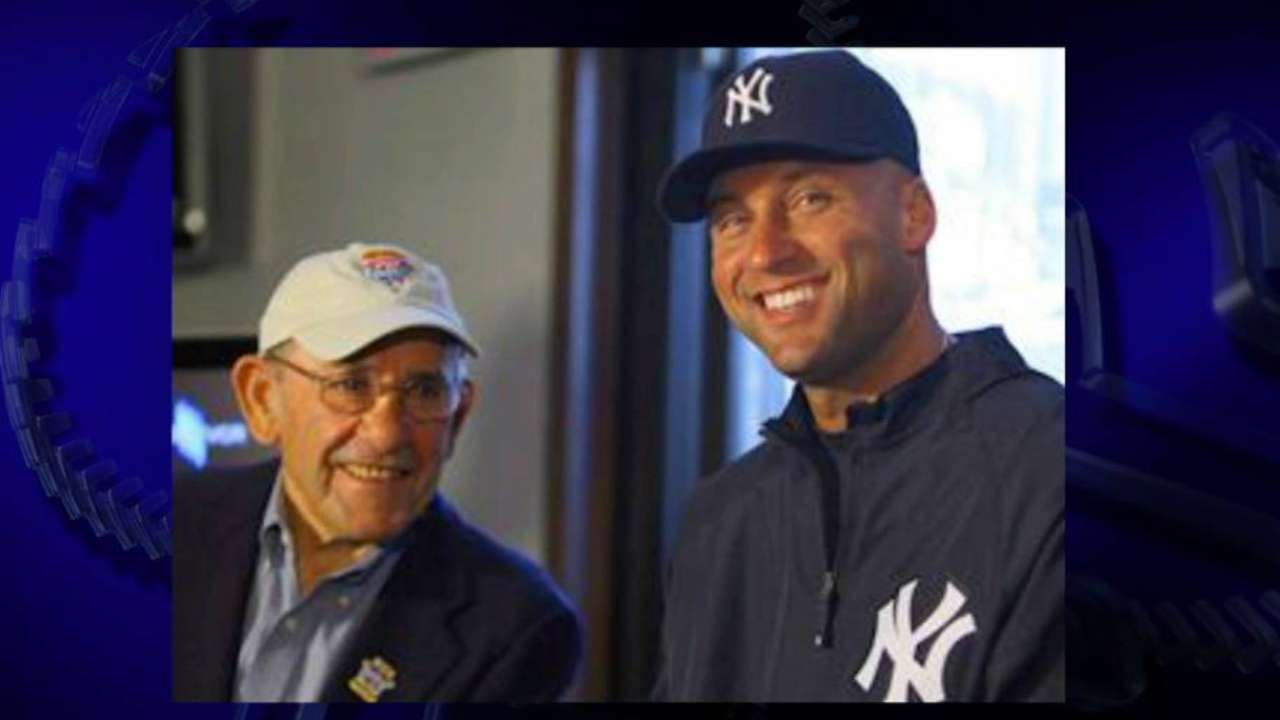 TORONTO -- Yogi Berra shook hands with Babe Ruth, helped bridge the gap between Joe DiMaggio and Mickey Mantle and won more World Series rings than all of them. That made him a treasured link to the Yankees' past for Derek Jeter, who considered himself something of a student of franchise history.
Berra and Jeter were often seen sharing laughs together, especially during Spring Training, when Berra would send his golf clubs ahead to the Yanks' complex in Tampa, Fla., and spend a few weeks as a guest instructor. Their mutual appreciation and respect was evident to all.
"To those who didn't know Yogi personally, he was one of the greatest baseball players and Yankees of all time," Jeter wrote on Wednesday in a post on his website, The Players' Tribune. "To those lucky ones who did, he was an even better person. To me, he was a dear friend and mentor.
"He will always be remembered for his success on the field, but I believe his finest quality was how he treated everyone with sincerity and kindness. My thoughts and prayers go out to his family and friends."
Prior to Jeter's retirement, the playful banter always went something like this: the Hall of Fame catcher would tease the shortstop, reminding him that he had only made it halfway to the 10 World Series rings accumulated during his historic career.
And then Jeter would remind Berra that his teams had it easier -- for example, there was never an American League Division Series or an AL Championship Series to get through.
"Do you know how many rings I need to get to what Yogi Berra has?" Jeter said in 2003. "You can only think about 10 when you get to nine."
"What an honor it was to have rubbed shoulders with Yogi," Andy Pettitte said. "He embraced me from the first day I met him. Heck, he embraced everyone he met. Yogi loved talking baseball and sharing stories, and I was always excited to hear them. He was a special man who brought smiles to the faces of an awful lot of people.
"He served our country with honor, and I can't think of a better ambassador to have represent this game. He will be sorely missed, and my heart goes out to his family during this difficult time."
When the Yanks would host the legends of the past during their annual Old-Timers' Day festivities, players always made a beeline to shake hands and pose for photographs with Berra. Jeter was often among them.
"Yogi is just fun to be around," Jeter said in 2005. "The thing I learned from Yogi is to make sure you have fun all the time, that's the key. That's the biggest thing."
When Jeter stroked his 3,000th hit in 2011, Berra said that he was so proud of Jeter, he wanted to "give him a big hug."
"The best compliment I give Jeets is, he could play on our teams," Berra once told the New York Post.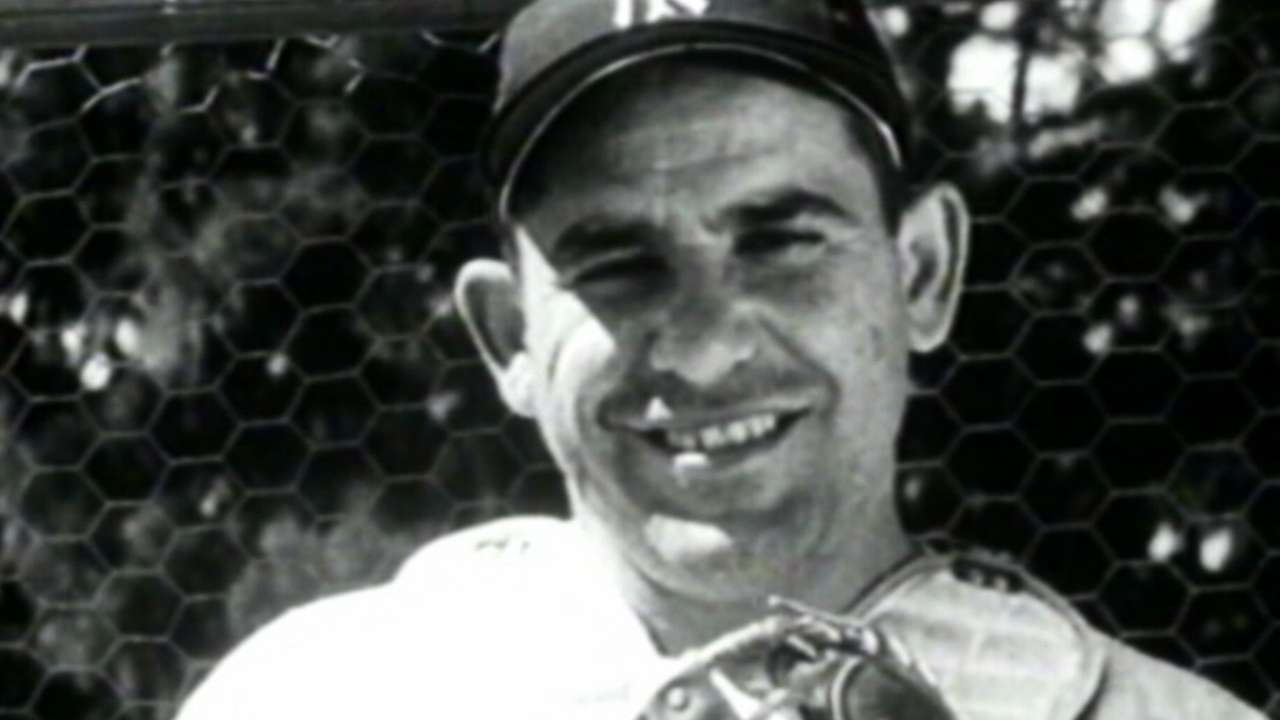 The Yankees are certainly thankful that Berra wore their uniform.
"When you were around Yogi, he had a way of bringing out the best in you," Jorge Posada said. "He made you feel good inside. That was his gift to so many of us, and why people always tended to gravitate to him. I don't care what team you play for or what team you root for. If you love baseball, then you love Yogi Berra."
Bryan Hoch is a reporter for MLB.com. Follow him on Twitter @bryanhoch, on Facebook and read his MLBlog, Bombers Beat. This story was not subject to the approval of Major League Baseball or its clubs.