MLB.com Columnist
Marty Noble
The city loses a big favorite, but it'll be all right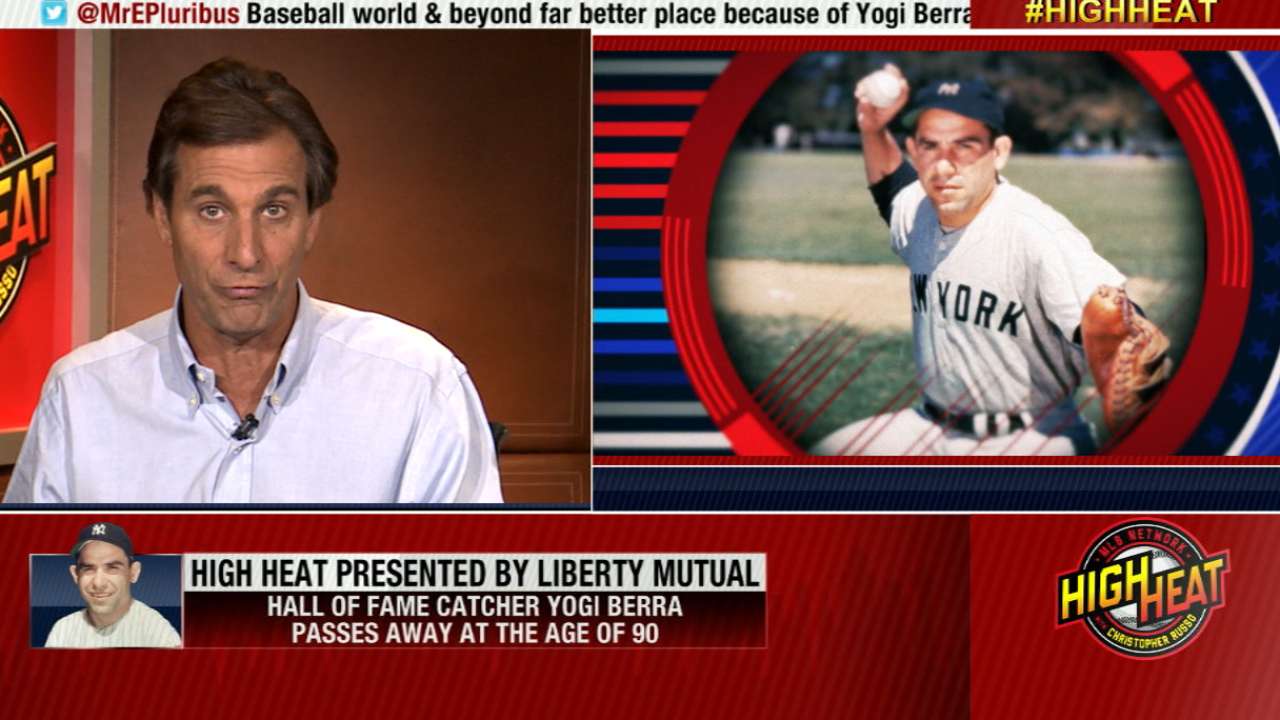 NEW YORK -- For days, electronic signs on the FDR Drive, the Major Deegan, the West Side Highway and the Grand Central Parkway have carried warnings, alerts and reminders: "Expect delays" ... "Leave extra time" ... "Avoid Manhattan" ... "Take mass transit." We are in the midst of a week of travel paralysis here in the Big City. Rush-hour nightmares will extend the "hour" to 120 minutes -- with luck. Grand gridlock is a given.
It is New York City at the best of times and the worst of times. Two tales of a city. Today is Yom Kippur; it thins the traffic. The United Nations has its general assembly meeting. The Giants played at home on Sunday and again on Thursday night. The Mets were at Citi Field on Monday and Tuesday nights and play again Wednesday night. And the Pope is visiting. He's going to bounce like a Spaldeen from JFK to St. Patty's to Harlem to the U.N. to the 9/11 Memorial to Madison Square Garden to Central Park to the delight and fascination of millions.
What other city could handle this?
NYC, in its most uneventful week, can be everything from challenging to brutal to worse. But it gets by. Sometimes it even prospers. And sometimes it's brought to its knees.
It was in that position that the great city found itself Wednesday morning when word of the death of Yogi Berra spread. The Empire State Building shed a tear. Gracie Mansion sobbed, the Hudson temporarily suspended its flow and the suspension cables on GWB momentarily sagged. And two ballparks, neither of which had served as Yogi's place of employment, donned black.
The city and its vast satellite communities will get through this, too, because almost any mention of Lawrence Peter Berra prompts smiles from most folks. It's been that way for decades. Yogi was the personification of a punchline. He made us chuckle. Reaction to his death at age 90 is, in some ways, akin to reaction to the assassination of John Lennon. After the horror of that night in December 1980 subsided, the radio stations wore out their Beatles albums. Listeners tapped their feet. The healing process began almost immediately.
It's already begun here for Yogi.
Today, the Yogi Berra Museum and Learning Center on the campus of Montclair State University in Little Falls, N.J., opens its doors a little wider. Folks undoubtedly will flood it for the next month or so. Yogi was so proud of it.
He greeted me at its entrance one day in 1990-something and noted some of his favorite displays. But his pride was most evident when he ushered me to a wood-paneled room with grandstand seating, a replica of the Yankee Stadium scoreboard, circa 1960 -- No. 20, Marv Throneberry, was identified as the Yankees' first baseman -- and several original World Series championship banners that had been hung from the frieze at the old place on River Avenue.
Yogi pointed to none of the nostalgia. Instead, he pointed to the paneling and said "I got all the wood in here for free." The Great Depression had sculpted some of his values.
* * * * *
Reared in an Italian household -- his mother called him Lawdie because Larry was too challenging for her linguistics -- Berra became quite the American. He responded to his draft notice without hesitation in 1943. He became a Navy man, Seaman 2nd Class Larry Berra. He eventually volunteered for duty as a rocketboat man because "'rocket' appealed to him in a Buck Rogers' kind of way," said Dave Kaplan, director of the Berra museum. "He thought it had an adventurous sound to it."
Following rocketboat training in Norfolk, Va., Berra was shipped out for World War II duty. "I thought we were going to Japan," he said years later. Instead, he was part of the Normandy invasion on June 6, 1944. Though his landing craft never charged the shoreline, Berra and his colleagues fired weapons from sea to shore to soften German resistance. And they, in turn, attracted fire.
He recalled hearing his commanding officer yell, "Berra, keep your head down," but Yogi wanted to watch. "You can observe a lot by watching" he famously said years later.
The D-Day experience and others during an invasion of Italy bolstered his courage. Decades later, he was irritated by but unafraid of George Steinbrenner. "You're not a smart guy if you have Yogi as an enemy," Steinbrenner said after he had apologized to Berra, 14 years after he had fired him and a day after Berra had ended his boycott of the Boss and Yankee Stadium.
"I wanted Yogi back in the family," Steinbrenner said that day. "It was wrong for him not to be here for Old-Timers' Day and any other day he wants to come. New York deserves a means to see its great players. We're restocking our eventual Old-Timers' Day rosters every year now. And we've lost some great ones. But as long as we have Whitey [Ford] and Yogi, we have a link to the great teams that were here."
And now Yogi's gone. But the Pope is coming and the general assembly is meeting. The Mets are in first place, and the Yankees are close again. New York City will be back on its feet shortly. But for now, watch the Yogi videos, recall him as the master of malaprops, chuckle, and for God's sake, take mass transit.
Marty Noble is a columnist for MLB.com. This story was not subject to the approval of Major League Baseball or its clubs.