Scioscia's admiration for Yogi runs deep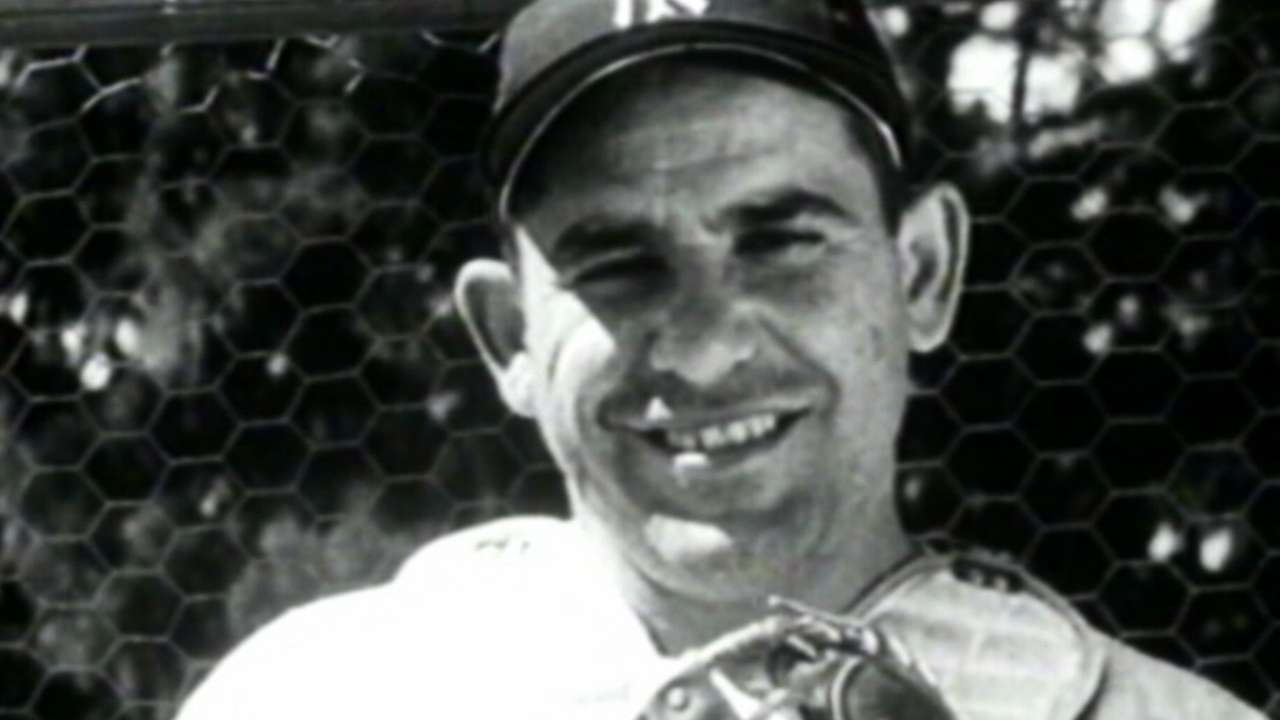 HOUSTON -- Mike Scioscia was on his way to a speaking engagement in Palm Desert, Calif., six years ago when he heard someone shout his name from a hotel lobby. It was Yogi Berra, the Hall of Fame catcher Scioscia had long admired. The two chatted for about 45 minutes that day. Scioscia wound up being late to his event.
The Angels' longtime manager and former Dodgers catcher remembered that moment fondly on Wednesday morning, hours after it was learned that Berra passed away at the age of 90 on Tuesday night.
Scioscia described Yogi as "a very humble man for accomplishing probably more than anybody who ever played the game."
"When you got a chance to talk to him," Scioscia added, "it was like you were talking to your next-door neighbor. He was so down to Earth. Just a great man."
Berra, a linchpin of the great Yankees teams in the 1940s and '50s, went to 14 World Series and won 10 of them in a playing career that spanned from 1946-65, also guiding the Yankees and Mets to the Fall Classic as a manager. He won three American League Most Valuable Player Awards, went to 18 All-Star Games, compiled 358 home runs and 2,150 hits, and built a reputation as one of the game's great receivers.
"For him to have been so proficient behind the plate speaks volumes to his talent, because receiving the ball has become much easier through the course of time," Scioscia said. "He was a tremendous all-around player."
Off the field, Berra was identified by his many "Yogi-isms," like, "It's deja vu all over again," or, "You can observe a lot by watching," or, "It gets late early out here."
Those who knew Yogi fondly remember his charm and humility.
"He was just a nice man," Scioscia said. "I think he's representative of that whole generation."
Worth noting
• Angels center fielder Mike Trout chatted with Houston Rockets shooting guard James Harden on the field before the game Wednesday, moments before Harden threw out the ceremonial first pitch. Trout also met Houston Texans defensive end J.J. Watt the last time the Angels were in Houston.
• Assuming he takes his turn on Tuesday, Matt Shoemaker is currently lined up to pitch the regular-season finale on Sunday, Oct. 4, in Arlington. Garrett Richards would be lined up to start either the American League Wild Card Game presented by Budweiser, or a potential tiebreaking Game 163. The Angels have one last day off on Thursday, then they finish the regular season with 10 straight games.
Alden Gonzalez is a reporter for MLB.com. Follow him on Twitter @Alden_Gonzalez and listen to his podcast. This story was not subject to the approval of Major League Baseball or its clubs.