8 big Yogi accomplishments on and off field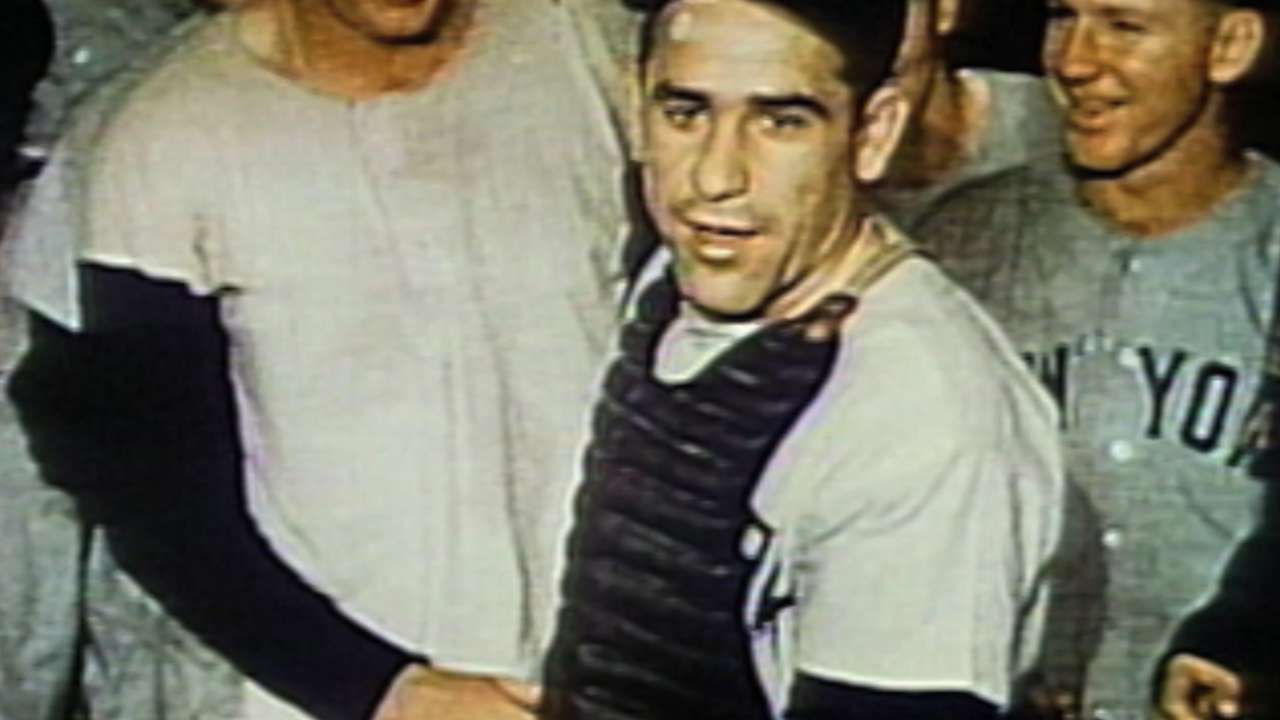 TORONTO -- The Yankees will affix the No. 8 to the left sleeves of their jerseys prior to Wednesday's game against the Blue Jays, just one of many tributes that Major League Baseball is planning to offer to the life and legacy of Lawrence Peter Berra. For more than a half-century, Yogi's name and presence have been synonymous with the team and the sport as a whole.
Berra's uniform number was a silent tribute to his predecessor at catcher, Hall of Famer Bill Dickey, who also wore the number. The club has retired the number twice, in both players' honor. Berra's skills were raw when he first appeared in the Majors, but under Dickey's tutelage, the St. Louis native developed into one of the finest players of his generation.
"Yogi Berra's legacy transcends baseball," Yankees managing general partner Hal Steinbrenner said. "Though slight in stature, he was a giant in the most significant of ways through his service to his country, compassion for others and genuine enthusiasm for the game he loved. He has always been a role model and hero that America could look up to."
Here, in no particular order, are eight of the top accomplishments of Berra's incredible life:
1. Unrivaled champion: Berra appeared in 21 World Series as a player, coach and manager from 1946-85. He won 10 World Series rings as a player with the Yankees and played in 75 World Series games, both of which are all-time records. Eight may be Berra's iconic number, but maybe it should be 10. Berra was incredibly proud of having a ring for each finger; after the Yanks won the 2009 championship, he would tease Derek Jeter about the shortstop's five rings, telling him that he was only halfway there.
"To those who didn't know Yogi personally, he was one of the greatest baseball players and Yankees of all time," Jeter wrote on The Players' Tribune. "To those lucky ones who did, he was an even better person. To me he was a dear friend and mentor. He will always be remembered for his success on the field, but I believe his finest quality was how he treated everyone with sincerity and kindness. My thoughts and prayers go out to his family and friends."
2. D-Day veteran: With World War II underway, an 18-year-old Berra interrupted his budding baseball career to join the Navy, volunteering for a secret mission to operate machine guns on a 36-foot rocket boat, the U.S.S. Bayfield. That placed Second Class Seaman Lawrence P. Berra and five crewmates 300 yards from the shores of Normandy on June 6, 1944, for the Allied D-Day invasion, providing cover fire on Omaha Beach to soften the German defenses.
"I sit and I thank the good Lord I was in the Navy," Berra told MSNBC in 2004. "We ate good, clean clothes, clean bed. You see some of these Army men, what they went through, that's the ones I felt for."
3. Clutch hitter: Regarded as one of the best "bad ball" hitters of his era, Berra was never a comfortable at-bat for any pitcher. He slugged the first pinch-hit home run in World Series history, in 1947 off the Dodgers' Ralph Branca. He was also near-impossible to strike out; Berra struck out only 414 times in 8,359 career plate appearances.
4. Three-time MVP: Berra won the American League Most Valuable Player Award in 1951, '54 and '55, which makes him tied for the second most all-time. Roy Campanella is the only other catcher to win three MVPs. In addition, Berra finished second in the AL MVP Award voting in 1953 and '56. If there is one that got away, it could be 1950, when he hit .322 with 28 homers and 124 RBIs but finished third in the balloting. The award went to his Yankees teammate, Phil Rizzuto.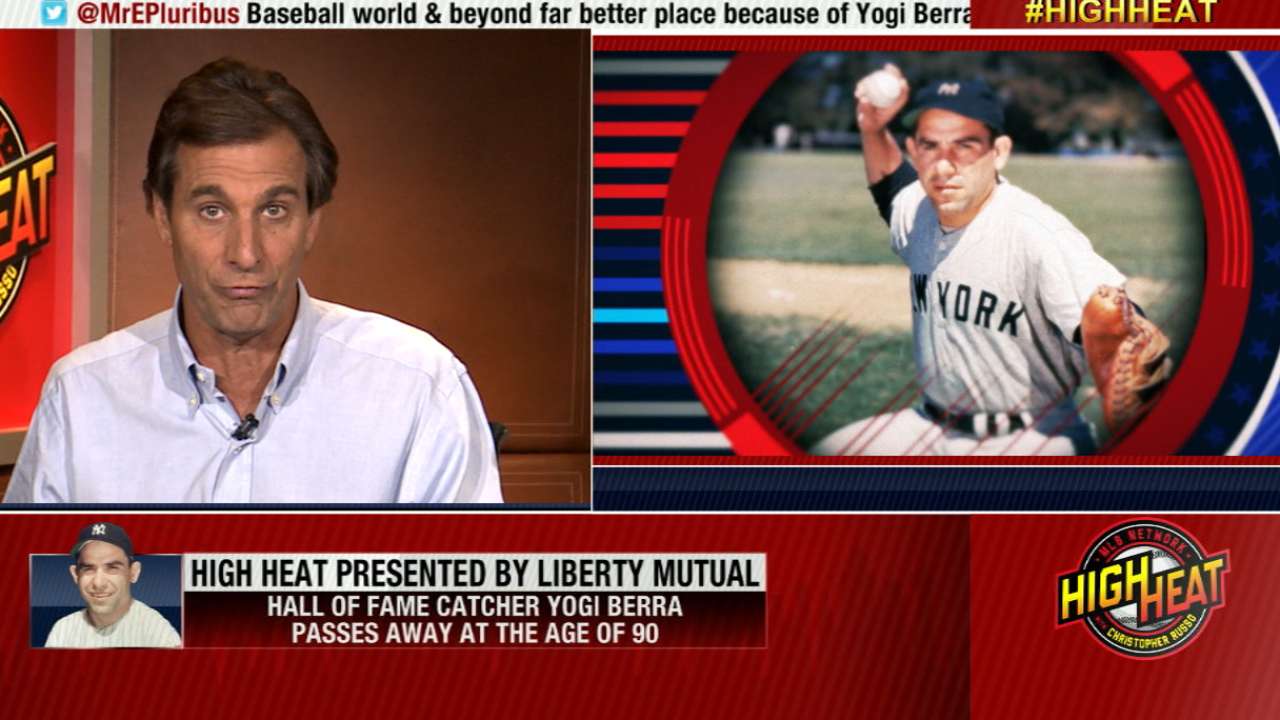 5. Trusted gloveman: Berra eventually earned a reputation as a master handler of pitchers. Berra caught two no-hitters in his career: Allie Reynolds' 1951 gem (surviving a ninth-inning foul popup that Berra dropped, only to secure a near-identical chance on the next pitch) and Don Larsen's historic perfect game in Game 5 the 1956 World Series. He led the AL in assists five times, and from 1957-59, he went 148 consecutive games without making an error. He also threw out 48.6 percent of runners attempting to steal, and forever insisted that Jackie Robinson was out at home when the speedy Dodger stole it in the '55 Series.
Welcome to Cloud 8. Now, one of baseball's great debates gets closure. pic.twitter.com/zkWAfcEAKK

— MLB (@MLB) September 23, 2015
6. Perennial All-Star: Berra earned selection to the All-Star Game in 15 consecutive years from 1948-62, appearing in 18 in all (there were two All-Star Games each year from 1959-62), leading AL catchers in home runs and RBIs for nine straight seasons from 1949-57. Though his career home run total of 358 has since been surpassed by Carlton Fisk, Johnny Bench and Mike Piazza, Berra's mark of 1,430 RBIs still stands as the most of all-time by a player who primarily was a catcher. He was elected to the Hall of Fame in 1972 and honored with a Monument Park plaque in '88.
7. A man of principle: As a manager, Berra guided the Yankees to the World Series in 1964 and did so again with the Mets in '73, making him one of seven managers to win pennants in both the American and National Leagues. Berra's last managerial job was in 1984-85, which ended when George Steinbrenner dismissed him just 16 games into the '85 season. Berra stayed away from Yankee Stadium until Steinbrenner apologized in 1999; on "Yogi Berra Day," he caught a ceremonial first pitch from Larsen, then watched as David Cone fired the 16th perfect game in Major League history and the first by a Yanks pitcher since Larsen's.
8. Welcome to The Show: Berra made his Major League debut at age 21 on Sept. 22, 1946, going 2-for-4 with a two-run homer off right-hander Jesse Flores in the first game of a doubleheader against the Philadelphia Athletics at Yankee Stadium. Berra's passing would come exactly 69 years later at age 90, of natural causes in his sleep at an assisted living facility in West Caldwell, N.J.
Bryan Hoch is a reporter for MLB.com. Follow him on Twitter @bryanhoch, on Facebook and read his MLBlog, Bombers Beat. This story was not subject to the approval of Major League Baseball or its clubs.